Rangers vs. Mariners – Game Recap – May 16, 2018
SEATTLE — The line drive off the bat of Seattle's Jean Segura was estimated at 101 mph. As much as Texas starter Bartolo Colon tried to get his glove up and shift his body, there was no way he could avoid being struck.
After Colon picked up the loose ball and threw Segura out at first base, he laughed as the Rangers staff rushed to check on him.
"The important thing is we won the game and I was able to get the out," Colon said through an interpreter. "He got me on the side. It was not in the middle. And I have a big belly so I can (handle) it."
All kidding aside, Colon put together arguably his best performance of the season on Wednesday, allowing four hits in 7 2/3 shutout innings and giving the Rangers a 5-1 win over the Mariners. On the cusp of his 45th birthday, Colon (2-1) was excellent spotting his fastball and using his breaking pitches to keep Seattle off balance, a night after the Mariners scored nine runs.
"Everything was working. My curve, my fastball, my slider — everything was working," Colon said.
It was the second time this season he pitched into the eighth, the previous against Houston when he was perfect through seven innings. Colon struck out two and threw 71 of 96 pitches for strikes.
"It's unbelievable. He's not tricking you. He just executes and gets the job done," Seattle's Kyle Seager said.
Offense was scarce for both teams. The Rangers took advantage of two key mistakes by Seattle in the ninth inning to earn a split of the brief series.
Delino DeShields gave Texas the lead with a two-out RBI double in the eighth inning that scored Isiah Kiner-Falefa. The Rangers added four more in the ninth, all after Ryon Healy's two-out error and two runs scoring on a wacky strikeout.
Ronald Guzman struck out swinging with the bases loaded and two outs, but catcher David Freitas couldn't handle the pitch from Marc Rzepczynski. Jurickson Profar scored from third on the passed ball and Kiner-Falefa from second after Freitas made an unnecessary throw trying to get Guzman at first base.
The Rangers added two more runs — one due to the hustle of Shin-Soo Choo reaching on an infield hit — to cap the sloppy inning by Seattle.
"I threw a slider and (Freitas) was thinking fastball. I'll just say that. We got crossed up and it ended up getting by him and cost us two runs," Rzepczynski said.
Seager's homer in the ninth was the extent of Seattle's offense. The Mariners threatened in the eighth after Colon was lifted, but Jose Leclerc got Segura to pop out on the first pitch with runners on second and third.
Seattle starter Christian Bergman didn't allow a hit until Kiner-Falefa reached on an infielder grounder in the fifth inning. Bergman allowed two hits in seven shutout innings making a spot start after being recalled from Triple-A. He was lifted to start the eighth inning after striking out five and throwing 90 pitches.
James Pazos (1-1) was tagged with the loss after giving up two hits opening the eighth. It was his first run allowed since April 7.
POSITION SWITCH
Seattle manager Scott Servais said there's a chance Dee Gordon could be moved to second base sometime this weekend. Gordon played center field again Wednesday but did pregame work for a second straight day at his old position.
ROSTER MOVE
To clear a spot for Bergman on the 25-man roster, right-handed reliever Eric Goeddel was designated for assignment by the Mariners. He is out of minor league options.
TRAINER'S ROOM
Rangers: Elvis Andrus will join the team in Chicago and may be able to resume baseball activities like fielding and playing catch. Andrus has been out since breaking his right elbow on April 12.
Mariners: Nelson Cruz was sore a day after getting hit by a pitch on his right foot and leaving a game early. Servais expects it will be a few days before Cruz is back in the lineup but didn't believe a DL stint was needed.
UP NEXT
Rangers: LHP Cole Hamels (2-4) makes his 10th start as the Rangers open a series against the Chicago White Sox. Hamels has a 2.73 ERA in his past five starts.
Mariners: LHP Marco Gonzales (3-3) makes his ninth start of the season as the Mariners open a series against Detroit. Gonzales has thrown six innings in each of his last four starts, but took the loss in his last outing also against the Tigers.
—
More AP baseball: https://apnews.com/tag/MLBbaseball
Joe Girardi withdraws from Cincinnati Reds' manager search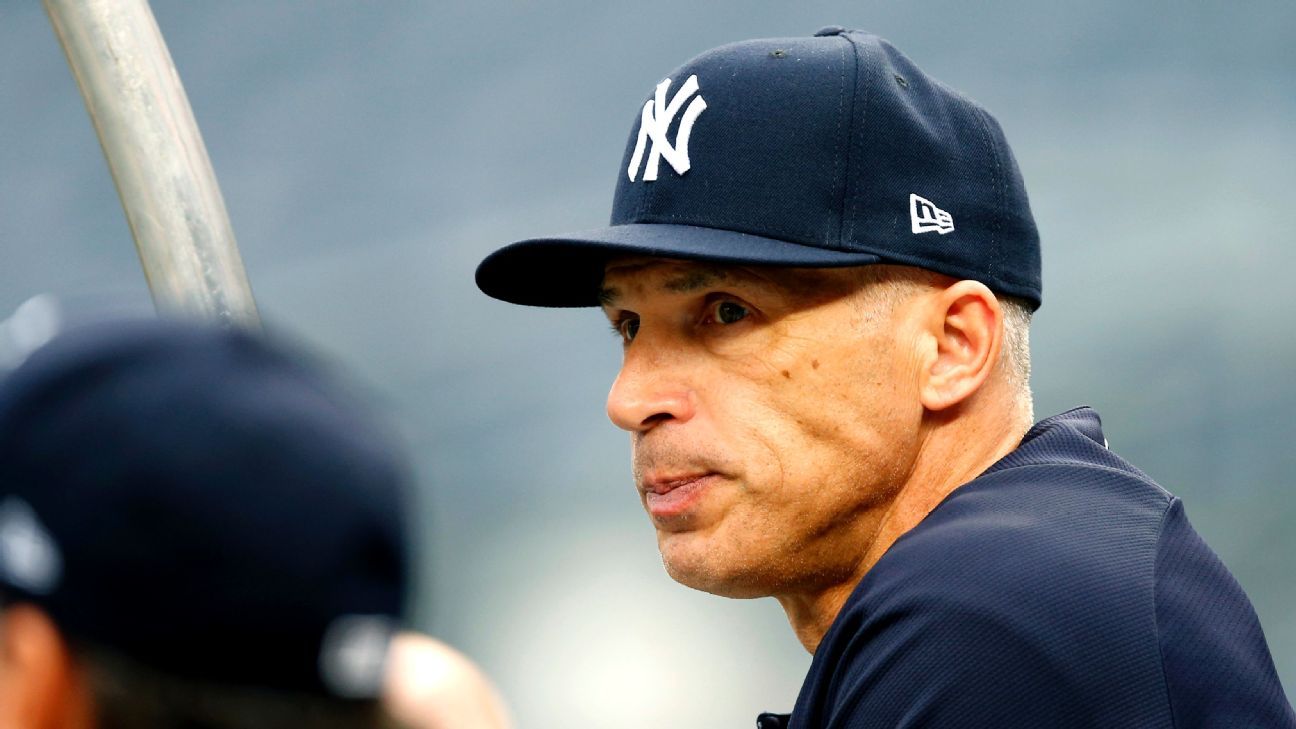 Joe Girardi has withdrawn his name from consideration for the Cincinnati Reds' managerial vacancy, according to multiple reports.
Girardi reportedly was one of three candidates to be considered for second interviews, along with Brad Ausmus and David Bell.
The Athletic, which first reported Girardi's withdrawal, reported Friday that he plans to remain with MLB Network for now but still wants to manage.
Girardi, 54, also reportedly has interviewed for the Texas Rangers' managerial vacancy.
Girardi, who had a 15-year playing career, is 988-794 in 11 seasons as a major league manager, including 10 seasons with the New York Yankees, whom he guided to a World Series titles in 2009.
He spent last season at MLB Network after being fired by the Yankees following the 2017 season, when he led the Yankees to the American League Championship Series. The Yankees lost to the eventual World Series champion Houston Astros in seven games.
Girardi also managed the Florida Marlins in 2006.
Chris Sale pitching Game 1, probably David Price Game 2 for Boston Red Sox in World Series
With five days before the start of the World Series, Boston Red Sox manager Alex Cora has time to line up his pitching rotation.
Cora, speaking Friday on WEEI, confirmed that ace Chris Sale will go in Game 1 at Fenway Park on Tuesday, facing either the Los Angeles Dodgers or Milwaukee Brewers.
The Dodgers lead the National League Championship Series, 3 games to 2, going into Friday night's Game 6 in Milwaukee.
Cora said he would wait until he knew the opponent before deciding the rest of the rotation. But the manager said that David Price — brilliant in Thursday night's ALCS-clinching Game 5 against the Houston Astros — would "probably" start Game 2.
Sale has not pitched since Saturday's Game 1 loss to the Astros in the ALCS. He has been sidelined by a stomach virus that sent him to the hospital on Sunday.
Cora said Sale has been regaining strength since his release Monday from Massachusetts General Hospital, where he spent Sunday night for observation. The club hasn't specified Sale's ailment or treatment.
The Red Sox arrived back in Boston on Friday morning and were greeted by an ALCS championship banner that had already been hung at Fenway Park.
The unlucky legacy of the 2018 Houston Astros
History will remember these Houston Astros as the ones that got unlucky.
Specifically, it will remember the fly ball Jose Altuve hit over the wall in Game 4, the extraordinary leap Mookie Betts made for it, and the way that after the ball had landed in the stands, uncaught, it was declared an out. It will remember the debate that ensued over what constitutes interference — Joe West's confident ruling on an essentially unknowable call, the flukily blocked camera that might have otherwise saved Altuve's home run and the Astros' season. The future will have no trouble remembering that all as, from Houston's perspective, bad luck.
Most luck in baseball, though, is not the deus ex machina of Joe West running headlong into a play and flipping it to its opposite. Most luck is incredibly unsatisfying to identify, for both the winning team and the losing team, and because of that we usually refer to it by euphemisms: A team caught a bad break, or a pitcher was fortunate to get away with a pitch. We struggle for the word because we struggle with what we're actually talking about, which is something embedded in almost every baseball play. It's this:
Baseball doesn't give partial credit.
In baseball, the point is to win the World Series and the tactic involved — the skill involved — is "avoiding outs" and "getting outs." But we don't declare the World Series winner based on who avoided the most outs (i.e. who got the most hits). That would be one kind of sport — golf is that kind of sport, and the discus throw, and the 1,500 freestyle, where every stroke, inch or second counts equally toward the final outcome — but baseball is the kind that has added layers upon layers of suspense and variety: Outs avoided make rallies; rallies make runs; runs make wins; wins make standings; standings make postseason series; and postseason series make the World Series winner. And, indeed, outs themselves are made up of layers and sequences — strikes and balls, batted balls chased and caught and thrown and tagged. You might even say the point is to win the World Series but the tactics are "throw good strikes" and "hit the ball hard." The layers in between give it all texture.
That's why it's fun. And the result is that, along the way from "control the count" to "win the World Series," only some hits count. A hit that doesn't produce a rally is ultimately no better than an out, a rally that doesn't produce a run is ultimately no better than an out and a run that doesn't win a game is ultimately no better than an out. We measure skill based on those hits, rallies and runs, but we measure success based only on the higher outcomes.
This is true at virtually every level of play, and it's almost always what we're actually talking about when we talk about luck. A team that vastly underperforms its run differential — scored more runs than its opponent in the aggregate, but there is no partial credit for a close loss. A pitcher that has allowed an unsustainably low BABIP — gives up lots of hard contact, but there is no partial credit on a diving catch.
On Thursday, in the third inning, the game scoreless, the series still very much undecided, Justin Verlander got two strikes on J.D. Martinez. He threw a perfect 1-2 slider, right on the outside black, just above the knees. It was a pitch that umpires across baseball call a strike 84 percent of the time, according to ESPN Stats & Info. It was a pitch that, had it been slightly worse — i.e., slightly more hittable — Martinez probably would have swung at, probably would have whiffed at, or hit meekly to the shortstop, or maybe hit for a single. But Martinez took it, umpire Chris Guccione called it a ball, and on the next pitch Verlander threw a hanging curveball — this one, ironically, probably not in the strike zone — and Martinez crushed it for what ultimately would be the game-winning, series-winning home run.
Verlander threw two good strikes, because he's a great pitcher and that's the skill. But baseball doesn't give partial credit for two strikes — only the third "counts." And then Verlander threw a pitch that is often called strike three. But baseball doesn't play out all the simulations, but only the one, and so the 84 percent don't "count."
This is true of the ball Alex Bregman hit in the bottom of the ninth Wednesday, with two outs and the bases loaded. Statcast says it's a hit 79 percent of the time. You don't have to believe that number specifically to agree Bregman went to the plate trying to do something, did something very close to what he was trying to do, and but for a matter of inches would have won an entire baseball game instead of losing an entire baseball game. The luck isn't whether the diving Andrew Benintendi catches or doesn't catch it; that's the sport. The luck is in how we keep score. Bregman gets nothing.
---
The Astros came into this season playing for legacy. They'd just won a World Series, which is the ultimate goal in sports. But the great teams in history won a couple or a few World Series, and the Astros had a chance to be one of the great teams in history.
If you mean "great" in terms of skill — how well they executed those tactics of avoiding outs and getting outs — they made it. The website Baseball Prospectus publishes what it calls third-order standings, which estimate what each team's record should be based on their underlying performance of, more or less, avoiding outs and getting outs. The Astros not only had the best third-order record in baseball this year, but they had the eighth-best since 1950, truly elite. They had the best ERA+ in baseball this year and the second-best OPS+. They won 103 games — the fourth-most by any team this century — and the evidence suggests pretty strongly that they actually played even better than that, depending on how you consider the words "played" and "better."
Then they got run over by the Boston Red Sox in the ALCS. But what do we mean by run over? Outhit? Outpitched? On the most basic, tactical level, the Astros outhit the Red Sox this series: They had the better on-base percentage (by 10 points) and the better slugging percentage (by one point). Which, of course, means they also outpitched the Red Sox, on that level. Their pitchers also threw more strikes than the Red Sox pitchers did. Their pitchers also got more swinging strikes than the Red Sox pitchers did. The Astros are so, so good at baseball, and in five games they showed it.
And they got smoked. A lot of good counts get wiped out by a caught line drive, and a lot of hits get wiped out by the third out of the inning. They don't count. By what counts, the Astros got smoked. They got outscored, and they lost 80 percent of their games, and the world will never get to really discern whether the Astros actually got unlucky or just came up short when it mattered most — those two explanations, unluckily, looking very similar to each other.
They also arguably ran into the most basic form of bad luck — a good opponent. They didn't draw the 2014 Orioles in the ALCS, but the 2018 Red Sox, also one of the great teams in history. Benintendi caught that ball. Martinez hit that homer. Betts was in position to make that play. The Red Sox are playing for the World Series, but they're also good enough to be playing for legacy.
So if you mean "great" by skill, yes, the Astros are probably there with the greatest teams in history. If you mean "great" by outcomes, they've still got work to do. Unluckily for the Astros, the former is just something we talk about. The latter is what pretty much all of us — including you, me, and the Astros themselves — actually care about. History will remember these Astros as the ones that got unlucky, and lost.