Joey Votto of Cincinnati Reds apologizes to James Paxton, Canada for remarks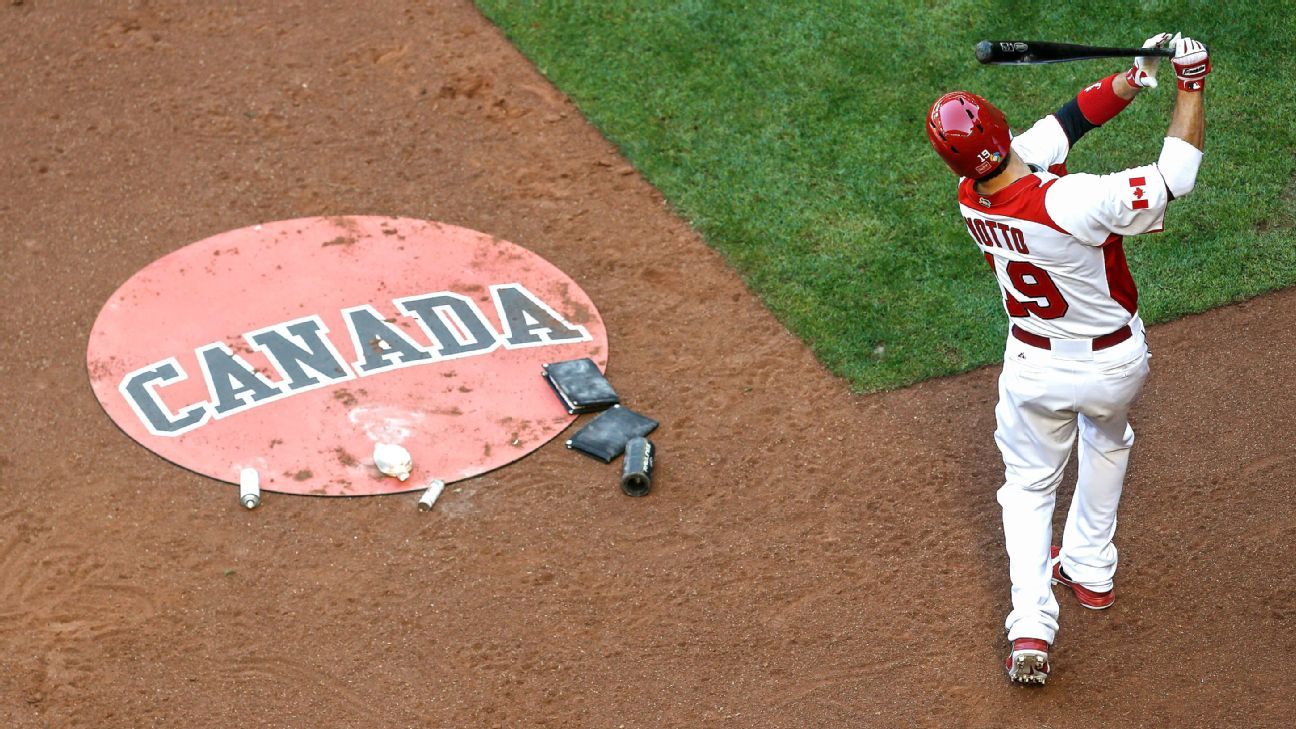 Joey Votto apologized for his comments belittling fellow Canadian James Paxton's accomplishment of throwing a no-hitter in Toronto, writing that his remarks "came out of a side of jealousy."
Votto, who is from Toronto, said in a podcast released Tuesday by Yahoo! Sports that he "couldn't give a rat's ass" about Paxton being the first Canadian to throw a no-hitter on his home country's soil.
"I don't care almost at all about Canadian baseball," Votto said on the podcast. "I wasn't raised inside of Canadian baseball really. I'm coming up on half of my life being in the United States working and being supported by American baseball."
"Clearly my reply came out of a side of jealousy for a Canadian baseball athlete being celebrated in the city of Toronto. It was an odd reply and one I am terribly ashamed of."

Joey Votto, in apology written for Canadian Baseball Network
He added: "As far as Toronto, and Canadian baseball, and the country of Canada, and (James Paxton) being Canadian, I don't care at all."
In an apology written for the Canadian Baseball Network, Votto said he was "ridiculously selfish and short-sighted" with his answer and is "saddened that I was so flagrant with my remarks and more importantly that I offended so many people that mean so much to me."
Votto won the Lou Marsh Award in 2017 as Canada's athlete of the year, the second time he won the award, and he played for Team Canada in the World Baseball Classic in 2009 and 2013. But those appearances didn't come until he was already established in the majors as an All-Star with the Cincinnati Reds.
"When asked about baseball in Canada, the Blue Jays and specifically this event, it took me back to the times and my resentment for not making Team Canada in high school, not being drafted by the Toronto Blue Jays out of high school, or not being picked for the Olympic team while in the minor leagues," he wrote.
"Clearly my reply came out of a side of jealousy for a Canadian baseball athlete being celebrated in the city of Toronto. It was an odd reply and one I am terribly ashamed of."
Paxton, who is from British Columbia, threw his no-hitter in the Seattle Mariners' 5-0 victory over the Blue Jays on May 8.
"To James Paxton, the Blue Jays, the Toronto fans, the women and men all across Canada that work so hard to promote and support Canadian baseball, I am sorry for my selfish comments and I humbly ask for your forgiveness," Votto wrote.
Los Angeles Dodgers ace Clayton Kershaw throw simulated game, nears return
LOS ANGELES — Clayton Kershaw is one step closer to a return with the Los Angeles Dodgers.
Kershaw pitched a four-inning simulated game Saturday, raising the possibility that he could be back in their rotation next week. The three-time NL Cy Young Award winner has been on the disabled list nearly a month with left biceps tendinitis.
Asked if he should be able to go in five days, Kershaw said: "Yeah, I should be."
Kershaw got up and down, mirroring game conditions, and pitched to Cody Bellinger, Chase Utley, Austin Barnes and Enrique Hernandez. Kershaw is 1-4 with a 2.86 ERA this season.
It's not certain he'll pitch in five days, when the Dodgers play Philadelphia in the finale of a 10-game homestand.
Dodgers manager Dave Roberts, who watched the workout with Andrew Friedman, the team's president of baseball operations, wants to see how Kershaw feels before determining when and where he will pitch next. Roberts had not yet talked to Kershaw before speaking with reporters.
"That's really encouraging," Roberts said after learning Kershaw said he should be ready to be back in the rotation. "For us, we've still got to talk through some things and make sure the right situation is for Kersh. A lot of it depends on how he feels (Sunday) and how things play out. Having him pitch today, feeling good coming off the mound, a lot of positives."
Through this stint on the disabled list, Kershaw found himself examining his mechanics.
"You never should focus on mechanics when you're competing. That's what the in between is," Kershaw said. "I've never really been a mechanics guy. The past few weeks I've been working on it a little bit. It's probably the first time that I can remember that I really focused on it."
Kershaw declined to explain what motivated him to focus on mechanics. The 30-year-old left-hander was positive about where he's at now.
"It's so hard to tell. Been working on little stuff here and there," Kershaw said. "You start focusing on getting hitters out and you stop thinking about your mechanics. Start worrying about trying to get people out. Hopefully muscle memory is ingrained in there. Felt a little bit better today."
Kershaw hadn't felt as positive following his previous bullpen, but he was encouraged Saturday.
"You can't simulate a big league game. All the things you do to prepare to pitch a big league game, you really don't know where you're at until you're in one," Kershaw said. "You do all you can to prepare. Ultimately, the only way to figure out if you're ready or not is to face guys. I feel like I didn't lose a whole lot from where I was but worked on a lot these last few weeks to try to get better and try to get healthy."
The Dodgers, who were one win away from the World Series title last year, are below .500.
"Being on the DL is no fun. Thankful that it wasn't too incredibly long," Kershaw said. "Just to be able to get back out there. You don't feel a part of the team a whole lot when you're on the DL. It's good to be out there and hopefully help a little bit."
Boston Red Sox second baseman Dustin Pedroia returns to lineup after knee surgery
BOSTON — Red Sox second baseman Dustin Pedroia is back after being sidelined by offseason knee surgery.
The 2008 American League MVP and four-time All Star went 0-for-4 with a walk and scored in Boston's 8-6 victory against the Atlanta Braves on Saturday.
He received a standing ovation when he came up with the bases loaded and two outs in the first. He flied out to right to end the inning.
"It was great to be back, a great win for us, and it was exciting," he said. "I'll never forget that first at-bat. That was pretty cool."
The 34-year-old Pedroia admitted to some nervousness in the clubhouse before batting practice.
"Yeah, it's been a long time, a lot of work put into to get to this point," he said. "So, yeah, I'll be a little nervous."
Pedroia had cartilage-restoration surgery on his left knee seven months ago. He was not in Boston's Opening Day lineup for the first time since 2007.
He batted sixth in his return to the Red Sox (36-16).
"I don't want to break up the top two," manager Alex Cora said. "I'm very comfortable with them the way they're getting on base.
"I think that's a good spot for him to have traffic in front of him."
Cleveland Indians place Andrew Miller on DL
The Cleveland Indians have placed Andrew Miller on the 10-day disabled list, as the left-handed reliever deals with right knee issues that also marred his 2017 season.
Miller allowed three runs in less than an inning of an 11-2 loss to the Houston Astros on Friday. He has struggled since missing two weeks with a strained hamstring.
"I'm definitely not sharp," Miller said after Friday's game. "I wish I had the answers. I think there's flashes of it, but it's been a pretty big grind lately."
A two-time All-Star, the 32-year-old left-hander was on the DL twice last season with patellar tendinitis in his right knee.
He was officially placed on the DL this time with right knee inflammation.
Right-hander Evan Marshall was recalled to fill the open roster spot.
Information from The Associated Press was used in this report.