Bryce Harper of Washington Nationals avoids free agency talk
WASHINGTON — Bryce Harper didn't walk out the door. But he didn't walk into a trap, either.
"I'm a National now," Harper said Tuesday, when asked about his future prior to Washington's series opener against the visiting New York Yankees. "We're going into the series trying to win some ballgames. That's the only thing on my mind. Just trying to beat a good team over there."
Harper's goal went unrealized Tuesday, as the game was suspended by rain with the score tied 3-3 in the middle of the sixth inning. The game is set to resume Wednesday at 5:05 p.m., ahead of the previously scheduled 7:05 p.m. second game of the series.
New York, which came here with the best record in baseball (28-12), has long been considered a potential destination for Harper, whose contract expires after this season. Even though the Yankees acquired 2017 National League MVP Giancarlo Stanton in December, they're still one of several teams thought to be among the primary contenders for Harper's services.
Back in February, when Harper addressed reporters for the first time this year, he said that if anyone asked about his status beyond the 2018 season, he'd "be walking out right out the door." On Tuesday, the former NL MVP stood in front of his locker and danced around several questions pertaining to the Yankees and his future.
"Every single time we go in to face somebody, we've got to do things to keep track of what's important," said Harper, "and that's winning ballgames and doing the things we can as a team to play well. Doesn't matter who we're playing — if it's the Yankees, Cubs, Dodgers, Phillies, name it. Doesn't really matter the team or the atmosphere. Just trying to go in there, try to win ballgames."
The Nationals have been winning ballgames despite the fact that their star right fielder has been slumping. Although Harper entered Tuesday leading the majors in walks (41) and tied for the lead in home runs (13), he's hitting just .186 over the past four weeks, dropping his average to .236 on the season.
Washington began its two-game set with New York having won 13 of its past 15 contests to move within 1.5 games of the first-place Atlanta Braves in the NL East. The hot streak has come without contributions from several injured regulars, including second baseman Daniel Murphy and left fielder Adam Eaton.
Eaton, who has been out since injuring his ankle in early April, had arthroscopic surgery on Thursday. He revealed Tuesday that he expects to miss six weeks.
"I'm pumped to get off to rehab and strengthen the crap out of this thing and be back for half the season," said Washington's leadoff hitter, who missed most of last season after injuring the same ankle and his knee in late April. "That's my goal, for sure. Three months of baseball. Give me enough time to get into the grind of things. I'm excited to get back."
MLB — Real or Not? Ronald Acuna Jr., instant superstar
The first thing that strikes you about Ronald Acuna Jr. is how much this kid enjoys playing the game. He's flat-out fun to watch and not just because he's doing things we've never seen from someone so young. He brings that extra flair that carries the enthusiasm of youth with the air of the spectacular, with his tongue sticking out during a theatrical trot around the bases or a smile as wide as the Atlantic. He's good and he knows he's good, and this is OK.
The 20-year-old phenom continued to blast his way into the record books with two more home runs in the Atlanta Braves' 10-5 victory over the Miami Marlins on Tuesday:
We're witnessing history, folks!#ChopOn pic.twitter.com/1nVRssxx5a

— Atlanta Braves (@Braves) August 15, 2018
Over this historic eight-game run, Acuna has 16 hits and eight home runs, giving us this impressive list of accomplishments:
To summarize, Ronald Acuña Jr. is the youngest player ever to…

Homer twice on back-to-back days
Homer 8 times in an 8-game span
Homer 6 times in a 5-game span
Homer in 5 straight games
Homer to lead off 3 straight games
Hit 5 career leadoff homers#ChopOn https://t.co/nsLd3G45kZ

— Stats By STATS (@StatsBySTATS) August 15, 2018
A week ago, Acuna was hitting .261/.321/.478. He's now hitting .288/.346/.576, raising his OPS 122 points. There's no other to way put this: When you're this good this fast, you have clearly established not only the possibility of becoming the best player in the game, but comparisons to other 20-year-old stars like Ken Griffey Jr. or Mike Trout no longer feel outrageous or silly.
In the case of Griffey, that comparison extends beyond the performance on the field. During a week when we heard the needless and silly apology from the Cubs' David Bote for celebrating his walk-off grand slam on Sunday with a bat flip, Acuna is a reminder that — like when a young Griffey wore his hat backward — we should just go with it and enjoy the show.
And what a show it has been. For the season, Acuna has hit nearly everything thrown his way:
OK, you can get him out with sliders off the plate and sinkers down and away, but he has the bat speed to catch up to any fastball and has shown the precious aptitude to adjust to the slow stuff. There's certainly room for improvement — his strikeout rate of 28.0 percent and walk rate of 7.3 percent are well below what Trout posted in his age-20 season (21.8 and 10.5 percent) — but this week of dominance might suggest that those adjustments are already in progress.
Even if he's not the next Trout — an impossible standard — is Acuna at least destined to become an annual MVP candidate like Trout? Sure, with his speed and defense added to his growing power, it's possible. Nothing is guaranteed, of course. Consider what has happened to Cody Bellinger this season. His line from 2017 as a 21-year-old matches up with Acuna's current line:
Bellinger, 2017: .267/.352/.581
Acuna, 2018: .288/.346/.576
Bellinger even had a stretch of eight home runs in eight games (Bellinger was the previous youngest player to hit eight home runs over eight games). Bellinger also showed the ability to hit the fastball and adjust to the off-speed stuff, which seemed to indicate a long future as one of the premier hitters in the game. Instead, he has hit .254/.337/.465, solid enough, but not MVP-type production.
Anyway, it has been an amazing stretch for the Braves' outfielder. Let's see what happens Wednesday. Nine in nine?
We don't like each other: Benches cleared in the San Francisco Giants' 2-1 victory over the Los Angeles Dodgers, with Yasiel Puig in the middle of the action:
Benches clear in Giants-Dodgers game with Nick Hundley and Yasiel Puig at the center of it. pic.twitter.com/r3ZHHdzL3A

— MLB (@MLB) August 15, 2018
Puig and Giants catcher Nick Hundley were both ejected and will probably receive a one-game suspension for shoving each other, but the bigger picture is the Giants won the game on Alen Hanson's go-ahead single in the top of the ninth — the fourth straight game the Dodgers have lost on their opponents' final at-bat. Courtesy of Elias Sports Bureau research: That's the first time that has happened in Dodgers franchise history.
While the bullpen blues are of major concern, the offense has dried up of late. Since beating the Brewers 21-5 on Aug. 2, the Dodgers are 3-8 while hitting .219/.289/.364. Manny Machado has hit .258/.345/.392 since joining the Dodgers with only two home runs and six RBIs in 25 games. Matt Kemp has predictably regressed from his hot start and is hitting .155 with two home runs in 22 games since the All-Star break. The bullpen needs to fix the late-inning issue, but it has become an issue because the offense is no longer carrying the team.
The A's are one game behind the Astros: Man, an Astros-Yankees wild-card game would be something, wouldn't it? The A's are now 50-0 when leading after seven innings, beating the Mariners 3-2. Here's your nightly Matt Chapman highlight:
The Tarp Monster was undefeated until it met @MattChap6 #RootedInOakland pic.twitter.com/DT6snTuzrV

— Oakland Athletics 🌳🐘⚾️ (@Athletics) August 15, 2018
Jed Lowrie did double damage to the Mariners. He knocked out James Paxton in the first inning with a liner off Paxton's left arm (X-rays were negative, but Paxton will miss at least one start). Lowrie later had a two-run home run off Felix Hernandez.
Meanwhile, Justin Verlander failed to pick up career win No. 200 as the Rockies won 5-1, scoring three runs in the late innings against the Houston bullpen. The Astros haven't won a home game since July 14 as they've lost nine straight at Minute Maid. The lineup, still missing Jose Altuve, George Springer and Brian McCann, continues to struggle as the Astros have hit .219/.298/.377 in the second half while averaging 3.95 runs per game (compared to 5.05 in the first half).
Brandon McCarthy of Atlanta Braves to retire at end of season
Atlanta Braves pitcher Brandon McCarthy will retire at the end of this season, ending a 13-year career that has been plagued by injuries.
McCarthy, who has been out since June 24 with a knee injury, told MLB.com that he hopes to return to the Braves as a relief pitcher at some point this season.
"I'm done after this," McCarthy told MLB.com. "This is it. The offseason is the rest of my life. If I was going to keep playing, a month and a half ago, I would have had the surgery that cleans the [knee] and I'd be back next year just a little bit after spring [training]."
McCarthy, 35, said he is making a mechanical adjustment in his delivery to decrease the stress on his knee. The right-hander is 6-3 with a 4.92 ERA in 15 starts this season with the Braves.
McCarthy has battled multiple injuries to his shoulder and elbow throughout his career. He also had a major scare in 2012 when he was struck in the head by a line drive, suffering a skull fracture and an epidural hemorrhage.
McCarthy is 69-75 with a 4.20 ERA in 255 career games over parts of 13 seasons with the White Sox, Rangers, Athletics, Diamondbacks, Yankees, Dodgers and Braves.
Los Angeles Dodgers' Yasiel Puig, San Francisco Giants' Nick Hundley ejected after scuffle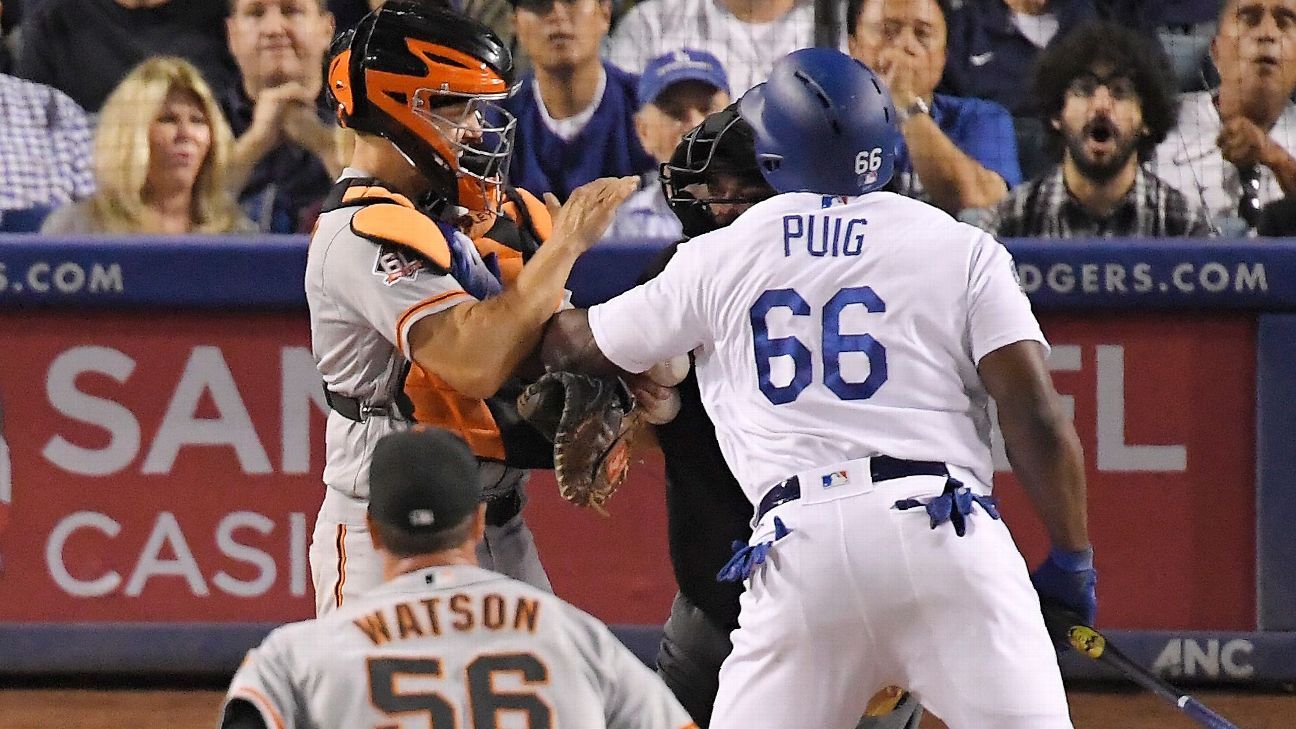 LOS ANGELES — Los Angeles Dodgers outfielder Yasiel Puig took a swing at San Francisco Giants catcher Nick Hundley and both players were ejected during a benches-clearing scrap in the seventh inning Tuesday night.
Puig swatted his bat in frustration after fouling off a pitch from Tony Watson, and Hundley said something to the Dodgers slugger while still in his crouch. Puig turned around and walked toward Hundley, the catcher stood up, and they stood face to face and argued for a moment before Puig shoved Hundley twice.
That brought players out of the benches and bullpens. Puig and Hundley were momentarily separated, but Puig ducked around teammates, coaches and manager Dave Roberts before reaching back to hit Hundley. He smacked Hundley with an open hand across the front of his catcher's mask.
The players were then separated again for good. After discussions with both managers, the umpires ejected both Puig and Hundley.
Puig was replaced at the plate by Austin Barnes, who inherited a 1-2 count and then struck out. Buster Posey, who had been playing first base, replaced Hundley behind the plate and Brandon Belt came off the bench to take over at first base. The Giants won the game 2-1.
It was the fourth career ejection for Puig, who had also got into a skirmish with Giants pitcher Madison Bumgarner in 2014.
Information from The Associated Press was used in this report.