2018 NFL offseason – Quarterback Confidence Index rating for all 32 teams depth chart after the draft
Are you feeling any more confident about your team's quarterback situation than you were three months ago?
Remember this before you answer: The question is about confidence. Not hope. Not optimism. Confidence. This is a great time on the NFL calendar for hope and optimism. Maybe your team signed a guy you like, or drafted one, or both. That doesn't necessarily mean things are all fixed to the point of confidence. Draft picks take time to develop. Free-agent signings don't always click in Year 1.
Fortunately for you, dear reader, we maintain a laser focus here with our periodic QB Confidence Index. You may not like where your team sits on our list, but before you get too angry, remember what we're talking about here. Not hope, not even faith. Confidence.
Before we get to the list, our usual disclaimer that no one reads: This is not merely a ranking of starting quarterbacks. This is a ranking of teams based on how confident those teams are in their quarterback situation as a whole. That means it includes the reliability of the backup situation, the injury history (recent and otherwise) of the starter, the long-term plan at the position… lots of stuff other than just which starting QB is better. So try to remember that as you peruse, and thanks as always for doing so. Your attention does not go unappreciated.
Here's the post-draft edition of the QB Confidence Index.
Click on the links below to go directly to your team:
ARI | ATL | BAL | BUF | CAR | CHI | CIN | CLE | DAL | DEN | DET | GB | HOU | IND | JAC | KC | LAC | LAR | MIA | MIN | NE | NO | NYG | NYJ | OAK | PHI | PIT | SF | SEA | TB | TEN | WAS

We kept them out of the top spot back in February because starter Carson Wentz is recovering from a torn ACL and there's a good chance he's not ready for Week 1. But as we'll discuss in a second, the situation with the team that sat in this spot last time (the Patriots) has grown murkier. And if ever there were a team built to earn the top spot on a list like this, it's a team that knows it has its franchise guy for the future and whose backup just won a Super Bowl MVP trophy. If it's Nick Foles to start the season, the Eagles have plenty of confidence he can get it done.
Starter Aaron Rodgers is on his way back from an injury too, but there's no indication that training camp or any part of the regular season is in jeopardy. The Packers soon will demonstrate their confidence in DeShone Kizer, who combined with Rodgers to start 24 games in the NFL last season. How many teams' QB rooms can make a claim like that?
Tom Brady gives us a peek into his beach workout as the QB works on rushing drills in the sand while wearing a parachute.
Tom Brady turns 41 in August, hasn't been to offseason workouts, seemed to at least dangle the possibility of retirement at one point this offseason and doesn't seem to be on super-great terms with coach Bill Belichick. As long as Brady's playing, he's in the discussion for best QB in the league along with the guy we discussed at No. 2. But Brian Hoyer isn't the most confidence-inspiring backup, given the loftiness of the Patriots' goals, and seventh-round pick Danny Etling isn't likely the long-term successor. Brady's brilliance keeps the Patriots this high on the list, but a high level of uncertainty locks them out of the top spot for now.
Drew Brees is poised to set all-time career records for passing yards and completions at some point early in the 2018 season. After Sam Bradford broke his record for single-season completion percentage in 2016, Brees came right back and broke it again last year. He's a slam-dunk Hall of Famer who, like Brady, shows no signs of slowing down anytime soon. So even at age 39, he keeps the Saints at this lofty spot on this list. Tom Savage is the backup, and he's started games in the NFL, but like Hoyer in New England he'd represent a significant drop-off should the starter get hurt.
This team is set for longer than the two teams in front of it because Russell Wilson is only 29. Had the Seahawks been a playoff team last year, Wilson — who led his team in rushing as well as passing — would have had a strong MVP case. He doesn't miss games, which mitigates the otherwise troubling fact that Austin Davis is his backup. Seattle is a prime example of a team whose confidence in its starter is enough on its own to merit a top-five spot.
Matt Ryan was obviously due for a bit of a comedown off his 2016 MVP season. But he's still reliably healthy and productive, and his second season with offensive coordinator Steve Sarkisian should go better than his first did. Matt Schaub is the veteran backup who knows his role and the system perfectly, and the Falcons' confidence in Ryan was made clear a couple of weeks ago by the record $100 million in guaranteed money in his new contract.
Matthew Stafford got his huge contract extension last offseason, and nothing's changed here since then. Matt Cassel and Jake Rudock are the backups, but like the guys in front of him on this list, Stafford doesn't miss games. He plays hurt, he loves the offensive system in which he plays, his receivers fit what the Lions are doing perfectly and they trust Stafford to get them the ball. If the Lions have problems, quarterback isn't one of them. That's the definition of confidence.

We get into this zone every time we do this where things start to sound the same. Throw the Falcons, Lions and Chargers into a hat and pick them out in any order you like. Philip Rivers is 36, but last year he posted his highest Total QBR since 2014 and his lowest interception total since 2009. He won't be around forever, and Geno Smith and Cardale Jones don't look like long-term success solutions. But Smith's played in the league, Rivers doesn't miss games and as long as he's there the Chargers can be confident in what they have.
Yeah, $84 million in guarantees for Kirk Cousins tells you they're confident he's the missing piece. Underappreciated in Washington, Cousins has a chance to thrive with the receivers and run game the Vikings can put around him. Backup Trevor Siemian started 24 games the past two seasons for the Broncos, and while you may not have enjoyed watching them all, that's a better backup option than a lot of teams have. And by the way, three months ago, new offensive coordinator John DeFillippo was the quarterbacks coach for a team that won the Super Bowl with Nick Foles.
Stephen A. Smith says Dak Prescott's next contract should be high because the Cowboys have committed to him as their franchise QB.
There may be some external trepidation about Dak Prescott after a 2017 in which he understandably fell short of the high expectations his dazzling rookie season set. But I don't detect much of that in Dallas, where the Cowboys believe Prescott is the guy for them. They're going to be a run-heavy team, and the release of Dez Bryant and the retirement of Jason Witten took 220 targets away from the passing game. But if Tyron Smith is healthy and Ezekiel Elliott plays all 16 games, the Cowboys believe they have a team built to help Prescott thrive in Year 3. Cooper Rush and Mike White don't inspire a ton of confidence in the backup situation.

Uh… yeah. What's the latest on Ben Roethlisberger and Mason Rudolph? Are they best buddies now or what? Look, this situation is weird, is all. Roethlisberger is 36 and this is the first offseason in recent memory in which he didn't indicate at least some inclination toward retirement. Then he flipped out when they drafted a quarterback in the third round. Big Ben got through last season without missing a game due to injury, which is unusual for him and encouraging for 2018. But long-term, who knows what happens here in terms of how long he plays, who the successor is, whether Rudolph or Landry Jones is the backup this year… lots of layers to this one.
New year, new offensive coordinator for Cam Newton, who gets to try the Norv Turner experience after blossoming under Mike Shula. Same old questions about Cam: Can he survive if he keeps running the way he does, taking those hits, etc? But he keeps on ticking, and while it doesn't always look pretty in the passing game, the Panthers know what they have in Newton, who finds various ways to win games. Backup Taylor Heinicke is a guy Turner had in Minnesota a couple of years ago and knows how to operate the system.

Well, there's little doubt about how confident the Giants are in Eli Manning. They spent the offseason making move after move designed to support their veteran QB, including using the No. 2 pick in the draft on a running back. If they're right, and the 37-year-old Manning has three good years left, they could look very smart. If they're wrong, and the decline Manning has shown the past two years continues, they could be looking for a replacement sooner rather than later. Fourth-round pick Kyle Lauletta is intriguing but flawed and isn't likely to be in position to replace Manning if they have to do that soon. And 2017 third-rounder Davis Webb remains a complete mystery.
The contract extension Washington gave Alex Smith after acquiring him from the Chiefs shows more confidence than they were ever willing to show in Cousins. Smith is a reliable 34-year-old veteran who doesn't turn the ball over and just had the best statistical season of his career. He may not register high on the excitement meter, but you can feel confident in what you have in him. Colt McCoy and Kevin Hogan as backups don't do anything to push the ranking higher.
Derek Carr's numbers dropped across the board from his stellar 2016 season, so the Raiders changed … well, basically everything around him. New coaching staff, overhauled wide receiver corps, personnel changes on defense, an influx of 30-somethings all over the roster. Can Jon Gruden get Carr back to playing the way he did two years ago? If so, the confidence meter will spike back up in a hurry. EJ Manuel and Connor Cook are the backups, each with some modicum of NFL experience. But Carr is only 27, so the bulk of the confidence index in Oakland rests with him.
Marcus Mariota, like Carr, is another young quarterback who declined instead of moving forward in 2017. We give Tennessee the slightest edge over the next team on this list because of the playoff experience Mariota got last year. He needs to show he can stay healthy, and it would help the Titans' position on this list if Mariota and Corey Davis found a way to click in 2018. Blaine Gabbert sits there as yet another backup who we know can step in and manage an NFL game if need be.
Add Jameis Winston to the list of dudes we thought would take a big leap forward in 2017 and didn't. Winston was hurt, and when he came back (into a lost season) he played about as well as any quarterback in the league did down the stretch. Tampa Bay is surely confident they have their guy, and they kept the coaching staff intact around him even after a disappointing season for the team. Ryan Fitzpatrick returns for another year as the backup, and he's one of many in the building who speak highly of Winston as a leader.
Here's where we get into the distinction we made in the intro to this column. The teams that follow Cincinnati on this list surely feel more excited about the prospects of their QB situation than the Bengals do. But Andy Dalton is more proven as a starter than the guys who start for those teams, and the three years prior to 2017 saw him complete 64.9 percent of his passes. His 2017 decline is troubling, but a midseason offensive coordinator change is never easy. If he doesn't bounce back, Cincinnati slides down this list and could find itself moving on from Dalton before long. AJ McCarron's departure also leaves the backup situation shaky, as it's now in the hands of Matt Barkley or Jeff Driskel.
A year ago, Sean McVay and the Rams' new coaching staff weren't sure what they had in Jared Goff. They feel much more confident now, though obviously they gave Goff a lot of help last year and will work to help him advance more on his own in 2018 and beyond. The No. 1 overall pick from the 2016 draft at least looks like one at this point, and the Rams can hope that he continues to build on his successful 2017. Sean Mannion and Brandon Allen are the backups at this point.
No one was more dazzling in 2017 than Deshaun Watson while he was healthy. And the Texans believe he'll be ready for training camp and the start of the season coming off his torn ACL. They are confident they have a special talent who can handle the NFL game. That confidence will skyrocket (as will Houston's place on this list) if Watson can come back healthy and play even close to the way he did over the first half of 2017. Brandon Weeden, Joe Webb and Stephen Morris are the other QBs on the roster, and while Bill O'Brien has made the playoffs with a bunch of different dudes, obviously his hope is that things are finally settled for him at the position with Watson.

No team struggled more to figure out who to play at quarterback in 2017 than the Broncos did, which is why they tried to lure Cousins and ended up bringing in Case Keenum. A one-time backup who emerged as one of the top passers in the league in 2017, Keenum settles things down for Denver at the most important position and should be able to return the offense to some degree of respectability. If nothing else, this is the first time since Peyton Manning was there that the Broncos go into an offseason knowing who their quarterback is. Former first-round pick Paxton Lynch is still there, and they technically haven't given up on him yet. But Keenum is the man for at least this year and next, and the Broncos feel good about it.

No team is more fired up about a relatively unproven QB than the Niners are about Jimmy Garoppolo. And hey, I get it. He's literally never lost a game (7-0 in his career). Garoppolo is a bit like Watson in Houston, in that a continuation of the small-sample-size performance we saw last year would necessitate a big jump on this list the next time we do it. A spring and summer spent really digging into Kyle Shanahan's offense will tell the tale, as will the way Jimmy G handles things when he inevitably does lose a game. But the contract extension screams confidence, and away they go by the Bay. C.J. Beathard, who was starting last year until the Jimmy G tornado swept into town, is in place as the backup and obviously knows the scheme.

Joe Flacco has completed an impressive 64.5 percent of his passes over the past three years, but he's only averaging 244 yards per game and has a touchdown-to-interception ratio of 52:40 over that same time. Oh, and the Ravens just moved up to draft Lamar Jackson at the back end of the first round. Odds are, they spend this year designing an offense around Jackson's skill set while developing him in a backup role and then move on from Flacco in 2019 or 2020. Flacco would have to play very well this year to get the Ravens to re-think that plan, and Jackson's arrival doesn't indicate much confidence at all in the QB situation as it stands in Baltimore.
The Jags gave Blake Bortles an extension early in the offseason, indicating they'd prefer to stick with him and what worked in 2017 than to go out and spend big on someone like Cousins. They didn't draft a quarterback until the sixth round, and the backup as of now is Cody Kessler. The Jags are, for the moment, all-in on Bortles. The reason they're down so low is that (a) the commitment isn't an overly long-term one and (b) they don't ask Bortles to do as much as other teams ask their quarterbacks to do. The Jags want to run and run and run some more, and while Bortles has played well in flashes he hasn't shown the consistency you need to see to inspire confidence. And if he flops, there isn't much behind him.

Yeah? You tell me. Is Andrew Luck, who hasn't thrown a football in a year and a half, going to be ready to start the season? If he is, is he going to be confident enough in that shoulder to thrown the ball the way he used to throw it? If the answers to those questions are yes, then you're right, the Colts need to be much higher on this list. But how can you, I, he or they really know those answers? Especially when they were all saying the same things this time last year and he missed the whole season? Jacoby Brissett was a surprisingly good backup, but the record indicates that plan didn't REALLY work.
Mitchell Trubisky showed during his 2017 rookie season that he can handle the pressure of playing in the NFL. He didn't show much else, mainly because the Bears didn't ask him to do very much. But new coach Matt Nagy should change that, and we may get to see the talent that made Trubisky the No. 2 pick in last year's draft. If Nagy can install anything like what he was running in Kansas City last year, Trubisky could move up very quickly on this list and others. Chase Daniel is the backup and knows what Nagy wants to do from their time together in Kansas City.
Patrick Mahomes has played one NFL game. In it, he dazzled with his arm strength and led us to believe his raw ability mixed with Andy Reid's creativity and all of those offensive weapons the Chiefs have can put together something magical. The question is one of timetable, as Mahomes will surely need time to develop as a starter. Plenty of hope and excitement around this youngster, and the team feels confident enough in his readiness to give it a try that they dealt Alex Smith to Washington. But it's a high-risk move and hard to have much confidence in it until we see how it all unfolds.
Miami's committed to Ryan Tannehill, for this year at least, but he's coming off a torn ACL as well and didn't play at all last year, so confidence isn't easy to come by. They didn't draft a quarterback, and so far they've added Brock Osweiler and Bryce Petty to the backup corps. So Tannehill's job looks safe. You just wonder about the sustainability of the whole situation in Miami, and whether changes are on tap for next offseason that would include the quarterback.
It's got to be better. Honestly, that could be the Cleveland Browns' official 2018 team slogan. "The 2018 Browns: It's got to be better." You go 0-16 with an unprepared rookie starting games ahead of unprepared backups, you can only improve your confidence and your expectations for the quarterback position. Enter Tyrod Taylor, late of the Buffalo Bills, to start while No. 1 overall pick Baker Mayfield gets ready. Taylor is fine, and makes the Browns better, and Mayfield… who knows? Obviously, they believe he's the guy there long-term. He provides hope while Taylor should provide the week-to-week competence and stability the Browns lacked at QB last year.
Pedro Gomez says Josh Rosen did not disappoint at his first Cardinals rookie mini camp appearance.

When we did this three months ago, the Cardinals had literally no quarterbacks on their roster. They ranked last on the list. And you can argue that the addition of Sam Bradford in free agency alone should move them higher up this list. I could argue in return that Bradford's health history gives me pause, that backup Mike Glennon was a mess as a starter for the Bears last year and that No. 10 overall pick Josh Rosen is at this point an unknown from an NFL standpoint. If Bradford's healthy or Rosen advances quickly throughout the summer, no issue moving the Cardinals up ahead of some of the questionable situations ahead of them. But we'll need to see at least one of those things to believe them.

They brought back veteran Josh McCown, who's a known quantity and played well for them last year. They added Teddy Bridgewater, who's a major health concern and basically hasn't played in two years. And they drafted Sam Darnold No. 3 overall, which could be fantastic down the road. Heck, Darnold (or Bridgewater!) could theoretically beat out McCown for the starter's job this offseason. But it's tough to feel confident about this situation in the short term or long term, even if there's reason to hope either or both could be OK.

Someone has to be last. There's nothing intrinsically wrong with the way Buffalo addressed the QB position this offseason. AJ McCarron deserves a shot, and maybe he'll take advantage of this opportunity and establish himself as an NFL starter while No. 7 overall pick Josh Allen gets ready as a backup. Maybe Nathan Peterman shows enough in camp to get a shot ahead of McCarron. There are some maybes here that can help Bills fans build a case for optimism. But confidence? Hard to make any kind of confident bets on any of these guys right now. Even if it's legal now.
Extending John Harbaugh is one coaching decision that makes sense – Baltimore Ravens Blog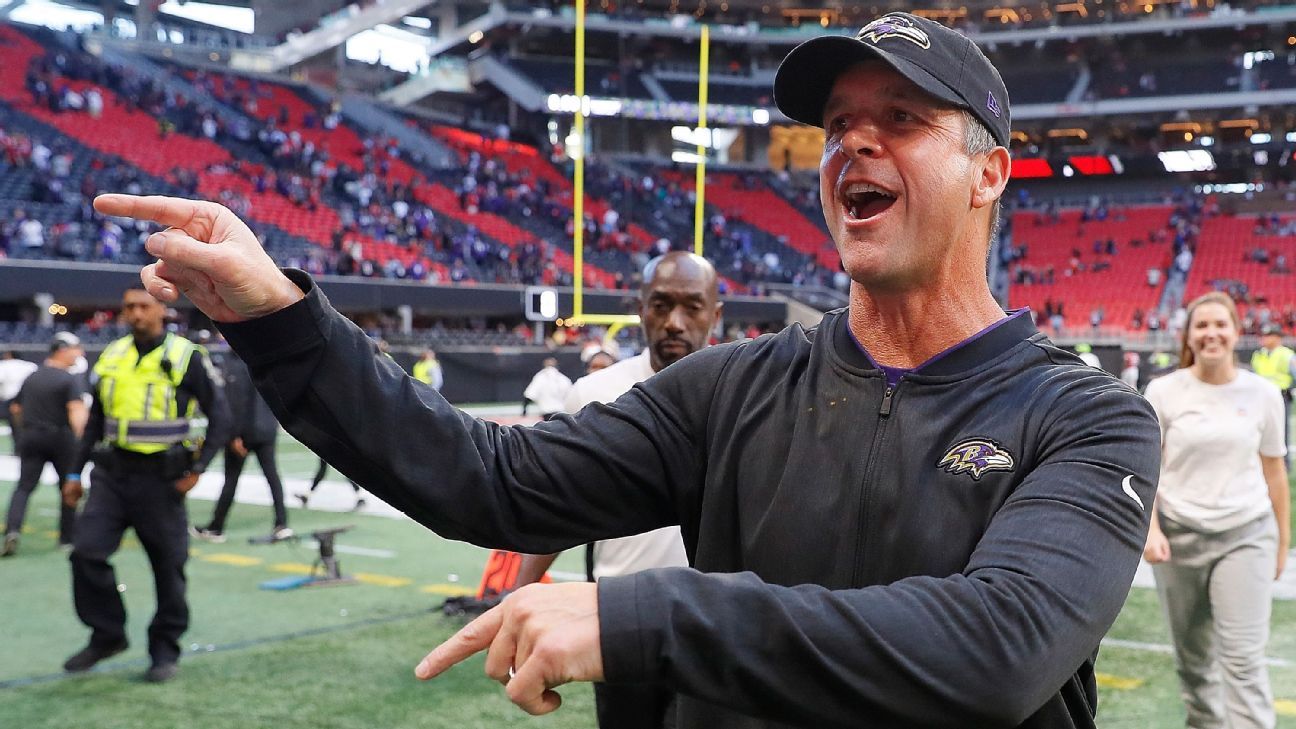 OWINGS MILLS, Md. — The Baltimore Ravens and coach John Harbaugh have an agreement in principle on a long-term extension, which is the one coaching decision this offseason that makes the most sense.
This is a reward for turning a spiraling Ravens team into AFC North champions and giving a vision for what to expect from new franchise quarterback Lamar Jackson. This is a strong vote of confidence for the best coach in team history and for a leader who has the NFL's best postseason track record over the past 11 years outside of Bill Belichick.
The biggest reason why this was a no-brainer resolution comes in the form of a question: Who would the Ravens replace him with?
Kliff Kingsbury? He went 35-40 in six years at Texas Tech — which included two seasons with Patrick Mahomes as his starter — before being dismissed in November.
Matt LaFleur? He was the playcaller for the NFL's No. 25 offense and got shut out by the Ravens in October.
Bruce Arians? The 66-year-old has health issues in his past and retired a year ago, saying, "I wasn't enjoying the game as much as I had in the past."
While no one knows how any of these surprising hires will pan out, Harbaugh has proven to be as sure of a bet as there is in today's coaching landscape. His 10 playoff wins since 2008 rank second only to Belichick. Harbaugh has led Baltimore to the playoffs seven times in the past 11 seasons and has had one losing record over that span. The other coaches who can boast that are Belichick, Mike Tomlin and Pete Carroll.
Harbaugh is at a different level than these other candidates, which is why he presumably would have been at the top of the list for any team looking for a new head coach. He has a Super Bowl ring, 114 victories (including playoffs) and a reputation for getting the most out of his team despite injuries, the lack of game-changing playmakers and uneven quarterback play.
If a team had offered draft picks in a trade for Harbaugh, that would have been an intriguing proposition for Baltimore. But an argument can be made that Harbaugh has kept the Ravens in the playoff race at the end of the season nearly every year despite some disappointing drafts.
• Chiefs' Williams: Afterthought to feature back
• Can Saints replace Ingram in free agency?
• Eagles Foles' options: Tag and trade?
• Shanahan knew he had special assistants
• Packers' plan: Run ball, let Rodgers 'go play'
• Playoffs schedule, Super Bowl LIII coverage
Under Harbaugh, Baltimore has repeatedly overcome missing on some high draft picks. Since 2009, the Ravens have drafted two players (linebacker C.J. Mosley and fullback Kyle Juszczyk) who made the Pro Bowl during their time in Baltimore. Over that time, Harbaugh led the Ravens to the playoffs six times, including winning the Super Bowl in 2012.
Harbaugh is coming off what arguably was his best season. He helped turn around the Ravens from wallowing at 4-5 at the bye to playing host to a postseason game, and he did so with a rookie quarterback. Jackson went 6-1 as a starter in the regular season because of an offensive system constructed by Harbaugh and his staff.
With Harbaugh, there is a confidence level that Jackson can develop because of how the past two months played out. With a new coach, there's more uncertainty as to whether Jackson's unique skill set will be maximized.
NFL history has shown an extended run of success comes when teams have cornerstones in place at head coach and quarterback. The Ravens are hoping they have their franchise quarterback in Jackson. But Baltimore already knows the commodity it has in Harbaugh, which is why a recommitment to him will represent the best move the Ravens will make this offseason.
Baltimore Ravens have agreement in principle with John Harbaugh on extension
The Ravens and head coach John Harbaugh have an agreement in principle on a contract extension with "some lawyer stuff left to do," a source told ESPN's Chris Mortensen.
Harbaugh's extension will keep the most successful coach in franchise history in place for the foreseeable future. This agreement ends speculation of the possible trading of Harbaugh and keeps him from being a coaching free agent at the end of the 2019 season.
Harbaugh's back was against the wall in the middle of November, when the Ravens reached the bye with a 4-5 record and on a three-game losing streak. Along with Lamar Jackson taking over for injured starting quarterback Joe Flacco, Harbaugh inspired one of the bigger turnarounds in the NFL this season, guiding the Ravens (10-6) to the AFC North title and their first playoff berth since 2014.
Harbaugh, 56, is the NFL's fifth-winningest active coach with a 114-77 record (.597), taking Baltimore to the postseason in seven of his 11 seasons and leading the Ravens to a Super Bowl title in 2012. His 10 playoff wins since 2008 rank only behind Bill Belichick.
This deal doesn't come as a surprise because the Ravens announced on Dec. 21 that Harbaugh would return in 2019 and the sides would work on an extension. After the 23-17 wild-card playoff loss to the Chargers on Jan. 6, Harbaugh said he didn't feel there was any uncertainty about his future.
"I have every expectation, every plan, to be here as long as they want me here, and I believe I'll be here," Harbaugh said. "I think that's been made clear by them, to me, over the last few weeks. Like I said a couple weeks ago — or last week — I love everybody in the organization; they're great people. I expect to go forward with that as long as that's what they want to do. I do believe that's what they want to do. Let's roll."
Harbaugh has received criticism for his team's run of mediocrity in recent years. Since winning the Super Bowl, Harbaugh had gone 40-40 and made the postseason only once from 2013 to 2017.
What often went overlooked was how the Ravens ranked near the top of the league in each of those seasons with players on injured reserve and how the talent on the roster became depleted. In those five years, Baltimore only drafted two Pro Bowl players (linebacker C.J. Mosley and fullback Kyle Juszczyk).
Still, the Ravens have never unraveled completely. Baltimore has only one losing season under Harbaugh (5-11 in 2015).
Well-respected around the league, Harbaugh would've likely been the top candidate for many of the head-coaching vacancies this offseason if he was available. The Ravens are one of six teams to reach the postseason at least seven times in the past 11 years (New England, Green Bay, Indianapolis, Pittsburgh and Seattle are the others).
Another strong factor in Harbaugh's return was the fact he never lost the respect of the locker room.
"This team believes in him," safety Eric Weddle said in November. "We have his back."
The Ravens remain one of the most stable franchises in the NFL. Harbaugh is only the third coach in the team's 23-year history.
Among active NFL coaches, Harbaugh is the fourth-longest tenured with the same team. Only Belichick, Sean Payton and Mike Tomlin have been with their teams longer than Harbaugh.
Patriots see Rodgers, Vick and a QB who 'does it all' in Mahomes – New England Patriots Blog
FOXBOROUGH, Mass. – The topic in the New England Patriots' locker room was Patrick Mahomes, and the comparisons ranged from Aaron Rodgers to Michael Vick, but the conclusion was more focused: There is nobody quite like the Kansas City Chiefs star.
There is maybe a little bit of Rodgers with the way he moves and fires lasers on the run. Perhaps a tinge of Vick with that lightning quick flick of the wrist that sends the football 70 yards or so downfield. Possibly a snippet of Brett Favre with that reckless abandon that's sometimes on display as Mahomes is carving up defenses or tossing passes with his opposite hand.
More than anything, Mahomes is something most of the New England Patriots have never quite seen before, aside from Week 6 when they beat him 43-40 at Gillette Stadium. Mahomes was 23-of-36 for 352 yards, four touchdowns, two interceptions and a 110 passer rating in that game.
They will get another glance at the likely MVP on Sunday at Arrowhead Stadium in the AFC championship game (6:40 p.m., CBS).
"I feel as far as comparisons throughout our season, the only guy we played like him this year was in Week 6 when we played against him," veteran cornerback Jason McCourty said. "There are no comparisons to him."
Safety Duron Harmon admitted sitting in the film room this week almost in amazement at some of Mahomes' film. It's like they have to chuckle at some of the things they were watching.
There was the pass Mahomes zipped submarine-style around a pass rusher and offensive lineman to tight end Travis Kelce last week. That one opened some eyes. There was the left-handed pass he completed for a first down to wide receiver Tyreek Hill in Week 4 against the Broncos. There are the handful of darts he has thrown 40 yards downfield across his body this season and the unique arm angles that he seems to invent on a weekly basis.
No wonder Mahomes threw for over 5,000 yards with 50 touchdown passes and 12 interceptions this season.
"He does it all," Patriots defensive end Adrian Claiborne said. "If the rush doesn't get to him, he'll step up and hit Kelce up the middle. If you make him scramble, he'll go outside the pocket, do two backflips or whatever. … He probably could. He throws left-handed. He can do it all."
This is Mahomes' tape as a first-year starter. The Patriots can only imagine how much better it can get. It is why Mahomes has a chance ultimately to take the throne from Tom Brady, who's chasing his sixth Super Bowl title, as the face of the league and potentially its best player.
"I'm always going to strive to do some of the things that he's done with the Super Bowls that he's won. That is the ultimate goal," Mahomes said this week. "He's not trying to pass the torch any time soon."
It may not be his choice. Mahomes might snatch it from him with a combination of Rodgers, Vick and Favre-like plays.
Mahomes and Brady are two different generations of quarterbacks. Brady is the more traditional pocket passer, winning during pre-snap adjustments in ways that would make his idol Joe Montana proud. Mahomes is the new-age freelance specialist, pulling rabbits out of a hat while being chased by defenders and traditionalists.
Harmon and All Pro cornerback Stephon Gilmore see shades of Rodgers when they look at Mahomes' skillset. The way they both roll around, not really looking to scramble but instead scrambling to throw the ball downfield with their big arms, and making throws using elite touch. That is familiar, along with the pinpoint accuracy on deep balls.
"When we sit and watch film, it's very, very similar to Aaron Rodgers," Harmon said. "[Mahomes is] probably a little bit more athletic. He is. But overall how they move, pocket presence, not letting plays die, literally creating time with their feet and throwing, launching the ball downfield."
The Patriots faced Rodgers earlier this season and won despite him throwing for 259 yards with two touchdowns and no interceptions.
• Chiefs' Williams: Afterthought to feature back
• Can Saints replace Ingram in free agency?
• Eagles Foles' options: Tag and trade?
• Shanahan knew he had special assistants
• Packers' plan: Run ball, let Rodgers 'go play'
• Playoffs schedule, Super Bowl LIII coverage
Veteran safety Devin McCourty said Mahomes reminds him of watching a top high school talent against inferior talent. Mahomes is doing things that shouldn't be done on an NFL field, such as the triple or quadruple pump that McCourty's seen on tape.
"[Vick] is close. Mike Vick was like 4.3 [speed]. Mahomes isn't that. But arm ability," Devin McCourty said. "[Mahomes is] a little different. [The pocket] is what he wants to do more. But Mahomes you watch when he gets outside the pocket, he can run, but he's trying to buy time. Mike Vick would be 30 yards downfield by then."
More so than Vick's, Mahomes' arm commands respect. And he has weapons at his disposal in this explosive Chiefs offense.
Kelce had 1,336 yards and 10 touchdowns. Hill had 1,479 yards and 12 touchdowns. Sammy Watkins, Chris Conley and Damien Williams are also dangerous weapons that Mahomes can hit from any spot on the field. This unorthodox approach is something the Patriots know they must respect come Sunday night.
"He's got that arm. He's got a cannon," Gilmore said. "He can throw across his body far. Sidearm. He's got his own style. It's working for him."
Mahomes is somewhat like Rodgers but currently in a league of his own in terms of style. The NFL's unicorn QB.
"He does too many things that other quarterbacks can't do or won't do. And because he does them at such a high rate of success it's very hard to compare," Jason McCourty said. "I don't think you can say in your mind, 'Who is that guy who threw a left-handed pass?' or 'Who is the quarterback who every time he rolls the right can throw the ball 40 yards back to his left across the middle of the field?'"
It's Patrick Mahomes.