Prince Amukamara to re-sign with Chicago Bears
The Chicago Bears will re-sign cornerback Prince Amukamara, a source told ESPN.
For the most part, Amukamara, who was paid $7 million guaranteed by Chicago on a one-year deal in 2017, worked out for the Bears, playing adequately enough to start 12 games. He finished second on the Bears' defense with seven pass breakups, behind only fellow free-agent cornerback Kyle Fuller (22).
However, Amukamara, 28, failed to intercept a pass for the second consecutive season, and his inability to take the ball away is probably his biggest downside.
Before joining the Bears, Amukamara spent five seasons with the New York Giants (2011-15) and one year in Jacksonville (2016). He missed 27 games with various injuries from 2011 to '16, including 13 over the 2014 and 2015 seasons.
For his career, Amukamara has 7 interceptions, 58 pass breakups and 3 forced fumbles in 83 games.
ESPN's Jeff Dickerson contributed to this report.
Fantasy football best, worst of Week 15 — Derrick Henry does it again!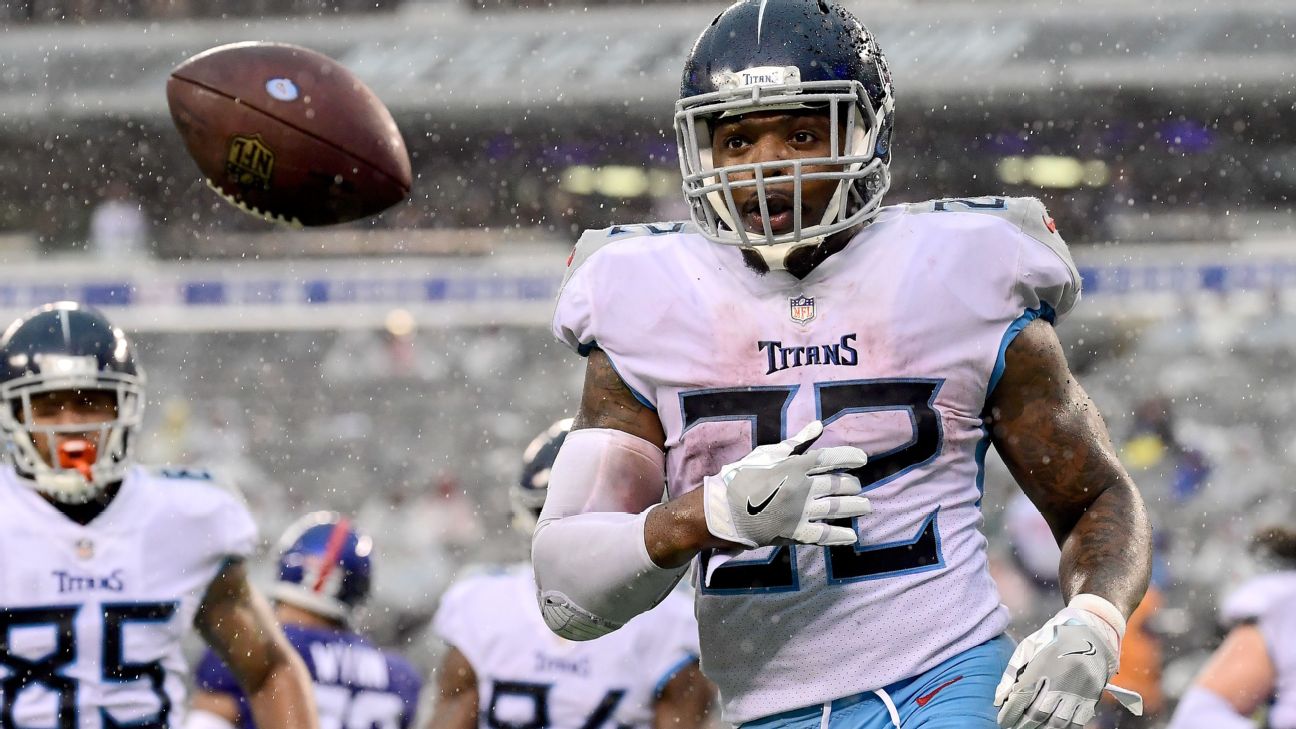 As we do each week, we recap the week's best and worst from a fantasy perspective, complete with applicable game and historical data. Check back after the conclusion of the 1 p.m. and 4 p.m. ET (and, when applicable, Sunday Night Football) games for our picks.
The Best
Derrick Henry, RB, Tennessee Titans: "Where has this been all season?" It's a question Henry's drafting fantasy managers are surely asking now, after the third-year running back amassed 30-plus PPR fantasy points on Sunday, the second consecutive week he has done so after he didn't score more than 17.8 points in any of his previous 12 games. In scoring 30.2 points, to be exact, Henry became only the ninth player at any position to reach the 30-point plateau in both Weeks 14 and 15 — considered the two-week, semifinal round in ESPN standard leagues — since 1990, when bye weeks were introduced. Although few fantasy managers reaped the rewards of Henry's 47.8-point performance on Week 14's Thursday Night Football game, as he was started in only 14.6 percent of ESPN leagues, those still alive in the playoff hunt recognized his performance coupled with what was an exceptionally favorable matchup Sunday against the New York Giants and added him in 26.4 percent of leagues (fourth-most among all players in the past seven days) and started him in 51.8 percent, a 37.4 percent increase over Week 14 (14.6 percent). He now has 78.0 points in the past two weeks combined, which isn't a far cry from his entire season total entering Week 14 (95.5), and his 173.5 total points this season places him among the top 20 at his position.
Dalvin Cook, RB, Minnesota Vikings: It was a day of firsts/bests for the second-year Cook on Sunday. His 29.3 PPR fantasy points set a new personal best, exceeding the 27.9 points he scored in 2017 Week 3, and gave him a fourth consecutive game with at least 15 points, the longest such streak of his young career. Cook scored multiple touchdowns (2) for the first time in his career, and he set a new career high with his 136 rushing yards. Although he has been a huge, albeit injury-influenced, bust in fantasy this season, scoring only 128.2 points (outside the top 30 running backs) despite being selected as the No. 13 player on average in the preseason, Cook has shown quite a bit of recovery in recent weeks that lends intrigue toward his 2019 draft stock.

Mike Williams, WR, Los Angeles Chargers: The out-of-nowhere star of Week 15 — an honor that belonged to Henry in Week 14 — Williams scored a career-high 36.5 PPR fantasy points on Saturday night. He was the primary benefactor of Keenan Allen's (hip pointer) early absence due to injury, drawing nine targets — four in the end zone — something to bear in mind should Allen be unable to recover in time for Week 16. Although Williams didn't lead the Chargers in total targets — Tyrell Williams — Mike Williams showed quite a rapport with Philip Rivers while getting open repeatedly in this game, which is certain to make him one of the most-added players in advance of next week. The Chargers do face an extremely challenging matchup against the Baltimore Ravens in Week 16, but Williams could still warrant WR3/flex consideration, especially if Allen sits.
Todd Gurley II, RB, Los Angeles Rams: His 34.4 PPR fantasy points in Sunday Night Football led all running backs heading into the Monday night game and gave him a seventh game of 30-plus this season. Gurley now has 372.1 points for the season, which is the most by any player, taking over the lead from Patrick Mahomes (371.5). That's also the seventh-best point total through 14 team games of a season by any player in history and the largest since LaDainian Tomlinson had 456.8 through 14 games of his record-setting 2006 season. Gurley is already 11.2 points shy of his league-leading 2017 total (383.3), and he has two games left to play. Those will be played against the Arizona Cardinals and San Francisco 49ers, two of the most favorable matchups a running back could ask for, so strap in because we might see Gurley breeze past the 400-point plateau this year.
Joe Mixon, RB, Cincinnati Bengals: For the third time in his past four games, Mixon scored at least 20 PPR fantasy points, his 27.0 points third-best among running backs from Sunday's 1 p.m. ET games. Unlike some of the other names on this week's "best" list, he was on a good share of ESPN standard-league playoff teams, rostered on 44.3 percent of those that qualified. As Mixon scored a combined 51.8 points in Weeks 14-15, chances are a good amount of his teams will find themselves in their leagues' finals matchups, and he'll enjoy another favorable matchup in Week 16 against the Cleveland Browns. Mixon was started in 94.3 percent of ESPN leagues in Week 15, seventh-highest among running backs.
Matt Ryan, QB, Atlanta Falcons: The highest-scoring quarterback from Sunday's 1 p.m. ET games, Ryan's 25.0 fantasy points were his best total since Week 9 (28.0) and gave him nine games worth 20-plus this season, matching his career best from 2016. Better yet: Ryan became the only quarterback to score 20-plus points in both Weeks 14 and 15, which is excellent news for the 44.1 percent of ESPN standard-league playoff teams that had him on their rosters. In a rebound season for the veteran quarterback, he's proving to be one of the year's best values.
Atlanta Falcons defense/special teams: Their 22 fantasy points might not have been a season high — seven D/STs this year have scored more in a week — but the Falcons D/ST was a clear winner for Week 15 because it was the most popular streaming choice and delivered that outstanding point total. Only Damien Williams (45.3 percent increase) was added more often in the past seven days than the Falcons D/ST, and this unit was started in 44.1 percent of ESPN leagues in Week 15, which was ninth-highest at the position. The opposing Arizona Cardinals have been an excellent matchups target for opposing D/STs, so be aware that the Los Angeles Rams and Seattle Seahawks are the Cardinals' final two opponents of 2018.
Davante Adams, WR, Green Bay Packers: While his 21.9 PPR fantasy points hardly seemed like an eye-popping total, especially not for a player started in 98.6 percent of ESPN leagues in Week 15 (fourth-highest among wide receivers) and one who has scored more than that in four other games this season, consider this more of a season-long honor. In scoring that many points, Adams became the first wide receiver this season to get to 300, as he now has 305.5 points to overtake Tyreek Hill for the positional lead (with an extremely slim chance that anyone else can catch him by week's end).
Damien Williams, RB, Kansas City Chiefs: The week's Thursday Night Football star, Williams earned the start — the fifth in his 72-game NFL career — with Kareem Hunt no longer on the team and Spencer Ware (hamstring) inactive. Williams scored a game-best, as well as personal-best, 30.3 PPR fantasy points. As mentioned above, Williams was the most-added player in ESPN leagues during the past week (45.3 percent), and he was active in 36.1 percent of leagues and probably helped many of those teams bold enough to start him in their championship matchups. He would face an above-average matchup against the Seattle Seahawks in Week 16 should Ware be unable to play.

Marlon Mack, RB, Indianapolis Colts: In one of the week's more unexpected outcomes, the Colts shut out the Dallas Cowboys on Sunday 23-0, with Mack's 25.9 PPR fantasy points playing a huge part in the victory. He set a career high with 27 rushing attempts, giving him the workhorse look he had before the team's Week 9 bye (44 total attempts the two games before that), and he scored two touchdowns in the process. The healthy return of center Ryan Kelly played a large part in Mack's rebound to fantasy relevance, and the timing is huge considering the Colts next draw the most favorable matchup for a running back in the New York Giants. Mack should be active as an RB2 in almost every league.
DeAndre Hopkins, WR, Houston Texans: The big star of the pre-Sunday games, Hopkins' 39.0 PPR fantasy points on Saturday afternoon were the second-most he has scored in any of his 93 career NFL games and ranked among the 20 best single-game scores of 2018. He pushed his season total to 287.4 points, which vaulted him into third place at his position (though Michael Thomas and Antonio Brown have outside chances at recapturing their leads over him in upcoming games). Hopkins needs 43.7 points in his final two games to exceed his previous single-season best of 331.1 (2015), and assuming the ankle injury he suffered in the game doesn't hamper him, he has a golden opportunity to rack up a hefty point total in a favorable matchup against the injury-riddled Philadelphia Eagles secondary in Week 16.
Chris Carson, RB, Seattle Seahawks: He scored a career-high 26.8 PPR fantasy points on Sunday, driven by personal bests in terms of both rushing yards (119) and receptions (6). Carson got a hefty workload thanks in part to Rashaad Penny's (knee) injury and capitalized upon a favorable matchup, even if the game resulted in heartbreak for his Seahawks, who lost 26-23 in overtime. Carson was started in 68.6 percent of ESPN leagues, 15th-highest among running backs. Should Penny miss additional time, which seems to have a decent possibility, Carson should again get a hefty workload facing a pair of favorable matchups in the Kansas City Chiefs and Arizona Cardinals the next two weeks.
Doug Baldwin, WR, Seattle Seahawks: For the first time in what has been a frustrating, injury-marred season for the veteran wide receiver, Baldwin reached the 20-PPR-point plateau on Sunday. His 23.7 points were his most since 2017 Week 17 (25.0) and were a welcome sight to his fantasy managers, who started him in only 15.6 percent of ESPN leagues (36th-highest among wide receivers). Baldwin concludes his season with a pair of above-average matchups against the Kansas City Chiefs and Arizona Cardinals.
Alshon Jeffery, WR, Philadelphia Eagles: His 24.0 PPR fantasy points were third-best among wide receiver through Sunday's games and was his best single-game point total since Week 6 (27.4). Jeffery showed no less chemistry with Nick Foles than he had with Carson Wentz, an encouraging sign with two tougher matchups ahead of him in the Houston Texans and Washington Redskins. Jeffery was started in 33.9 percent of ESPN leagues, 25th-highest among wide receivers.
The Worst
Adam Thielen, WR, Minnesota Vikings: His season started on a near-record pace, yet has slowed to the point of a mere whimper, as Thielen's 3.9 PPR fantasy points on Sunday represented by far a season low for him (his previous low was 12.7 in Week 9). It was the third consecutive week he was held to fewer than 15 points. Thielen merely wasn't needed to do much in this one, as Kirk Cousins attempted only 21 passes in a game the Vikings dominated, winning 41-17. Assuming the Vikings don't run away with their Week 16 game at the Detroit Lions, as well, the extremely favorable matchup should afford Thielen the opportunity to rebound in a big way — assuming, of course, his managers advance despite his low score.
Dak Prescott, QB, Dallas Cowboys: Although Prescott was started in only 27.3 percent of ESPN leagues in Week 15 (14th-highest among quarterbacks), his 6.2 fantasy points had to be considered one of the week's biggest letdowns. He was generally regarded a solid start — the lower start percentage is more of a product of more prominent names being used ahead of him — but in a shocking development, he registered zero rushing yards on exactly zero attempts. It was only the third time in his 46 career games that he failed to attempt a run. Prescott should rebound somewhat in a home game against the Tampa Bay Buccaneers in Week 16, but he's still only a QB2.

Eric Ebron, TE, Indianapolis Colts: He picked a bad week to go quiet, as he was started in 87.9 percent of ESPN leagues — fifth-highest among tight ends — as his managers recognized his favorable matchup against the Dallas Cowboys (15.0 PPR fantasy points per game allowed to tight ends entering the week, seventh-highest in the leagues). Ebron scored only 1.8 points on three targets, the second time in the past five weeks he offered his teams practically nothing — though he was shut out in the other game, in Week 11. In his defense, the Colts didn't need to pass often in this one, so Ebron should still warrant TE1 consideration in future weeks should his teams advance.
Doug Martin, RB, Oakland Raiders: A popular streaming choice among running backs, added in 9.5 percent of ESPN leagues within the past seven days and started in 44.5 percent of leagues (23rd-highest at the position), Martin scored just 3.9 PPR fantasy points on Sunday, his worst single-game total since before the Raiders' Week 7 bye. Though game flow had something to do with it — the Raiders lost 30-16 and trailed by multiple scores for the majority of the game — Martin has now averaged only 2.8 yards per carry in his past two games, casting doubt upon his utility for the remainder of the year.

Andrew Luck, QB, Indianapolis Colts: For the second time in the past three weeks, Luck was held to fewer than 10 fantasy points, scoring only 9.7 on Sunday. It wasn't, however, the type of performance for which he should absorb heavy criticism; the Colts had a run-heavy approach in a blowout win, with Luck attempting only 27 passes, the second-fewest he has had in a game all season (23, Week 7) and tied for the seventh-fewest he has had in any of his 84 career games. Luck was shut out in the passing touchdown department in Weeks 13 and 15, however, and the Colts have another matchup in Week 16 that is conducive to a run-heavy approach. Be cautious not to expect too much from him next week.
Austin Hooper, TE, Atlanta Falcons: He was shut out on the fantasy scorecard on one target, letting down the managers who started him in 50.5 percent of ESPN leagues, seventh-highest among tight ends. Hooper's performance was reflective of what was a terrible block of 1 p.m. ET games for tight end scoring, as no TE scored more than 15.5 PPR fantasy points (Evan Engram), and it extended what has been a pattern of dominance against the position by the Arizona Cardinals' defense. Hooper entered the week facing questions about his knee and ankle, which caused him to miss some of the practice week, so perhaps those issues were bigger than let on. He faces an excellent matchup in Week 16 at the Carolina Panthers but will need his health monitored closely beforehand.
Cameron Brate, TE, Tampa Bay Buccaneers: He was started in 43.8 percent of ESPN leagues in Week 15, eighth-highest among tight ends, as his managers probably viewed his game against the Baltimore Ravens as one in which his quarterback, Jameis Winston, would probably need to utilize the "safety valve" of throwing to his tight end. Brate delivered his teams only 1.9 PPR fantasy points on two targets, as Winston simply could not get anything going on offense. Fortunately, the Buccaneers draw the aforementioned Dallas Cowboys in Week 16, which is a considerably more favorable matchup for the team and Brate specifically. If you advance beyond Week 15, consider him a low-end TE1.
Jared Cook, TE, Oakland Raiders: He was another of the many tight ends to go bust in Week 15, scoring 4.3 PPR fantasy points on five targets despite facing a Cincinnati Bengals defense that has been one of the league's worst during the second half of the season. It was Cook's worst single-game point total since Week 9 (4.0). He does get a much more favorable matchup against the Denver Broncos in Week 15 and still warrants low-end TE1 consideration.
Josh Gordon, WR, New England Patriots: He had only 2.9 PPR fantasy points and two targets on Sunday against the Pittsburgh Steelers, frequently struggling to get open with cornerback Joe Haden covering him. It snapped Gordon's streak of five consecutive games with at least 12 points and let down those who started him (61.0 percent of ESPN leagues,18th-highest among wide receivers). Unfortunately for Gordon, he might not find things to be much easier against Tre'Davious White and the Buffalo Bills in Week 16.
Sony Michel, RB, New England Patriots: While James White scored a respectable 8.7 PPR fantasy points on Sunday, frequently involved in the Patriots' late attempt to tie the game, Michel couldn't do much with his 13 rushing attempts, finishing 5.9 points of his own. It was the third consecutive week and the fifth of his past six games that Michel was held beneath 10 points, casting doubt upon his usefulness even in 10-team leagues in the season's final two weeks. Michel was started in 52.9 percent of ESPN leagues in Week 15, 18th-highest among running backs.
Rob Gronkowski, TE, New England Patriots: Gronkowski's disappointing season continued on a quiet Sunday for tight ends, with 4.1 PPR fantasy points on five targets. He was started in 89.1 percent of ESPN leagues, fourth-highest among tight ends in Week 15, and delivered his fewest points in any healthy game since Week 2 (3.5). It gave Gronkowski 6 of 11 games this season with fewer than 10 points. Worse yet, he, Tom Brady and the Patriots' passing game are going to face another brutal matchup in Week 16 against the Buffalo Bills, a team that entered this week having afforded the second-fewest points per game to tight ends (8.5).
Zach Ertz, TE, Philadelphia Eagles: For the third time in his past five games, Ertz was held beneath 10 PPR fantasy points, scoring only 5.2 points on seven targets on Sunday Night Football. In the process, he fell considerably behind Travis Kelce in terms of points among tight ends for the season, his 240.8 now more than 20 points behind Kelce's 273.0. Nevertheless, that remains one of the 10 best point totals through 14 team games by any tight end in history. Ertz has struggled to put up the point totals while working with Nick Foles that he did with Carson Wentz, averaging 11.8 points per game in the former's three starts and 18.7 points in the latter's 11 starts. Fortunately, Ertz does get a much more favorable matchup in Week 16 against the Houston Texans, so expect a rebound.
Minnesota Vikings score 41 in first game with new OC Kevin Stefanski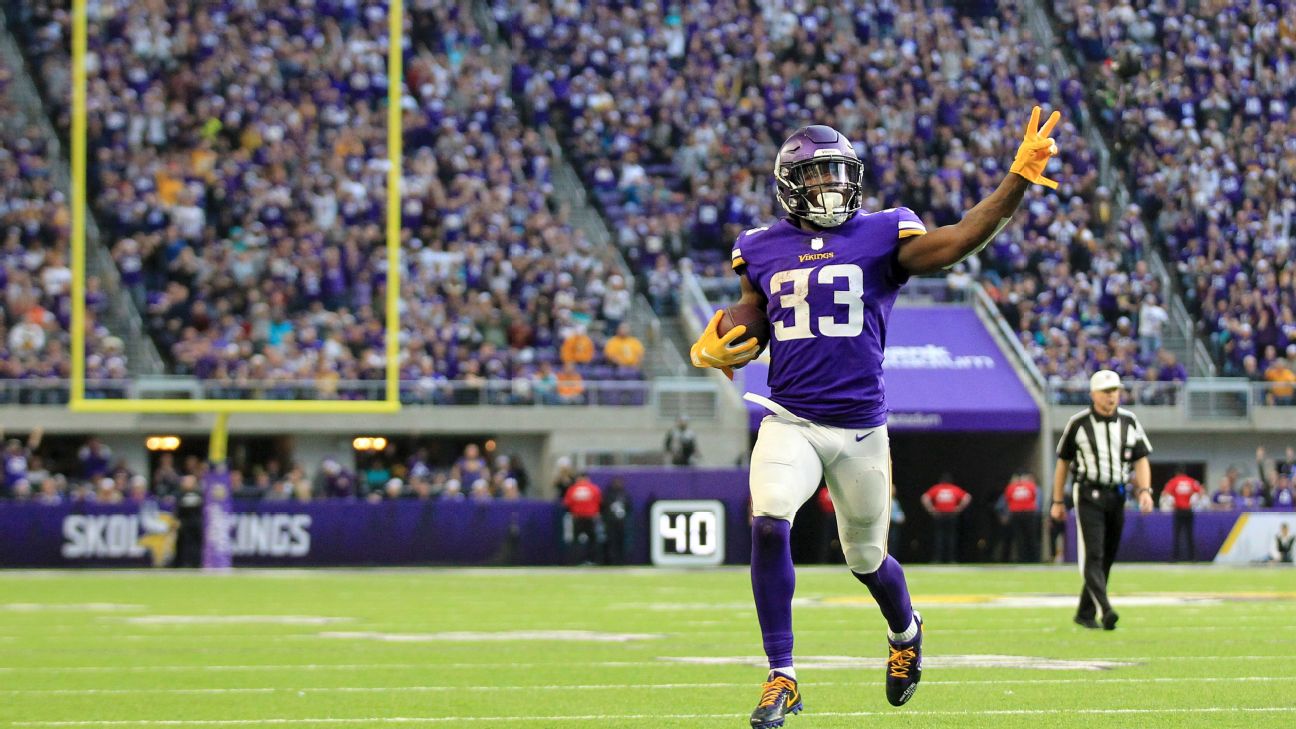 MINNEAPOLIS — The fallout for the Minnesota Vikings following the firing of offensive coordinator John DeFilippo in Week 15 resulted in intensified pressure for a team hanging on to its playoff hopes for dear life.
Coach Mike Zimmer said he made the move to relieve DeFilippo of his duties and elevate quarterbacks coach Kevin Stefanski to interim OC because he didn't want the season to be wasted. In effect, that move increased the burden this team was already facing, needing to prove it is capable of playing like a team eyeing a deep postseason run.
By the end of the first quarter of Minnesota's 41-17 win over the Miami Dolphins, that pressure was nowhere to be found. Stefanski was doling out high-fives on the sideline from rookie right tackle Brian O'Neill to running back Latavius Murray, who minutes before had rushed 18 yards for Minnesota's third touchdown in the first 14 minutes.
Stefanski's debut as a playcaller resulted in Minnesota's highest scoring output of the season.
"It was simpler, but we definitely still had everything that we needed," wide receiver Adam Thielen said of Stefanski's game plan. "Coach did a great job of keeping the defense on their heels. They didn't know if it was a run or pass. Obviously, he let the guys who were playing well and playing hot take over and carry our offense."
Stefanski's game plan pulled back on things that had made the Vikings successful in the past. The longest tenured coach in Minnesota, having been on staff in various roles since 2006, Stefanski utilized a handful of concepts often seen in former OC Pat Shurmur's scheme during the Vikings' 2017 run, including the use of multiple tight end sets to aid a powerful rushing attack, running back and receiver screens and the use of play-action.
"I think Kevin (Stefanski) was as prepared as anyone for this opportunity," tight end Kyle Rudolph said. "He has been here the longest out of anyone on offense. He's a guy that has worked under many different offensive coordinators, he saw what they did well, maybe what they did not do as well, and what he would do once it was his turn. I think you saw that throughout the week with little changes. He didn't come in and overhaul everything.
"There were things we did a little bit differently this week that you could tell Kevin was waiting on his opportunity to do this. I think he learned a lot of things last year from our offense and what Pat (Shurmur) did with this offense that we got back to today."
In the first quarter, the Vikings' offense packed a punch on three consecutive drives that resulted in Stefon Diggs, Dalvin Cook and Murray reaching the end zone. Kirk Cousins looked the most comfortable he'd been in weeks, going under center for all but two of his snaps, utilizing play-action to set up his playmakers in space, rolling out to hit receivers downfield and executing an up-tempo attack to routinely catch a porous Dolphins' defense off guard.
On play-action, Cousins was 6-for-6 passing for 103 yards and a touchdown. In 13 games under DeFilippo, the Vikings utilized play-action on 18.6 percent of their dropbacks. In Stefanski's debut, Minnesota called play-action on 32 percent of Cousins' attempts – all of which came from under center.
"Play-actions are better under center," Zimmer said. "There is more suck by the defense, there is more suck by the linebackers, by the safeties when they're under center. It's very simple."
The run game, which notched a season-high 40 rushes, was able to aid Cousins in ways it hadn't during a stretch of recent losses. Cook totaled 109 yards from scrimmage in the first half alone (82 rushing, 27 receiving), a career high, aided by an effective zone blocking scheme that allowed him and Murray to create big gains on inside and outside runs. The second-year rusher finished with 136 yards rushing on 19 carries and two touchdowns.
Following the game, Cook went around to thank each of his offensive linemen for the role they played in his career day.
"No them, no me," Cook said. "That's the message. The way they delivered today — unbelievable. They opened holes that were big, too big. Y'all probably could've hit those holes. They were big today. You have to give all the credit to those guys. That's why I told Pat Elflein, that first touchdown, one of them had to spike it. And he was the guy."
The high hopes the Vikings laid forth in the first quarter fizzled. A hot start cooled quickly upon Cousins committing his 17th turnover (which ties New York Jets rookie Sam Darnold for the most in the NFL) of the season midway through the second quarter. Facing third-and-15 from the Vikings' 47-yard line, Cousins threw the third pick-6 of his career on a screen pass intended for Diggs.
The momentum-changing play exposed many of the same issues that have hurt the Vikings all season. Cousins' feel in the pocket appeared off after that play, and the Vikings got away from what they were doing so well early on.
Cousins struggled to execute out of the shotgun in the second and third quarter, which Minnesota chose to divert back to despite the under-center game making the offense so effective early on. The bootleg action was limited, too.
Twice in the second half, Minnesota had to settle for field goals. Even after Marcus Sherels returned a punt 70 yards to put the Vikings just outside the red zone, Cousins and the offense couldn't translate good field position into a scoring opportunity.
What brought the Vikings back in the fourth quarter was a deep shot to Aldrick Robinson, who notched his fifth touchdown of the season on 17 catches. Cook sealed the Vikings' fate with a spin move TD run that put an exclamation point on the 41 points the Vikings scored on Sunday.
According to ESPN's FPI, the Vikings have a 78 percent chance to make the postseason after beating Miami. Those 41 points may speak more to what the Vikings did collectively in Stefanski's debut, which was arguably their most complete game to date.
"It's so much more than the offense," Cousins said. "When you look at Marcus Sherels' punt return that gave us three points, we didn't do anything as an offense. We were terrible. We went three plays and out. Walked off the field undoing my chin strap, I'm ticked off. Get three points out of it, that's not our offense. They go for it on fourth-and-11 and our defense gets a sack, gives us the ball on the whatever yard line, 20-yard line, 15-yard line, that's not our offense. That's our defense. And that's the whole team putting the offense in position where they have to go for it on fourth-and-11 backed up in their own territory.
"When you start to play complimentary football, certain phases start to look really good but maybe it's other people helping you out. And guess what? The reason there's nine sacks is because we scored 21 points in the first quarter and gave our defense an opportunity to pin their ears back and go. It's everybody working together and that's NFL football, team football."
Tipped pass gives Redskins reprieve and saves their season – Washington Redskins Blog
JACKSONVILLE, Fla. — In a stretch when little has gone right, when every break seemingly went the other way, the Washington Redskins finally caught one.
Quarterback Josh Johnson's pass floated down the field, headed toward disaster — possibly an interception, likely an incompletion. It was a one-score game, but the Redskins needed to show they could close that gap – or their faint playoff hopes would take a bigger hit.
And then the unusual happened: Redskins receiver Jamison Crowder, running down the middle, reached out with his left hand, tipped the ball in the air, turned around and grabbed it as he fell to the ground. Jacksonville Jaguars safety Tashaun Gipson was there and looked like he might pick it off, but he didn't.
A game they looked destined to lose instead ended in a 16-13 win thanks to a last-second 36-yard field goal by Dustin Hopkins. The Redskins are still banged up, wounded and snapped a four-game skid. They're also 7-7 with two games remaining, which means their playoff pulse remains alive. They're only a game out of first place in the NFC East.
They had plenty of reasons to fold; they did not. They have a quarterback in Josh Johnson who started for the first time since 2011 and picked up his first career victory after six starts. He ran for 49 yards and threw for 151, with 71 coming in the fourth quarter when the Redskins needed it most.
But, still, they trailed 13-6 with 8 minutes, 13 seconds left in the game — and had managed just 164 yards of offense to that point. They needed a break; they got one.
It began with a third-and-15 pass by Johnson under heavy pressure.
Crowder said he wasn't supposed to be part of the progression based on the coverage. But Johnson wanted to give him a chance. Crowder completed the catch at the Jaguars' 27-yard line.
"Sometimes you tip the ball and it goes somewhere and you can't make another play on it," Crowder said. "It was just one of those plays, man. I guess you can say just one of those lucky plays guys have. I'm glad it was me."
Johnson, who had waited a long time for this opportunity, wasn't about to waste the moment.
"What do we really have to lose, you know?" Johnson said. "We can say it was luck or whatever, but I mean, those plays happen in football, that's what makes the beauty of this sport. You need things like that to go your way every now and then. This team has had enough, even before I got here, with things not going their way. So, to have something go their way is good."
A sideline full of players who needed some hope got what they wanted.
"It was great to see a play go our way," Redskins coach Jay Gruden said.
That wasn't the only tip that mattered Sunday. The Redskins' winning drive — running back Adrian Peterson gained all 38 yards — was set up by an overthrown Cody Kessler pass that was tipped by receiver Dede Westbrook and intercepted by corner Fabian Moreau.
But it was the Crowder play that injected life into a wounded team on its last breath.
"It does give you that feeling like something's finally going in our favor," Redskins running back Chris Thompson said. "We've had to battle with a lot and that play was huge. If that didn't happen, I'm not sure how this game would have ended. I guess we got some higher power on our side."
The Redskins had lost four straight games and five of six. They placed their 18th player on injured reserve Saturday. They were embarrassed at home by 24 points vs. the New York Giants. But by Friday, the Redskins were still a relaxed bunch. The offensive players repeated that they still had hope. The defensive side, meanwhile, was the healthier side physically but not mentally. More players have bickered on that side of the ball; more players have sounded off in a negative way.
There are questions about the job security of the coaching staff and members of the front office. Yet through it all, the players knew how quickly life in the NFL can change. Sometimes it takes one play. Now they can exhale for a moment and savor a win that was more about intestinal fortitude than anything else.
So when Jacksonville took a 13-6 lead Sunday, it was easy to see where this game was headed. The Redskins had played the game most expected on offense, considering Johnson was their fourth starting quarterback this season. But the special teams allowed a blocked punt and a return for a touchdown.
They needed a boost. Crowder came through with one.
The Redskins remain alive, with a 15 percent chance to reach the playoffs as of Sunday evening, according to ESPN's Football Power Index. They have plenty of excuses thanks to injuries. But sometimes a tipped pass ends up in the right place.
"We must be living right," cornerback Josh Norman said. "It's an awesome feeling whenever a play like that goes in our favor because we definitely didn't have that all year. … We got grit. We got fighters. You can see that this team is never out, never down."