Fantasy Baseball — Do not draft these busts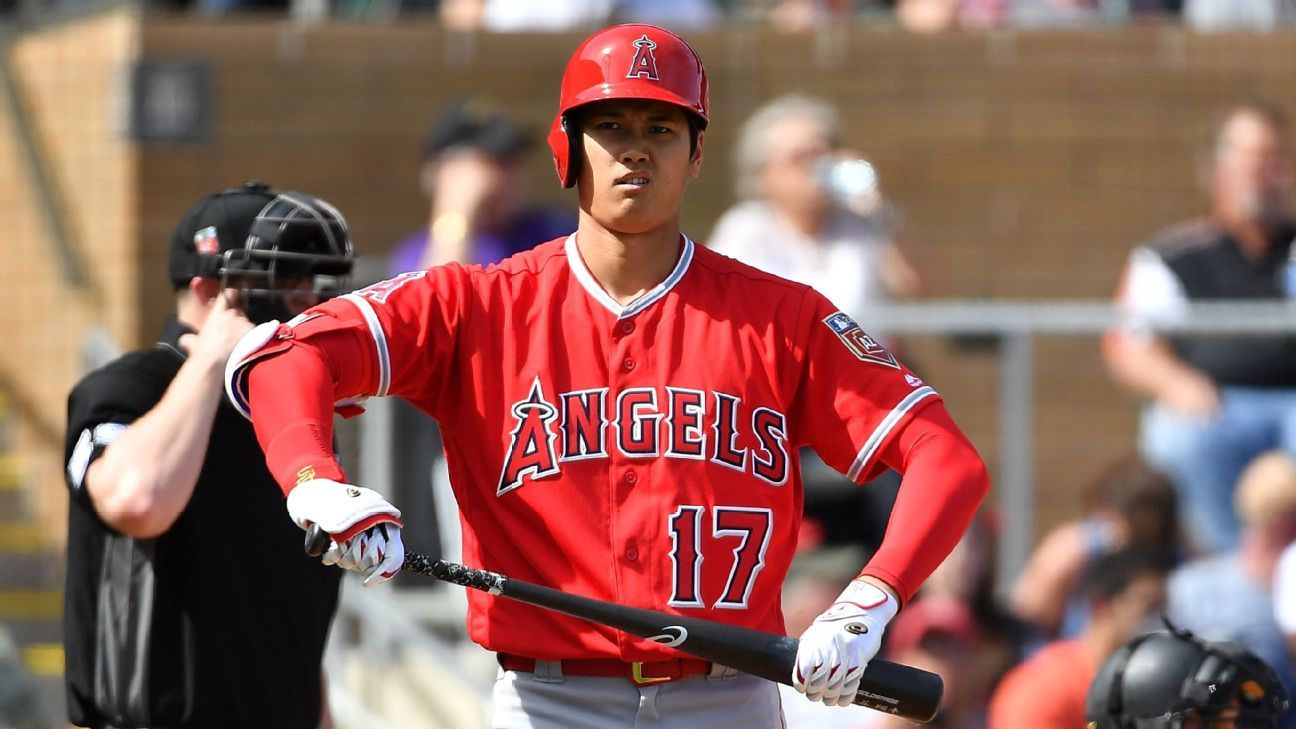 Los Angeles Angels pitcher/hitter Shohei Ohtani is clearly quite adept at both throwing and hitting a baseball, though to what degree among the highest competition remains somewhat of a mystery. Because he is so new to the major leagues, he has created unique, and unfortunately unreasonable, expectations. The result in the fantasy baseball world is this: As exciting and intriguing as this new situation is, Ohtani is more likely to disappoint than to earn the excessive value expected of him in ESPN average live drafts. Hey, this works for me, as I will be able to watch Ohtani perform sans the added pressure of being desperate for groundbreaking statistics on a fantasy roster.
Context is always critical when calling any player worth more or less than perceived value, and that is important in an annual article like this with such an oft-misunderstood and grand proclamation of avoidance. This is about numbers and value. ESPN Fantasy projects Ohtani to win 10 games and strike out 148 hitters over his 140 innings, with a modest 3.41 ERA and 1.31 WHIP. At the plate, Ohtani projects for eight home runs and a .236 batting average. Not quite the numbers so many expect, but ultimately there is a value to them. The problem is I perceive those projections to be realistic, and they would not result in warranting close to an eighth-round choice this season, which is his current ADP.
Welcome to the latest edition of the "Do Not Draft" list, which aims to take into account proper value in comparison with expectations in order to provide a list of players I will be avoiding. Ohtani, 23, dominated in Japan on the mound, at the plate and obviously in the hearts of so many, and it is not the least bit surprising that so many fantasy managers are eager to secure someone with so much promise to their rosters. However, a 3.41 ERA is not what many deem ultimate promise, and that goes for eight home runs as well. There is major upside for Ohtani to be a transcendent star in the United States … but we are probably not at that point yet in 2018, and that is really the point of his inclusion on this list.
Chicago White Sox first baseman Jose Abreu leaves Tuesday's game with tightness in left hamstring
Chicago White Sox first baseman Jose Abreu left Tuesday's game against the Texas Rangers with tightness in his left hamstring.
Abreu, who was removed in the top of the third inning after going 1-for-2 at the plate with a single off Rangers starter Doug Fister, was replaced by Matt Skole.
The White Sox said Abreu's status is day-to-day.
"Fortunately, it looked like he was just cramping up or maybe just a light stretch," White Sox manager Rick Renteria said. "He's doing good. I'm sure we'll preserve our use of him in the next few days and see where he's at."
Abreu, who turned 31 in January, has been remarkably consistent since joining the White Sox, hitting .290 or better with at least 25 homers and 100 RBIs every year. He was the unanimous choice for American League Rookie of the Year in 2014.
He is batting .200 in 40 spring at-bats with two home runs and seven RBIs.
Kevin Towers to be posthumously inducted into San Diego Padres Hall of Fame
SAN DIEGO — The San Diego Padres will posthumously induct Kevin Towers into their Hall of Fame on May 12 as part of a celebration of the 20th anniversary of their 1998 National League championship team.
Towers, who spent 14 seasons as San Diego's general manager, died Jan. 30 of complications from cancer. He was 56.
The Padres won the NL West four times under Towers, reaching the World Series in 1998 before being swept by the New York Yankees.
"Kevin was the perfect embodiment of what it means to be a Padre and his legacy will continue to live on at Petco Park," Padres owners Ron Fowler and Peter Seidler said in a statement.
Alex Cobb fills a hole as Baltimore Orioles try to keep up in AL East – SweetSpot
In the end, Alex Cobb got the contract everyone expected. He just had to wait a little longer than he would have liked. At the start of free agency, Dave Cameron of FanGraphs predicted Cobb would get a four-year, $60 million deal. Tim Dierkes of MLB Trade Rumors predicted four years and $48 million. Sources report Cobb's deal with the Baltimore Orioles will be four years at something close to $60 million.
What's interesting here is that Cobb cashed in on a long-term deal while Lance Lynn and Mike Moustakas, the two other prominent late signings, had to settle for one-year deals. Moustakas' situation is easier to understand given the situation at third base across the majors, but on the surface there isn't much difference between Lynn and Cobb. Both are the same age (Cobb is a few months younger), both had solid results in 2017 coming off Tommy John surgery, and both project to similar WAR for 2018 — 2.1 for Lynn via ZiPS, 2.5 for Cobb.
Yet Cobb gets $60 million and Lynn signed with the Twins for one year at $12 million (which at least allows him to re-enter free agency next season without being attached to draft-pick compensation). There are some underlying differences between them. While Lynn posted a 3.43 ERA with the Cardinals, his peripherals weren't as good, reflected by his 4.82 FIP. Cobb, meanwhile, has had proven success in the AL East with the Rays, so it's certainly understandable why he would be a more attractive choice for the Orioles.
How much will he help? Obviously, the Orioles needed rotation help. Before Cobb, the Orioles' rotation depth chart listed Chris Tillman, coming off a 7.84 ERA, and Gabriel Ynoa, who had a 5.25 ERA at Triple-A. Cobb probably displaces Ynoa and completes a five-man group that also includes Kevin Gausman, Dylan Bundy and Andrew Cashner.
That still doesn't project as a top rotation. Here are the updated rotation WAR projections from FanGraphs for the AL East:
Yankees: 16.5
Red Sox: 15.8
Rays: 14.7
Blue Jays: 13.5
Orioles: 9.3
That doesn't even factor in that Bundy, Cobb and Tillman have each had serious health issues in the not-too-recent past. Why does the Orioles' rotation project so poorly? Strikeouts. There were 149 pitchers last season who threw at least 90 innings. Here's where Baltimore's five starters ranked in strikeout rate:
Cashner: 148th
Tillman: 142nd
Cobb: 118th
Bundy: 53rd
Gausman: 51st
Now, strikeouts aren't everything. But they're almost everything. It's very difficult to do what Cashner did last year with the Rangers, posting a 3.40 ERA while averaging just 4.6 K's per nine innings. You can do it with good defense behind you, a high ground ball rate and a little luck, but those three aspects rarely line up in consecutive seasons.
Of course, Cashner could up his strikeout rate. Cobb could re-discover his splitter/changeup, a pitch that wasn't effective for him last year, but which he used to great success when he had a 2.82 ERA over 2013 and 2014. Tillman could be healthy. Bundy and Gausman may not have reached their full potential just yet.
So the rotation may not be a disaster and could even surprise. Still, you wouldn't predict this group to outperform the Yankees' rotation. Which puts a lot of pressure on the offense. Do you see the Orioles outscoring the Yankees? If you go position by position, you'd give the Orioles the advantage only at second base with Jonathan Schoop over Neil Walker. You can dream on Chris Davis having a bigger year, but he's now had two straight seasons of declining production and was terrible in 2017. Maybe Tim Beckham is better than Brandon Drury. Even shortstop is more of a toss-up than you may think. Can you tell Manny Machado from Didi Gregorius from their 2017 numbers?
Player A: .259/.310/.471
Player B: .287/.318/.478
The Orioles did a good thing in signing Cobb to fill a weakness. On paper, however, they still look far short of the Yankees or Red Sox. They've surprised us before.