Fantasy Baseball — Do not draft these busts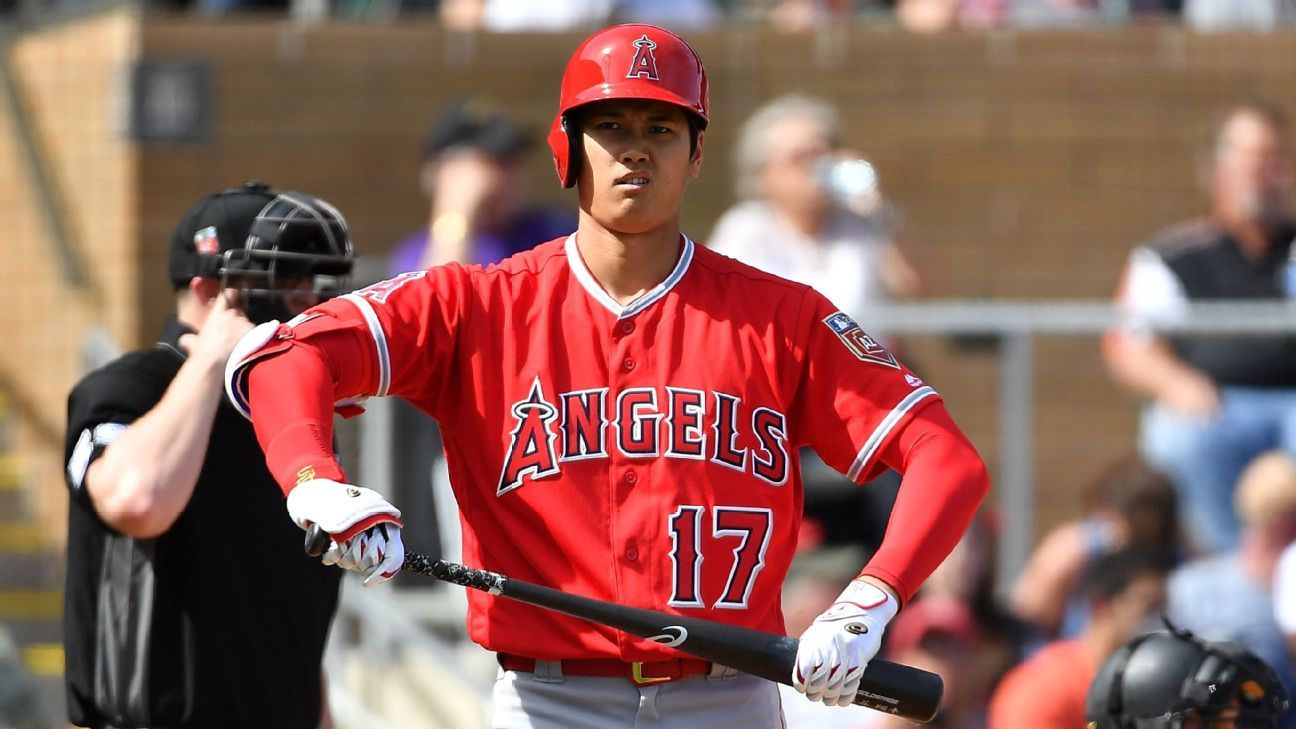 Los Angeles Angels pitcher/hitter Shohei Ohtani is clearly quite adept at both throwing and hitting a baseball, though to what degree among the highest competition remains somewhat of a mystery. Because he is so new to the major leagues, he has created unique, and unfortunately unreasonable, expectations. The result in the fantasy baseball world is this: As exciting and intriguing as this new situation is, Ohtani is more likely to disappoint than to earn the excessive value expected of him in ESPN average live drafts. Hey, this works for me, as I will be able to watch Ohtani perform sans the added pressure of being desperate for groundbreaking statistics on a fantasy roster.
Context is always critical when calling any player worth more or less than perceived value, and that is important in an annual article like this with such an oft-misunderstood and grand proclamation of avoidance. This is about numbers and value. ESPN Fantasy projects Ohtani to win 10 games and strike out 148 hitters over his 140 innings, with a modest 3.41 ERA and 1.31 WHIP. At the plate, Ohtani projects for eight home runs and a .236 batting average. Not quite the numbers so many expect, but ultimately there is a value to them. The problem is I perceive those projections to be realistic, and they would not result in warranting close to an eighth-round choice this season, which is his current ADP.
Welcome to the latest edition of the "Do Not Draft" list, which aims to take into account proper value in comparison with expectations in order to provide a list of players I will be avoiding. Ohtani, 23, dominated in Japan on the mound, at the plate and obviously in the hearts of so many, and it is not the least bit surprising that so many fantasy managers are eager to secure someone with so much promise to their rosters. However, a 3.41 ERA is not what many deem ultimate promise, and that goes for eight home runs as well. There is major upside for Ohtani to be a transcendent star in the United States … but we are probably not at that point yet in 2018, and that is really the point of his inclusion on this list.
Chris Sale dominates Mariners, shows he's among best pitchers
BOSTON — They used to say "Don't pitch a lefty in Fenway Park." The Green Monster is so close and gives up so many cheap home runs to right-handed batters and so many cheap doubles off the wall that it will eventually get in your head if you're a southpaw. Whitey Ford was one of the best lefties of all time and Casey Stengel basically refused to pitch him there; Ford started 43 times against the Red Sox in his career, but just 12 times at Fenway.
The way Chris Sale pitched on Sunday, you could have put him on a Little League field in Colorado and the Mariners might not have scored off him. Sale shut down the Mariners in a 5-0 victory with 13 strikeouts over seven brisk innings, throwing 71 of 93 pitches for strikes, and fanning Mike Zunino with a 100.5 mph fastball on his final pitch — the fastest pitch of his career. I'm not sure how the Mariners got four hits off him.
Sale is serving notice that you shouldn't forget about him in what could be an epic American League Cy Young race — John Smoltz said a few days ago it could be the best one ever. Justin Verlander may be the leader at the moment with his 1.60 ERA, but Corey Kluber and Luis Severino actually rank 1-2 in WAR with Sale fourth entering the day behind Verlander. Throw in Trevor Bauer, Blake Snell and Gerrit Cole and you have seven starters with ERAs under 2.60 and dominant peripheral stats to match.
"He was amazing," manager Alex Cora said of Sale after the game. "Velocity-wise, location-wise, the tempo. It was a big game, you win the series, you move on. From the get-go, from the first at-bat against Dee [Gordon], you could tell. He looks fresh, he's throwing the ball well, we're very pleased with where he's at right now."
Over his past four starts, Sale has allowed four runs in 28 innings with 43 strikeouts and just 15 hits allowed, a meager .155 average. For the season, he's 7-4 with a 2.56 ERA and ranks first in the AL in strikeouts, third behind Verlander and Cole in batting average allowed and second to Kluber in innings. His average fastball velocity has ramped up from 92.5 mph in April to 95.6 in May to 97.0 in June.
That final pitch? "Got two strikes in the inning, the crowd's into it, just rear back and let it eat," Sale said.
Hovering over all of this is what happened down the stretch last season. Sale entered August as the Cy Young front-runner with a 13-4 record and 2.37 ERA. Thanks to a couple of seven-run outings against the Indians, however, plus two other games in which he allowed a combined seven home runs, his ERA over the final two months was 4.09.
"The whole plan this year has been recovery, feeling good and staying strong. I think we've had a good building-up action from spring training up to now," Sale said. He's made 17 starts and mentioned that he's probably thrown fewer innings and fewer pitches than at the same time last season.
He's right. Through 17 starts last year, he'd thrown 120 2/3 innings and thrown 1,853 pitches; this season, he's at 109 innings and 1,715 pitches. That may not seem like a big difference, only eight fewer pitches on average per start, but the uptick in velocity at this point in the season is at least anecdotal evidence that the offseason plan Sale and the front office put together with Cora and the coaching staff is working.
"I know a lot of people talk about what happened last year," said Cora, who was a bench coach for the Astros when they eliminated the Red Sox in the ALDS. "I do feel that his stuff was still there. In October, he was throwing 97-98, just a matter of a few pitches in the heart of the plate and [the Astros] took advantage of it. The stuff was there. The last game here in Game 4 he dominated."
In baseball-obsessed Boston, where the media will never forget even small failings, Sale will face questions about his durability the rest of the season. That's part of the fun of playing in Boston. It takes a certain mental strength to deal with these things. For Sale, it's simply focusing on controlling what you can control.
"The main focus right now is just winning games. We'll worry about the future when we get there," he said.
About that Cy Young. The one thing working against Sale is the win-loss record, which is mostly about a lack of run support. The Red Sox are third in the majors in runs per game with 5.11, just a hair behind the Astros and Yankees, but they've been shut out twice in Sale starts and he's had five no-decisions when he has allowed two runs or less.
"Sometimes I walk around and wonder when he's going to get upset," Cora joked.
While it's true that wins don't rule the Cy Young voting the way they once did, they could factor into a race with so many strong candidates, and with Kluber 11-3 and Severino 11-2. Sale also is on the short list of best pitchers to never win the award, riding a streak of six straight top-six finishes, including runner-up honors to Kluber last season.
But, as Sale said, that's in the future. At the present, one of the best pitchers in the game is riding a crackling fastball, an unhittable slider that batters have hit .108 against, plus an underrated changeup to one of the best months of his career.
Oh, he's also not afraid of the Green Monster. He has a 2.96 ERA at home since joining the Red Sox.
Diamondbacks vs. Pirates – Game Recap – June 24, 2018
PITTSBURGH — Everything was going Clay Buchholz's way. Then, a swing-and-miss led to an injury that turned what could have been a gem into a routine solid outing.
Buchholz lasted five innings before experiencing tightness in his left side, but the Arizona Diamondbacks completed a four-game sweep of the Pittsburgh Pirates with a 3-0 win Sunday.
The right-hander retired the first 11 batters he faced before Pirates centerfielder Starling Marte doubled down the right-field line with two out in the fourth inning. Despite throwing just 53 pitches (42 strikes), he was pulled to start the sixth inning after informing manager Torey Lovullo of some pain stemming from swinging at the first pitch of his at bat in the top of the fifth.
"I've had oblique, whatever it is, before. It was a lot worse than this one," Buchholz said. "I went out (in the bottom of the fifth) and the last two outs, that's whenever I felt it a little bit more. I was just trying to get through that inning. It's more precautionary. I've gone through things before where I've tried to get through it, pitch through it and go another inning, but that's always led me in the wrong direction."
Lovullo said Buchholz (2-1), who allowed two hits with five strikeouts in five innings for his first win since June 1, would continue to be evaluated throughout Sunday. More information is expected Monday.
"He was attacking the zone with the fastball and driving his fastball on both sides of the plate, and then throwing some quality secondary stuff," Lovullo said. "We want to give him a night to let everything calm down and evaluate him."
David Peralta's 15th home run, which carried over the wall in right-center field before bouncing into the Allegheny River, and John Ryan Murphy's ninth powered Arizona to its 12th win in 16 games.
"It's nice to get a couple runs in the first, always," Murphy said. "I was leading off the second and was looking for a fastball. Got one in a pretty good spot."
Brad Boxberger let up a single to Austin Meadows with one out in the ninth before forcing Marte into a double play for his 17th save.
Pirates right-handed starter Trevor Williams (6-5) took the loss after allowing the two-run home run to Peralta with two out in the first inning and a lead-off solo homer to Murphy, which made it 3-0 in the second. Those three runs came on five hits in six innings pitched with six strikeouts.
"Unfortunately, that was the game today," Williams said. "From there on, I thought I was making all my pitches and being successful the second time through the lineup."
Pittsburgh has scored eight combined runs during its current five-game losing streak after winning four of its previous five games.
"We're going to keep playing," Pirates manager Clint Hurdle said. "The season's not going to stop. Nobody's going to feel sorry for us. These guys are working hard in here to get better. We haven't gotten better."
ROSTER MOVE
Diamondbacks: RHP Braden Shipley was recalled from Triple-A Reno on Sunday morning. RHP Jake Barrett was optioned to Reno following the game Saturday.
TRAINER'S ROOM
Diamondbacks: 1B Paul Goldschmidt was given the day off after homering and scoring three runs Saturday. INF Daniel Descalso took over at first base and hit fifth.
Pirates: RHP Michael Feliz was placed on the 15-day disabled list with right shoulder inflammation on Sunday and recalled RHP Clay Holmes from Triple-A Indianapolis. Holmes allowed one walk in two innings of relief.
UP NEXT
Diamondbacks: RHP Shelby Miller (0-0, 0.00) is expected to come off the 60-day disabled list to make his season debut against the Marlins on Monday. After undergoing Tommy John surgery for a torn UCL sustained last season against the Los Angeles Dodgers, Miller allowed 10 runs on 20 hits with 28 strikeouts and six walks in a combined 19 1/3 innings during his four rehab starts, two with Double-A Jackson and two with Single-A Visalia.
Pirates: RHP Jameson Taillon (4-6, 4.03) will look to find some consistency when he starts against the New York Mets on Monday. He is 2-6 since winning his first two starts of the season against the Minnesota Twins on April 2 and the Cincinnati Reds on April 8.
Chicago Cubs swept by last-place Cincinnati Reds as bullpen falters again
CINCINNATI — Chicago Cubs manager Joe Maddon must feel like every move he makes is the wrong one right now as his team was swept by the last-place Cincinnati Reds after an 8-6 loss on Sunday, getting outscored 31-13 over the four games.
The Cubs led 5-0, but a move to the bullpen once again backfired as reliever Pedro Strop gave up a three-run home run to Jesse Winker on his first pitch, part of a seven-run seventh inning that turned a 6-1 deficit into an 8-6 lead for the home team. According to ESPN Stats & Information research, the four-game sweep was the first for the Reds over the Cubs since April 1983.
"That's a tough one to swallow," Strop said after the Cubs' fourth consecutive loss. "We lose three games and this one we thought we should have had [after leading 5-0]. You just give it up. It's a tough one to swallow."
Strop said he had no command of his fastball as five straight batters reached base after he relieved starter Mike Montgomery with two on and no outs in the seventh. This came a day after reliever Brian Duensing allowed inherited runners to score in another Reds win. It has been a disturbing trend for them this month while they play without top bullpen arms Carl Edwards Jr. (shoulder) and Brandon Morrow (back). Cubs relievers have allowed more than 40 percent of inherited runners to score in June after allowing just 19 percent in May.
"Sometimes it doesn't work out," Maddon said. "Give the Reds credit. They really did swing the bat well."
That's the secondary storyline as Cincinnati is 29-30 under interim manager Jim Riggleman after starting the season 3-15. The Reds are not a typical last-place, rebuilding team, but the Cubs are built for October, and with another four-game series in Los Angeles coming up, things can slide the other way quickly.
"It hurts," infielder Javier Baez said. "We do get mad, but at the end of the day that doesn't make you better. It gets everything out of you, but you still have to make adjustments."
Some may be critical of Maddon's bullpen moves as a few of his relievers may be overworked, but both Duensing and Strop were well rested before they imploded. Right or wrong, whoever he calls upon is getting hit hard right now. There are other issues as the Cubs are leaking water in plenty of facets of the game as their defense, starting pitching, offense and, of course, bullpen came up short over the weekend.
"They kind of kicked our ass this series," Montgomery said.
The relaxing news for the team is that they've been here before. In fact, coincidentally, in each of the past two Junes, the Cubs have struggled mightily, only to right the ship after the All-Star break, en route to back-to-back division titles.
"We beat the Dodgers two out of three [last week] and we're the best team since the 1927 Yankees," Maddon said Sunday morning before the latest loss. "Then Cincinnati beats us for three days and all of a sudden it's doom and gloom. I cannot live my life that way."
Tell that to Cubs fans who are on an emotional roller coaster that won't end on Monday in Los Angeles. That's where the Cubs will allow 2012 second-round pick Duane Underwood to make his major league debut, as starter Tyler Chatwood left the team Sunday for the birth of his first child. It's just another stumbling block for the Cubs, who have trailed the Milwaukee Brewers in the standings for most of the first half.
As the team packed to leave Cincinnati, Maddon preached calmness. He and his coaches are wearing bib overalls for the trip to Los Angeles. A four-game sweep by the Reds — during which the Cubs allowed six or more runs in each contest in a sweep for the first time since 1970 — isn't changing that decision.
"This was pre-planned," Maddon said of wearing overalls. "You still eat. You still sleep. You still pet your puppy and move on."