Kirk Cousins having video crew document his free agent journey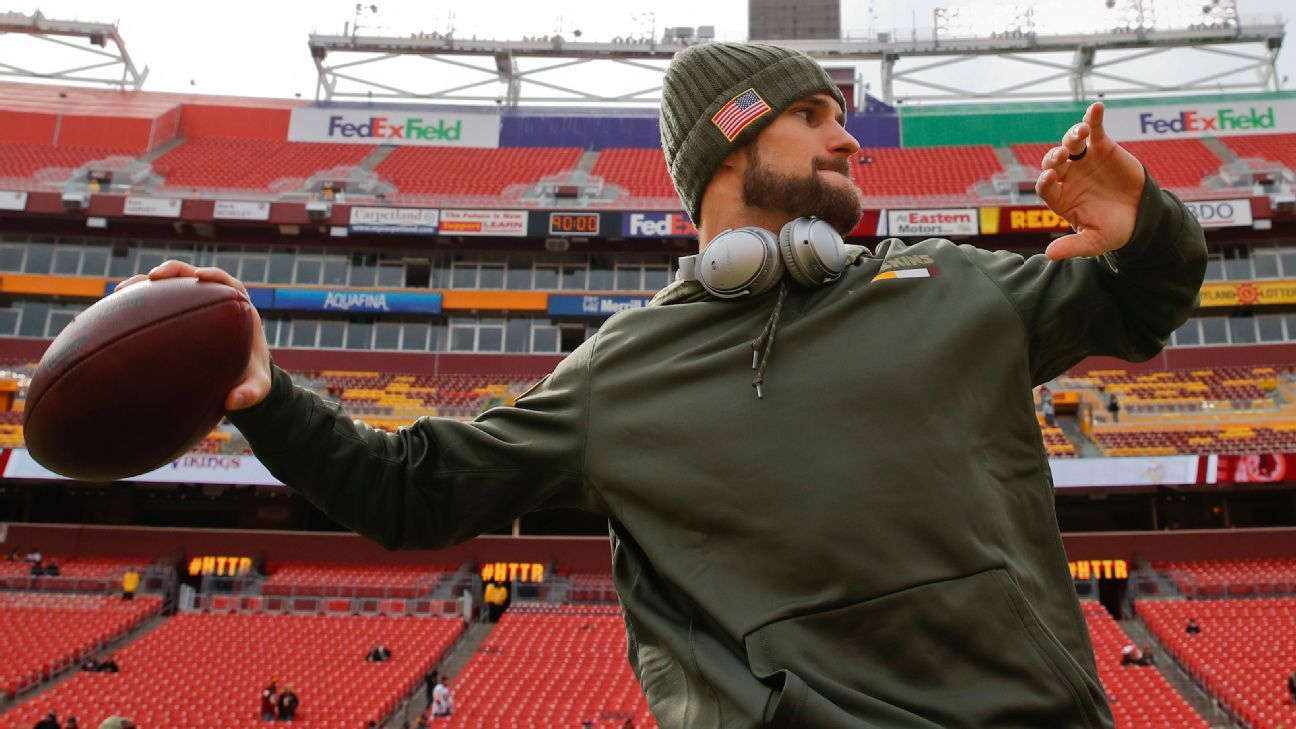 While the football world waits for Kirk Cousins to decide his future, the free-agent quarterback is filming it.
To give the public an idea of what goes into a free-agent decision, Cousins has been having a video crew follow him and his family for a few weeks, recording the decision process with those close to him that will determine whether he plays in Arizona, Denver, Minnesota or New York.
The video offers a glimpse of Cousins' offseason rhythm and lifestyle: living with his in-laws, working out, fatherhood and his life in general.
It's a free-agent version of "Tom vs. Time," the documentary that Patriots quarterback Tom Brady recently produced about his life. And now Cousins is producing something similar about his free-agent experience.
Many athletes have had writers follow them to tell a story like this; Cousins is producing his own video.
"We are opening up our home to allow a behind-the-scenes look into what really transpires before the contract number scrolls across the bottom line of ESPN," Cousins said Monday night.
Eventually Cousins will air much of the footage somewhere, perhaps on social media.
Patriots have seldom had as many notable free-agent losses as in 2018 – New England Patriots Blog
FOXBOROUGH, Mass. — The New England Patriots have lost four high-impact players in free agency, which makes 2018 a bit different for Bill Belichick and the team.
How different?
Belichick enters his 19th season in charge of the football operation. Only two other years really come close to matching what has unfolded this year with starting left tackle Nate Solder (Giants), clutch wide receiver Danny Amendola (Dolphins), No. 1 running back/kickoff returner Dion Lewis (Titans) and Super Bowl XLIX hero Malcolm Butler (Titans) saying goodbye.
Most recently, the 2015 offseason had some similarities. That was the year cornerbacks Darrelle Revis and Brandon Browner; running back Shane Vereen; defensive tackle Vince Wilfork and defensive end Akeem Ayers signed elsewhere. All five had played important roles in the prior Super Bowl championship season.
In 2004, to a lesser degree, it was goodbye to nose tackle Ted Washington, center/guard Damien Woody, running back Antowain Smith, defensive end Bobby Hamilton and guard Mike Compton. That was also a lot of good players on their way out.
The Patriots hung tough in both seasons after those personnel losses, winning a Super Bowl in '04 and losing in the AFC Championship Game at Denver in the '15 season.
So if history is a guide, the Patriots should once again be AFC contenders in 2019 even with such a talent drain.
Here is a recap of their comings and goings and draft-pick standing:
Trade acquisitions
In each case, the Patriots sacrificed positioning in the draft and were willing to absorb around the same level of salary in each ($2 million-$3 million) to land what could be three quality players for them. One common thread: Each player is coming from a team with a new regime/coach in place, so his value to his former team wasn't as high as it once was.
Draft pick reset
First round (31)
Second round (43)
Second round (63)
Third round (95)
Fourth round (136)
Sixth round (210)
Seventh round (219)
The Patriots are also currently projected to earn two 2019 third-round compensatory draft picks. That would help replenish the '19 third-round pick they traded to Cleveland in exchange for Shelton and a 2018 fifth-rounder.
Free-agent departures
WR Danny Amendola
CB Malcolm Butler
RB Dion Lewis
LT Nate Solder
This list could grow with special-teams captain and spiritual/emotional leader Matthew Slater and offensive tackles Cameron Fleming and LaAdrian Waddle still on the market.
Free-agent signings
RB Jeremy Hill
OT Matt Tobin
The club had reached out to DE/OLB Trent Murphy as a possible target, but Murphy landed a strong three-year, $21 million deal in Buffalo. Clayborn comes in a notch below (two years, base value of $10 million), while Hill and Tobin signed modest one-year deals.
Re-signings
C David Andrews (last year, extension)
RB Rex Burkhead
LB Kyle Van Noy (last year, extension)
RB James White (last year, extension)
If Andrews, Van Noy and White hadn't signed extensions last year and departed as free agents, they would have been included in another section of the analysis. So it's only fair to include them here.
Dallas Cowboys could find 'keeping their own' more problematic in 2019 – Dallas Cowboys Blog
FRISCO, Texas — The Dallas Cowboys have yet to sign a free agent from another team, although that could change Tuesday.
Their modus operandi when it comes to free agency is to re-sign their own players, but the past two years they have lost critical pieces to their roster.
Last week, it was linebacker Anthony Hitchens, who signed a five-year, $45 million deal with the Kansas City Chiefs. They also lost fullback Keith Smith and linebacker Kyle Wilber to the Oakland Raiders, but neither played major offensive or defensive roles and can be replaced.
Last year, it was guard Ronald Leary to the Denver Broncos, safety Barry Church to the Jacksonville Jaguars, Brandon Carr to the Baltimore Ravens, Morris Claiborne to the New York Jets, J.J. Wilcox to the Tampa Bay Buccaneers and Terrell McClain to the Washington Redskins, among others.
The Cowboys can argue that they did not want to pay the price to keep those players, which is fine, but if they don't get ahead of the market by signing players to extensions before they reach free agency, then they won't do anything but spin their wheels in free agency.
Speaking on the team's luxury bus from the NFL scouting combine last month in Indianapolis, owner and general manager Jerry Jones was almost gloating about the compensatory picks the team received for losing Leary (fourth round), Church (fifth round), Carr (fifth round) and Claiborne (sixth round).
Depending on what they end up doing in free agency, they could get a fourth-rounder for Hitchens in 2019. The picks help make up for the loss of proven players, and the Cowboys could use them in trades to move up in next month's draft.
But if the Cowboys' plan is to "keep their own," then they could face a difficult task in 2019.
They could have as many as 12 players set to hit unrestricted free agency, including three massive pieces to their success: Pro Bowl defensive end DeMarcus Lawrence, Pro Bowl right guard Zack Martin and defensive lineman David Irving.
The Cowboys kept Lawrence on the franchise tag this year, chewing up $17.143 million of their cap space. They have until mid-July to sign Lawrence to a multi-year contract or else he will have to play this season on the tag.
Martin is set to play out the year on his fifth-year option at $9.3 million. The Cowboys have wanted to lock him up to a long-term contract since last summer, but have not been able to close the deal. An extension would free up cap space this year and lock down Martin the same way they did Tyron Smith and Travis Frederick. The Cowboys will not shy away from making Martin the highest paid guard in the NFL, which is now north of $13 million per season.
The Cowboys gave Irving, a restricted free agent, the second-round tender at $2.9 million. Theoretically, another team could sign Irving to a massive offer sheet, which the Cowboy won't match in order to gain a second-round pick this year, but if not, then Irving would be scheduled to hit the open market as an unrestricted free agent in 2019. If Irving can put together a full season of work, then his price will be enormous.
Safety Byron Jones could be an unrestricted free agent next year as well if the Cowboys don't pick up his fifth-year option by May 2. Add in running back Rod Smith, tight ends James Hanna and Geoff Swaim, backup tackle Chaz Green, defensive end Datone Jones and linebackers Justin March-Lillard and Damien Wilson and long snapper L.P. Ladouceur, and the Cowboys will have plenty of decisions to make.
The Cowboys can sign Dak Prescott to a mega-extension for the first time next summer and the quarterback numbers are going to be astronomical.
That's why what happens this year matters so much, especially with Lawrence and Martin.
If Lawrence has another Pro Bowl-type season, his price jumps up to likely $20 million per year. If Martin waits, then his number only goes up as well, however, he has said he does not want to play anywhere else.
There is only one franchise tag to go around. Getting a long-term deal done for Lawrence might be more difficult than Martin, but if the Cowboys want to follow through on their "keep their own" plan they need to get something done.
Compensatory picks only matter so much.
NFL VP Troy Vincent confirms changes to NFL catch rule
The NFL's competition committee is expected to propose a new catch rule that would eliminate the "going to the ground" distinction in addition to reinforcing a high standard for overturning calls via replay, league executive vice president Troy Vincent confirmed Tuesday to the Washington Post.
ESPN previewed the changes on March 8, explaining the committee's options, along with the role that a replay update would play in reimagining the controversial rule.
New York Giants owner John Mara told ESPN in February that the competition committee agreed that a handful of highly debated rulings — including incompletions for Detroit Lions wide receiver Calvin Johnson in 2010 and Dallas Cowboys wide receiver Dez Bryant in 2014 — should be called completions moving forward.
The requirements for a catch, under the committee's likely proposal, will include the receiver controlling the ball and establishing himself in bounds. There will also be instruction for officials to define a time element, but it will apply both to receivers who are standing and those who are falling during the process of the catch.
Vincent did not specify that element with the Post and did not immediately respond to a request from ESPN. But former NFL officiating chief Dean Blandino told ESPN recently that it would have to define an act common to the game, such as taking a certain number of steps, in order for officials to call the play consistently.
Some of the problems with the catch rule in 2017 revolved around an inconsistent interpretation of a long-held standard to overturn mistakes that were "clear and obvious," according to the wording in the 2017 NFL rulebook.
In the March 8 story, ESPN analyst Bill Polian — a former competition committee chairman — suggested the phrasing would be strengthened to "indisputable visual evidence." That change, confirmed by Vincent to the Post, would remind the NFL's centralized game-day officiating department that the league doesn't want catches overturned because of slight movement of the ball.
Questions about the catch rule have circulated for years, and the league has made several attempts to tweak it in recent years. The urgency increased this offseason, however, after commissioner Roger Goodell said in January that he wanted it changed.
The committee has spent the past two days working through rule proposals to present to owners when they gather next week in Orlando, Florida. Other topics include the possibility of a targeting rule and changing pass interference to a 15-yard penalty.