Retired NFL star Chad Johnson trying out for XFL as kicker
Retired NFL receiver Chad Johnson has a tryout scheduled for Monday with the XFL as a kicker, he announced via Twitter.
A source confirmed that, as of now, the tryout is real.
The opportunity to kick in the XFL has presented itself, i must tryout Monday in Houston, I'm excited as hell & I'm sure all will go well 🙏🏿

— Chad Johnson (@ochocinco) January 14, 2020
Johnson, 42, last played in an NFL game in 2011. He was named to six Pro Bowls as a receiver, but often expressed sincere interest in kicking. In fact, he converted an extra point and kicked off for the Cincinnati Bengals during the 2009 preseason.
He tweeted he hopes it could lead to a chance to compete for a spot on an NFL roster as a kicker, saying, "Pretty far fetched but imagine me being consistent during an XFL season & getting a chance at a 53 man roster in the NFL, even i don't make it just being able to compete for a spot at a entirely different position will be so riveting."
Last month, Johnson posted an Instagram video in which he converted what appeared to be a 60-yard field goal.
XFL rules for the kicking game are different than the NFL. There are no extra-point kicks, and kickoffs are to be spotted at either the 25- or 30-yard line, making a touchback unlikely.
Johnson would be by far the most high-profile player to try out publicly for the XFL. The league has largely eschewed big-name players in favor of those who would best fit its attempts to quicken the pace and excitement of games. Players from all eight teams have been in training camp around the Houston area since Jan. 4. The season kicks off Feb. 8.
53 Super Bowl rings, 53 stories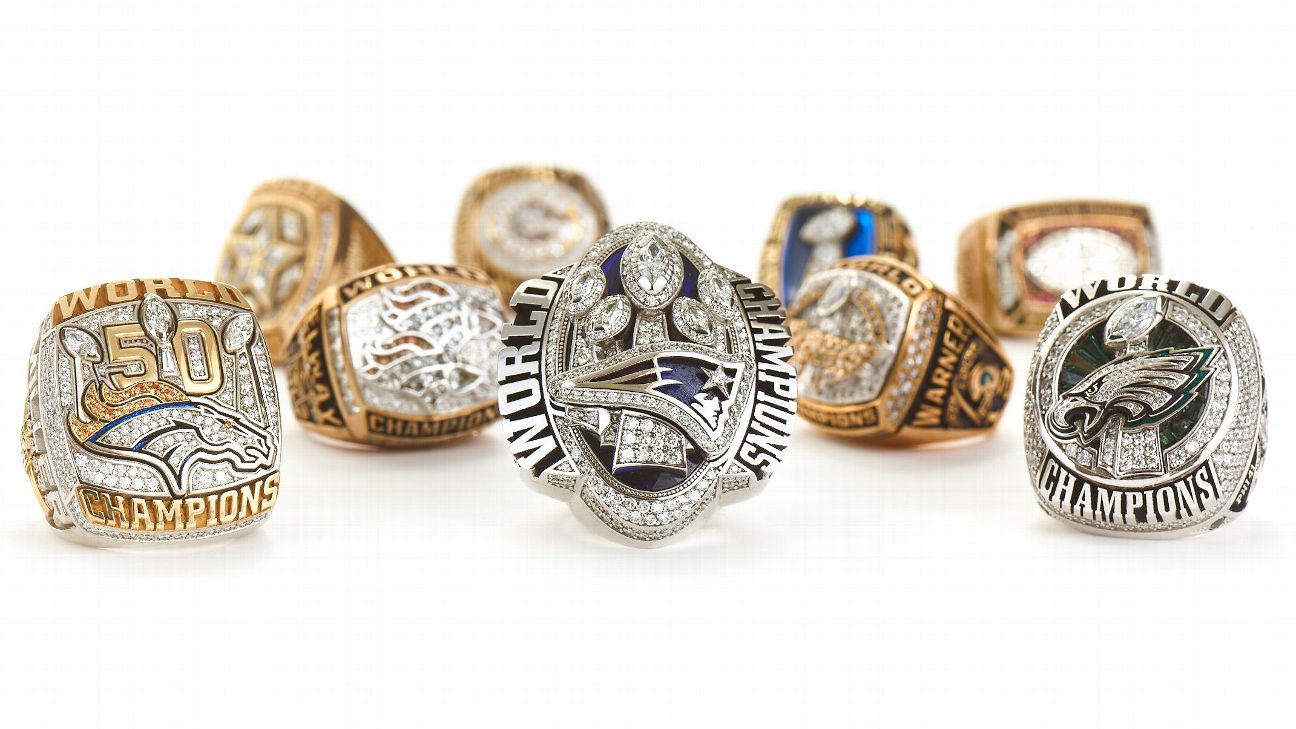 Super Bowl XXXIV
1999: St. Louis Rams
D'Marco Farr, DT "I remember walking into the Ritz Carlton [to receive the rings]. … Robert Wuhl, the guy that did Arli$$ on HBO, is our emcee, so he's going through the whole spiel, and I'm kind of listening, but kind of not, because we're half-drunk and getting drunker as the night goes on. As a matter of fact, one of my teammates, who I won't name, was right behind me and he went from sitting upright, to leaning, to on the ground before Robert Wuhl finished the whole spiel, and then he threw up on my shoe. So we got the rings, it was awesome, we opened them up, and it was like, 'Wow, here it is.' You won, this is official, it's solid and they can never take that away. We finished that ceremony around 9 p.m., and by midnight, that was the only thing I had on."
Bills not living in regret despite trading Patrick Mahomes pick to Chiefs – Buffalo Bills Blog
ORCHARD PARK, N.Y. — The NFL draft produces never-ending "what-ifs" and hindsight. No team is immune to the rehashing of selections and trades, and this month the Buffalo Bills were again reminded of one of the bigger draft moments in team history.
Back in 2017, Buffalo traded the No. 10 overall pick to the Kansas City Chiefs, who in turn selected star quarterback Patrick Mahomes. When Mahomes and the Chiefs won the AFC Championship Game on Jan. 19, sending them to the Super Bowl in Mahomes' third season, some Bills fans dove headfirst into a hypothetical world in which the Bills selected the former Texas Tech quarterback.
At least one Bills player — the crown jewel of the team's return for the Mahomes pick — took notice by commenting on social media.
I see a lot of ungratefulness 🤔… okay bet , I know what I have to do !!

— Tre'Davious White (@TreWhite16) January 19, 2020
Cornerback Tre'Davious White was just part of Buffalo's take from the trade. In addition to the No. 27 pick used to select White, the Bills received a third-round pick (No. 91) in 2017 and the Chiefs' first-round pick in 2018 (No. 22). After selecting White, the Bills kept wheeling and dealing. They packaged the No. 91 pick in a deal to move up in the second round for since-departed receiver Zay Jones (No. 37 overall), then packaged a pick acquired in that deal to move up again, selecting left tackle Dion Dawkins at No. 63.
In 2018, the Bills packaged the No. 22 pick in a deal to move up to No. 16 for linebacker Tremaine Edmunds. Buffalo also landed pick No. 154 in that trade and selected defensive back Siran Neal, completing the haul from the Mahomes trade.
Despite Mahomes' success — the past two seasons he's been in the MVP conversation, passing for 9,128 yards and 76 TDs against 17 interceptions — the Bills aren't living in regret. White made his first Pro Bowl and first All-Pro team this season and has established himself as one of the league's better cornerbacks. Edmunds made his first Pro Bowl as well, becoming the first player in NFL history with two 100-tackle seasons by the age of 21. Dawkins has spent three seasons as the Bills' starting left tackle and looks like a cornerstone player.
At the time of the trade, Buffalo's front office was in limbo. Coach Sean McDermott was hired in January 2017, but current general manager Brandon Beane didn't arrive until that May — after the draft. McDermott, working the draft with outgoing GM Doug Whaley, opted against a potentially career-defining decision to take a quarterback high in the first round. The Bills instead stuck with Tyrod Taylor as their starter and used a fifth-round pick on the University of Pittsburgh quarterback Nathan Peterman, who threw three touchdown passes and 12 interceptions in eight games with the Bills.
The team's stance on the trade doesn't seem to have changed much since McDermott expressed a pragmatic view of the deal on draft night in 2017.
"Does it worry me? Look, you look at things and you say 'what's in the best interests of this organization?'" he said then. "That's what I have to do. [Chiefs coach] Andy [Reid has] got his own situation. We've got our own situation here. That's the nature of the draft. You stick by what's important and what's right for us, and that's what we did."
Buffalo drafted quarterback Josh Allen the following year, when McDermott and Beane had a full year together to scout the position.
Though he had no part in the deal, Beane sees all the speculation and simply refuses to dwell on hypotheticals — it distracts from the present.
"I don't really operate in the 'what-ifs' world, I really don't," he said. "I look at what the Buffalo Bills — when I got there in May [2017] — what that opportunity was. That's for the fans and other people to do, that's not really for me to do. My thing is, when I walk in the door, this is what we have, these are the holes on our roster, this is where we're good. That's my approach."
49ers' George Kittle awards Super Bowl trip to widow, son of fallen soldier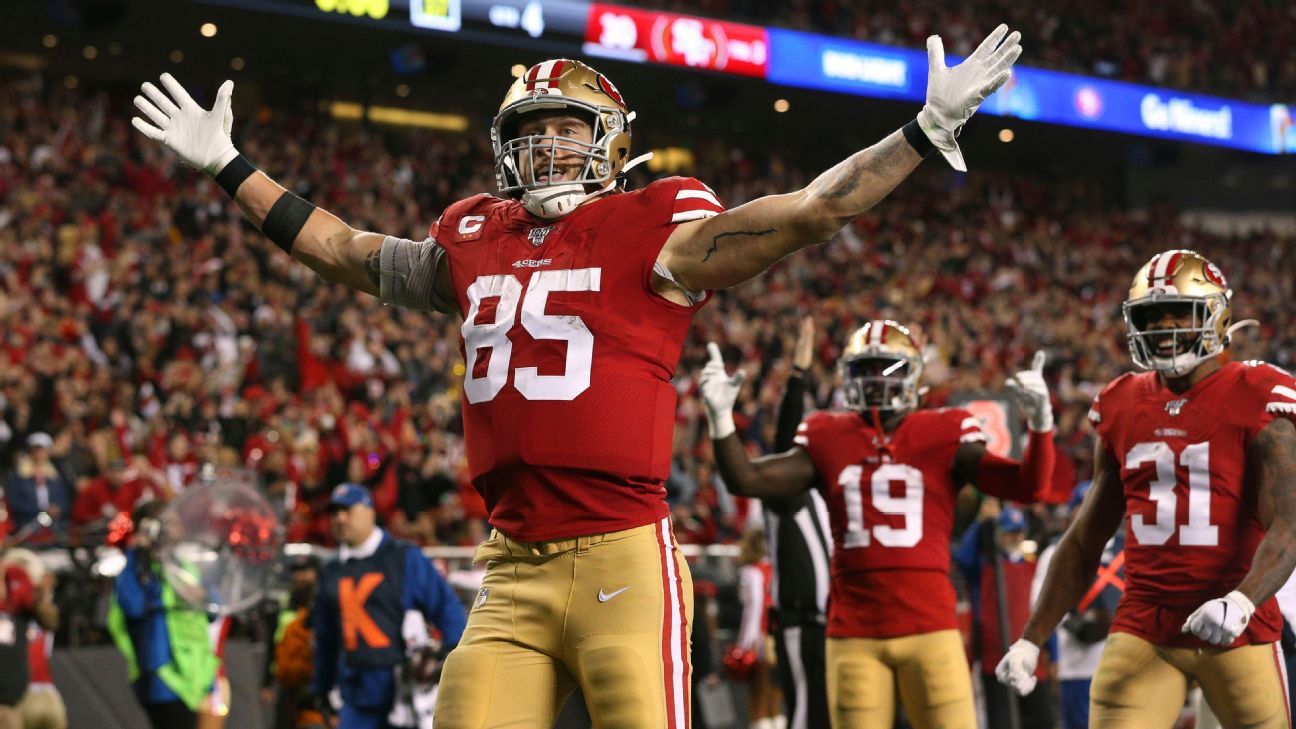 SANTA CLARA, Calif. — San Francisco 49ers tight end George Kittle will be making his Super Bowl debut on Feb. 2 and, in addition to his large entourage of friends and family, he'll be bringing a couple of special guests along with him.
In conjunction with financial-services company USAA and the Tragedy Assistance Program for Survivors (TAPS), Kittle has awarded the surviving family of Martin "Mick" LaMar a trip to Super Bowl LIV in Miami, where the Niners will play the Kansas City Chiefs.
"The work I do with the USAA and the TAPS organization is something I really have kind of fallen in love with," Kittle said. "I have a lot of family in the military so it's something that I just respect and the sacrifice that they give is the ultimate sacrifice. So, if I can ever give back and make a family's day or just make them smile a little bit then I've just done a little part in their lives."
Mick LaMar was a U.S. Army sergeant who was shot and killed while on his second tour of duty in Mosul, Iraq, on Jan. 15, 2011. The native of Sacramento, California, died on his wedding anniversary and is survived by wife Josephine (Josie) and her five children. LaMar had previously served in the Marine Corps out of high school and was deployed in the first Gulf War. He reenlisted with the Army in 2007.
With an assist from Kittle, Josie and 16-year-old son Nicolas, both of whom are big 49ers fans, will be headed to Miami for the Super Bowl. Josie became a fan through her husband and passed that down to Nicolas, who was 7 when Mick died. Kittle was scheduled to meet with Josie and Nicolas on Friday, something he said was looking forward to.
USAA is teaming up with other NFL players to offer a similar experience for fans from other parts of the country.
"As I hit the field to play in the Super Bowl, I find comfort in the fact that 49ers fans Josie and Nicolas LaMar will be cheering our team on," Kittle said in a statement. "It's a special privilege to be able to team up with USAA and TAPS to award a trip to the Super Bowl to Sergeant LaMar's family in recognition of his military service and paying the ultimate sacrifice in service of our country."