Chiefs' bad-luck fan to steer clear of Titans game
KANSAS CITY — Charles Penn wasn't planning on going to the Kansas City Chiefs' divisional game against the Houston Texans this past Sunday.
Dating to the Chiefs' collapse to the Indianapolis Colts in the 2013 wild-card game, the super fan didn't have a great track record watching Chiefs' games in public. He didn't want to tempt fate this time around.
But by the end of the week, his desire to see a Chiefs playoff win in person was too much. He spent $258 on StubHub for a seat at Arrowhead Stadium. But he didn't stay to see the Chiefs' historic comeback. Hoping to reverse the course of his favorite team's fortunes, Penn left when the Chiefs trailed by three scores in the first half.
"I realized things were going bad as soon as I got to the game, first quarter, so I decided to make the business decision for the betterment of them — and not just me, but for Kansas City," Penn told Jay Harris on SportsCenter.
As he left, Penn filmed his exit and posted it to Twitter. The post quickly went viral, getting thousands of views.
— Big Buck Chuck (@cpenn4thewin) January 12, 2020
"Can't do it. I've got to leave, man," he told the camera. "It's the only hope."
He followed the game on his phone as he headed home, and by the time he got to his couch, the Chiefs were in the midst of a comeback that saw them rattle off 41 unanswered points en route to a 51-31 win. "The rest is history," he said. "The Chiefs went on the run and they got it done."
Since the win, Penn has become somewhat of a cult hero, earning a shoutout from fellow super fan Eric Stonestreet and being sought after for local and national interviews. Penn's friends teased him about being a bad-luck charm since he watched the 2013 playoff loss at a friend's house, so he stayed home for the Chiefs' divisional win against the Colts last season.
"It was some bad juju the Chiefs had with the Colts in the playoffs in the past, dating all the way back to Jim Harbaugh and Peyton Manning, Andrew Luck," he said. "I just decided not to risk it, even though we had [quarterback Patrick] Mahomes at the time. I decided to stay home. They balled out and got the job done. So they had one opportunity to get to the Super Bowl and unfortunately came up short. But this year, I think it's going to be different."
Adding to the mystique of his bad-luck karma, Penn was at Arrowhead for the overtime AFC Championship Game loss to the New England Patriots.
"During the first quarter, people found out I was at the game and said, 'Charles, leave the stadium now,' when the Chiefs were down," he said of last year's AFC Championship Game. "I said, 'No, you guys are crazy, we're going to win this game. And then over time …"
Penn isn't taking any chances this weekend. After the win, Mahomes was asked what he would say to Penn: "Watch the next game at home," Mahomes said, drawing laughs.
Penn laughed when he saw Mahomes' response in his postgame news conference and jokingly tweeted, "just rude", at him. Mahomes responded, thanking him for leaving: "Appreciate you doing what was best for the Kingdom!"
"When he thanked me for making that sacrifice, it felt good," Penn said. "I knew then it was the best decision." Penn plans on listening to Mahomes for this weekend's AFC Championship Game against the Tennessee Titans at Arrowhead.
"Well, Pat told me to stay home," he said. "He's the captain. He's the MVP of the league. So I'm going to listen to him. I'm going to sit out. Plus, I'm still scared from the Titans game a few years ago when we were in the wild card."
49ers' George Kittle awards Super Bowl trip to widow, son of fallen soldier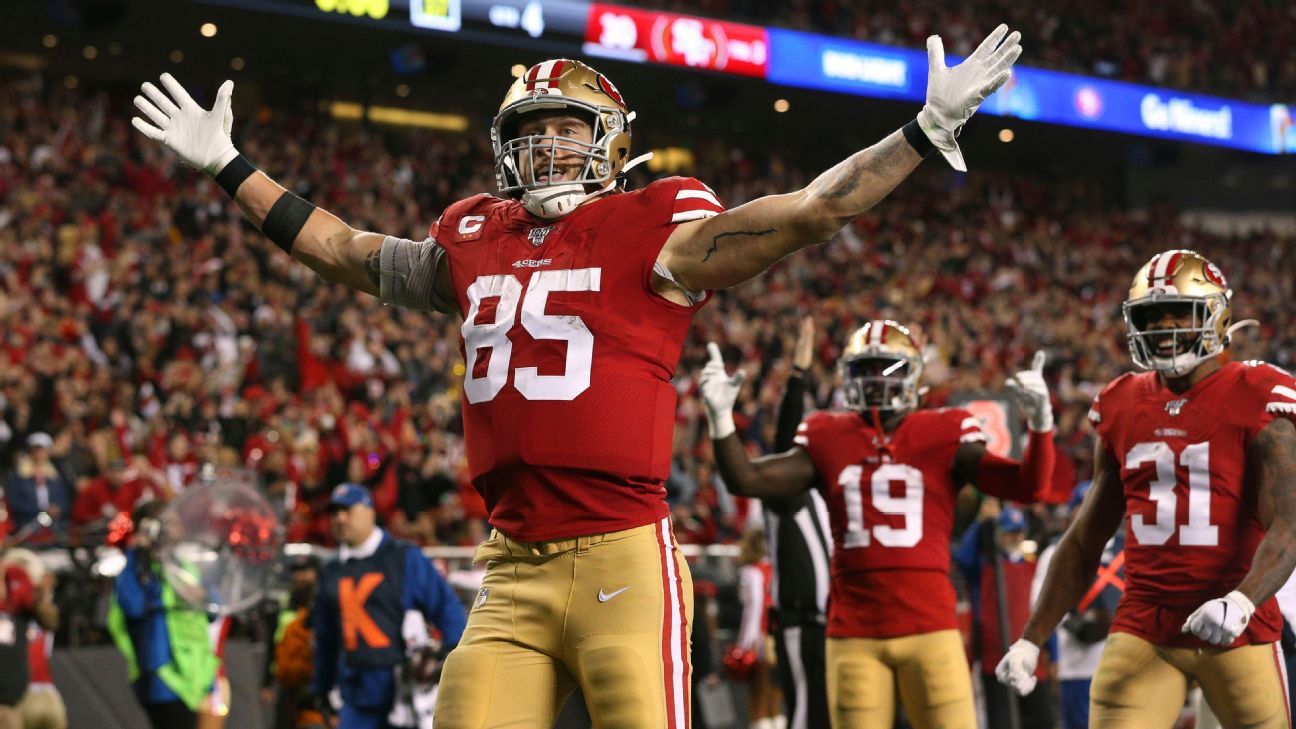 SANTA CLARA, Calif. — San Francisco 49ers tight end George Kittle will be making his Super Bowl debut on Feb. 2 and, in addition to his large entourage of friends and family, he'll be bringing a couple of special guests along with him.
In conjunction with financial-services company USAA and the Tragedy Assistance Program for Survivors (TAPS), Kittle has awarded the surviving family of Martin "Mick" LaMar a trip to Super Bowl LIV in Miami, where the Niners will play the Kansas City Chiefs.
"The work I do with the USAA and the TAPS organization is something I really have kind of fallen in love with," Kittle said. "I have a lot of family in the military so it's something that I just respect and the sacrifice that they give is the ultimate sacrifice. So, if I can ever give back and make a family's day or just make them smile a little bit then I've just done a little part in their lives."
Mick LaMar was a U.S. Army sergeant who was shot and killed while on his second tour of duty in Mosul, Iraq, on Jan. 15, 2011. The native of Sacramento, California, died on his wedding anniversary and is survived by wife Josephine (Josie) and her five children. LaMar had previously served in the Marine Corps out of high school and was deployed in the first Gulf War. He reenlisted with the Army in 2007.
With an assist from Kittle, Josie and 16-year-old son Nicolas, both of whom are big 49ers fans, will be headed to Miami for the Super Bowl. Josie became a fan through her husband and passed that down to Nicolas, who was 7 when Mick died. Kittle was scheduled to meet with Josie and Nicolas on Friday, something he said was looking forward to.
USAA is teaming up with other NFL players to offer a similar experience for fans from other parts of the country.
"As I hit the field to play in the Super Bowl, I find comfort in the fact that 49ers fans Josie and Nicolas LaMar will be cheering our team on," Kittle said in a statement. "It's a special privilege to be able to team up with USAA and TAPS to award a trip to the Super Bowl to Sergeant LaMar's family in recognition of his military service and paying the ultimate sacrifice in service of our country."
With Patrick Mahomes, Chiefs always have a chance
KANSAS CITY, Mo. — When quarterback Patrick Mahomes rallied the Kansas City Chiefs from deficits of at least 10 points to win their two playoff games on the way to the Super Bowl this year, it wasn't an anomaly.
He led the Chiefs back from a 10-point fourth-quarter hole last year against the Denver Broncos with the help of a left-handed pass. He threw four touchdown passes in the second quarter of a Week 2 game this season against the Oakland Raiders as the Chiefs erased a 10-point deficit.
Mahomes got the pass off with the left hand 😱

📺: ESPN #KCvsDENpic.twitter.com/JddvEqYHoK

— NFL on ESPN (@ESPNNFL) October 2, 2018
.@PatrickMahomes tosses his 4th touchdown of the quarter! That's @Demarcus Robinson's 2nd TD reception of the game! #ChiefsKingdom #KCvsOAK

📺: CBS
📱: NFL app // Yahoo Sports app
Watch on mobile: https://t.co/y8YLGKmeTf pic.twitter.com/G7tPH9NYdP

— NFL (@NFL) September 15, 2019
Mahomes, in his second full year as the starter, is no stranger to such scenarios. He is 5-4 (55%) in his career during games in which the Chiefs have trailed by at least 10 points. The rest of the league during that time has won 14% of such games (67-405-3).
And the Chiefs scored 40, 51, 31 and 31 points in Mahomes' four losses when trailing by double digits. They came back to lead during the fourth quarter in three of those games.
This is why beating the Chiefs has been so difficult since Mahomes took over. Kansas City is 27-8 in games he's started and has not lost a single game during that span by more than one score.
Not one.
"I've been blessed to be in a great situation with a lot of great football players and coaches around me," Mahomes said. "From day one, I've been expected to go out there and be who I am."
Mahomes' 35 starts without losing by more than seven points is the second longest such streak to start a career among Super Bowl-era quarterbacks, behind Russell Wilson's 38. His eight career losses are by three, three, one, seven, six, six, seven and three points.
When his team is trailing, Mahomes is first in QBR (87) and TD percentage (8.7), second in yards per attempt (8.6) and third in passing touchdowns (33).
And in the past few weeks Mahomes has added a running dimension to his game that has made him even more difficult to stop. His 27-yard touchdown run late in the first half of the AFC Championship Game will forever be legend to Chiefs fans. Mahomes faked a Tennessee Titans defender to get the run started. He appeared headed out of bounds, but instead cut up the field and was able to avoid defenders near the end zone before scoring.
Big-time players make big-time plays in big-time games 💪 pic.twitter.com/ZC8Ts5dHqK

— Kansas City Chiefs (@Chiefs) January 19, 2020
"I was thinking about just running out of bounds," he said. "As I got to the sideline, I realized I could cut up. I was running down the sideline and I knew we had two timeouts, so I might as well try to cut it back. I cut it back, and luckily I was able to hold on to the ball and get into the end zone."
Mahomes has led the Chiefs in rushing yards in both playoff games leading up to Super Bowl LIV against the San Francisco 49ers, with 53 yards in each game. He was also their top rusher in a Week 11 win over the Los Angeles Chargers.
"They're doubling our guys and you're getting not just one guy doubled but two guys doubled," Chiefs coach Andy Reid said. "The defensive linemen, they're trying to sack him, so if they make one miss on him or get out of their lane a bit, it's over. He's got all this running space.
"For him to be able to decipher it, see it and then go … he still keep his eyes down the field and gives guys a chance to get open. That's what happened with Sammy. He scrambled to the right and throws it 60 yards or whatever it was on a dime. He probably could have run that one for a little bit, too."
Reid was referring to the 60-yard pass Mahomes threw to Sammy Watkins for the Chiefs' final touchdown in the win over Tennessee. Mahomes appeared ready to run before seeing an open Watkins after his defender had fallen down.
"The defenses are obviously trying to take away things down the field," Reid said. "When they do that … it just leaves an open door there. For him to be able to see that in the heat of it is something. He's got great eyes, great vision, which we know from the passing game. But he sees the whole picture and he's able to find spots."
He isn't perfect at this rushing thing yet, though. Mahomes bobbled the ball just as he was crossing the goal line after Titans defensive back Tramaine Brock tried to strip it from him. That didn't escape notice from offensive coordinator Eric Bieniemy.
"I just told him if he's going to lead us in rushing, let's make sure we continue working on ball security with the running back coaches and get your neck roll ready, because you're going to have to pound it a little bit for us," Bieniemy said.
Mahomes' running was as deflating to the Titans as his passing. He had six carries, not counting two kneels to kill the clock at the end of the game. Four of them went for a first down or a touchdown.
"That's what led them to getting victories, [Mahomes] escaping the pocket," Titans linebacker Wesley Woodyard said. "He's a deadly quarterback outside of the pocket. He can make throws, the same throws outside of the pocket that he makes in the pocket … and that's why he was able to get rushing yards and almost 500 of total offense.
"We knew exactly what they were going to do. If guys weren't open right away, he was going to scramble and make something happen with his feet and look down the field to take a shot."
The Titans had beaten the Chiefs 35-32 in Week 10 in Mahomes' first game after missing 2½ games with a knee injury. The Mahomes they saw in the playoffs was different.
"We knew he could scramble around and make plays with his feet," Tennessee safety Kevin Byard said. "We knew the last game he really wasn't using his feet like that due to the knee injury."
It appears the quarterback who has never lost a game by more than one score is getting better.
Darius Slay's Pro Bowl cleats honor late infant son of Lions teammate Marvin Jones
ORLANDO, Fla. — Detroit Lions cornerback Darius Slay barely got to know Marlo Jones — the infant son of Lions teammate Marvin Jones who died in December — but he believes that had Marlo gotten the chance to grow up with his siblings, he would be just as vivacious and would be proud of his father.
Slay will honor the Jones family Sunday at the Pro Bowl in Orlando with custom cleats featuring images of both the Slay and Jones families.
"It's a tribute to my man, my brother," Slay told ESPN on Friday. "I'm letting him know I support him and I'm here for him. Just to contribute to him — it's a blessing for me, it's a blessing that he'd let me do that and trust me with that. I appreciate him a lot."
It's bigger than football!!!! Love ya bra @MarvinJonesJr rest easy Marlito Jones!!!!🙏🏾 pic.twitter.com/6JcHNFq5AM

— Darius Slay (@_bigplayslay23) January 23, 2020
Slay reached out to Jones first to get his permission to pay tribute to Marlo, who was 6 months old when he died. The design was Slay's idea, and the cleats feature Marlo in his mother Jazmyn's arms with a halo over his head and the words "Rest in Peace, Marlito," his nickname.
"I put [Marvin's] celebration in there — his hands wide like every time he scores a touchdown — and have his little man up there watching him do it," Slay said. "I know he'd be proud up there of how his dad is continuing to raise his brothers and sisters and being a good husband to his mom. It's a great feeling for me to be able to go out there and show that.
"He told me he appreciated it and he's thankful that we're blessed to be teammates," Slay added. "He's a true role model and father figure in life. He continues to be a great dad and great husband."
Jones did not play in the regular-season finale against the Green Bay Packers following his son's death but attended the game with his family. The team held a moment of silence, and the family remained on the field for the national anthem. During the anthem, Marvin Jones was spotted wiping tears from his eyes.
The Jones family did not reveal what led to Marlo's death, but Jones said at the time that he "was a fighter from day one."
Slay said he wished he could have gotten to know Marlo's personality.
"I know [Marvin's] other kids are all active, so he would have been active for sure," Slay said.
Even though they have kept in close contact since the season ended, Slay, who is also a husband and father, said he can't begin to imagine what the Jones family is going through, but he emphasized that they are not alone.
"I don't know what he's going through, man. I can't tell you. I haven't experienced it, and I plan on not [experiencing it]," Slay said. "I know it was nerve-wracking and heartbreaking for him, but that's why I'm here for him, anytime, call. … He's a brother to me, and I continue to pray for him."