Why Carolina makes sense as potential Tom Brady landing spot – Carolina Panthers Blog
CHARLOTTE, N.C. — There are going to be many questions over the next few weeks about the future of quarterback Tom Brady, who's set to become a free agent for the first time in his NFL career. Will he stay in New England or play next season with another team? All we know for sure is Brady said it's "pretty unlikely" he will retire.
Peyton meets up with his greatest rival, Tom Brady, to hit golf balls off Jim Nantz's home and reminisce about their epic battles. Watch on ESPN+
Brady, 42, didn't have a lot of weapons at his disposal as the Patriots made a first-round exit in the playoffs. The Carolina Panthers have weapons but need a healthy, dependable quarterback.
The Panthers also need a coach, and New England offensive coordinator Josh McDaniels is set to interview with team officials on Tuesday. He could be a good fit, since owner David Tepper appears focused on bringing in a young, offense-minded, NFL coordinator.
So why not marry these two situations?
Here's why Carolina makes sense if Brady is ready for a change of scenery:
Cam Newton uncertainty: There are no guarantees that Newton will be healthy in time for the 2020 season, the last one under his current contract. The full recovery time for his Lisfranc surgery is unknown. It could be six months; it could be a year or longer. So if the Panthers decide to move on from their 30-year-old quarterback and his $21.1 million salary-cap figure with either a trade or release, there wouldn't be a better veteran option than Brady, a six-time Super Bowl champion and 14-time Pro Bowl selection. Brady has a history of cap-friendly deals that leave money to build around him, and surely the Panthers could work something out for the $19.1 million they would clear by moving on from Newton. They might even have enough left to help extend the deal of running back Christian McCaffrey, who is entering the fourth year of his rookie deal.
Brady needs weapons: Brady never has played with a back like McCaffrey, who this past season became the third player in NFL history to record 1,000 yards rushing and receiving. In three NFL seasons, McCaffrey hasn't had a quarterback who consistently could hit him in stride in the passing game. Add wide receivers DJ Moore — 1,175 yards receiving in 15 games this past season — and the speedy Curtis Samuel (627 receiving yards) and Brady would arguably have a better group than he had in New England this past season. Chris Hogan, who spent the 2016-18 seasons with Brady, also is in Carolina. Then there's Greg Olsen. The three-time Pro Bowl tight end indicated this might be his last season, even though he has a year left on his deal. He doesn't want to be a part of a complete rebuilding job, as he'll turn 35 in March. Brady wouldn't be part of a complete rebuild, either, and his relationships with tight ends (such as Rob Gronkowski) could be a motivating factor for Olsen to return. With these weapons in place, the Panthers could spend money in free agency on rebuilding an offensive line to protect Brady. They already have nice pieces in veteran center Matt Paradis and four-time Pro Bowl right guard Trai Turner.
Good mentor: There's no question the Panthers need to develop a quarterback for the future, whether Newton is on the 2020 roster or not. The Patriots have a solid history of developing starting-caliber quarterbacks behind Brady, such as Jimmy Garoppolo, Jacoby Brissett and Matt Cassel. There's no history of the Panthers developing a quality starting quarterback behind Newton. So Brady could hold the job for a couple of years as he tries to reach his goal of playing until he's 45, and let 2019 third-round pick Will Grier, Kyle Allen or a drafted quarterback develop.
Quick turnaround: Tepper has said repeatedly that he hates losing. Brady equals winning. He has never played for a losing team. He has won 10 or more games in 11 straight seasons since having his 2008 season shortened to one game because of injury, and the Patriots have won at least 10 games in 17 of his 18 healthy seasons. The Panthers already have good pieces on defense in linebackers Luke Kuechly and Shaq Thompson, defensive tackle Kawann Short and safety Eric Reid. With Brady, it would be easier convincing free agents such as cornerback James Bradberry and defensive tackle Gerald McCoy to stay. It also would be easier to lure other top free agents into the fold to build around them. As McCaffrey reminded this past season when the Panthers were losing their final eight after a 5-3 start, San Francisco (13-3) was 4-12 a year ago and turned things around. Brady's presence certainly would sell tickets, another Tepper goal.
McDaniels factor: The Panthers last week interviewed Kansas City offensive coordinator Eric Bieniemy to become their next coach. They met with Baylor coach Matt Rhule on Monday and are scheduled to meet with interim coach Perry Fewell on Wednesday and Minnesota offensive coordinator Kevin Stefanski on Thursday. McDaniels has something the others don't: head-coaching experience in the NFL (Denver, 2009-10). He also has a long history with Brady. Yes, McDaniels struggled at Denver, going 11-17 before being fired. But he didn't have a quality starting quarterback, inheriting Kyle Orton and drafting Tim Tebow. McDaniels and Brady won six Super Bowls together, including one over the Panthers after the 2003 season. Should McDaniels choose the Browns, it's unlikely Brady would follow him with Baker Mayfield in the fold in Cleveland. The Panthers arguably make the most sense if they want to be a package deal.
Bills not living in regret despite trading Patrick Mahomes pick to Chiefs – Buffalo Bills Blog
ORCHARD PARK, N.Y. — The NFL draft produces never-ending "what-ifs" and hindsight. No team is immune to the rehashing of selections and trades, and this month the Buffalo Bills were again reminded of one of the bigger draft moments in team history.
Back in 2017, Buffalo traded the No. 10 overall pick to the Kansas City Chiefs, who in turn selected star quarterback Patrick Mahomes. When Mahomes and the Chiefs won the AFC Championship Game on Jan. 19, sending them to the Super Bowl in Mahomes' third season, some Bills fans dove headfirst into a hypothetical world in which the Bills selected the former Texas Tech quarterback.
At least one Bills player — the crown jewel of the team's return for the Mahomes pick — took notice by commenting on social media.
I see a lot of ungratefulness 🤔… okay bet , I know what I have to do !!

— Tre'Davious White (@TreWhite16) January 19, 2020
Cornerback Tre'Davious White was just part of Buffalo's take from the trade. In addition to the No. 27 pick used to select White, the Bills received a third-round pick (No. 91) in 2017 and the Chiefs' first-round pick in 2018 (No. 22). After selecting White, the Bills kept wheeling and dealing. They packaged the No. 91 pick in a deal to move up in the second round for since-departed receiver Zay Jones (No. 37 overall), then packaged a pick acquired in that deal to move up again, selecting left tackle Dion Dawkins at No. 63.
In 2018, the Bills packaged the No. 22 pick in a deal to move up to No. 16 for linebacker Tremaine Edmunds. Buffalo also landed pick No. 154 in that trade and selected defensive back Siran Neal, completing the haul from the Mahomes trade.
Despite Mahomes' success — the past two seasons he's been in the MVP conversation, passing for 9,128 yards and 76 TDs against 17 interceptions — the Bills aren't living in regret. White made his first Pro Bowl and first All-Pro team this season and has established himself as one of the league's better cornerbacks. Edmunds made his first Pro Bowl as well, becoming the first player in NFL history with two 100-tackle seasons by the age of 21. Dawkins has spent three seasons as the Bills' starting left tackle and looks like a cornerstone player.
At the time of the trade, Buffalo's front office was in limbo. Coach Sean McDermott was hired in January 2017, but current general manager Brandon Beane didn't arrive until that May — after the draft. McDermott, working the draft with outgoing GM Doug Whaley, opted against a potentially career-defining decision to take a quarterback high in the first round. The Bills instead stuck with Tyrod Taylor as their starter and used a fifth-round pick on the University of Pittsburgh quarterback Nathan Peterman, who threw three touchdown passes and 12 interceptions in eight games with the Bills.
The team's stance on the trade doesn't seem to have changed much since McDermott expressed a pragmatic view of the deal on draft night in 2017.
"Does it worry me? Look, you look at things and you say 'what's in the best interests of this organization?'" he said then. "That's what I have to do. [Chiefs coach] Andy [Reid has] got his own situation. We've got our own situation here. That's the nature of the draft. You stick by what's important and what's right for us, and that's what we did."
Buffalo drafted quarterback Josh Allen the following year, when McDermott and Beane had a full year together to scout the position.
Though he had no part in the deal, Beane sees all the speculation and simply refuses to dwell on hypotheticals — it distracts from the present.
"I don't really operate in the 'what-ifs' world, I really don't," he said. "I look at what the Buffalo Bills — when I got there in May [2017] — what that opportunity was. That's for the fans and other people to do, that's not really for me to do. My thing is, when I walk in the door, this is what we have, these are the holes on our roster, this is where we're good. That's my approach."
49ers' George Kittle awards Super Bowl trip to widow, son of fallen soldier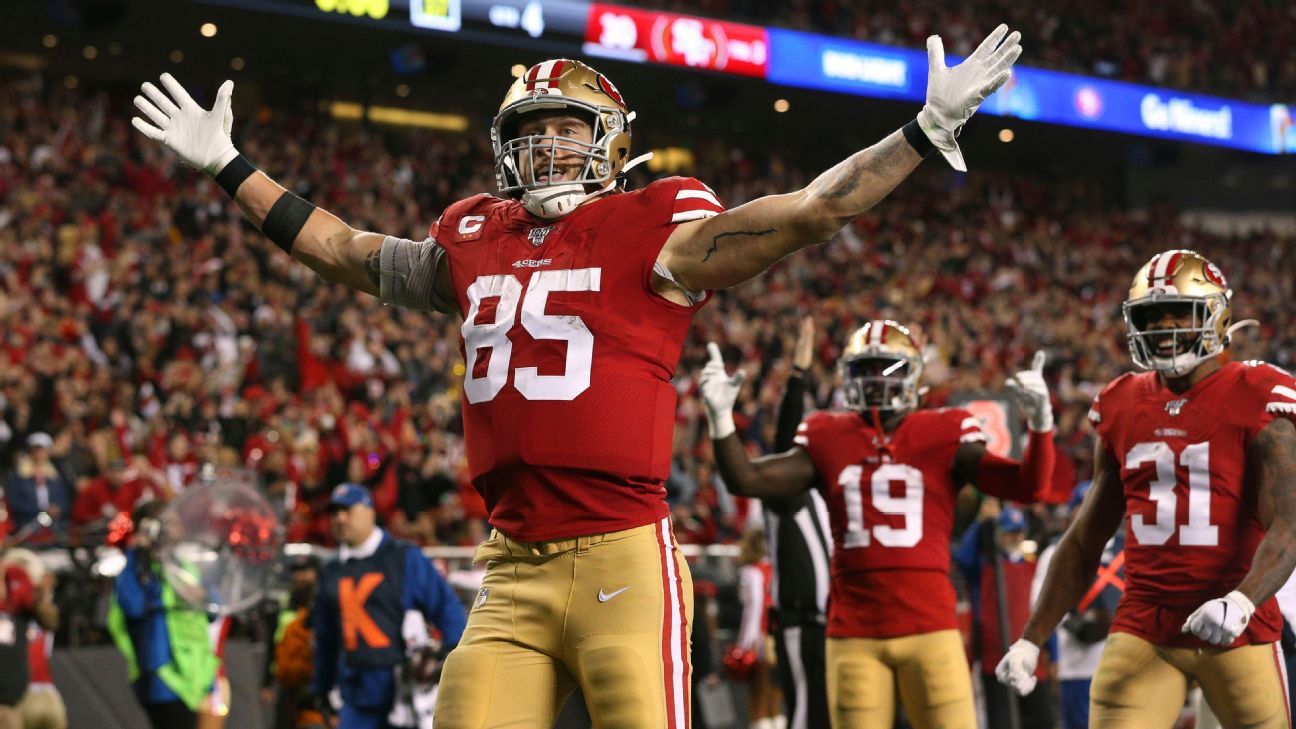 SANTA CLARA, Calif. — San Francisco 49ers tight end George Kittle will be making his Super Bowl debut on Feb. 2 and, in addition to his large entourage of friends and family, he'll be bringing a couple of special guests along with him.
In conjunction with financial-services company USAA and the Tragedy Assistance Program for Survivors (TAPS), Kittle has awarded the surviving family of Martin "Mick" LaMar a trip to Super Bowl LIV in Miami, where the Niners will play the Kansas City Chiefs.
"The work I do with the USAA and the TAPS organization is something I really have kind of fallen in love with," Kittle said. "I have a lot of family in the military so it's something that I just respect and the sacrifice that they give is the ultimate sacrifice. So, if I can ever give back and make a family's day or just make them smile a little bit then I've just done a little part in their lives."
Mick LaMar was a U.S. Army sergeant who was shot and killed while on his second tour of duty in Mosul, Iraq, on Jan. 15, 2011. The native of Sacramento, California, died on his wedding anniversary and is survived by wife Josephine (Josie) and her five children. LaMar had previously served in the Marine Corps out of high school and was deployed in the first Gulf War. He reenlisted with the Army in 2007.
With an assist from Kittle, Josie and 16-year-old son Nicolas, both of whom are big 49ers fans, will be headed to Miami for the Super Bowl. Josie became a fan through her husband and passed that down to Nicolas, who was 7 when Mick died. Kittle was scheduled to meet with Josie and Nicolas on Friday, something he said was looking forward to.
USAA is teaming up with other NFL players to offer a similar experience for fans from other parts of the country.
"As I hit the field to play in the Super Bowl, I find comfort in the fact that 49ers fans Josie and Nicolas LaMar will be cheering our team on," Kittle said in a statement. "It's a special privilege to be able to team up with USAA and TAPS to award a trip to the Super Bowl to Sergeant LaMar's family in recognition of his military service and paying the ultimate sacrifice in service of our country."
With Patrick Mahomes, Chiefs always have a chance
KANSAS CITY, Mo. — When quarterback Patrick Mahomes rallied the Kansas City Chiefs from deficits of at least 10 points to win their two playoff games on the way to the Super Bowl this year, it wasn't an anomaly.
He led the Chiefs back from a 10-point fourth-quarter hole last year against the Denver Broncos with the help of a left-handed pass. He threw four touchdown passes in the second quarter of a Week 2 game this season against the Oakland Raiders as the Chiefs erased a 10-point deficit.
Mahomes got the pass off with the left hand 😱

📺: ESPN #KCvsDENpic.twitter.com/JddvEqYHoK

— NFL on ESPN (@ESPNNFL) October 2, 2018
.@PatrickMahomes tosses his 4th touchdown of the quarter! That's @Demarcus Robinson's 2nd TD reception of the game! #ChiefsKingdom #KCvsOAK

📺: CBS
📱: NFL app // Yahoo Sports app
Watch on mobile: https://t.co/y8YLGKmeTf pic.twitter.com/G7tPH9NYdP

— NFL (@NFL) September 15, 2019
Mahomes, in his second full year as the starter, is no stranger to such scenarios. He is 5-4 (55%) in his career during games in which the Chiefs have trailed by at least 10 points. The rest of the league during that time has won 14% of such games (67-405-3).
And the Chiefs scored 40, 51, 31 and 31 points in Mahomes' four losses when trailing by double digits. They came back to lead during the fourth quarter in three of those games.
This is why beating the Chiefs has been so difficult since Mahomes took over. Kansas City is 27-8 in games he's started and has not lost a single game during that span by more than one score.
Not one.
"I've been blessed to be in a great situation with a lot of great football players and coaches around me," Mahomes said. "From day one, I've been expected to go out there and be who I am."
Mahomes' 35 starts without losing by more than seven points is the second longest such streak to start a career among Super Bowl-era quarterbacks, behind Russell Wilson's 38. His eight career losses are by three, three, one, seven, six, six, seven and three points.
When his team is trailing, Mahomes is first in QBR (87) and TD percentage (8.7), second in yards per attempt (8.6) and third in passing touchdowns (33).
And in the past few weeks Mahomes has added a running dimension to his game that has made him even more difficult to stop. His 27-yard touchdown run late in the first half of the AFC Championship Game will forever be legend to Chiefs fans. Mahomes faked a Tennessee Titans defender to get the run started. He appeared headed out of bounds, but instead cut up the field and was able to avoid defenders near the end zone before scoring.
Big-time players make big-time plays in big-time games 💪 pic.twitter.com/ZC8Ts5dHqK

— Kansas City Chiefs (@Chiefs) January 19, 2020
"I was thinking about just running out of bounds," he said. "As I got to the sideline, I realized I could cut up. I was running down the sideline and I knew we had two timeouts, so I might as well try to cut it back. I cut it back, and luckily I was able to hold on to the ball and get into the end zone."
Mahomes has led the Chiefs in rushing yards in both playoff games leading up to Super Bowl LIV against the San Francisco 49ers, with 53 yards in each game. He was also their top rusher in a Week 11 win over the Los Angeles Chargers.
"They're doubling our guys and you're getting not just one guy doubled but two guys doubled," Chiefs coach Andy Reid said. "The defensive linemen, they're trying to sack him, so if they make one miss on him or get out of their lane a bit, it's over. He's got all this running space.
"For him to be able to decipher it, see it and then go … he still keep his eyes down the field and gives guys a chance to get open. That's what happened with Sammy. He scrambled to the right and throws it 60 yards or whatever it was on a dime. He probably could have run that one for a little bit, too."
Reid was referring to the 60-yard pass Mahomes threw to Sammy Watkins for the Chiefs' final touchdown in the win over Tennessee. Mahomes appeared ready to run before seeing an open Watkins after his defender had fallen down.
"The defenses are obviously trying to take away things down the field," Reid said. "When they do that … it just leaves an open door there. For him to be able to see that in the heat of it is something. He's got great eyes, great vision, which we know from the passing game. But he sees the whole picture and he's able to find spots."
He isn't perfect at this rushing thing yet, though. Mahomes bobbled the ball just as he was crossing the goal line after Titans defensive back Tramaine Brock tried to strip it from him. That didn't escape notice from offensive coordinator Eric Bieniemy.
"I just told him if he's going to lead us in rushing, let's make sure we continue working on ball security with the running back coaches and get your neck roll ready, because you're going to have to pound it a little bit for us," Bieniemy said.
Mahomes' running was as deflating to the Titans as his passing. He had six carries, not counting two kneels to kill the clock at the end of the game. Four of them went for a first down or a touchdown.
"That's what led them to getting victories, [Mahomes] escaping the pocket," Titans linebacker Wesley Woodyard said. "He's a deadly quarterback outside of the pocket. He can make throws, the same throws outside of the pocket that he makes in the pocket … and that's why he was able to get rushing yards and almost 500 of total offense.
"We knew exactly what they were going to do. If guys weren't open right away, he was going to scramble and make something happen with his feet and look down the field to take a shot."
The Titans had beaten the Chiefs 35-32 in Week 10 in Mahomes' first game after missing 2½ games with a knee injury. The Mahomes they saw in the playoffs was different.
"We knew he could scramble around and make plays with his feet," Tennessee safety Kevin Byard said. "We knew the last game he really wasn't using his feet like that due to the knee injury."
It appears the quarterback who has never lost a game by more than one score is getting better.