Must-see sports photos of the week
The most interesting sports shots from around the globe this week include a 120-kilometer race through the Peruvian desert, NASCAR stock cars spinning donuts in Nashville, Tenn., and a gold-medal-winning takedown in the Philippines.
What really happened during Deflategate? Five years later, the NFL's 'scandal' aged poorly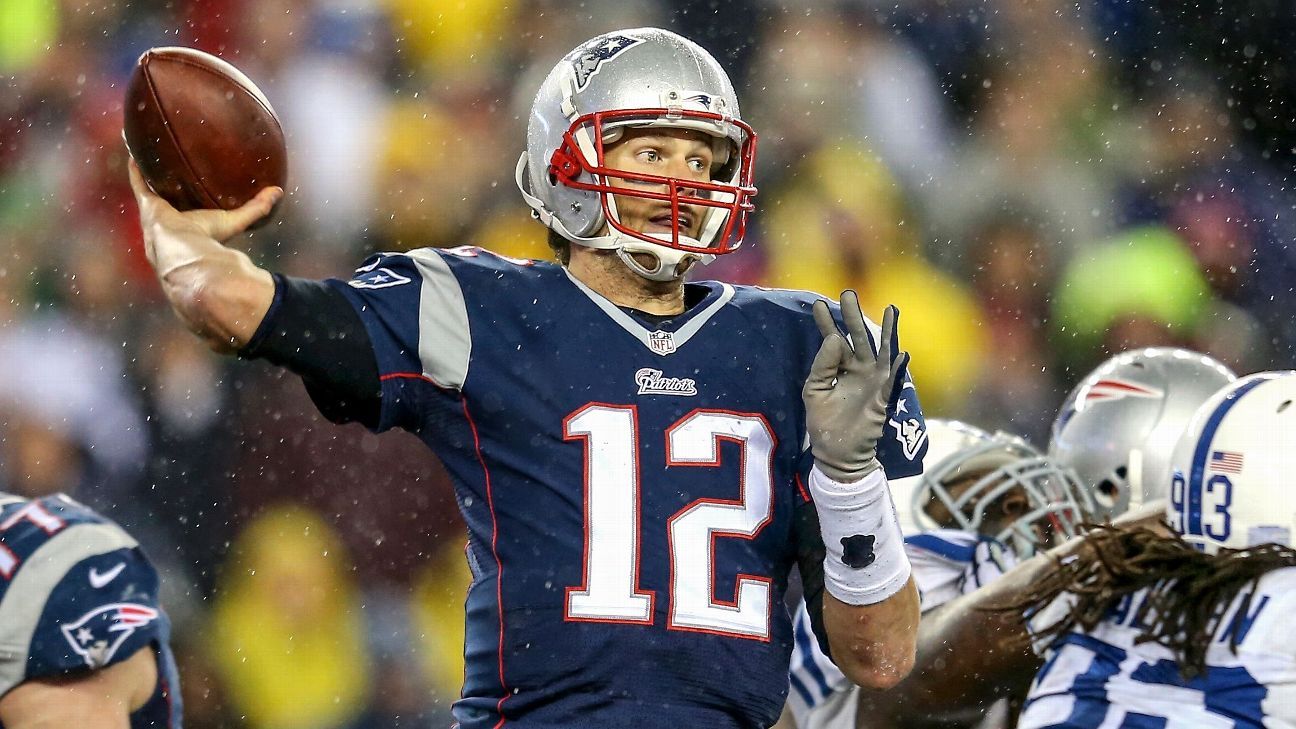 Hey, baseball world: We here on the NFL side are sorry to see your game engulfed in a cheating scandal. It's truly awful to know that the Houston Astros swindled their way to the 2017 World Series title. But I've got to laugh and remind you that five years ago today, the NFL produced a scandal that was chess to your checkers.
Deflategate was a Jedi mind trick to your multiplication tables. It was HD digital to your analog. In its zeal to preserve the perception of credible outcomes, the NFL scandalized itself with an investigation that produced far more suspicion, ill will and accusations of impropriety than the original allegations themselves.
At its core, Deflategate suggested that the New England Patriots used an illegal process for lowering the inflation of game footballs at the behest of quarterback Tom Brady, who preferred the grip of softer balls. The NFL thought it found proof during a surprise and unprecedented inflation check at halftime of the 2014 AFC Championship Game, a 45-7 drubbing of the Indianapolis Colts. It then spent upward of $22 million over the course of two years to investigate, litigate and discipline Brady and the organization.
At best, it was a relatively minor rules violation that no rational person would link to the Patriots' victory two weeks later in Super Bowl XLIX. At worst, Deflategate was a retroactive framing of the league's most successful franchise and a future Hall of Fame quarterback, a clumsy and forgettable endeavor and an unfortunate reminder that the NFL's standard for discipline demands only that an event was "more probable than not" to have occurred. Brady ultimately served a four-game suspension because the NFL believed he was "generally aware" of the scheme.
The Astros' cheating scandal has proved tidy by comparison. It began in November, when former Astros pitcher Mike Fiers explained how the team used video cameras to steal signs and communicate them to batters. In swift order, nearly everyone involved acknowledged, or at least accepted, the basic veracity of the story. Ten weeks later, baseball suspended Astros general manager Jeff Luhnow and manager AJ Hinch and fined the Astros $5 million, the maximum allowed under baseball's constitution. Astros owner Jim Crane accepted the discipline and promptly fired Luhnow and Hinch. Former Astros bench coach Alex Cora lost his job as manager of the Boston Red Sox, and former Astros player Carlos Beltran agreed to step away from his job as the New York Mets' manager.
Additional information could add to the fallout. But if anything, the Astros got off easy for measures that could have substantively contributed to a championship. Crane retained ownership, the franchise kept its World Series title and none of the players involved faced discipline.
The Patriots? They paid dearly for a far less consequential allegation, in part because the NFL considered them repeat cheaters after the 2007 Spygate affair.
In this case, however, the Patriots denied nearly every aspect of the NFL's allegations, including Brady's involvement, and took extraordinary steps to defend themselves. That effort included a website to dispute the NFL's Wells Report on the scandal, one that included multiple scientists pointing out that footballs can deflate naturally based on weather conditions.
The Patriots even submitted an amicus brief on behalf of Brady, who filed a federal lawsuit against the league to overturn his suspension, straddling the line between NFL stakeholder and whistleblower. (Brady got his suspension overturned in 2015 but ultimately lost on appeal and served the punishment in 2016.)
Yet when it was all over, no one could say for sure if Deflategate actually happened. A reasonable person could be left thinking that the investigation itself was the true scandal.
The Wells Report was based largely on a series of text messages from an equipment assistant who referred to himself as "The Deflator," and the unexplained pregame detour of a locker room attendant who brought the game balls into a bathroom with him before the game. There was no direct evidence that the equipment assistant removed air from the footballs, or that Brady asked him to do it. And the halftime inflation measurement was a rushed and haphazard effort, one that would never pass scientific scrutiny to confirm accuracy.
In the end, it is nothing more than an opinion to suggest that it was "more probable than not" that Deflategate happened. In the terms of advanced statistics, the NFL was saying there was a 51% probability that Deflategate occurred but a 100% necessity to issue discipline. It's not outlandish to think that someone connected with the Patriots might have tried to help Brady, or that Brady had tacitly accepted that help, but there's no direct evidence of it.
And when an MIT professor explained that weather conditions could do the same thing, based on the ideal gas law, who could argue? The NFL wouldn't have known either way, because it did not regularly record pounds-per-square-inch readings to that point. For all we know, football deflation occurred naturally every week.
The ensuing rule changes only further undermined the investigation and punishment. They brought structure to pregame measurements, game ball security and compliance, a tacit acknowledgment that there was little objective basis to the 2014 readings.
The shaky connections and the preposterous conclusions of Deflategate have allowed it to slip quietly from the NFL consciousness. The legacy of Deflategate is the complete and utter lack of one, other than the brief entrance of the ideal gas law into the football lexicon — and as grist to limit the benefit of the doubt in the ongoing investigation into the Patriots' illegal videotaping last month from the Cincinnati Bengals' press box.
The league has never released the results of tests on football air pressure, nor acknowledged a single violation in the years since. While Major League Baseball should be expected to institute major efforts to curb illegal sign-stealing, the NFL has left Deflategate to stand alone as an unintended example of what happens when you jump too soon into a rabbit's hole. If you're an angry baseball fan who thinks the game's leaders haven't been vigilant enough about potential cases of cheating, well, let us in the NFL world issue this warning: Be careful what you wish for.
Five mostly quiet years later, I'd like to say the NFL learned a lesson. But sometimes a larger scope is necessary. Five years before Deflategate, the NFL's championship weekend gave us another "gate." The accusation: New Orleans Saints players stood to gain financially if they could injure Minnesota Vikings quarterback Brett Favre during the 2009 NFC Championship Game. The two-year investigation into Bountygate contained so many holes that retired commissioner Paul Tagliabue, brought in to handle appeals and clean up the mess, vacated the discipline of four players and sharply criticized what he called a "contaminated" investigation.
So we'll reserve judgment on whether the NFL has moved past its phase of incendiary investigations. It could just be on the five-year plan, and if that's the case, keep your head on a swivel this weekend.
Sean McVay gives up a piece of Rams' offense, grows as a head coach – Los Angeles Rams Blog
THOUSAND OAKS, Calif. — Coach Sean McVay often sounded like a broken record when he spoke this past season about the Los Angeles Rams' offense.
The unit needed to play with more consistency. The players needed to develop a rhythm. The Rams needed to solidify their run game, be less reliant on their passing game.
Although the offense appeared efficient, if not outstanding at times, it ultimately did not perform to standard. The unit's down season was a major contributing factor in a 9-7 record that failed to earn the Rams a third consecutive playoff berth.
Monday through Friday, host Mina Kimes brings you an inside look at the most interesting stories at ESPN, as told by the top reporters and insiders on the planet. Listen
"Our inconsistency as a team ended up hurting us," McVay said following the Rams' elimination from playoff contention in Week 16. "We saw what we were capable of when the things were going well, and we saw how it can look when they're not going well."
McVay wasted little time making staff changes following the season. He replaced veteran defensive coordinator Wade Phillips with newcomer Brandon Staley, and hired Kevin O'Connell as offensive coordinator, two moves the team has yet to announce. He remains in search of a new running backs coach and special-teams coordinator after firing Skip Peete and watching John Fassel move on to the Dallas Cowboys.
It's uncertain whether O'Connell and Staley will make additional changes to their offensive and defensive staffing.
By hiring O'Connell, McVay signaled that he's aware the offense's status quo must be improved and that he can't resolve the issues alone.
That's not a bad thing.
As head coach, the offense-minded McVay must continue to evolve, focus on the entire team and most of the dealings that surround it — including matters beyond X's and O's.
"You get to go through a lot of good and some bad this season," McVay said as the year came to an end. "I think that's forced us to learn a lot about ourselves. I know it has for me personally."
By hiring O'Connell, McVay returns to having an offensive coordinator — a position he went without the past two seasons after current Green Bay Packers coach Matt LaFleur left the post in 2018 to take the same role with the Tennessee Titans, where he could also call plays.
Even as he prepares to delegate offensive game planning, McVay is expected to maintain his role as the playcaller next season. But preparation throughout the week and even in-game adjustments will now include the helpful eye of a dedicated coordinator.
"The one thing, for myself in this role, is that you're constantly evaluating all the elements that this role entails and you always want to continue to do it at a high level," McVay said before the season ended, when asked if he was comfortable with the offensive staffing. "The way that you do get better is you surround yourself with people that are better than you. We've got a lot of good people here, but I think it's always continuing to find that good balance of, what does it look like structurally, really, for our organization, in terms of that setup. Want to be able to get the best people here."
O'Connell, 34, spent the past three seasons as an offensive assistant with the Washington Redskins, where he was hired by Jay Gruden, a champion of McVay when he spent seven seasons climbing the ranks in Washington before the Rams named him head coach in 2017.
A former NFL quarterback, O'Connell's first NFL gig came in Cleveland, where he coached quarterbacks in 2015. He spent the following season as an offensive assistant with the San Francisco 49ers, and then in 2017 joined the Redskins (a season after McVay departed), where he coached quarterbacks and was promoted after two seasons to offensive coordinator.
Last season, O'Connell took over as the playcaller after Gruden was fired following an 0-5 start. He helped develop rookie quarterback Dwayne Haskins, who demonstrated drastic improvement in his final two starts of the season as the Redskins posted more than 40 points in consecutive losses.
O'Connell departed the Redskins following the season when new coach Ron Rivera hired Scott Turner as offensive coordinator.
With the Rams, O'Connell will be tasked with correcting the course of an offense that last season lost its identity and did not consistently perform to the standard set the previous two seasons.
The reasons for the Rams' offensive downturn were multifaceted. Several defenses copied the model shown by the Chicago Bears and by the New England Patriots, who shut down the Rams' offense last season in the Super Bowl.
The offensive line was inexperienced and then injury-riddled. The playcalling relied too much on the arm of quarterback Jared Goff and not enough on the legs of the running backs, as McVay attempted to deploy a three-back rotation.
The Rams' offense ranked 11th in the NFL in scoring, averaging 24.6 points, a drop-off from the 32.9 points it averaged in 2018 (second). A season after the run game ranked third in the league, rushing for an average of 134.4 yards per game, the average this season plummeted to 93.7 yards, which ranked 26th. Goff boasted a total QBR of 63.7 (10th) last season, but fell to 48.4 (23rd) in 2019.
The hiring of O'Connell and Staley, who is 37, ensures that the Rams will feature the youngest trio of head coach and offensive and defensive coordinators.
As he prepared for his longest offseason since taking over as head coach, McVay expressed confidence about his ability to evaluate and evolve.
"I'm continuing to try and figure out what's the best rhythm to operate with on a day-to-day basis for our football team," McVay said. "Because ultimately that is your job, is to make sure that you have a good feel for everything that is going on and then putting your players in a position on all three phases to try to have success week in and week out."
The move to hire O'Connell proves McVay is growing as a head coach, even if that means yielding some power over his offense.
When Andy Reid coached his first conference title game, where was his competition?
It's NFC championship weekend, Jan. 27, 2002. There's Andy Reid, head coach and offensive guru for the Philadelphia Eagles, mustache a little darker than it is now. The Eagles are facing the Greatest Show on Turf St. Louis Rams in what would be Reid's first appearance in an NFL conference title game.
Reid's Eagles, led by Pro Bowl quarterback Donovan McNabb, went 11-5 and won the NFC East during the 2001 season.
This weekend with the Kansas City Chiefs, Reid is coaching in his sixth conference title game. The three other coaches working Sunday — Mike Vrabel (Tennessee Titans), Kyle Shanahan (San Francisco 49ers) and Matt LaFleur (Green Bay Packers) — are making their first appearances. Reid, who is 61, is almost 20 years older than any of the other three.
So, where were the young guys when Reid was on his way to his first conference title game?
Matt LaFleur
Where he was in 2001-02: LaFleur was the starting quarterback for the Saginaw Valley State Cardinals. As a junior, he completed 59% of his passes for 3,119 yards, 24 touchdowns and eight interceptions for the Michigan school.
The Cardinals, 11-1 in the regular season, made the Division II playoffs. In the first round, they fell behind 32-7 to Indiana (Pennsylvania) before LaFleur led a second-half rally capped by an 11-play, 98-yard drive on which LaFleur scored the winning touchdown. The Cardinals won 33-32 but lost in the next round of the playoffs to Grand Valley State, coached by current Notre Dame coach Brian Kelly.
Where he is now: LaFleur led Green Bay to a 13-3 record and NFC North title, becoming the only coach in Packers history to make the playoffs in his first season. The Packers face the 49ers in the NFC Championship Game (Sunday, 6:40 p.m. ET, Fox) after losing to them during the regular season.
Kyle Shanahan
Where he was in 2001-02: Shanahan played wide receiver on an absolutely loaded Texas team that featured future NFL players Chris Simms, Cedric Benson, Roy Williams, Bo Scaife, Nathan Vasher, Quentin Jammer and Ahmad Brooks. The Longhorns went 11-2 and Shanahan appeared in three games, catching seven passes for 65 yards. Shortly after graduating, Shanahan got his first coaching job, as a graduate assistant at UCLA.
Where he is now: Shanahan is 23-25 in his third season as 49ers coach. After losing records in his first two seasons, the 49ers finished 13-3 and took the NFC's top playoff seed. The 49ers dominated the Packers in their first meeting this season. In winning 37-8, the 49ers' defense held Packers quarterback Aaron Rodgers to 104 yards passing.
Mike Vrabel
Where he was in 2001-02: After four seasons with the Pittsburgh Steelers, Vrabel signed with the Patriots for the 2001 season, when he would start 12 games. Vrabel had four tackles as the Patriots upset the Rams in Super Bowl XXXVI and a dynasty began.
Where he is now: Vrabel is 18-14 in his second season as Titans coach. At 9-7 this season, Vrabel's team needed help getting into the playoffs as the last wild-card team. Since getting in, all Tennessee has done is beat the defending Super Bowl champion New England Patriots in the wild-card round, then the No. 1-seeded Baltimore Ravens in the divisional round. Vrabel and the Titans will face the Chiefs in the AFC Championship Game (Sunday, 3:05 p.m. ET, CBS).