Yankees GM rappels building, gets fan's message on Gerrit Cole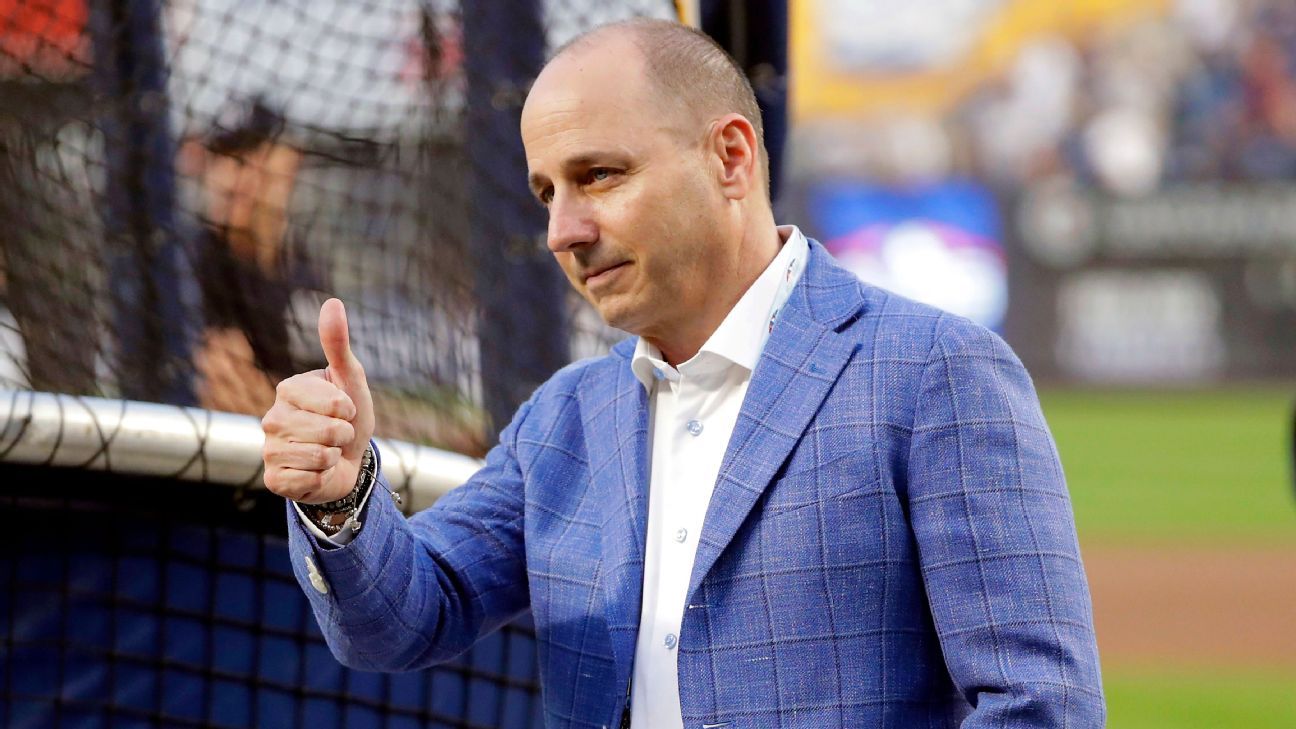 STAMFORD, Conn. — While Brian Cashman was descending the outside of a building Friday, the New York Yankees general manager came across a message taped to a 10th-floor window from a fan: Please sign Gerrit Cole.
Cashman, whose rappelling adventure has become a holiday tradition, confirmed he met with Cole in California on Tuesday and spoke with another free-agent pitcher, Stephen Strasburg, the following day.
"It was a great opportunity, clearly it was very public, that we met with Gerrit Cole and Strasburg while I was on the West Coast," Cashman said. "At least, that's who you all are aware of so far. Who knows who I met with?"
The Yankees have made signing Cole their clear offseason priority and have ownership-level approval to offer him a record-setting deal, sources familiar with their plans told ESPN's Jeff Passan on Thursday.
Cole and Strasburg are the top pitchers on the free-agent market. The Yankees would like to add an ace to a rotation that already includes Luis Severino, Masahiro Tanaka, James Paxton and J.A. Happ.
Along with Cashman, assistant GM Mike Fishman, manager Aaron Boone, new Yankees pitching coach Matt Blake and former Yankees pitcher Andy Pettitte made the trip to speak with both pitchers, who are represented by Scott Boras.
The Yankees' fondness for the 29-year-old Cole, whose fantastic 2019 season with the Houston Astros set him up to smash David Price's record $217 million contract for a pitcher, was only reinforced during the meeting, sources told ESPN.
New York and the Los Angeles Angels, a team similarly smitten with Cole and in even greater need of pitching, are preparing for a bidding war that executives expect will reach well beyond $250 million, according to sources. The Los Angeles Dodgers' interest in Cole is acute as well, though they are also considering bids for Strasburg and third baseman Anthony Rendon, sources told ESPN.
Cashman offered little about possibly signing either pitcher, declining to discuss how much the Yankees might spend.
"I think it was an important part of the process for them," Cashman said. "It sounds like they have met with many teams, and obviously I can't predict the future or the timing of their futures; only really they control that."
Cole was 20-5 with an American League-best 2.50 ERA and a big league-high 326 strikeouts this year for the AL champion Astros. He was originally drafted by the Yankees with the 28th overall pick in 2008, but he declined to sign a contract and opted to attend UCLA.
Strasburg was the MVP of the World Series for the Washington Nationals and was the first overall pick in the 2009 draft.
Cashman will return to California for the baseball's winter meetings, which begin Monday. First, he'll attend Sunday's Heights and Lights, where he will dress as an elf and again descend the Landmark Building.
"I'll be flying back out after this event and in the meantime staying engaged," said Cashman, who declined to say if another meeting with either pitcher was planned.
"I'm open to do clearly whatever, as always, is important for the Yankees. If there are certain steps that need to be taken, or conversations on the phone, like any club we are fully prepared to do what's necessary."
The Associated Press contributed to this report.
Astros to interview Dusty Baker for managerial opening
The Houston Astros will interview former MLB manager Dusty Baker for their open manager position next week, a source told ESPN's Jeff Passan.
The story was first reported by MLB Network.
Houston is looking for a new manager following Monday's firing of AJ Hinch in the wake of the sign-stealing scandal.
Baker, 70, last managed the Washington Nationals in 2017.
In 22 seasons, Baker has a 1863-1636 record that included a National League pennant with the San Francisco Giants in 2002.
The Astros have already interviewed former managers Buck Showalter, John Gibbons and current Cubs third base coach Will Venable.
Astros owner Jim Crane expects to hire a new manager by Feb. 3.
Fans want Astros players punished for sign-stealing scandal
More than half of Major League Baseball fans believe Houston Astros players should have been penalized along with team management in the aftermath of the sign-stealing scandal that has gripped the game over the past week, according to an online survey conducted among 1,010 adults, including 810 MLB fans, nationwide Thursday and Friday on behalf of ESPN.
Fifty-eight percent of adults responded that Astros players should have been penalized by MLB commissioner Rob Manfred, according to the survey. In addition, the vast majority (72% of adults and 76% of MLB fans) said they would support MLB taking additional steps to punish players who were involved in sign stealing.
According to the survey, MLB fans are paying a lot of attention to the scandal, with 61% of the game's fans polled saying they are closely following events involving the Astros and Boston Red Sox. One-third of MLB fans say they might watch those two teams less, though most Americans say the doping/steroids scandal was worse than the current sign-stealing scandal that led the Astros to fire general manager Jeff Luhnow and manager AJ Hinch, with the Red Sox parting with manager Alex Cora, a former Astros bench coach.
The New York Mets were not involved in a sign-stealing scandal, but parted with new manager Carlos Beltran, who was involved with the scandal while a player with the Astros. The survey was started before Beltran and the Mets parted.
Among avid MLB fans, 86% view the situation as serious, with 57% saying it's very serious, compared to 83% of the game's overall fans considering it serious, including 52% who say it's a very serious situation. Among all Americans, 77% find it serious, with 45% finding it to be very serious.
Most Americans say the doping/steroids scandal was worse than this one (49% say doping was worse vs 24% who say the current sign stealing scandal was worse) but rank this scandal above Pete Rose gambling on his own team (44% say this scandal is worse vs 25% for the Pete Rose scandal).
While over half of Americans view both the Astros (56%) and Red Sox (52%) less favorable in light of the scandals, the negative impact is less severe for the MLB, the players, and the owners, with 54% saying their views of MLB itself are unchanged and 53% saying their views of their players haven't changed. Just under half (49%) say their views of the game's owners have changed, although around a third or slightly more say they have a less favorable view of each of these entities or groups.
Among MLB fans, it's about an even split when it comes to whether the teams caught cheating should have their championships stripped, with 56% saying the Astros should relinquish their 2017 championship and 53% believing the Red Sox should do the same.
While 60% of adults and MLB fans alike say the scandals make no difference in their likelihood to watch MLB games, around a third of fans say they are less likely to watch the Astros or the Red Sox.
Roughly 3 in 4 Americans (74%) and MLB fans (76%) believe most teams were using technology to steal signs, but it's just the Astros and Red Sox who got caught.
The survey has a margin of error of +/-3%, and the margin of error among 810 MLB fans is also +/-3%.
Yu Darvish left with more questions in aftermath of Astros scandal
CHICAGO — In the aftermath of the Astros' cheating scandal, Yu Darvish has been left wondering: Was he tipping pitches during the 2017 World Series or were Houston players stealing signs?
In the two-plus years since, the right-hander had thought it was the latter. He was rocked by the Astros that postseason while a member of the Dodgers, and Houston players afterward told him he was tipping pitches.
But now, after a Major League Baseball investigation found that the Astros illegally stole signs that year, Darvish isn't so sure.
"That's what I want to know," he said Friday at the Chicago Cubs' winter fan convention.
"A couple of Astros players told me I was tipping pitches, but now it comes out they were stealing signs. Was I tipping or were they stealing?"
Such questions have mounted throughout baseball since MLB commissioner Rob Manfred unveiled the league's report on the Astros on Monday.
For Darvish, it hit especially close to home.
While with the Dodgers, he had a combined 1.59 ERA in the 2017 NL division and championship series. But against Houston in the World Series, his ERA ballooned to 21.60. He gave up four runs in 1.2 innings in Game 3 in Houston, then got hit hard again in Game 7 in Los Angeles, taking the loss as the Astros captured their first World Series title.
It's left Darvish with more questions than answers.
"I know they were stealing signs, but at the same time I was not good during the World Series," he said.
His World Series struggles likely had long-term results, as well.
He was a free agent after that season, and the Cubs later admitted teams may been scared off by Darvish's performance against the Astros, giving Chicago an easier path to signing him to a six-year, $126 million contract.
It also took Darvish time to mentally recover from the two losses. Coupled with arm issues that ended his 2018 season prematurely, it wasn't exactly the best stretch of his career, and he's still wondering if what Houston did contributed.
"I'm better for what I went through," Darvish said. "But, yeah, everyone is wondering about pitching against them.
"It's tough to pitch. We're losing the strike zone. It's getting smaller. They want [us] to [pitch] quicker. And the hitters are stealing signs."
Cubs pitchers hope the playing field will be level after the league completes its investigations. MLB also is probing whether the Boston Red Sox used video to decode opponents' sign sequences and passed the information to their players in 2018, as alleged in a report by The Athletic.
Cubs players echoed what many others in the game have said: The Astros aren't the only ones cheating.
"You just don't know to what extent," right-hander Kyle Hendricks said. "Is it legal sign stealing or illegal? Hopefully this offseason will eliminate that stuff."
Cubs president Theo Epstein praised the league's beefed-up investigation arm for its due diligence in the scandal. Both Epstein and star first baseman Anthony Rizzo are adamant the Cubs have never gained an edge using technology in that manner.
The goal is for no team to be able to do it.
"We applaud Major League Baseball's efforts to step up in this situation and make sure the games are played with integrity," Epstein said.