Pope Francis gifted custom Ravens jersey signed by Lamar Jackson
OWINGS MILLS, Md. — The Lamar Jackson bandwagon now includes the Pope.
Representatives from the Archdiocese of Baltimore gave a Ravens No. 8 jersey to Pope Francis during a visit in Rome on Tuesday. The jersey, which features Jackson's number, has "Francis" on the back and was autographed by coach John Harbaugh and the NFL Most Valuable Player front-runner.
#Blessed. 🙏

@archbalt is in Rome to meet with @Pontifex and brought him a custom Ravens jersey signed by @Lj_era8 and Coach Harbaugh! pic.twitter.com/sqgrDqursX

— Baltimore Ravens (@Ravens) December 4, 2019
"It's great," Harbaugh said Wednesday. "Baltimore is the home of the Catholic Church, Roman Catholic Church. It first started here in the New World, here in Baltimore. So, it's an honor to have Pope Francis here, obviously, especially as a Catholic. I appreciate that. And it's kind of neat."
Harbaugh added, "We'll see if he's wearing his jersey any time soon."
Baltimore Archbishop William Lori, who presented Pope Francis with the jersey, said, "The Pope, of course, he's a big soccer fan, but the Pope gave us a thumbs-up. [It] got a big smile out of him … it was a really happy moment."
Jackson's popularity has exploded in his first full season as an NFL starting quarterback. He currently leads all players in Pro Bowl voting, receiving 83,000 more votes than second-place Russell Wilson. On the biggest shopping day of the year, Cyber Monday, Jackson outsold every other athlete in total merchandise on Fanatics, per a company official.
Jackson has led the Ravens (10-2) to the best start in franchise history, becoming the first quarterback in NFL history to produce 2,500 yards passing and 950 yards rushing.
Now, Pope Francis could have a decision to make on who to root for if the top two seeds meet in the Super Bowl: the Ravens vs. the Saints.
Dolphins WRs DeVante Parker, Albert Wilson clear concussion protocol
Miami Dolphins top receiver DeVante Parker has been cleared from the concussion protocol and he's expected to play Sunday vs. the New York Giants.
Parker suffered a concussion in the second quarter of Sunday's 22-21 loss to the New York Jets. He did not return after hitting his head on the ground following a difficult catch along the sideline.
Albert Wilson was cleared from the concussion protocol as well, meaning the Dolphins will have their two starting receivers back Sunday.
Parker's return comes after he agreed to a four-year contract extension on Friday evening that is set to keep him in a Dolphins uniform through 2023. The extension is worth up to $40 million with an $8 million signing bonus and more than $20 million guaranteed, according to a source.
Parker and Wilson practiced throughout the week, donning red noncontact jerseys as limited participants Wednesday and Thursday before being upgraded to working the full session with those restrictions Friday.
The Dolphins' offense has centered around Parker since Preston Williams went on injured reserve in early November.
Parker has a career-high 882 receiving yards and six touchdowns this season, and maybe most importantly he hasn't missed a game yet for the first time in his NFL career.
Wilson has 26 catches for 154 yards and one touchdown in a season that has been slowed by multiple injuries.
Sources — Terrell Suggs angling to be claimed by Ravens only
Terrell Suggs, released by the Cardinals on Friday and eligible to be claimed on waivers Monday at 4 p.m. ET, will strongly consider not reporting if a team other than the Baltimore Ravens claims him, league sources say.
Any team that claims Suggs will owe him just over $350,000 for the final two weeks of the regular season. But Suggs doesn't care about that money; he cares about returning to Baltimore, which is his overwhelming preference.
With a 12-2 record, the Ravens have the NFL's lowest waiver claim, meaning every team will have the chance to claim Suggs before Baltimore. Knowing this, Suggs has told some people that he is unlikely to report anywhere other than Baltimore, wanting to finish his NFL career in the same city in which he started it.
The question is whether any contending teams that could use pass-rushing help — and many do — disregard the wishes of Suggs, who started 13 games for the Cardinals this season. The answer will come sometime Monday afternoon.
Ravens' Marcus Peters fined $14K for celebratory beer with fans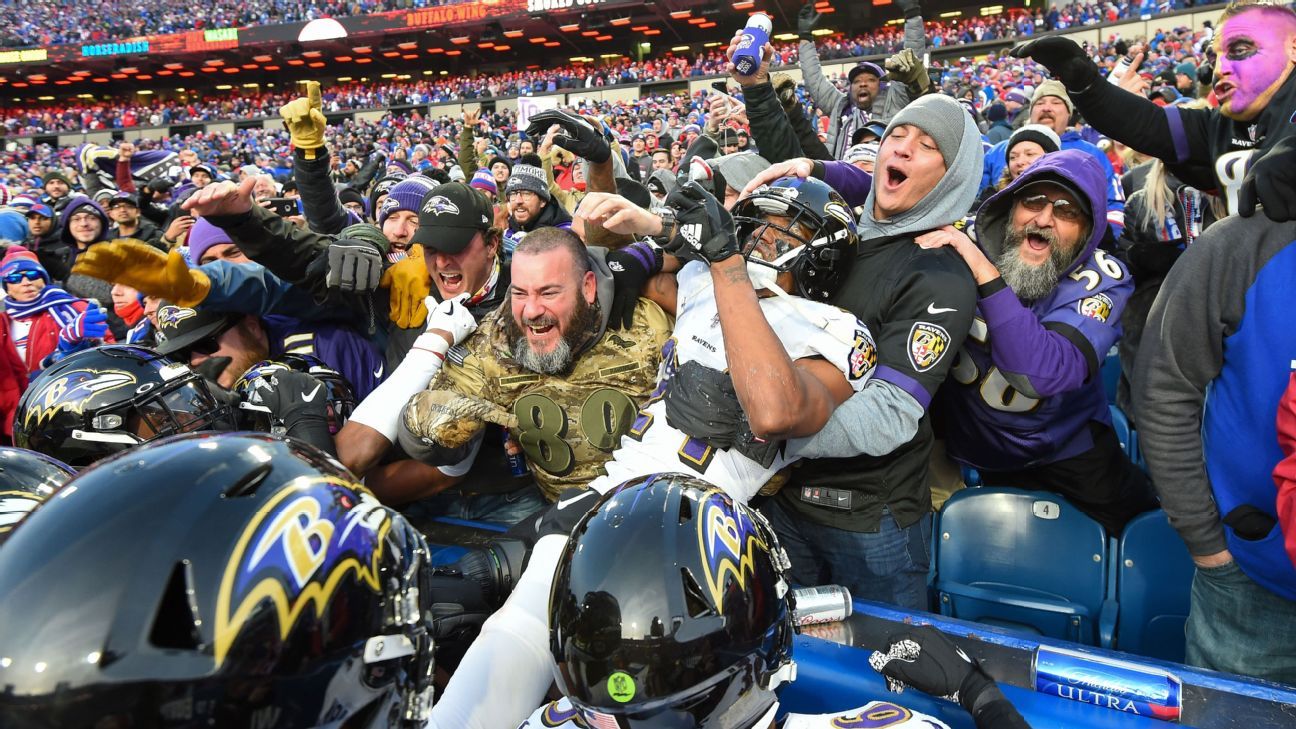 For Baltimore Ravens cornerback Marcus Peters, a celebratory drink cost him five figures.
Peters was fined $14,037 for drinking a beer after his pass breakup at the end of the game sealed the Ravens' 24-17 win over at the Buffalo Bills last Sunday.
After knocking down Josh Allen's fourth-down pass at the Baltimore 1-yard line with 1:03 remaining, Peters jumped into a section filled with Ravens fans at Buffalo's New Era Field and shotgunned a can of beer while laying back in their arms.
The NFL fined Peters for unsportsmanlike conduct.
Baltimore clinched a playoff berth with Peters' heroics. It was the latest big play by Peters, whom was acquired from the Los Angeles Rams in October. He has returned two interceptions for touchdowns since joining the Ravens.