Cubs don't offer contract to infielder Addison Russell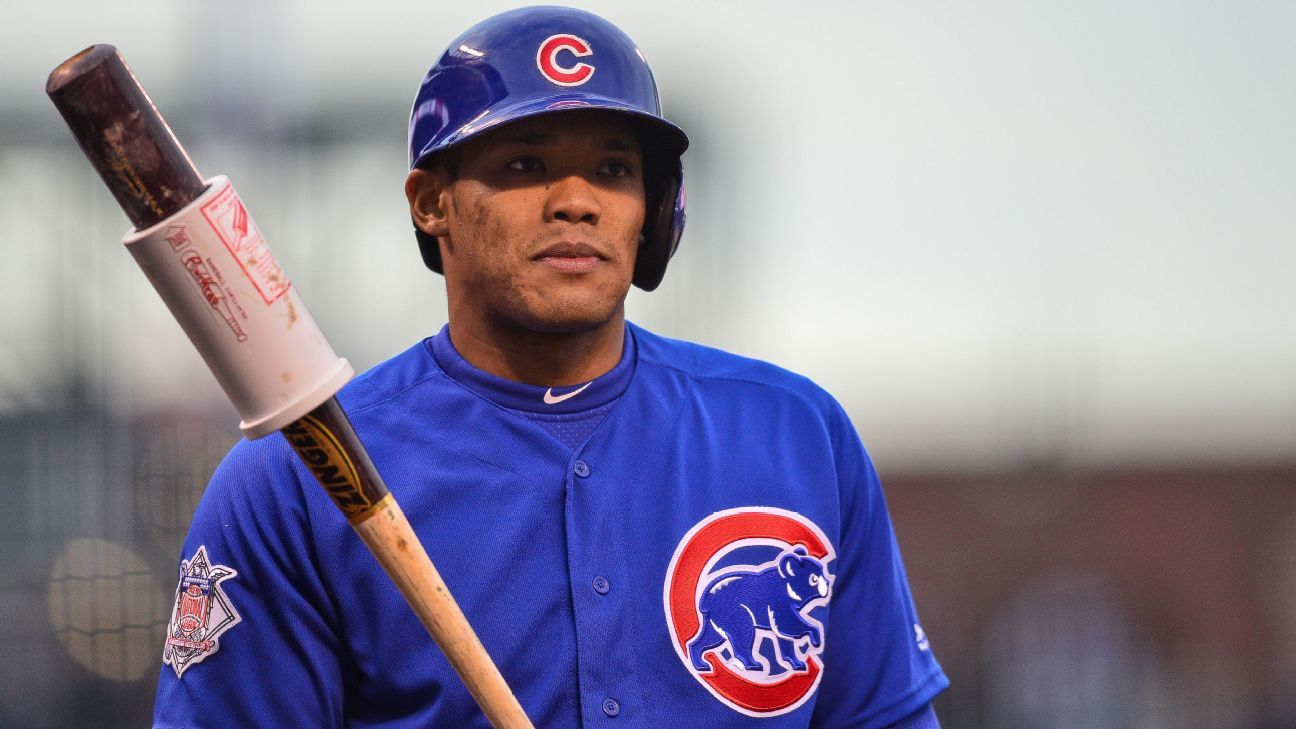 CHICAGO — The Chicago Cubs tendered contracts for the 2020 season to six arbitration eligible players but non-tendered infielder Addison Russell. Russell, 25, becomes a free agent after five years with the team, his final two seasons marked by controversy.
The second baseman/shortstop was suspended for 40 games near the end of the 2018 season for violating the league's domestic abuse policies. Despite that suspension, the Cubs tendered him a contract for the 2019 season as he sat out the first 28 games of last season to complete his suspension. His on-the-field game suffered as he dealt with the consequences of his off-the-field actions.
He was demoted to the minors last summer not long after telling ESPN he needed to be "more familiar" with the signs. Russell's OPS dipped below .700 in 2018 and 2019 after several promising years to begin his career.
Cubs president Theo Epstein issued a statement regarding Russell.
"We decided to non-tender Addison Russell today simply because the role we expected him to play for the 2020 Cubs was inconsistent with how he would have been treated in the salary arbitration process," he said. "In the year since we decided to tender Addison a contract last November, he has lived up to his promise to put in the important self-improvement work necessary off the field and has shown growth, as a person, as a partner, as a parent and as a citizen. We hope and believe that Addison's work will continue, and we have offered our continued support of him and his family, including Melisa.
"In the last year, the organization has also put in the important work necessary to bolster our domestic violence prevention training for all employees, all major league players, all minor league players and all staff. We also offered healthy relationship workshops for the players' partners and provided intensive, expert domestic violence prevention training for player-facing staff. This heightened training and our increased community involvement on the urgent issue of domestic violence prevention will continue indefinitely. We wish Addison and his family well."
Russell was the NL All-Star Game starter at shortstop in 2016, the same year he helped the Cubs to a World Series title for the first time in 108 years. He hit a Game 6 grand slam, which essentially won the contest for the Cubs, who trailed 3-2 in the series at the time.
The next season, Russell compiled a .722 OPS while playing solid defense, though issues in his former marriage began to surface. The league's investigation concluded late in 2018 when he was suspended in September, but not for any one incident.
Russell was acquired from Oakland for Jeff Samardzija and Jason Hammel on July 4, 2014 in a trade widely praised for Chicago.
Cubs who were tendered contracts for 2020 include Javy Baez, Kris Bryant, Kyle Schwarber, Albert Almora Jr, Willson Contreras and pitcher Kyle Ryan. The Cubs also came to terms with righty Jharel Cotton, who they acquired from Oakland last week, for $640,000. The team also tendered contracts to 19 other players not yet arbitration eligible players.
D-backs allow Steven Souza Jr., Taijuan Walker and Caleb Joseph to become free agents
PHOENIX — The Diamondbacks did not offer 2020 contracts to outfielder Steven Souza Jr., pitcher Taijuan Walker and catcher Caleb Joseph, making them free agents.
Souza, 30, missed last season because of a left knee injury after he slipped on home plate and tore multiple ligaments near the end of spring training. Souza's best year was in 2017, when he hit 30 homers for the Tampa Bay Rays. He made $4,125,000.
The 27-year-old Walker missed most of the last two years after Tommy John surgery. The right-hander pitched one inning during the last week of the 2019 season and made $5,025,000.
Joseph, 33, spent a big chunk of the year in Triple-A and played in 20 games for Arizona, hitting .211 in 38 at-bats. He had a split contract calling for $1.1 million while in the majors and $250,000 in the minors.
All three would have been eligible for arbitration had they been offered contracts.
Bernie Sanders, Rob Manfred meet over proposed minor-league cuts
NEW YORK — Democratic presidential candidate Bernie Sanders met Monday with baseball Commissioner Rob Manfred to discuss MLB's proposal that would drop 42 minor league teams from their leagues after the 2020 season.
MLB is negotiating a new agreement with the National Association of Professional Baseball Leagues, the governing body of the minors. The initial proposal would primarily impact lower-level teams in short-season leagues.
Sanders, a senator from Vermont, sent Manfred a letter on Nov. 25 calling the plan "an absolute disaster for baseball fans, workers and communities throughout the country."
MLB issued a statement Monday saying it "understands that we have an obligation to local communities to ensure that public money spent on minor league stadiums is done so prudently and for the benefit of all citizens.
"MLB also must ensure that minor league players have safe playing facilities suitable for the development of professional baseball players, are not subjected to unreasonable travel demands, are provided with compensation and working conditions appropriate for elite athletes, and have a realistic opportunity of making it to the major leagues."
It added that it "is committed to negotiating with minor league baseball to find solutions that balance the competing interests of local communities, MLB clubs, minor league owners and the young players who pursue their dream of becoming professional baseball players."
Sanders issued a statement saying Manfred asserted "he is committed to a good faith negotiation" and "is open to solutions that would maintain professional baseball in the 42 communities while addressing concerns about facilities, working conditions and wages for minor league players."
Sanders said he "and other members of Congress will be carefully monitoring the progress of negotiations on behalf of fans."
Mariners don't tender deals to Tim Beckham, Domingo Santana
SEATTLE — The Mariners failed to offer 2020 contracts to infielder Tim Beckham and outfielder Domingo Santana on Monday, making them free agents.
Beckham, who turns 30 in January, was suspended 80 games in August after testing positive for the banned performance-enhancing drug Stanozolol and missed Seattle's final 48 games. Beckham appeared in 88 games with Seattle and hit .237 with 15 home runs and 47 RBI. The suspension cost him about $500,000 of his $1.75 million base salary.
Santana had a promising start to last season before injuries started to limit his playing time. He appeared in 121 games and hit .253 with 21 homers and 69 RBI. But following the All-Star break, Santana appeared in just 31 games and hit .128. Santana had a $1.95 million salary.
Both Santana and Beckham would have been eligible for arbitration.
Game notes
INF Patrick Wisdom's one-year deal, announced Wednesday, calls for a $600,000 salary while in the major leagues and $150,000 while in the minors.