Cubs don't offer contract to infielder Addison Russell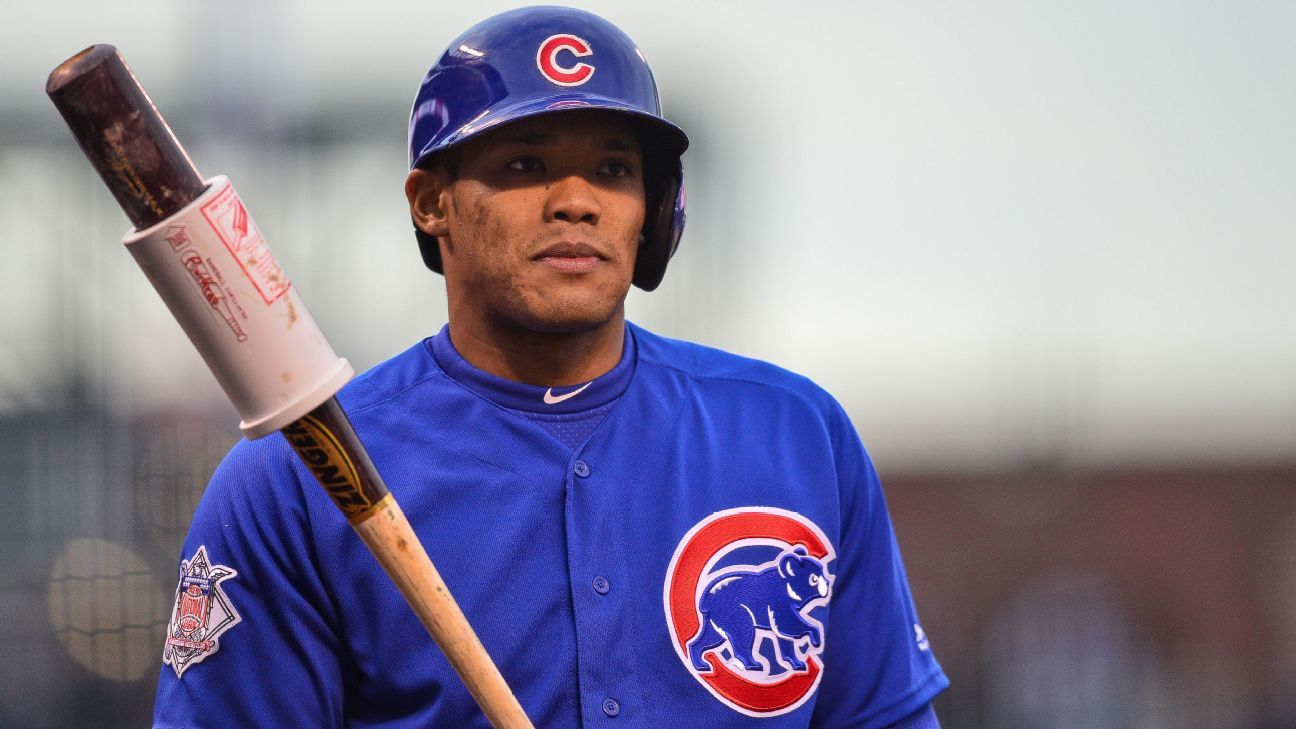 CHICAGO — The Chicago Cubs tendered contracts for the 2020 season to six arbitration eligible players but non-tendered infielder Addison Russell. Russell, 25, becomes a free agent after five years with the team, his final two seasons marked by controversy.
The second baseman/shortstop was suspended for 40 games near the end of the 2018 season for violating the league's domestic abuse policies. Despite that suspension, the Cubs tendered him a contract for the 2019 season as he sat out the first 28 games of last season to complete his suspension. His on-the-field game suffered as he dealt with the consequences of his off-the-field actions.
He was demoted to the minors last summer not long after telling ESPN he needed to be "more familiar" with the signs. Russell's OPS dipped below .700 in 2018 and 2019 after several promising years to begin his career.
Cubs president Theo Epstein issued a statement regarding Russell.
"We decided to non-tender Addison Russell today simply because the role we expected him to play for the 2020 Cubs was inconsistent with how he would have been treated in the salary arbitration process," he said. "In the year since we decided to tender Addison a contract last November, he has lived up to his promise to put in the important self-improvement work necessary off the field and has shown growth, as a person, as a partner, as a parent and as a citizen. We hope and believe that Addison's work will continue, and we have offered our continued support of him and his family, including Melisa.
"In the last year, the organization has also put in the important work necessary to bolster our domestic violence prevention training for all employees, all major league players, all minor league players and all staff. We also offered healthy relationship workshops for the players' partners and provided intensive, expert domestic violence prevention training for player-facing staff. This heightened training and our increased community involvement on the urgent issue of domestic violence prevention will continue indefinitely. We wish Addison and his family well."
Russell was the NL All-Star Game starter at shortstop in 2016, the same year he helped the Cubs to a World Series title for the first time in 108 years. He hit a Game 6 grand slam, which essentially won the contest for the Cubs, who trailed 3-2 in the series at the time.
The next season, Russell compiled a .722 OPS while playing solid defense, though issues in his former marriage began to surface. The league's investigation concluded late in 2018 when he was suspended in September, but not for any one incident.
Russell was acquired from Oakland for Jeff Samardzija and Jason Hammel on July 4, 2014 in a trade widely praised for Chicago.
Cubs who were tendered contracts for 2020 include Javy Baez, Kris Bryant, Kyle Schwarber, Albert Almora Jr, Willson Contreras and pitcher Kyle Ryan. The Cubs also came to terms with righty Jharel Cotton, who they acquired from Oakland last week, for $640,000. The team also tendered contracts to 19 other players not yet arbitration eligible players.
Red Sox CEO says no notable progress in search; fans back Jason Varitek
CEO Sam Kennedy said the Boston Red Sox haven't made any notable progress in the search for a new manager as of late Friday but would like to have one in place for the start of spring training in mid-February.
"It's got to be someone who fits the culture of this team and has a knowledge of what it's going to take to put a championship team on the field in 2020," Kennedy said during the team's winter festival Friday in Springfield, Massachusetts. "It's a tall task to get someone in place, but Chaim (Bloom) and (Brian O'Halloran) will get it done for sure."
If it was up to the fans, the answer would be easy: Jason Varitek.
Supporters in Springfield pleaded for Boston's front office to hire the former catcher and team captain as a replacement to Alex Cora, whom the team parted way with Wednesday due to his involvement in a cheating scandal while bench coach for the Houston Astros in 2017.
Members of the team's leadership group were hit with "Hire 'Tek!" chants throughout Friday night, and principal owner John Henry was interrupted several times by fans voicing their support. Henry paused and nodded in acknowledgement, and Bloom, the team's new chief baseball officer, used the opportunity to appease the crowd.
"I think if you poll the audience, they would just get this done right now," Bloom said to big applause.
Fans also peppered retired Red Sox legends David Ortiz and Pedro Martinez with questions about the managerial vacancy during a separate panel.
Ortiz was asked if he would accept a managerial or front office job with the team but said that he wasn't at a good point in his life to do so.
The 44-year-old former designated hitter is still recovering after being shot last June in what authorities called a case of mistaken identity in his native Dominican Republic.
"One day I will be (ready)," Ortiz said.
Martinez said that whoever the Red Sox settle on will be the right choice.
"I guarantee you whoever comes over to manage this great team that we have, it's probably gonna be the closest to the perfect person that we could ever get," Martinez said.
Information from The Associated Press was used in this report.
Astros owner Jim Crane expects to hire new manager by Feb. 3
HOUSTON — Houston Astros owner Jim Crane expects to hire a new manager by Feb. 3.
The Astros need a new manager and general manager after AJ Hinch and Jeff Luhnow were fired Monday, hours after both were suspended by Major League Baseball for a year for the team's sign-stealing scandal.
Crane said Friday that he's interviewed a number of candidates this week and has some more to talk to in the coming days.
"We should have another good season with the team pretty much intact … so I don't know why a manager wouldn't want to come in and manage these guys. They're set to win again," he said.
Crane says his list is still pretty extensive and that he hopes to have it narrowed down by the end of next week. He added that he expects most of Hinch's staff to stay in place regardless of who is hired.
Former Kansas City Royals owner David Glass dies at 84
Former Kansas City Royals owner and chairman David Glass died last week of complications from pneumonia at the age of 84, the team announced.
Glass was named interim chairman and CEO of the Royals in 1993 when then-owner Ewing Kauffman died. He and his family bought the team in 2000.
Under Glass' ownership, the team went to the World Series in 2014 and won the title in 2015. Since then, however, the Royals have struggled, with back-to-back 100-loss seasons.
The Royals were sold in November to a new ownership group led by Kansas City-native John Sherman in 2019 for an estimated $1 billion.
"Like so many Kansas Citians, I am deeply saddened by the news of David's passing," Sherman said in a statement. "His voice among other owners was so respected; he served on and led several Major League Baseball committees to better our game. His passion for baseball and love for Kansas City was the driving force in bringing success on the field for this franchise.
"Personally, I will be forever indebted to David for reaching out to offer the generational opportunity to be part of this proud and storied franchise," added Sherman. "On behalf of the entire ownership group, I want to express deepest gratitude to the heart of a man who carefully placed a treasure in the hands of Kansas Citians. We pledge to carry it forward with his passionate commitment and selfless spirit."
Glass began his business career in the 1960s in Springfield, Missouri. He was later recruited by Walmart found Sam Walton to become the company's chief financial officer, and he was promoted to president and CEO in 1988. He served in that capacity for 12 years, helping Walmart through a period of extraordinary expansion.
Glass died Jan. 9, the family said, adding that a memorial will be held Jan. 27 at Northwest Arkansas Fellowship Bible Church in Rogers, Arkansas.
Information from The Associated Press was used in this report.