Cubs don't offer Addison Russell contract after two years of controversy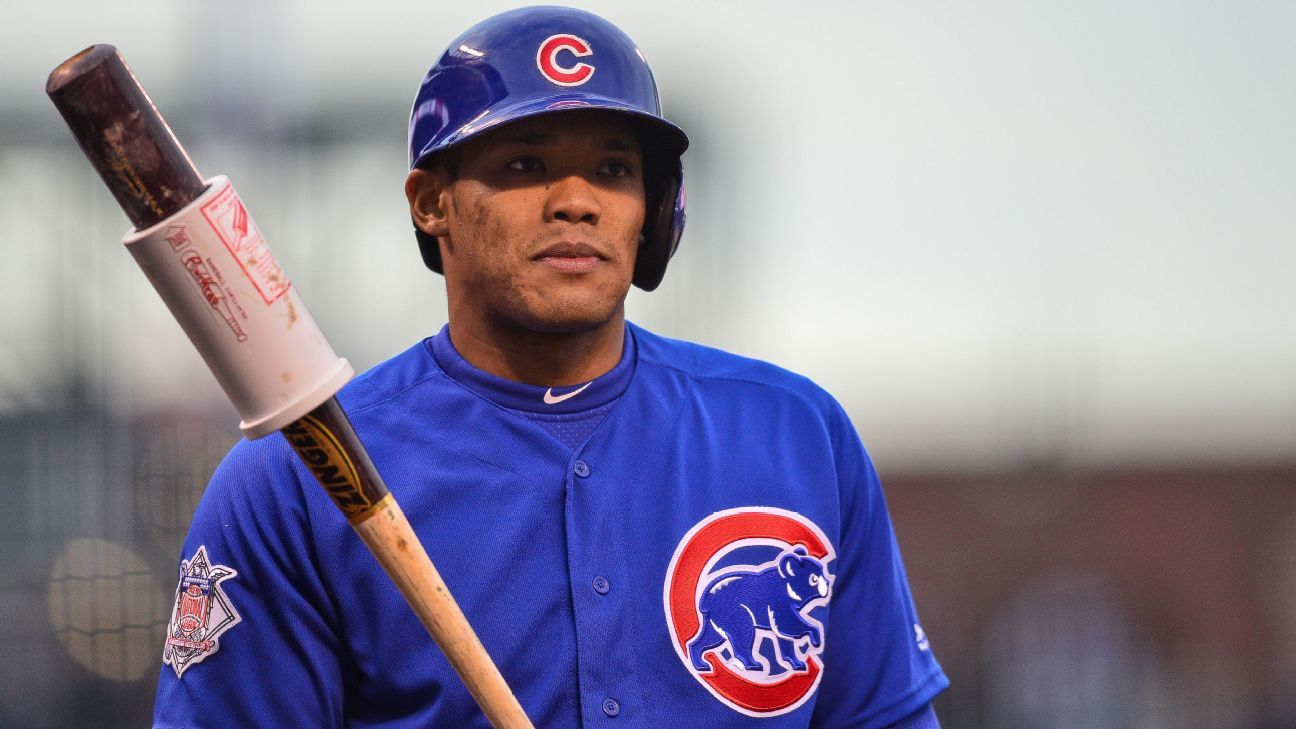 CHICAGO — The Chicago Cubs tendered contracts for the 2020 season to six arbitration-eligible players but non-tendered infielder Addison Russell on Monday.
Russell, 25, becomes a free agent after five years with the team, his final two seasons marked by controversy.
The second baseman/shortstop was suspended for 40 games near the end of the 2018 season for violating the league's domestic abuse policies. Despite that suspension, the Cubs tendered him a contract for 2019, and he sat out the first 28 games of last season to complete his suspension.
He was demoted to the minors last summer not long after telling ESPN he needed to be "more familiar" with the team's signs. Russell's OPS dipped below .700 in 2018 and 2019 after several promising years to begin his career.
"We decided to non-tender Addison Russell today simply because the role we expected him to play for the 2020 Cubs was inconsistent with how he would have been treated in the salary arbitration process," Cubs president Theo Epstein said in a statement. "In the year since we decided to tender Addison a contract last November, he has lived up to his promise to put in the important self-improvement work necessary off the field and has shown growth, as a person, as a partner, as a parent and as a citizen. We hope and believe that Addison's work will continue, and we have offered our continued support of him and his family, including [ex-wife] Melisa [Reidy].
"In the last year, the organization has also put in the important work necessary to bolster our domestic violence prevention training for all employees, all major league players, all minor league players and all staff. We also offered healthy relationship workshops for the players' partners and provided intensive, expert domestic violence prevention training for player-facing staff. This heightened training and our increased community involvement on the urgent issue of domestic violence prevention will continue indefinitely. We wish Addison and his family well."
Russell was the National League All-Star Game starter at shortstop in 2016, the same year he helped the Cubs to a World Series title for the first time in 108 years. He hit a Game 6 grand slam, which essentially won the contest for the Cubs, who trailed 3-2 in the series at the time.
The next season, Russell compiled a .722 OPS while playing solid defense, though issues in his marriage began to surface. The league's investigation concluded late in 2018 when he was suspended in September, but not for any one incident.
Russell was acquired from Oakland for Jeff Samardzija and Jason Hammel on July 4, 2014, in a trade for which Chicago was widely praised.
Cubs who were tendered contracts for 2020 include shortstop Javier Baez, third baseman Kris Bryant, outfielders Kyle Schwarber and Albert Almora Jr., catcher Willson Contreras and pitcher Kyle Ryan. The Cubs also came to terms with righty Jharel Cotton, whom they acquired from Oakland last week, for $640,000. The team also tendered contracts to 19 other players who are not yet arbitration-eligible.
Similar to NFL officials, MLB umpires could get mic'd up
NEW YORK — Big league players, managers and fans might be hearing a lot more from umpires this season.
Much like NFL referees have done for years, umpires could be mic'd up and announce whether reviewed calls are upheld or overturned, sources told ESPN's Pedro Gomez. They may also explain rules, if necessary.
Major League Baseball and the umpires are actively discussing the possibility. If the technical aspects can be worked out and the umps are comfortable with the concept, they could be mic'd up sometime this year — both sides say there's lots of work to do, making it uncertain whether this could be in place by opening day on March 26.
"I feel like getting more information on replay reviews would be great. Being able to hear what they see/say about the play will provide a better explanation of the call which will be very beneficial for both sides," Arizona Diamondbacks catcher Stephen Vogt said.
The NFL and NHL have their referees announce the results of replay reviews. In the NBA, the arena public address announcers relay decisions.
Baseball fans have become familiar with seeing crew chiefs such as Joe West, Ted Barrett and Tom Hallion take off the headsets and signal the ruling from replay center in New York _ either indicating a player is out or safe, or perhaps pointing to where a runner should go.
Under the innovation, an umpire might tell everyone at the park whether a challenged call is confirmed, stands or is reversed. It is not known whether there would be any additional explanation of a ruling beyond the basics.
"It will be helpful to the fans, which is good," Oakland manager Bob Melvin said. "Sometimes they're left in the dark as with what is being challenged."
In the NFL and NHL, the referee is apart from the players when he speaks. MLB likely will want to be sure umps turn off their microphones for any disputes that might result.
"Well, sounds like players might be picked up on the umps' mic," longtime outfielder Rajai Davis texted to the Associated Press. "It wouldn't affect me personally, but it will other guys."
The Associated Press contributed to this report.
How Starling Marte trade turns D-backs into threat to Dodgers' NL West reign
It was the one trade everyone has predicted all offseason and it finally happened on Monday: The Pittsburgh Pirates traded outfielder Starling Marte to the Arizona Diamondbacks for two prospects. The Diamondbacks needed an outfielder, and with the Pirates stuck in the mire of Nowhere Land it was for them to trade a 31-year-old outfielder while he still had two years of team contractual control remaining.
What are the Diamondbacks getting? Other than a subpar 2017, when Marte was suspended 80 games for a positive PED test, he has been a consistent performer at the plate, with an OPS+ ranging between 113 and 120 every other season since 2015. He did set career highs in 2019 in home runs (23) and slugging percentage (.503) thanks to the lively baseball.
Marte is a two-time Gold Glover, with those awards coming in 2015 and 2016 when he primarily played left field. He played center field the past two seasons and he posted the worst defensive metrics of his career in 2019 with minus-9 defensive runs saved. The Statcast numbers, however, are a little more kind to his glove work, crediting him with two outs above average and a high jump rating. Given his speed remains near-elite, Marte reasonably projects as at least an average defender in center field, sandwiched between David Peralta and Kole Calhoun.
Pirates trade Starling Marte to Diamondbacks for two prospects
Outfielder Starling Marte was traded from the Pittsburgh Pirates to the Arizona Diamondbacks on Monday for two prospects and $250,000 in international signing bonus pool money.
Marte, 31, has spent his entire eight-year career with the Pirates. He has a career .287 batting average with 108 homers, 420 RBIs and 239 steals. He had career highs last season with 23 homers and 82 RBIs.
Marte won Gold Gloves in 2015 and '16.
The players going to Pittsburgh are right-handed pitcher Brennan Malone, the 33rd pick in the 2019 draft and shortstop Liover Peguero, a toolsy 19-year-old from the Dominican Republic who excelled in short-season ball.
"We're excited about adding two young players of this caliber and the opportunity we'll have to help them continue to grow." Pirates general manager Ben Cherington said in a prepared statement. "In addition, we now have a greater ability to acquire impact-type talent in this year's international free agent market."
Arizona was dealing from a farm system that is one of the deepest and best in baseball, along with San Diego's and Tampa Bay's.