Broncos' Derek Wolfe expected to miss rest of season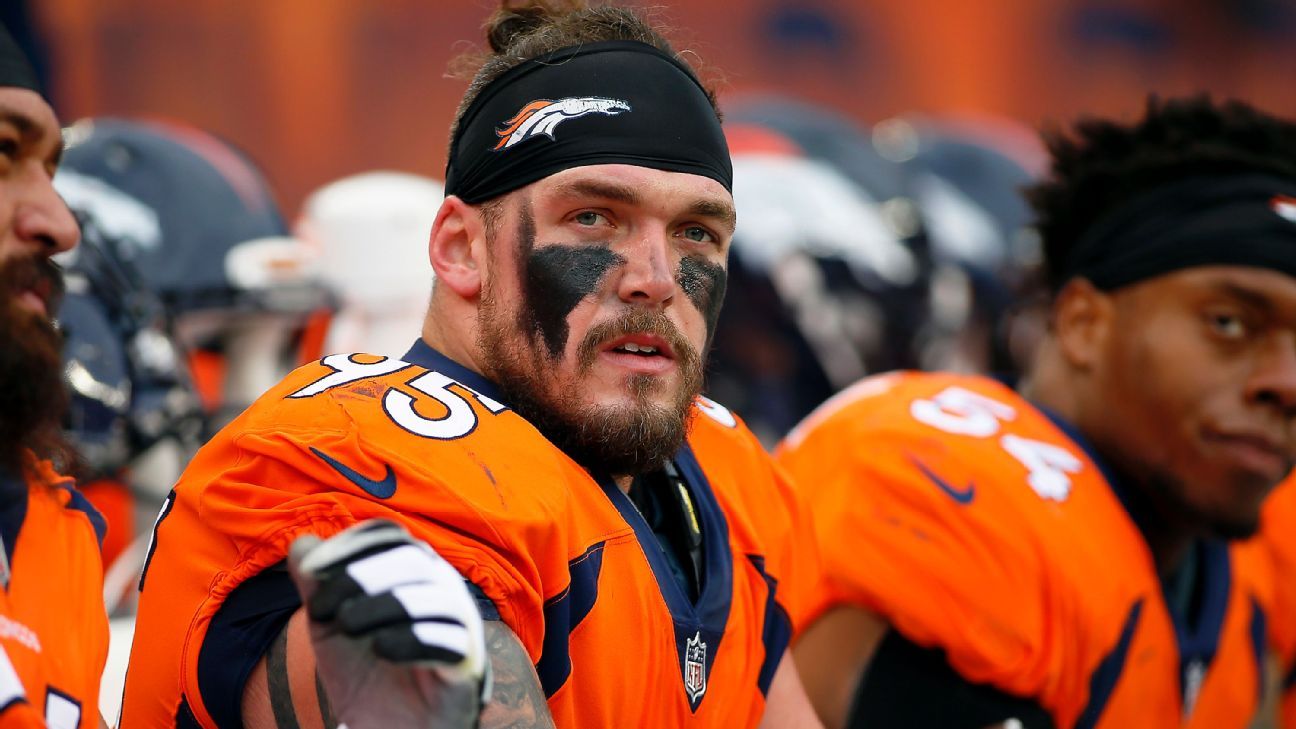 ENGLEWOOD, Colo. — Denver Broncos defensive end Derek Wolfe is expected to miss the remainder of the season after he dislocated his left elbow Sunday in the closing minutes of the Broncos' 23-20 victory over the Los Angeles Chargers.
Wolfe suffered the injury with 2 minutes, 22 seconds remaining in the game, on a play that was blown dead because of a false start by Chargers guard Dan Feeney. Broncos defensive tackle Mike Purcell collided with Wolfe as the two moved just after the snap to defend a Chargers running play on a fourth-and-1.
Wolfe, who had two sacks in the game, leads the Broncos with seven sacks.
"Right now, it's not official, but I don't know if he'll be able to play again this year," said Broncos coach Vic Fangio. "I don't think it needs surgery, but he did dislocate his elbow. The time involved with that healing and where we are in the season probably precludes him from playing any more."
Asked whether Wolfe was headed to injured reserve in the coming days, Fangio said: "That's a good possibility."
With Bradley Chubb already on injured reserve — he tore his ACL in Week 4 against the Jacksonville Jaguars — and Von Miller dealing with a left knee injury, it's possible the Broncos will face the Houston Texans and quarterback Deshaun Watson this Sunday without the team's three top pass-rushers. Miller, who injured his knee in the loss to the Buffalo Bills, did not play in the win over the Chargers.
It was the first time Miller had missed a game since 2013, when he suffered a torn ACL in the second-to-last game of the regular season and then missed the regular-season finale and the Broncos' three playoff games, including Super Bowl XLVIII.
Miller, wearing a brace on his left knee, went through a workout before Sunday's game with Denver head trainer Vince Garcia looking on, and the decision was made to keep Miller out of the lineup against the Chargers. As far as whether Miller would play this week against the Texans, Fangio said this Monday: "I do think there is a good chance he will be able to go this week."
For 29-year-old Wolfe, the injury comes as he is having what might be his best overall season in his eighth year with the team. He has called the Fangio's defensive scheme "perfect for what I can do," as he had all seven of his sacks over the past seven games, with two-sack games against the Titans, Colts and Chargers.
"I feel like he's a bit more healthy this year. … He's just a beast. This defense is perfect for Derek Wolfe and everything he's doing," Miller said recently.
DeMarcus Walker will likely get most of the snaps in the defensive sets Wolfe has played. With Chubb already on injured reserve, two cornerbacks on injured reserve (Bryce Callahan and De'Vante Bausby) and Wolfe headed to injured reserve, the Broncos are still the league's No. 10 scoring defense.
"[Wolfe] was where he was supposed to be, with the right mindset, and he played physical," Fangio said. " … I think he had a career high in sacks, which for a guy at this stage in his career speaks to his resiliency and the work that he's put in and the effort that he was playing with."
Patriots waive Kai Forbath, 4th kicker of season
The New England Patriots waived kicker Kai Forbath on Monday, a source tells ESPN's Field Yates.
Forbath had been signed to replace Nick Folk, who had an appendectomy last week and was released Friday.
Folk still had a locker set up in the Patriots facility after his release, and the expectation was that he could return to the team later in the season.
Forbath missed an extra point Sunday night in the Patriots' loss to the Houston Texans, and also made a chip-shot, 23-yard field goal and one extra-point attempt.
Forbath was the fourth kicker the Patriots had used this season.
Stephen Gostkowski, who was in his 14th season with the Patriots, was placed on season-ending injured reserve on Oct. 2 and had surgery for a left hip injury.
The Patriots first signed Mike Nugent to take Gostkowski's place, but he was ineffective, missing three of eight field-goal attempts and one point-after in four games.
Nugent was released Oct. 29 and the Patriots brought in Folk, who connected on 7 of 9 field goals he attempted and made all three of his PATs.
The Patriots also claimed defensive tackle Albert Huggins off waivers from the Philadelphia Eagles, a source told Yates.
Jaguars to keep Gardner Minshew at QB for rest of season, sending Nick Foles to bench
JACKSONVILLE, Fla. — Minshew Mania is back in Jacksonville.
Jaguars head coach Doug Marrone announced Monday that rookie Gardner Minshew would be the team's starting quarterback for the last month of the season, putting supposed franchise quarterback Nick Foles on the bench just 10 quarters after his return from a broken collarbone.
"Obviously it was a tough deal," Marrone said on an afternoon conference call. "Nick coming back from injury and us not being able to do a good enough job around him, really. So we feel with Gardner's mobility and elusiveness, it can give us a better chance of winning with the way we're playing right now because we're all not doing a good enough job."
Minshew replaced Foles to start the second half of Sunday's 28-11 loss to Tampa Bay. Foles played a terrible first half, turning the ball over on the team's first three drives (an interception and two fumbles) and then leading the offense to three consecutive three-and-outs. Foles completed 7 of 14 passes for 93 yards, and the Jaguars failed to score. Marrone said after the game that he wanted to give the offense a spark because it was "kind of dead."
Minshew threw for 147 yards and a touchdown in the second half. His lone interception came when his pass bounced off Dede Westbrook's hands in the end zone. He did lose a fumble on a sack in the fourth quarter, but the Bucs were ahead 25-11 at that point.
Marrone said he told the quarterbacks on Monday that Minshew would be the starter the rest of the season, and that Foles handled the news well.
"It's brutal. It's tough," Marrone said. "He's a competitor. He's worked his ass off to come back and he's a great pro, so he's going to do everything he can to help us win. At the same time he's got to be ready in case there's an injury or whatever it may be. He'll be a pro about this.
"I think the world of him. I think he's a really good quarterback. He obviously can win in this league, but we've got to be able to have some help around him."
Foles has produced 661 yards and 33 points in the three games since his return. Only 10 of those points came in the first half of those games, including zero points and just 105 total yards against the Bucs. That generated a lot of boos, especially as the team headed to the locker room at halftime, and Marrone had no choice but to bench the player the Jaguars signed to a four-year, $88 million contract that includes a franchise-record $50.125 million guaranteed.
The Jaguars (4-8) — who clinched their 11th non-winning season in the past 12 years with Sunday's loss — next will host the Los Angeles Chargers (4-8), who have lost three consecutive games. The Jags finish out the regular season at Oakland, at Atlanta and home against Indianapolis.
Marrone's decision to go with Minshew creates an interesting quarterback dilemma in 2020. Foles has a dead cap hit of $33.875 million if released before June 1, but that number drops to $21.375 million if he's released after June 1. A post-June 1 trade would save the Jaguars $15.875 million and include a dead cap hit of $6.25 million.
Foles didn't even make it to halftime of the 2019 season opener before being injured. He suffered a broken collarbone on the Jaguars' 10th snap when Kansas City defensive lineman Chris Jones landed on him after Foles let the ball go on what would be a 35-yard touchdown pass to DJ Chark.
Minshew stepped in for Foles and had an impressive debut: 22-of-25 for 275 yards and two TDs with one interception. Minshew started the next eight games and led the Jaguars to a 4-4 record, throwing for 2,285 yards and 13 touchdowns with four interceptions. Now he's got the job back, but that doesn't mean Foles is solely to blame for the offense's problems.
"I still believe in him as a quarterback," Marrone said. "I just think that a lot of times it's never really just the one position or one person. It's a team game. You need people around him to do a good job, and right now we're all not doing a good enough job. So we're just trying to put the best guys out there that give us the best chance to win."
Source — Dolphins extend versatile DB Eric Rowe for 3 years, $18M
DAVIE, Fla. — The Miami Dolphins are re-signing versatile defensive back Eric Rowe to a three-year, $18 million contract extension with $7 million guaranteed, a source tells ESPN's Adam Schefter.
Rowe made an early October transition from cornerback to safety that has worked out extremely well. Rowe's versatile skill set has allowed him to play in the box and in coverage at times, but his most prominent role has been minimizing tight ends.
In Sunday's 37-31 upset win over the Philadelphia Eagles, Rowe excelled in his role, helping keep Zach Ertz to what the tight end told reporters was "one of the worst games he's ever played in." Ertz finished with three catches for 24 yards, and Rowe broke up a key touchdown late in the game as the Eagles were attempting to mount a comeback.
"I thought Eric played well. Tough matchup, we know Ertz is a very good player — one of the top, if not, the top tight end in the league. I thought Eric did a good job," coach Brian Flores said. "Collectively as a team we tried to hit him and disrupt him as much as possible. Eric played a big role in that."
Rowe has assumed the starting spot that belonged to Minkah Fitzpatrick until he was traded in September. Rowe is one of several low-key Dolphins signings and waiver claims that have worked out better than initially expected. He appears to have the inside track for one of Miami's starting safety spots next season.
"The main thing is the selflessness of Eric. He's willing to do whatever we need (him) to do to help us win. It starts there," defensive coordinator Patrick Graham said. "He's a guy who's been a hard worker in this league — a diligent worker — and he's smart. He can tackle. He's tough and he provides us with an advantage in terms of size, his length, combination of speed; you put that on a tight end in terms of coverage, that helps out a lot. It's a different skillset than dealing with a linebacker. Then he also provides us with some flexibility because he can do corner skills, safety skills, set the edge — he can do a bunch of things."
It's the fourth extension the Dolphins have done since August, making it a priority to lock up young players they view as part of their long-term future. Receivers Jakeem Grant and Allen Hurns along with offensive lineman Jesse Davis were recipients of multiyear extensions.
Rowe, a 2015 second-round pick of the Philadelphia Eagles, spent the last three seasons with the New England Patriots along with Flores. Rowe missed 15 games over his tenure with the Patriots largely due to injury and spent this season bouncing back from that injury question mark.
This season, Rowe has seven pass deflections and a career-high 59 tackles. He's been integral on a Dolphins team that has won three of their last five games turning around the narrative about them.
Rowe signed a one-year, $3.5 million deal with the Dolphins last March, and spoke often about finding a team where he could be for a long time. That could be Miami, a place where he is under contract through 2022.