Dolphins' Vince Biegel learned 'strong work ethic' as fifth-generation cranberry farmer – Miami Dolphins Blog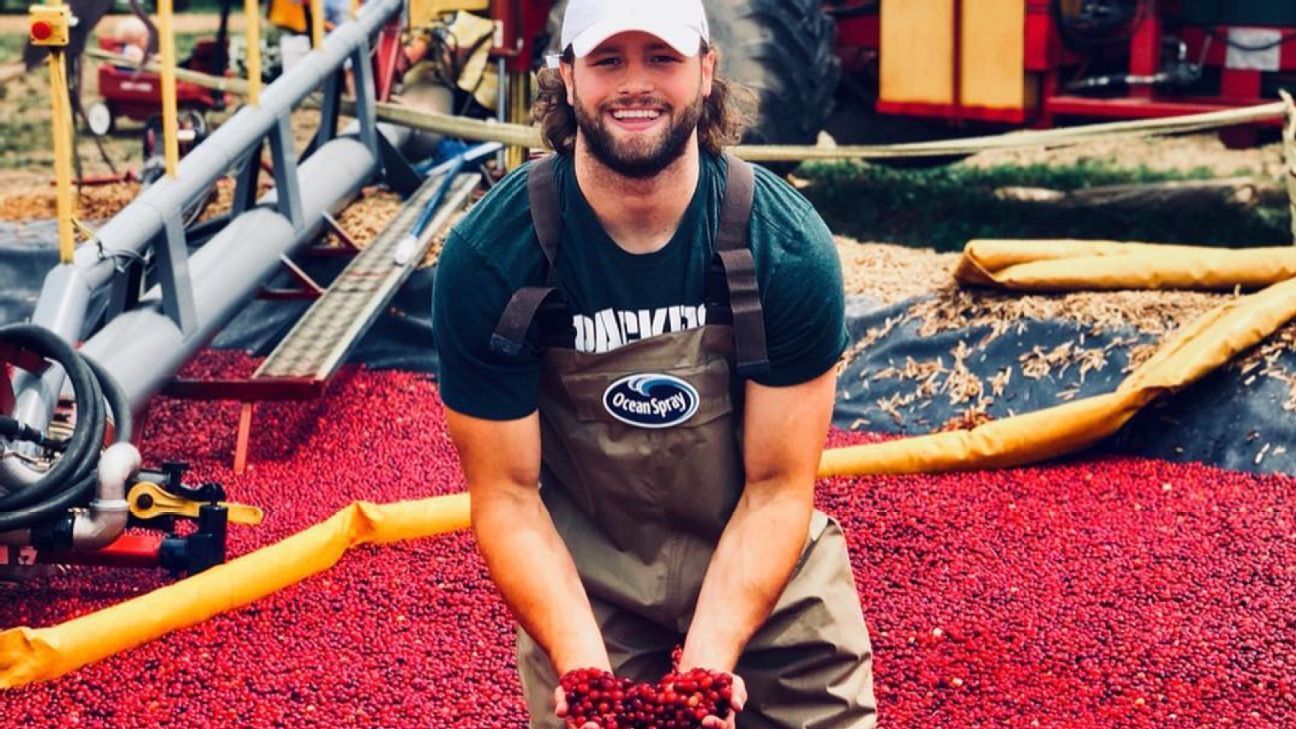 DAVIE, Fla. — When you drink a glass of dark Ocean Spray cranberry juice, there's a chance the cranberries were harvested by Miami Dolphins linebacker Vince Biegel and his family from their cranberry marsh in Wisconsin Rapids, Wisconsin.
A small-town fifth-generation farmer who spent 10-hour summer days knee-deep in cranberry beds, Biegel took a unique journey to the NFL.
"The cranberry marsh was my only job growing up. It's a hard job. It's not a spotlight job. There's not a lot of glory," Biegel said. "I learned to take responsibility, have a strong work ethic and take advantage of your opportunities. Those qualities have taken me a long way."
Relive the NFL's greatest games, original series and more. Watch on ESPN+
The 26-year-old is now a starting pass-rusher and spirited leader for a 2-9 Dolphins team that will host the Philadelphia Eagles (5-6) at 1 p.m. ET on Sunday (Fox).
Miami traded veteran linebacker Kiko Alonso to the New Orleans Saints for Biegel on Sept. 1, and while Alonso was the big name in the deal, Biegel was viewed by some as a special-teams throw-in. But in an extreme rebuilding season, the Dolphins searched for low-cost, diamond-in-the-rough keepers. They saw potential in Biegel beyond special teams.
Three months later, it's clear the Dolphins won the trade. Biegel represents exactly what Dolphins coach Brian Flores is trying to build in Miami.
The cranberry man
Approximately 50% of cranberries harvested in the United States come from Wisconsin — primarily because of the sandy soil. Some of that originates from Wisconsin Rapids' Dempze Co. cranberry marsh — a family business that celebrated its 100th anniversary this summer and helped shape Biegel into the man he is today.
Biegel started working on the marsh when he was 7 years old. The Dempze farm comes from his mom's side of the family. His dad's side of the family was all about football. His dad, Rocky, played linebacker at BYU. Biegel's grandfather, Ken, played football at Wisconsin-Eau Claire and is in the National High School Athletic Coaches Association Hall of Fame.
Life was a steady mix of cranberries and football. Vince Biegel chose his preferred life path early on.
"Growing up, football was my main passion. I pursued it relentlessly. My dad was unique in that he pushed school first, football second and working on the marsh third," Biegel said. "But I never considered working at the marsh as a fallback like a bad thing. Our family takes great pride in that. Honestly, it's still in the cards. I could see myself running my own marsh one day."
Even as an accomplished Wisconsin Badgers defender, Biegel spent some of each summer working at the marsh.
"Harvest was my favorite. Harvest is when you see the fruits of your labor come to fruition," Biegel said. "It's sort of like when you get a sack."
A couple of his teammates' eyes widen when he discusses the Dempze cranberry sauce and cranberry apple crisp family recipes. Cranberries are his favorite fruit and Thanksgiving dish. His favorite drink? Half-cranberry juice, half 7UP. The cranberry man has taught his locker mates more about his favorite fruit than they could have ever dreamed.
As Biegel explains the cranberry farming process, Dolphins linebackers Jerome Baker and Deon Lacey chuckle to themselves. They have heard this story plenty. Biegel proudly continues, "Cranberries grow on vines in a cranberry bed, which is about the size of a football field. In our marsh, we have about 70 to 80 cranberry beds, so that's 70 to 80 fields' worth of cranberries."
The cranberry man always planned to leave the marsh to pursue his NFL dreams, but when it's all over, there's a good chance he'll return to cultivating a bed of berries.
Wisconsin LB Vince Biegel will be the first to tell you Wisconsin is the No. 1 producer of cranberries in the U.S. As a child who grew up on a cranberry marsh, Biegel shares how his experience shaped who he is on and off the field.
'I love being' in Miami
A week before the 2019 NFL season began, Biegel went from a championship contender with the Saints to one of the worst teams in football — a team that started the season 0-7. Surprisingly, he was ecstatic to join the Dolphins because of the "opportunity."
Biegel was primarily a special-teams player with New Orleans; he played only two defensive snaps in 2018. He yearned for more. And then the trade happened.
"I really do love being here. When Miami traded for me, I knew it was going to be a great opportunity because this is a young team. It's been all that and more," Biegel said. "This is the opportunity that I've been able to grow the most from in my career from a football and leader perspective. I'm excited to hopefully stick around here for a long time."
Biegel says being released by the Green Bay Packers — the team that selected him in the fourth round of the 2017 draft — was the best thing for his career. As a kid who was from Wisconsin and who attended the University of Wisconsin, Biegel put too much pressure on himself playing for his hometown NFL team.
"A weight was lifted off my shoulder," Biegel said about being cut by Green Bay in September 2018 and then signed by New Orleans. "I got back to the purity of playing football."
Dolphins linebackers coach Rob Leonard says Biegel's strengths are his motor and his physicality: "You don't have to say anything to Vince to get him going, so I can coach that. I can tame you down. I can't tame you up. He lights a fire to the whole defense. I just try to channel it to get that motor pointed in the right direction. Like, scout team: Don't kill the quarterback."
The Biegel buzz is real in Miami. He has become a favorite of the fans, coaches and teammates in a short time.
"Biegel consistently brings the energy. He's the main one. Sometimes it seems annoying, but he brings it every day," Baker said. "It's definitely important. It's a team. Some days it can't just be him. Some days it has to be other guys. But for Biegel, no matter what is going on, he brings positive light out of it."
'The wins will come'
Biegel's pass-rush ability, success setting the edge, high motor and infectious vibe have sealed his starting linebacker role. He leads the Dolphins in quarterback hits (11), and he's second on the team in sacks (two). The first sack of his career came in Week 2 against New England Patriots quarterback Tom Brady.
"Brady was the guy I wanted to sack most when I entered the NFL. That was a great experience and now I want more. I want to be the guy out there to provide that spark for us," Biegel said. "One thing my dad always taught me was effort. There's a lot of things you can't control, but there's one thing you can control and it's your effort. For me, it's a compliment when people say, 'Hey, you're a high-motor guy.'"
It doesn't appear Biegel is leaving the Dolphins anytime soon.
"Pre-snap stuff is big for him and he can't get enough reps. He's only going to get better in my opinion because any guy that has a motor that burns hot like that is — you've just got to get it pointed in the right direction," Leonard said. "He can definitely help us. I like Vince a lot. Guys like that are fun to be around, and they bring a lot of energy to the room, so it makes it fun to coach. There's never a dull moment."
Flores calls Biegel the team's best edge-setter and stout in the run game. Defensive coordinator Patrick Graham raves about his arm extension. Even if his role decreases when the team gets better, there should be a place for a guy like Biegel.
Plus, the locker room needs its cranberry man.
"I know there haven't been a lot of wins this year. But the wins will come," Biegel said. "I hope the fans know we have a lot of good things to look forward to in the future, and I'm hopeful I can continue to be a part of it."
Ravens coach John Harbaugh defends Lamar Jackson
OWINGS MILLS, Md. — Baltimore Ravens coach John Harbaugh defended Lamar Jackson's playoff failure on Friday, highlighting the progress the quarterback has made in two NFL seasons.
"He's 23 years old. He's younger than Joe Burrow, OK?" Harbaugh said at his end-of-season news conference. "So he's got a pretty good head start right now. I mean, he's along the way. The Manning brothers combined to … they had five losses in their first five playoff games before they won one. [Joe] Montana, [Steve] Young and [Brett] Favre didn't start a playoff game until their third season. [Drew] Brees and [Troy] Aikman, until their fourth season, and [Aaron] Rodgers until his fifth season. Interesting."
Jackson is the front-runner for NFL most valuable player after becoming the first player to throw for 3,000 yards and rush for 1,000 yards in the same season. But he wasn't the same dominating force in Saturday's 28-12 divisional playoff loss to the Tennessee Titans, throwing two interceptions and fumbling once.
In two seasons, Jackson is 19-3 in the regular season and 0-2 in the postseason.
Asked if Jackson has a tendency to be too self-critical, Harbaugh said, "I think he understands what it is to take responsibility. And he also has a great sense of urgency to be successful and what it takes to be successful. So no, Lamar doesn't lack for confidence. He's not doubting himself, if that's the implication that those people are making."
Jackson met with Harbaugh in his office "for a good while" on Wednesday. Harbaugh asked Jackson where he needs to improve.
"Without getting into what they are specifically, he nailed it, the priority list, in the exact same order that [offensive coordinator Greg Roman] and I nailed the priority list when we were talking on Monday," Harbaugh said.
At the start of the season, the biggest question surrounding the Ravens was whether Jackson could become a legitimate NFL passer. He led the NFL with 36 touchdown passes and finished third in passer rating (113.3).
Last year, Harbaugh acknowledged that some receivers might not be excited to play in Baltimore's offense. Does he anticipate that not being an issue now?
"Yes I do," Harbaugh said. "If you remember last year, I said it in a way like, 'They're going to find out.' Yes, I absolutely believe players are going to be very excited to be here and part of this offense."
2020 NFL draft underclassmen declarations
More than 100 underclassmen already have declared for the 2020 NFL draft, and there are a few more expected to announced their intentions before the deadline, which will be announced by the NFL on Monday, Jan. 20. Some played in their bowl games; others opted not to.
What promises to be a banner class for wide receives has gotten even deeper. Here are the prospects who have declared for the draft, in alphabetical order:
More 2020 NFL draft coverage:
Mel Kiper's Big Board | Todd McShay's mock draft 1.0


Position: Running back
Ahmed declares after leading team in rushing as junior
---

Position: Running back
Akers to skip bowl, enter draft
---
Position: Cornerback
Arnold, fifth nationally in interceptions, announces for draft
---

Position: Tight end
Asiasi rides strong finish to season into draft
---

Position: Cornerback
Canes CB Bandy decides on early entry
---
Position: Offensive tackle
Becton posts intentions to skip bowl, enter draft
---
Position: Running back
Benjamin to pass on senior season for draft
---
Position: Defensive end
Illini sack leader to forgo senior season
---

Position: Center
ESPN No. 1 center Biadasz will forgo final year for draft
---

Position: Defensive tackle
Blacklock says he's ready to chase NFL dream
---
Position: Wide receiver
Hornung Award winner Bowden declares for draft, will play in bowl
---

Position: Tight end
Bryant posts video saying he will turn pro
---

Position: Wide receiver
Cephus posts big season, decides to move on to NFL
---

Position: Outside linebacker
Chaisson will leave school early, enter draft
---

Position: Offensive tackle
Charles part of seven early entries from LSU
---
Position: Offensive tackle
---
Position: Defensive end
Coe cites personal reasons for departing early for NFL
---
Position: Center
Colon-Castillo thanks coaches, fans and heads to NFL draft
---
Position: Safety
---

Position: Center
LSU center joins list of early entries
---

Position: Running back
Dallas decides to move on to '20 draft
---
Position: Cornerback
---
Position: Wide receiver
Davis says decision to move on to NFL not an easy one
---

Position: Wide receiver
Sleeper WR Davis graduates early, eligible for senior all-star games
---

Position: Safety
Delpit leads cadre of early entries for national champs
---
Position: Running back
Dillon to pass on bowl, turn pro
---

Position: Running back
ESPN No. 3 RB Dobbins opts for early entry
J.K. Dobbins breaks free for a 68-yard touchdown run for the Buckeyes to increase their first-quarter lead.
---

Position: Quarterback
Top 5 QB Eason leaves Huskies for draft
---

Position: Running back
Edwards-Helaire joins several teammates in going pro early
---
Position: Defensive tackle
Underrated Elliott to make jump after just one full year as starter
---
Position: Defensive end
Highly ranked pass-rusher Epenesa enters draft
---
Position: Running back
RB Evans makes jump after finishing in top 10 nationally in rushing
---
Position: Quarterback
ESPN No. 5 QB Fromm elects to enter draft
Desmond Howard explains that he is surprised but understanding about Jake Fromm entering the NFL draft, and Ryan Leaf voices his support of Fromm's decision.
---

Position: Defensive end
---
Willie Gay Jr., Mississippi State Bulldogs
Position: Linebacker
Despite season cut short by suspension, Gay declares for draft
---

Position: Safety
Navy transfer Gilman passes on final year at ND for draft
---

Position: Defensive end
Gross-Matos to enter draft, play in bowl
---
Position: Defensive back
Utes nickelback posts intent to pass up final season
---

KJ Hamler, Penn State Nittany Lions
Position: Wide receiver
Kiper's No. 10 WR joins loaded class at position
---
Position: Cornerback
Baylor transfer Hand will leave Owls early for draft
---
Position: Cornerback
Highly ranked CB to forgo senior season
---
Position: Center
Another Owl opts for early-entry route
---

Position: Wide receiver
Higgins' early entry adds another gem to WR class
---
Position: Wide receiver
After 'long talks with God,' Hodgins goes pro
---
Position: Cornerback
Auburn CB passes up final year for '20 draft
---
Position: Wide receiver
Syracuse leading receiver Jackson passes up final year
---

Position: Wide receiver
Jefferson decides to make jump after big season for national champs
---
Position: Wide receiver
Jeudy, Kiper's No. 1 WR, says bye to Tide, joins loaded draft
---
Position: Cornerback
Johnson, school jointly announce his departure for next level
---

Tony Jones Jr, Notre Dame Fighting Irish
Position: Running back
Jones passes on senior year for draft after big bowl game
---
Position: Tight end
Tight end announces on Twitter it's time for him to try next level
---
Position: Offensive guard
Kindley makes it 3 Georgia OL to enter draft early
---

Cole Kmet, Notre Dame Fighting Irish
Position: Tight end
Kmet flips, now will explore NFL draft
---

Position: Wide receiver
ESPN No. 2 WR Lamb decides to enter draft
CeeDee Lamb is not only Oklahoma's star wide receiver and Jalen Hurts' favorite target, but he serves as a magician on the field with his mind-boggling abilities.
---
Position: Running back
Leake declares to chase lifelong dream of NFL
---
Position: Quarterback
ESPN's No. 7-ranked QB Love enters draft
---
Position: Defensive end/linebacker
---
Position: Defensive tackle
Big 12 sack leader Lynch casts lot with NFL
---

Position: Defensive tackle
ESPN's No. 4-ranked DT moving on to NFL
---
Position: Tight end
Markway decides to enter draft
---
Position: Running back
RB McClease follows 100-yard bowl effort by declaring for draft
---
Position: Running back
McFarland passes on final two years of eligibility
---
Position: Quarterback
McDonald opts to pass on senior season to enter draft
---
Position: Safety
First-team All-SEC McKinney opts for draft
---
Position: Defensive end
Little-used backup DE enters draft early
---

Position: Linebacker
Murray posts video thanking OU coaches and fans, moves on to draft
---
Position: Offensive guard
Underrated but oft-injured Muti opts for draft
---

Position: Cornerback
Top corner Okudah makes choice to turn pro early
Adrian Martinez's overthrow is tipped, and Jeff Okudah makes the catch from the turf.
---
Position: Tight end
ESPN's No. 6-ranked TE puts name in NFL draft
---
Position: Tight end
6-foot-7 TE Parkinson makes tough call to leave Stanford
---

Position: Wide receiver
Peoples-Jones skips senior year to join very deep WR class
---

Position: Linebacker
LSU leading tackler Phillips opts for draft
---
Position: Cornerback
Pierre thanks Lane, Monte Kiffin on way into draft
---

Position: Linebacker
Delpit leads cadre of early entries for national champs
---

Position: Wide receiver
Reagor joins list of elite WR prospects in 2020 draft
---

Position: Cornerback
Renfro pens "Dear 12th Man" letter, enters draft
---
Position: Cornerback
Roberts to forgo senior season for draft
---

Position: Wide receiver
Rogers casts name into loaded wide receiver pool
---
Position: Wide receiver
Speedy Ruggs ranks among Kiper's top 5 WRs
---

Cesar Ruiz, Michigan Wolverines
Position: Center
Ruiz passes on senior year to enter '20 draft
---

Position: Cornerback
FSU corner decides to forgo senior season
---

Position: Wide receiver
ESPN's No. 3-ranked WR Shenault declares for draft
---
Position: Punter
Aussie punter, 27, moving on to pro game
---
Position: Safety
Hawkeyes safety passes on senior season for NFL draft
---
Position: Running back
Swift opts for NFL, could be first RB taken
---
Position: Quarterback
In midst of rehab, Tagovailoa makes "difficult decision" to move on to pros
Dabo Swinney has high praise for Tua Tagovailoa and explains why he'd want him on his NFL team.
---
Position: Running back
Taylor posts intention to enter draft
---

Position: Running back
After consecutive Doak Walker Awards, Taylor opts for NFL
---
Position: Offensive tackle
Thomas enters draft, could be first OL off the board
---

Position: Wide receiver
Thomas says on Instagram he's skipping bowl to join '20 draft
---
Michael Turk, Arizona State Sun Devils
Position: Punter
Turk to forgo senior season with Sun Devils
---

Josh Uche, Michigan Wolverines
Position: Linebacker
ESPN's No. 9-ranked OLB Uche heads to draft
---
Position: Running back
Warren makes jump after 1,200-yard season
---
Position: Wide receiver
WR Watkins posts 1,000-yard season, jumps to NFL
---
Position: Outside linebacker
Weaver, fifth nationally in sacks, passes up senior season for draft
---

Position: Wide receiver
White joins early-entry list littered with wide receivers
---
Position: Offensive tackle
Right tackle Wills could be a first-round pick
---
Position: Offensive tackle
RT Wilson joins pack of Bulldogs entering draft early
---

Position: Safety
Winfield Jr. passes on final two years to enter draft
---
Position: Offensive tackle
With possible first-round status, Wirfs chooses to enter draft
---
Position: Linebacker
Injured Woodward joins Aggies QB Love in draft
---

Position: Defensive end
Pass-rusher Young enters draft, lock to go top 5
---
Position: Running back
Young to enter draft rather than explore graduate transfer
---
Mitch Wishnowsky almost slept on a bathroom floor to become an NFL punter — NFL
In the summer of 2012, Mitch Wishnowsky sat at the end of a wooden dock, fishing rod in hand. He cast his line as the sun set over the water's horizon; as he did so, his cellphone rang. A professional glazier by day, the 20-year-old Western Australia native had recently bought a plot of land in Perth with his best friend. They built a house, worked their trades, and planned to save enough money to provide for their respective futures, which Wishnowsky hoped meant a career, wife and children.
As he sat on the dock, still recovering from the dengue fever he had contracted on a recent trip to Bali, he just wanted to be healthy enough to work his job of framing and setting glass for industrial buildings.
Once a talented soccer player, Wishnowsky had pursued the sport until he realized he wouldn't qualify for the pro leagues. Standing 6-foot-2 with a muscular frame, tanned skin, chiseled cheekbones and blond hair that he sometimes grew long, the Thor lookalike had a powerful kicking leg.
He had always wanted to try Australian rules football; after dropping out of school at 16 to pursue his trade, he also signed up for Aussie rules. But a dislocated shoulder on the field forced him to halt his work as a glazier, and Wishnowsky realized financial stability was more important than his sporting passion. So he gave up Aussie rules, instead playing American flag football in a casual weekend league.
He answered his cellphone and he and the caller spoke for several minutes. Days later, Wishnowsky handed in his resignation letter. He had only one month left before completing his official glazier trade certification, so he finished out the month and moved to Melbourne.
He was going to learn how to be an NFL punter.
Fast-forward to 2020, and Wishnowsky is on the cusp of playing in the biggest NFL event in the world — Super Bowl LIV, as a member of the San Francisco 49ers. This weekend he will try to help the 49ers advance beyond the NFC Championship Game and make their first Super Bowl appearance since 2012.
Wishnowsky, 27, was selected by the 49ers in the fourth round of the 2019 NFL draft. This season, he helped the NFC West champions go 13-3 in the regular season as he averaged 44.9 yards per punt, with 23 landing inside the 20-yard line.
"I've coached 40 total seasons, and he's the best I've had or seen [at his position]," says Craig Moropoulos, Wishnowsky's head coach at Santa Barbara (California) City College. "Even before our [2014] season began, with all the things put together, you could see that this guy was special: his size, athletic ability, his work ethic. And very humble."
In 2012, unbeknownst to Wishnowsky, one of his flag football teammates had told Prokick founders John Smith and Nathan Chapman about Wishnowsky's punting prowess. Founded in 2007, Prokick Australia — one of the premier kicking institutions in Australia — was still in its early stages.
"It was always a dream to be a pro athlete, and I thought to myself, 'This is my last chance,'" Wishnowsky says.
He had followed the careers of a handful of Aussie kickers who played for U.S. colleges and the NFL, but as far as he knew, they had all competed for professional teams first. He hadn't realized there might be a pathway for a non-professional athlete such as himself. And he had never heard of Smith or Chapman.
But Wishnowsky went to Melbourne, where he had no close friends or family. The other Prokick attendees lived locally. Hotels were too expensive (he was still paying the mortgage on his property), so Wishnowsky left messages with a few acquaintances, including his former physiotherapist, hoping for a bed the weekend before training began. Prokick required each athlete to purchase a membership to a local 24-hour gym, so when Wishnowsky hadn't heard back about a room, he drove to the gym.
"I was camped in the bathroom of the 24-hour gym and I was like, I'm not above staying here,'" Wishnowsky says.
At 10 p.m., just as he had created his makeshift bed, the physiotherapist called. He could stay with her for a few nights.
During the first practice, Wishnowsky took 10 or 12 steps on his first kick before Cam Johnston, the Philadelphia Eagles' current punter and a Prokick alum, advised him that NFL punters typically take a maximum of two steps to get rid of the ball quickly.
Their days began with a 6:30 a.m. lifting session and ran through lunchtime. In the afternoons, Wishnowsky took a nap before leaving his apartment for his bartending job, which paid his rent and his mortgage. He returned to his apartment around 2 a.m., waking up four hours later to repeat the cycle.
"When Mitch first got here, he was really strong," says Chapman, an Australia native and former punter. "He's such an athlete, and a big guy for a kicker. He had a nice style and he could kick the ball really well. We focused on teaching him to get the format right, and a lot of that was practice under pressure, things like that."
Chapman also broke down Wishnowsky's technique, teaching him to punt for American-style football. A focused Wishnowsky diligently followed the instruction.
"There will be months on end where you're not able to hit a ball because [Chapman] breaks everything down," Wishnowsky says of his year at Prokick, which has graduated 17 All-Americans and secured 75 U.S. scholarships or contracts for its alums. "But he gets it and he'll make it work."
As Chapman taught players on the field, he also built relationships with colleges and universities. To meet NCAA eligibility requirements, Wishnowsky needed to attend junior college to meet academic standards. He chose Santa Barbara City College, where Aussie Tim Gleason had kicked. Wishnowsky had to pay in full.
"We just thought, 'How serious is this?'" Penny Wishnowsky said of her son's American football chances. Her husband flew to Melbourne to talk with Smith, who told him that Mitch was a true NFL contender.
"My husband came home and said, 'Well, they reckon he could go all the way, so I guess he will,'" Penny says.
Wishnowsky arrived in Santa Barbara on May 23, 2014, as a 22-year-old freshman. In his first game, unaccustomed to the strong winds, he averaged only around 30 yards a punt. But as the season progressed, he quickly improved; he finished as the top punter in the American Pacific League with a 39.8-yard average. He also led the state with 30 punts that remained inside the 20-yard line. The coaching staff, seeing his punting talent, started keeping a new statistic specific to him: punts inside the 10-yard line. Moropoulos estimated that Wishnowsky had close to 20 punts inside the 10.
Moropoulos, recognizing Wishnowsky's versatility and athleticism, often utilized his skills for fake punts– catch-and-roll situations in which Wishnowsky, who later became the first punter to run a 4.6-second 40-yard dash, could utilize his speed.
After practice, Wishnowsky and a fellow Aussie teammate would often remain on the field. Wishnowsky would send his teammate on a post route while he ran to his right and punted.
"The ball would spiral almost as well as a quarterback flicking it off his fingertips, and hit the guy perfectly in stride," Moropoulos says.
Wishnowsky says he enjoys tackling, as NFL fans around the country saw during his Week 2 takedown of Broncos punt returner Devontae Jackson. At Santa Barbara, he initially tried to convince the coaching staff to play him at tight end. Smith heard about Wishnowsky's attempts and called him. "If you get injured, you're wasting your time!" Smith yelled.
"I thought to myself, 'That makes sense,'" Wishnowsky says. "But I wanted to do it. I wanted to be a tight end."
Wishnowsky redshirted the 2015 season to complete his academic requirements before transferring to Utah, which had recruited several Prokick graduates, including close friend Tom Hackett, who punted for the Utes from 2012 to 2015.
"He was different," Hackett says. "I always felt that I punted my best when I was pretty calm, cool and relaxed and I wasn't overthinking, whereas Mitch is the opposite. He punts his best when he's really serious and really focused."
Wishnowsky was just as serious off the field, avoiding parties and instead opting for added training sessions and weight room regimens while completing coursework toward his degree in exercise sport science. That dedication paid off. In 2016, his sophomore season and first for Utah, he won the Ray Guy Award, presented annually to the best punter in the nation. He finished second in the country in punting average (47.7) and first in punts downed inside the opponent's 10-yard line.
He concluded 2017 with a 43.9-yard punting average and 10 punts downed inside the 10-yard line. In his final Utah season in 2018, he completed 59 punts for a 45.2-yard average.
His parents would often set their alarm for 1 or 2 a.m. to watch online broadcasts of his games.
"We didn't know a thing. Not a thing," Penny says of American football. But they watched and learned.
Several months after his college career ended, on the third day of the 2019 NFL draft, Wishnowsky woke up early. His fiancée, Maddie Leiphardt, made breakfast, but he was too nervous to eat. Instead, he turned on the draft. He'd worked out for several teams, and he knew that San Francisco was interested, but he didn't think he'd go as high as the fourth round. The 49ers' next pick wasn't until the sixth round, and other teams he'd talked with had numerous picks in between.
"A lot of those teams were in cold places, and I thought, 'I would love to end up in San Francisco, but if I'm not taken in the fourth round, I'm probably not ending up there,'" Wishnowsky says.
Forty minutes after the draft began, his phone rang. The caller ID read "San Francisco 49ers facility." Maddie started crying as Wishnowsky answered the phone.
"Mitch, this is John Lynch from the 49ers, man," the team's general manager said.
"How's it going?" Mitch responded.
"We're going to make you a Niner, all right?" Lynch said.
After a brief pause, Mitch answered, "Thank you so much."
Lynch then placed the phone on speaker, as he, head coach Kyle Shanahan, CEO Jed York and special-teams coordinator Richard Hightower yelled a rousing rendition of "Aussie, Aussie, Aussie! Oy, Oy, Oy!"
"Hell, yeah!" Mitch responded, as the group in the room laughed.
As Shanahan took the phone and welcomed Wishnowsky, letting him know he was a "target from the beginning," Wishnowsky listened. His voice raised with emotion, Mitch offered a "thank you" in response. Coach Hightower's welcome was next; hearing the emotion in Mitch's voice, he told him, "Yeah, you should be emotional, man. We're just fired up to get you."
As soon as he hung up the phone, Mitch texted his mom. It was midnight in Australia.
"Turn on the TV," he wrote.
"Why?" Penny wrote back.
"Just do it," he responded.
A tennis match was being broadcast, and Penny couldn't find the draft, save for the ticker scrolling along the bottom of the screen. Seconds later, she screamed as she read, "110, Mitchell Wishnowsky, San Francisco 49ers." She ran to wake up her husband and Mitch's sister and her husband, all of whom were asleep in the house.
"It was phone calls the whole day, trying to let it sink in," says Maddie, who met Wishnowsky in a class at Santa Barbara City College, where she played volleyball. "It took quite a while. That was one of the times I've seen the most emotion from him, for sure. This was something he's been working toward for ages."
Penny says her son took sports more seriously than any of his peers when he was growing up in Western Australia, near Perth. On the nights before soccer games, he'd hydrate, eat a balanced dinner and be in bed by 7 p.m. — all of his own volition.
"He was very, very focused on what he was doing to make himself the very best," Penny says. "I always believed he would make it."
Intensely focused during the game, he also has adhered to a pregame ritual taught to him by 49ers veteran kicker Robbie Gould: UNO. The kicking team plays several rounds of the popular card game before each matchup; despite being a novice, Wishnowsky is often tough to defeat, Gould says.
"Mitch is not a talker; he's a doer," Moropoulos says.
Indeed, Wishnowsky has been doing what he can to encourage his fans to donate funds to help people and wildlife affected by the fires laying waste to Australia. Though his family in Perth have been relatively unaffected by the bush fires, Maddie and Mitch know what's at stake.
Australia is battling though tough times, anyone who wants to help this is a site to donate to the NSW fire brigade https://t.co/L0bSfUTZH7 https://t.co/CcV36zO7RV

— Mitch Wishnowsky (@mitchwish) January 5, 2020
"It's very devastating to see all of that; it's hard to realize how big the fires really are, until you look at it compared to old ones, and seeing videos of all the animals. It's so sad to see people who are lost in it," Maddie says. "That morning, when Mitch was watching all these videos that were pretty upsetting — and you're seeing others affected and all this wildlife — I came into the room and he's like, 'You need to see this video.'
"Later that morning, he said, 'I want to donate,' and then he immediately started posting on social media about it, trying to help people be aware. I don't think many people knew much about it, so every little bit helps for sure. You always hear about fires taking place, but sometimes from afar, you don't really realize how much damage they've really done."
Like her son, Penny Wishnowsky was saddened to see the devastation taking place as the Australian wildfires raged.
"We are all safe here in Western Australia, thank goodness. The bushfires are just so devastating for everyone and everything caught up in them," she says. "It's horrifying after seeing the images what firefighters and residents were trying to fight, and the poor helpless wildlife, it's just heart-wrenching. … I watch a few news clips and just end up with tears running down my face. It is so very, very sad.
"People from everywhere are saddened and heartbroken at the loss of human life, property and millions of wildlife destroyed, and so many are giving donations to help rebuild, feed, care and nurse the survivors back to health. It's going to be a very long road."
Once real life slows down, and Wishnowsky is finally at rest, a little imagination goes a long way. He and Maddie often play volleyball matches in the front yard — but they play with an invisible net, set by the walkway separating the two halves of the grass. The imaginary net height must reach the roofline. Even there, Maddie says, his competitiveness shows.
"It's more a ton of banter and he tries to get into my head," Maddie says, adding with a laugh, "He doesn't succeed, but he thinks he does."
Maddie usually wins, but she says Mitch will then declare they need to play another round.
Wishnowsky's competitiveness and focus will be tested this weekend as the 49ers face the Green Bay Packers.
"He has every punt in the book, and he gives us a lot of options to kick certain kicks and take returners out of the game," Gould says. "He came in the league a little more mature than most rookies, and he really wants to learn every day. When you have that mentality and work ethic, you see his skill set, he has the ability to continue to grow and be one of the top punters in the NFL."