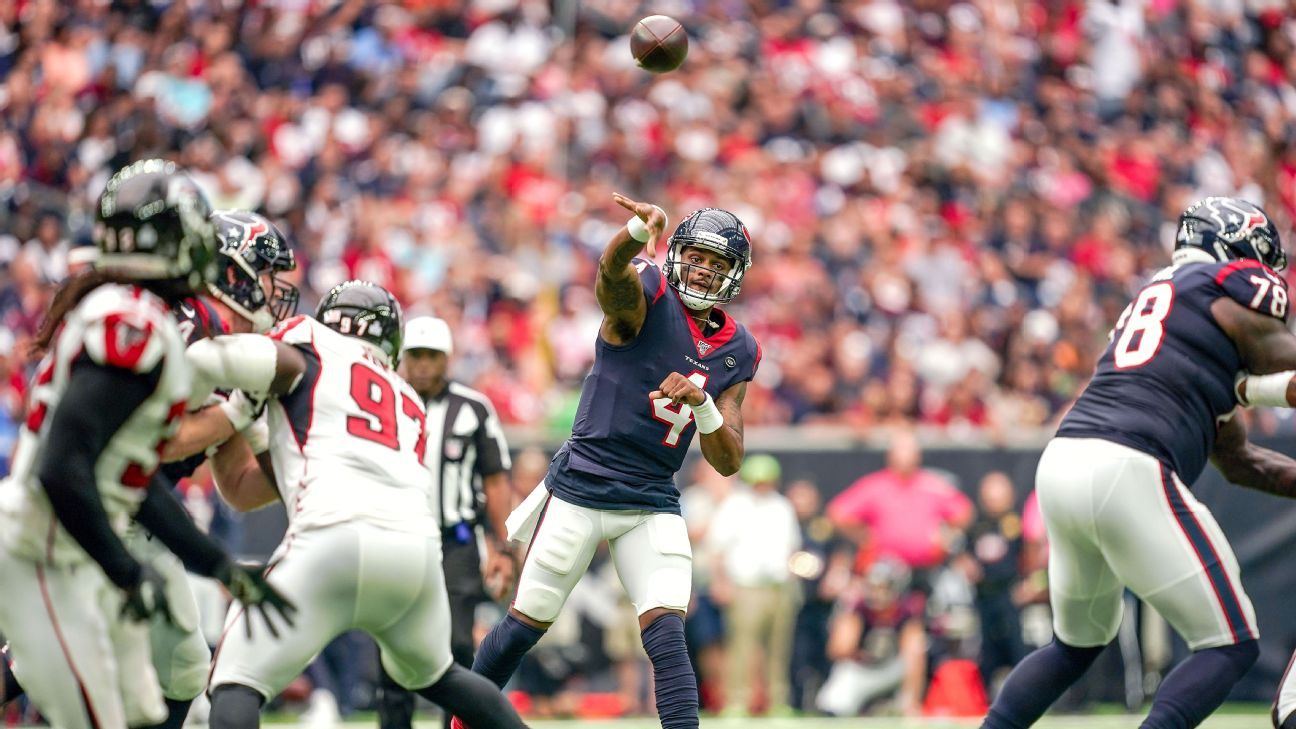 The massive shadow of Patrick Mahomes often eclipses another pretty decent quarterback from the 2017 draft. You've had to work hard to see Deshaun Watson this season — his Houston Texans have played only one prime-time game — but trust me, it's worth the effort.
Watson has assimilated his frenetic and daredevil scrambling skills into an impressive passing game, pushing the ball downfield and into the end zone at rates rarely seen even in the context of today's league-wide passing exploits. Since the start of the 2017 season, Watson has thrown a touchdown pass on 6.5% of his attempts, better than every qualified NFL quarterback except Mahomes and Russell Wilson.
Watson produced an extreme example of that mentality in Sunday's 53-32 victory over the Atlanta Falcons, throwing five touchdown passes on 33 attempts for a rate of 15.2%. And he did it without throwing an interception, the third time in his career that he has thrown five touchdown passes without a single pick. Only five other players in NFL history have produced at least three games with that tricky combination, according to research by the Elias Sports Bureau: Drew Brees, Tom Brady, Peyton Manning, Ben Roethlisberger and Aaron Rodgers. Find me someone on that list who isn't going to the Hall of Fame.
Overall, Watson ranks No. 4 this season in Total Quarterback Rating (70.9). We'll start there for ESPN's Week 5 Quarterback Awards, our Tuesday assessment of highs and lows using unique data culled from ESPN Stats & Information and NFL Next Gen Stats.

Only three players in the Super Bowl era have thrown for at least 400 yards, with five touchdowns and a perfect passer rating (158.3) in a single game. Watson is now one of them, joining Jared Goff (2018) and Nick Foles (2013). Yes, the NFL's current passing era makes it impossible to use raw statistics to compare players from previous decades. Even so, Watson has elevated above most of his contemporaries and has never looked better than he did against a Falcons defense that entered the game ranked No. 15 in NFL defensive QBR.
He pushed the ball down the field effectively, completing 6-of-7 passes that traveled at least 15 yards down the field, accounting for 206 of his yards and two touchdowns. He ran when needed, knocking off a 30-yard scramble among his four attempts. But overall, Watson accelerated a recent trend that should protect him from some of the hits he took early in his career.
His rushing attempts through five games are down 35% compared to the same time period in 2018. And Sunday, Watson took an average time of 2.43 seconds to throw — much lower than his average of 2.92 seconds through the first four weeks of the season. As a result, he was contacted on only 7.5% of his dropbacks, the fourth-lowest rate in Week 5 and less than a third of his career rate entering the game (22.5%).
The Texans have some tough defenses on their schedule over the next two months, including the Colts (twice), Ravens and Patriots. But before that, they will have a Week 6 matchup against Mahomes and the Chiefs — a chance for Watson to demonstrate his progress in a Mahomes-dominated news cycle.
---
My original idea for this award was to give it to the quarterback who produces a Mahomes-like feat each week. But Mahomes just keeps doing it himself!
Where to start with his Week 5 gasp-inducing throw? At the beginning, of course.
The Chiefs were facing a third-and-18 at the Colts' 27-yard line. Entering the game, only one NFL quarterback had thrown a touchdown pass this season on third-and-18 or longer (his name rhymes with Patrick Mahomes).
To elude the Colts' pass rush, Mahomes twisted and turned for 40.2 total yards of scrambling behind the line of scrimmage, according to NFL Next Gen Stats — the most by any player on a touchdown pass this season. Exactly 7.61 seconds expired before he threw, the longest time he has ever taken to throw for a score. And when he finally released the ball, Mahomes was traveling 15.6 miles per hour, the second-fastest speed on a touchdown throw in the NFL in 2019. Byron Pringle hauled in the throw in the end zone.
.@PatrickMahomes is one of a kind.

THIS. THROW. 😱 #ChiefsKingdom

📺: #INDvsKC on NBC
📱: NFL app // Yahoo Sports app
Watch free on mobile: https://t.co/ZqkGgcuCUY pic.twitter.com/jKhPwxvWJo

— NFL (@NFL) October 7, 2019
The play also illustrated why Mahomes was less effective after re-injuring his ankle in the second half. Much of his magic occurs when he is on the run, as defined by NFL Next Gen Stats as 8 mph or faster. Since the start of the 2018 season, he has thrown 15 such touchdowns — five more than the next-highest quarterback.
The Chiefs scored only three points after the touchdown to Pringle in a 19-13 loss, the first time the Chiefs have scored fewer than 25 points in 26 games. In total, Mahomes took four sacks, was pressured on 38% of his dropbacks and was off target on 30% of his passes, all season lows for him. The Colts' defense deserves some of the credit for those numbers, but the timing of the ankle injury could not have been entirely coincidental. Not even Mahomes can scramble 40 yards behind the line of scrimmage for seven seconds on one good leg.
---

Thursday night games sometimes get lost in the history of a given NFL week, but let us not forget Wilson's 13-yard drop in the bucket to receiver Tyler Lockett during the Seahawks' 30-29 victory over the Los Angeles Rams.
The play had an expected completion percentage of 6.3%, according to NFL Next Gen Stats data, making it the most difficult touchdown pass in the three years the league has made player tracking technology results public. You probably don't need a bunch of numbers to appreciate how ridiculous a throw it was, so to start, just take it in again.
TYLER LOCKETT IS UNGUARDABLE 😱pic.twitter.com/Me3ozuYEKt

— The Checkdown (@thecheckdown) October 4, 2019
You can't really quantify the difficulty of Wilson throwing the ball across his body. But we can note a few data points that put the throw into further context. First, what was officially a 13-yard pass actually traveled 39.2 yards through the air. The window was tight; there were defenders within 0.9 yards of Lockett on one side, and the sideline was 0.2 yards away on the other.
Wilson didn't have time to set himself, either, because Rams pass-rusher Dante Fowler Jr. was 2.1 yards away. That forced Wilson to scramble a total of 24.6 yards over 7.24 seconds. He was running at 13.6 miles per hour when he threw it.
This, of course, is nothing new for Wilson this season. He leads the NFL in plus/minus from expected completion percentage (plus-10.5), according to NFL Next Gen Stats, and dime completions — 30-plus yards in the air with a window of less than a yard — with six.
---

We often hear about defenses bamboozling quarterbacks with the blitz. Sunday, however, the Green Bay Packers sat back in coverage against Prescott and accomplished the same thing.
Prescott faced five or more pass-rushers on just three of his 51 dropbacks in a 34-24 loss. That blitz rate of 5.9% was the lowest he has faced in his career. Yet Prescott threw a total of three interceptions, including two on play-action, and the Cowboys were trailing 31-3 before he began driving the ball down the field.
The Packers entered the game blitzing opponents at a rate of 28.5%. So why did defensive coordinator Mike Pettine change his approach? Prescott entered the game with a 98.1 QBR against the blitz, tied for the best in the NFL. Any future opponent attempting to replicate Pettine's game plan will need to be able to get pressure with four or fewer rushers, naturally. The Packers got to Prescott on 27.5% of his dropbacks.
Texans promote Anthony Weaver to take over for Romeo Crennel as DC
HOUSTON — Romeo Crennel will not return as the Houston Texans' defensive coordinator, league sources tell ESPN's Adam Schefter.
The Texans have promoted defensive line coach Anthony Weaver to replace him, the sources tell Schefter.
Crennel has been on head coach Bill O'Brien's staff in Houston since 2014. He served as defensive coordinator until 2016 and was promoted to assistant head coach in 2017 when Mike Vrabel took over as defensive coordinator. After Vrabel was hired by the Tennessee Titans, Crennel again was Houston's defensive coordinator, also continuing as assistant head coach.
In 2019, Houston's defense struggled, allowing an average of 388.3 yards per game, which was the fifth-worst in the NFL. In the Texans' playoff loss in the divisional round to the Kansas City Chiefs. Houston allowed 51 points after going up 24-0 in the second quarter.
After the game, O'Brien said he expected Crennel to return but had not met with the coaching staff yet. Crennel, 72, has coached in the NFL since 1981, including time as the head coach for the Cleveland Browns and Chiefs.
Weaver, 39, has been on the Texans' coaching staff since 2016 and also spent time with the Browns, Buffalo Bills and New York Jets. He also played for Houston from 2006 to 2008.
The news that Crennel was unlikely to return was first reported by NFL Network.
Chiefs slight favorites over 49ers in Super Bowl LIV
The Kansas City Chiefs are tiny favorites over the San Francisco 49ers as the two-week lead-up to Super Bowl LIV begins.
The consensus opening line at sportsbooks around the nation was pick 'em. The point spread had grown to Kansas City -1 late Sunday night at most shops.
According to ESPN Stats & Information's line archive, no Super Bowl has ever closed with a point spread of pick 'em. Four Super Bowls have had a line of less than two. This year's Super Bowl appears destined to be the fifth.
Caesars Sportsbook opened the Chiefs at -1.5 on Sunday and took early bets on the 49ers.
"We had the Chiefs a little higher than the 49ers in our power ratings," Alan Berg, senior oddsmaker for Caesars Sportsbook, told ESPN on Sunday night. "You can make a case for either team, and I expect decent, balanced action from the public."
Bookmaker William Hill reported taking an early $33,000 bet on Kansas City at pick 'em. At the Westgate SuperBook in Las Vegas, more than 70% of the early bets were on the Chiefs, who, for now, are Super Bowl favorites, just as they were when the season started.
The Chiefs kicked off the season as the consensus favorites to win the Super Bowl, overcame a midseason knee injury to quarterback Patrick Mahomes and mounted consecutive playoff comebacks in wins over the Houston Texans and Tennessee Titans to reach the franchise's first Super Bowl since the 1969 season.
The 49ers were considered middle-of-the-pack contenders to start the season, with 40-1 Super Bowl odds at Caesars Sportsbook. They secured their spot in Miami with a 37-20 win over the Green Bay Packers in the NFC Championship Game.
Super Bowl LIV is slated for Feb. 2 at Hard Rock Stadium in Miami Gardens, Florida.
The favored team has won 34 of 53 Super Bowls. However, favorites of three points or less are 8-7.
The over/under total opened at 51.5 and had grown to 52.5 late Sunday.
As Jason Garrett heads to the Giants, let's close out his Cowboys era – Dallas Cowboys Blog
FRISCO, Texas — Turns out, Dallas Cowboys owner and general manager Jerry Jones was right. Jason Garrett will be coaching in the NFL in 2020.
Jones made the comment late last season when Garrett's future as Cowboys coach was tenuous at best, and it seemed intentional that Jones did not clarify the statement by saying with whom.
Now we all know: Garrett has been named the offensive coordinator of the New York Giants, joining Joe Judge's staff.
Garrett has always been well thought of by Giants ownership since he spent four years (2000-2003) with the franchise as a backup quarterback. Now, he will help Judge in his first go-round as a head coach.
Monday through Friday, host Mina Kimes brings you an inside look at the most interesting stories at ESPN, as told by the top reporters and insiders on the planet. Listen
But first, let's officially close the Garrett era with the Cowboys.
In Garrett's nine full-time seasons, the Cowboys never got out of the divisional round of the playoffs. Three times, Dallas had chances to win the NFC East in head-to-head matchups in Week 17 and lost all three. Two other times, the Cowboys made it to Week 16 with a shot at the playoffs and missed out, including the 2019 season that effectively ended with a loss to the undermanned Philadelphia Eagles.
In the end, Garrett's tenure was not good enough, and that's why Mike McCarthy is now the head coach.
That does not mean there was not some good from Garrett.
The Cowboys were a 1-7 mess when Garrett took over as the interim coach in 2010 with quarterback Tony Romo out because of a broken collarbone. Garrett earned the full-time job by directing the Cowboys to a 5-3 finish down the stretch with Jon Kitna at quarterback, bringing a level of discipline that fell off late in Wade Phillips' tenure.
Garrett, 53, helped set the Cowboys' agenda in his first NFL draft as coach when Tyron Smith was selected in the first round in 2011. Before taking Smith with the No. 9 overall pick, the Cowboys had not selected an offensive lineman in the first round since 1981. In 2013, the Cowboys took Travis Frederick in the first round. A year later, they drafted Zack Martin.
Smith has been named to the Pro Bowl seven straight years. Frederick was named to his fifth last month. Martin has been named every season, in addition to being a first- or second-team All-Pro.
Perhaps Garrett's most memorable moment as Cowboys coach came in 2012 before his second straight 8-8 finish. Hours before the team boarded a plane to Cincinnati, Ohio, for a December game against the Bengals, Cowboys practice squad linebacker Jerry Brown was killed in a car accident in which teammate Josh Brent was driving.
The Cowboys won on a last-second field goal to keep their playoff chances alive. After the game, Garrett spoke for nearly six minutes straight about Brown, about Brent, about his players. He was emotionally spent, as were the players.
"Football is very different than life," Garrett said then. "We try to make that very, very clear to our team. This is a life situation. We lost a 25-year-old young man who had his whole life in front of him, a teammate, a friend. It's a real tragedy. All we asked our team last night was to understand as best they could what happened, somehow, someway to try to channel all the emotions they have into honoring Jerry today in their performance, and that's a hard thing to do."
In 2016, Garrett led a team with a fourth-round pick, Dak Prescott, at quarterback (who was starting in place of an injured Romo) to an NFC-best 13-3 record, but like the 2014 season that ended controversially after Cowboys receiver Dez Bryant's catch was overturned, the Cowboys' season ended in the divisional round after the defense allowed a third-and-21 conversion.
What the Cowboys did on the field under Garrett was there for everybody to see. He truly believed in what he told his players all the time: It is a privilege to play and coach for the Cowboys.
He never took it for granted.
Even as the Cowboys' 2019 season turned into a weekly referendum on his job because Jones did not extend the coach's contract following the 2018 season, Garrett remained true to who he was as a person and a coach.
As he addressed a small gathering of media in the hallway outside the news conference room at The Star, he would sometimes stop to meet with complete strangers. One day, it was a number of grade-school kids on a field trip. Another day, it was a group that included an elderly woman who offered a hug to the coach. He hugged her back.
Garrett's tenure as the Cowboys' coach will be remembered for the 85-67 record, clapping too much on the sidelines, clock-management issues, the three playoff losses and the four 8-8 finishes, but there was some good.
You just have to want to look for it.