Brewers face key test — Keeping playoff hopes alive without Yelich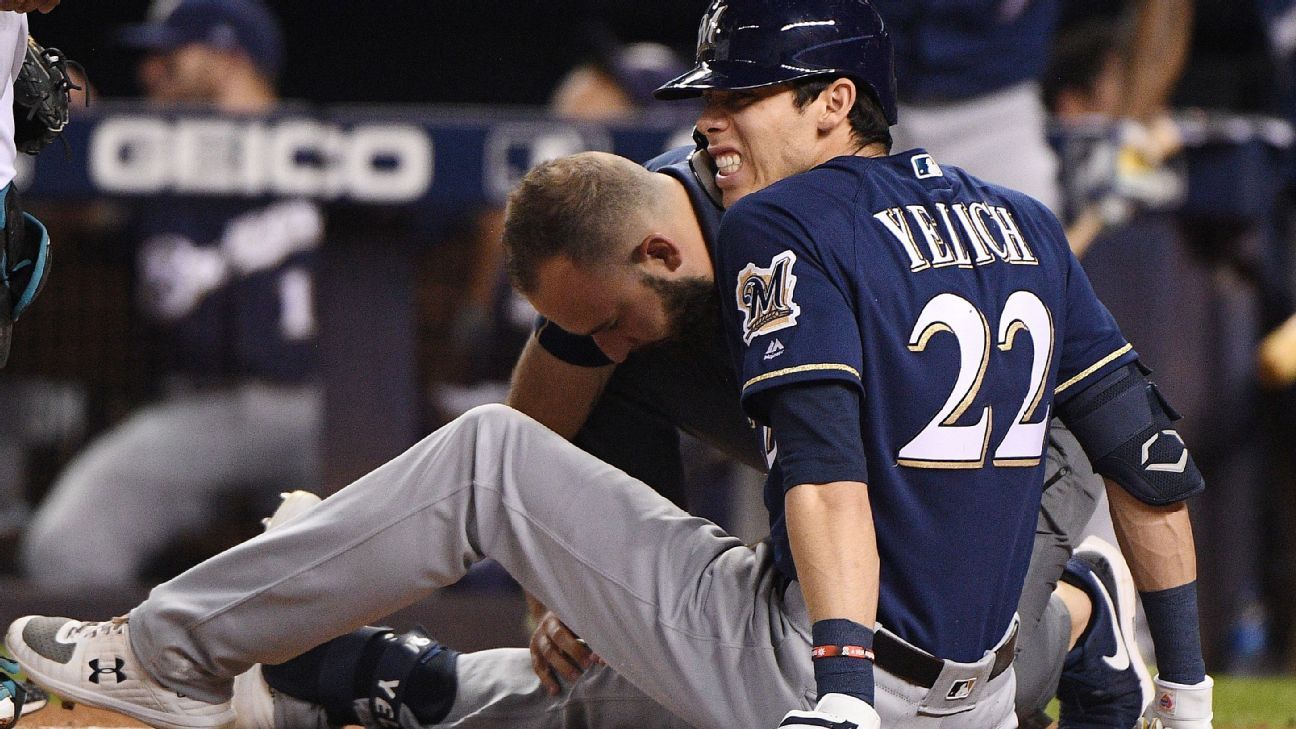 Terrible news from Miami, where the Milwaukee Brewers beat the Miami Marlins 4-3, but announced after the game that Christian Yelich will miss the rest of the season after breaking a kneecap on a foul ball in the first inning. The freak injury came on a 1-1 slider from Elieser Hernandez that Yelich fouled off the top of his right knee. He crumpled to the ground and lay there for a couple minutes before walking off under his own power, but grimacing in pain as he retreated into the clubhouse.
It's a devastating injury for the Brewers, who lose not just their best player, but a player who had a chance to win his second consecutive National League MVP award, as Yelich's season ends with him batting .329/.429/.671 with 44 home runs and 30 stolen bases. His combination of hitting with power, hitting for average and thievery on the bases has made him one of the most exciting players in the sport the past two seasons, an obvious fan favorite in Milwaukee but also one of the faces of the game as a superstar slugger.
The Brewers began the night two games back of the Chicago Cubs for the second wild-card berth and pushed across the winning run in the top of the ninth. Trent Grisham, Yelich's replacement in the lineup, contributed a key double. With closer Josh Hader unavailable, Drew Pomeranz worked around two hits in the bottom of the ninth for his first save.
General manager David Stearns commented after the game on the crushing loss:
David Stearns with the news that Christian Yelich has suffered a fractured right kneecap: pic.twitter.com/HxMVzccDxJ

— Todd Rosiak (@Todd_Rosiak) September 11, 2019
Lorenzo Cain also commented on losing his outfield mate:
Lorenzo Cain said Christian Yelich had tears in his eyes after learning his kneecap was broken, understandably so: pic.twitter.com/MO6dyvsYOk

— Todd Rosiak (@Todd_Rosiak) September 11, 2019
The Brewers are already playing with an injury-riddled lineup. Standout rookie second baseman Keston Hiura, second on the team in OPS, has been out since Aug. 30 with a hamstring strain. Mike Moustakas, who pinch-hit on Tuesday, has had just seven plate appearances since Aug. 26 due to a wrist injury. Cain (knee) and Ryan Braun (back) have been playing through injuries.
Somehow, the Brewers have nevertheless won five in a row — including the final three games of a four-game series against the Cubs — and eight of their past 10. There's not much solace here, but Yelich has missed time this year with recurring back problems and the Brewers are 10-7 when he doesn't start (11-7 if you count Tuesday's win). The Brewers also have the easiest remaining schedule of the NL playoff contenders as they have only one series remaining against a playoff contender (this weekend at St. Louis). They have two more games in Miami and, after the Cardinals series, finish up with the Padres, Pirates, Reds and Rockies.
Still, a makeshift lineup will now be even more makeshift. Travis Shaw started at third base on Tuesday and he's hitting .151. Cory Spangenberg started at second and he has a .273 OBP. Hernan Perez played shortstop and he has a .276 OBP. Cain is hitting just .253/.321/.353. Without their MVP candidate, and minus Hiura and Moustakas, you have to wonder where the runs will come from. At least the Brewers have some depth in the outfield with Grisham — who has hit .263/.324/.455 in 33 games — and Ben Gamel, but they're not going to come close to Yelich's production.
This Brewers team has found a way to overcome adversity, however. Last year, they won their final seven games and nine of their final 10 to force a tie with the Cubs for the NL Central title and then beat the Cubs in the tiebreaker game. This year, they've had to overcome the struggles and injuries in the rotation. Jhoulys Chacin, who started that tiebreaker game a year ago, went from staff ace to getting released in late August with a 5.79 ERA. Brandon Woodruff, their best starter this season, has been out since July 21 with an oblique injury. Corbin Burnes was supposed to be a key part of the rotation, but he's 1-5 with a 9.00 ERA. Then there's reliever Jeremy Jeffress, an All-Star last season who was recently cut loose as well.
Somehow the Brewers have fought through all of this and remained in the playoff race. They're going to need Grisham or Braun or Eric Thames to get on a roll. They need Moustakas back ASAP. Manager Craig Counsell showed restraint in not using Hader on Tuesday after he had pitched Saturday and Sunday against the Cubs, but he's probably going to have ride the dominant lefty a little harder these final two-plus weeks.
On paper, the Brewers have little chance. They've been outscored on the season, their best player is down, they have ground to make up and precious little time left. But don't count them out:
The mood in the #Brewers clubhouse was predictably muted. But that didn't stop a number of players from cheering a Cubs throwing error that allowed the Padres to take a 4-2 lead in San Diego with the game playing on the TVs.

— Todd Rosiak (@Todd_Rosiak) September 11, 2019
As they say, in baseball, anything can happen.
Playing for October, Cubs preach 'next guy jumps in' mantra with Rizzo, Baez out
CHICAGO — As if the Chicago Cubs weren't fighting an uphill battle already, the heart and soul of the team, first baseman Anthony Rizzo, is out indefinitely with an ankle sprain — and it couldn't come at a worse time of the season. With the Cubs in a dogfight to make the playoffs for a fifth consecutive year, Rizzo's presence will be missed in all facets of the team.
"It's going to be tough to be without Anthony for a while here," team president Theo Epstein said on Monday afternoon. "He's so important to everything we do, on the field and off the field."
Shortstop Javier Baez has been out with a thumb injury, but Rizzo might be the bigger loss. He's integral to everything Cubs, from leading off, to two-strike hitting, to the bunt defense they incorporate — that's where he got hurt — to simply being the face that meets the media before and after games. For comparison, Baez hasn't even commented on his injury since being diagnosed with a hairline fracture, whereas Rizzo was at his locker to discuss the bad news on Monday.
"It's throbbing but I keep my mind in better spirits and try to be in as good a mood as I can," he said. "Every year isn't going to be 2016. You have ups and downs. Everyone in this locker room is fully capable of carrying a heavy load at all times."
As much as the team is hopeful for a quick recovery, the history of moderate ankle sprains doesn't scream "a few days," or even a couple of weeks.
"In the meantime you just have to plan that he's not going to be there," manager Joe Maddon said. "You have to get the guys ready and get them indoctrinated in these positions. I really believe our guys will rally around this moment. We have different options to play over there."
It's true. The team has better defensive options at first base than one might think, but Rizzo was the best leadoff hitter on the team this season. Chicago was terrible from that spot in the order — until he took over recently. So where do the Cubs turn, at first base and leadoff, to help keep their playoff streak alive?
Replacing Rizzo
A little-known, switch-hitting, backup catcher has emerged as the best candidate to replace Rizzo at first base, at least on the days he's not behind the plate. Victor Caratini is actually beginning to make a name for himself, both as Yu Darvish's personal catcher and as a decent hitter. It's not just his OPS+ of 113 that's impressive, it's actually his batting average. Sometimes, that statistic tells a story. Hitting .282 entering play on Monday, Caratini has become a more complete hitter. And don't forget his two home runs that won a game off New York Mets ace Jacob deGrom last month. That was a defining moment for Caratini.
"He's not chasing as much out of the zone," Maddon said. "And he's using left-center a lot more consistently. He's not hitting that rollover ground ball, left-handed. He's staying through the ball. Left-center has become his buddy. And the right side has gotten better."
According to ESPN Stats & Information, 33 percent of Caratini's balls in play have been to the opposite field; that's up 10 points from a year ago.
"Caratini has showed time and again he's good enough to be an everyday player," outfielder Nicholas Castellanos said. "The fact that he's getting an opportunity, I'm happy for him."
Ben Zobrist added: "You don't make that up with one player. You have to make it up with a couple players. That's how you try to fill that hole."
On Tuesday night, in the second game of their series against the Cincinnati Reds, Caratini will be behind the plate for Darvish; the hurler has a 3.17 ERA this season with Caratini catching. It means Maddon will need another first baseman and Ian Happ is his best bet. Like Caratini, he has flashed some decent leather filling in for Rizzo at times, but his offensive game isn't quite like that of the Cubs' regular first baseman.
Rizzo has a strikeout rate of 13.9, while Happ is at 25.6 percent after spending four months in the minor leagues. And that percentage is actually down from last year. Meanwhile, Rizzo plays against all types of pitchers, while Happ's starts are limited to the good matchups. The drop-off is considerable.
"Next man up," Zobrist said. "Rizz and Javy are a big part of this but no one is bigger than the team."
It's the same attitude the Milwaukee Brewers must be embracing as they continue to play good baseball even after losing MVP Christian Yelich to a knee injury. The loss of stars can be overcome for a period of time in baseball. When a very productive player is out several months, that's when it usually catches up to a team. That's not the time frame the Cubs are looking at. They can survive — for a bit.
"That's our expectation," Maddon said. "Of course it is … It is the next man up kind of a theory. And I do believe there are galvanizing moments when you do lose key people in key situations. I do expect a good result."
If Maddon expects a good result at the leadoff slot without Rizzo, that might be wishful thinking. With the former All-Star, the team had a .289 OBP from the No. 1 hole, by far the worst in the majors — even though he compiled a .560 mark in six games there.
"When you ask him to lead off he turns into this superb leadoff hitter which we've been riding pretty well," Maddon said as the Cubs won their last four games with Rizzo at the top of the order. "Sometimes he's undervalued in a sense. He is a bedrock. He's going to be missed."
Of course, Rizzo's absence doesn't come long after Zobrist returned the team after nearly four months of personal leave time. He's the next best option to lead off but he can't play every day. One thing Maddon was able to do during a weekend sweep of the Pittsburgh Pirates was remove Zobrist from the game as the Cubs pulled away each day. But that's not likely to happen as they face better pitching the final two weeks of the season.
"I feel OK," Zobrist said. "Just trying to manage the fatigue factor, trying to recover as quickly as possible for these games. I don't feel much pressure because everyone is playing so well right now."
It means on the days Zobrist doesn't play, Maddon might have to use a dartboard to pick a leadoff man. He can't do worse.
Shortstop
Raise your hand if you thought the Cubs were done when the runner-up to last year's MVP went down for the rest of the regular season. The loss of Baez felt monumental, but then again, who knew a 22-year-old playing in Double-A this year, rookie Nico Hoerner, would light the baseball world on fire and become an instant fan favorite?
"You don't replace an Anthony Rizzo or Javy Baez," Zobrist said. "The next guy jumps in there and does what he's capable of doing."
So far, Hoerner has been more than capable at shortstop, and his 1.093 OPS, in seven games entering Monday night, is nothing short of amazing.
All season the Cubs' depth has been tested and has come up short. Minor league stints for Happ, Albert Almora Jr. and David Bote tell part of that story. But Hoerner — and Caratini — aren't included in that narrative.
If there is one player who has showed signs of a breakout, in limited duty, it's Hoerner. Either way, a short-term loss at shortstop hasn't derailed the Cubs, at least not yet. Time will tell what happens at first base, but the pennant race won't slow down for the walking wounded. "Next man up" isn't just a cliché. It's the Cubs' slogan right now.
"It is what it is," Castellanos said. "The last person that's going to play the victim is me. We have to make the most of it, no ifs, ands or buts about it."
Maddon added: "Nobody is going to cry for you. Nobody is going to feel sorry for you, maybe outside of your mom, just a little bit."
Night No. 1 without Rizzo went just fine as Kyle Schwarber and Jason Heyward picked up the slack in the Cubs' 8-2 win over the Reds. That, more than anything, was the message coming from the Cubs locker room. It can't be up to just the fill-ins for Rizzo and Baez. A team effort is required to cover for missing stars.
Reds vs. Cubs – Game Recap – September 16, 2019
CHICAGO — Kyle Schwarber hit a three-run homer and made a diving catch in left field, helping the Chicago Cubs beat the Cincinnati Reds 8-2 on Monday night for their fifth straight victory.
Nicholas Castellanos added a two-run double in the eighth inning as Chicago moved a season-high 14 games above .500. Castellanos is the third right-handed hitter in MLB history to record at least 55 doubles and 25 homers in a season, joining Hall of Famers Hank Greenberg (1934) and Joe Medwick (1937).
Chicago has outscored its opponents 59-18 during its win streak.
The Cubs (82-68) pulled within a half-game of Washington for the top spot in the wild-card standings and stayed two games back of NL Central-leading St. Louis, which held off the Nationals for a 4-2 win.
Steve Cishek, Alec Mills (1-0), Rowan Wick, Kyle Ryan and David Phelps combined for 5 2/3 scoreless innings in relief of an ineffective Cole Hamels. It was Mills' first major league win in his 17th big league appearance.
It was Chicago's first game since Anthony Rizzo had an MRI that showed the big first baseman had a moderate lateral right ankle sprain sustained during Sunday's 16-6 victory over Pittsburgh.
Rizzo will wear a walking boot for five to seven days, casting doubt on his availability for the rest of the season.
"We're not shutting any doors, but we're realistic that this is a legitimate injury that under ideal circumstances would take some time to heal," president of baseball operations Theo Epstein said.
Cincinnati (70-81) had won three of four, but it went 1 for 9 with runners in scoring position and left 11 runners on base.
Kevin Gausman (3-9) pitched two innings for the Reds in his first start since he was claimed off waivers from the Braves last month. The right-hander has been a starter for most of his career, and manager David Bell wanted to give him another look in that spot while giving the rest of his rotation an extra day of rest.
Gausman got into trouble in the first when Chicago put runners on first and second with one out. Schwarber then connected for the second straight day, driving a 2-2 pitch deep to center.
It was No. 37 for Schwarber, the highest total for a lefty batter for the Cubs since Hall of Famer Billy Williams hit 37 in 1972.
Schwarber also robbed pinch hitter Derek Dietrich with a stellar grab on his liner to left in the fourth. Phillip Ervin's sacrifice fly cut Chicago's lead to 3-2, but Cishek struck out Eugenio Suarez looking to end the inning.
IN-GAME CHANGE
Reds infielder Josh VanMeter left in the fourth inning because of a family medical issue. He started at first base after Joey Votto was scratched with an illness.
HE'S HERE
The Reds promoted infielder Christian Colon from Triple-A Louisville. Colon was hit by a pitch while batting for Gausman in the third and scored on Curt Casali's bases-loaded walk. It was Colon's first major league appearance since June 20, 2017, for Miami against Washington.
TRAINER'S ROOM
Reds: SS Jose Iglesias (sore back) was out of the starting lineup. Bell said Iglesias likely will start Tuesday. … SS Freddy Galvis missed his second straight game with left knee soreness. Bell said Galvis doesn't have meniscus or ligament damage and won't be out long-term.
Cubs: Closer Craig Kimbrel (right elbow inflammation) is scheduled to throw a simulated game Tuesday and could return this weekend. … SS Addison Russell (concussion protocol) hit off a tee before the game.
UP NEXT
RHP Sonny Gray (10-7, 2.80 ERA) faces RHP Yu Darvish (6-6, 3.97 ERA) on Tuesday night in a matchup of two of baseball's best pitchers since the All-Star break. Gray is 4-1 with a 1.29 ERA in his last eight starts for Cincinnati. Darvish struck out 14 while pitching six scoreless innings in Chicago's 4-1 victory at San Diego on Thursday.
The Associated Press contributed to this report.
White Sox shut down RHP Giolito with lat strain
The Chicago White Sox are shutting down right-hander Lucas Giolito for the rest of the season with a mild lat strain.
The team said there are no long-term concerns.
"For me, it just sucks because I wanted to finish what I started. But at the same time, it is what it is," Giolito told reporters. "It just was kind of a random thing that happened. That's it."
Giolito, who was slated to pitch against the Twins on Tuesday, ends his bounce-back 2019 season with 14 wins, 228 strikeouts, two shutouts and a 3.41 ERA.