Eric Reid's activism might overshadow excellent play for Panthers – Carolina Panthers Blog
CHARLOTTE, N.C. — Reporters began surrounding Eric Reid inside the Carolina Panthers locker room after Friday's preseason game against the Buffalo Bills. Most weren't there to ask the 27-year-old strong safety about what happened on the field.
They were there to get Reid's thoughts on the NFL's partnership with rapper mogul Jay-Z, hired last week to manage some of the league's entertainment and social justice issues.
Wearing a black Colin Kaepernick jersey with #IMWITHKAP on the front, Reid spent the better part of the next 10 minutes blasting Jay-Z for what he considers selling out to the league.
While Reid will continue to use his platform to speak out on issues he cares about, it's sometimes forgotten that he is a top-notch football player.
As a rookie with the San Francisco 49ers in 2013, Reid made the Pro Bowl, and he has been playing at a high level ever since. A three-year, $22 million deal signed in February is further evidence he is considered among the better safeties in the NFL.
But Reid the football player might get overlooked because he kneels during the national anthem to protest social injustice and takes strong stances on social media.
"He's a good man, a good father, a good husband, a good teammate," Panthers coach Ron Rivera said. "Again, he's civic-minded. Right now, we've all just got to take a nice deep breath and we'll be fine."
Shortly after the Panthers concluded their Aug. 2 Fan Fest, an event highlighted by a long touchdown pass from Cam Newton to Curtis Samuel that on the surface made cornerback James Bradberry look bad, Reid took to Twitter.
"My bad," he wrote, taking responsibility for Samuel being so open because Reid overcommitted to covering tight end Greg Olsen.
My bad @Brad_B21! I won't vacate the post and leave you hanging again. #WhyWePractice https://t.co/NLc6tVbDzg

— Eric Reid (@E_Reid35) August 3, 2019
Rivera loved this. It was a reminder Reid doesn't use social media just to promote a cause.
"It tells everybody to take responsibility," Rivera said. "It tells everybody you have to be accountable to your teammates. For all the young players to see that, that speaks volumes about the type of young man he is, and those are the type of players we need on this football team."
Reid has blended right in since signing as a free agent this past September.
"He's been a great addition to us," Olsen said. "He brings an edge. He's a professional guy. He's smart. He's been really good for that young D-backs group. He can play."
That Reid finds himself in the spotlight outside of football doesn't bother Olsen.
"If he didn't think he could do both well, I don't think he would do it," he said. "Each guy handles things their own way. He has the awareness of what he can handle, what he can't, what things get in the way and what things don't. He's done a good job separating the two, and when it's time to play, he plays."
Source — Brown travels with Patriots on Miami trip
MIAMI GARDENS, Fla. — Wide receiver Antonio Brown traveled with the New England Patriots for the team's game against the Miami Dolphins, according to a source, putting him in position to make his Patriots debut Sunday at Hard Rock Stadium.
Head coach Bill Belichick ultimately will make the final call on whether Brown plays, with momentum building in that direction. Brown took part in three practices during the week, impressing teammates with his approach.
"I think he is doing well. The dude is an absolute stud," fellow receiver Julian Edelman said on Friday. "I think he raises the level for everyone out there because of how good of a player he is and how hard he works."
Belichick also noted Brown's work in getting acclimated to what the Patriots do, but he said Friday he has "a long way to go."
"Obviously, he's not familiar with our offense. The systems that he's been in have been quite different," Belichick said. "Jon [Gruden] does the West Coast offense, and there's very little carryover from their system [in Oakland] to our system. … Similar thing in Pittsburgh. He's working hard to pick it up, and we're working hard to get it to him."
Brown wore jersey No. 17 in practices Thursday and Friday, as the No. 84 he donned with the Steelers and Raiders is worn by veteran tight end Benjamin Watson in New England. Brown's father, Eddie, wore 17 in the Arena Football League and had his jersey retired.
Fellow receiver Josh Gordon is among those who have been impressed with Brown.
"I think it's well known, he's a dedicated player, one of the hardest working players in the league. He's come in here every day and done the same thing. I mean, he's lived up to the great Antonio Brown name — he's one of the best in the league," Gordon said. "I think we expect that from him to continue, and I think he expects it of himself. It's a great addition. We're glad to have him."
Source — Jags upset Jones not fined for Foles hit
HOUSTON — The Jacksonville Jaguars are not happy that the NFL did not fine Kansas City Chiefs defensive lineman Chris Jones for the hit that broke Nick Foles' collarbone early in last Sunday's season opener, a league source told ESPN, because the hit violated the league's "body weight" rule.
Jones also was not penalized on the play, which came on the Jaguars' 10th offensive snap of the game. Unfortunately for the Jaguars, there is nothing they can do about the league's decision other than to try and stay alive in the AFC South with rookie sixth-round pick Gardner Minshew starting in Foles' place for at least the next eight games. The earliest Foles can return is No. 17.
The Jaguars (0-1) play at Houston (0-1) on Sunday.
The league instituted the body weight rule in 2018, and it prohibits defensive players from unnecessarily or violently throwing the passer down or landing on top of him with all or most of the their body weight. Replays show that Jones did the latter when he hit Foles, after Foles released what would turn out to be a 35-yard touchdown pass to DJ Chark.
Foles said after the game that he didn't believe the play was dirty or that Jones was trying to hurt him.
"Chris Jones was my teammate in K.C. and I know he'd never want to do that," Foles said. "It was probably just one of those things. It was just unfortunate it happened. I landed on it wrong and it happens in this sport. We'll keep moving forward.
"Chris is a tremendous player and I gave him a hug after the game because I was excited to see him."
Foles had surgery Monday and the Jaguars placed him on IR, but coach Doug Marrone said he expects Foles to return at some point this season. The Jaguars signed him to a four-year, $88 million contract with $50.125 million guaranteed.
Part of the impetus for the body weight rule was Minnesota linebacker Anthony Barr landing with his entire body weight on Green Bay quarterback Aaron Rodgers in 2017.
Rodgers suffered a broken collarbone and senior VP of officiating Al Riveron told Sports Illustrated in 2018 that play was cited by several teams in response to a questionnaire sent by the league office about getting the league to put special emphasis on players landing with their body weight on quarterbacks.
Sources — NFL starts review as Shepard concussed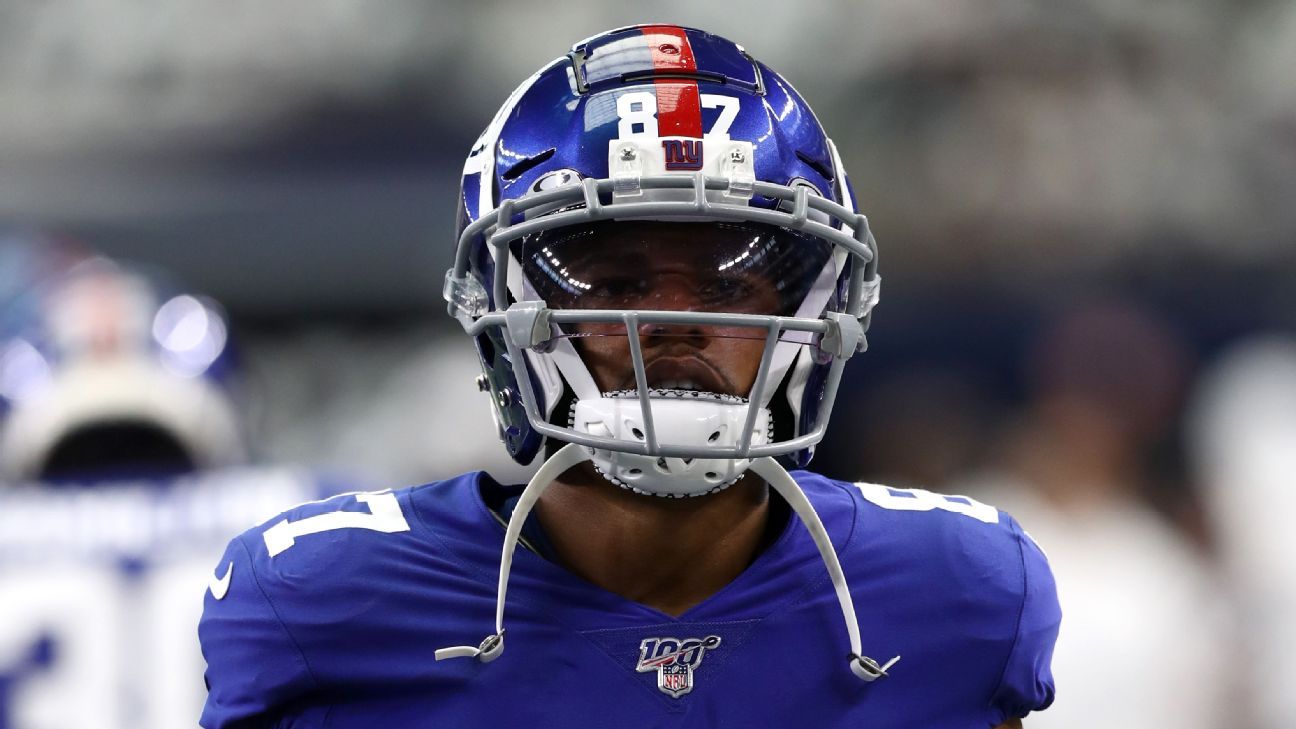 The NFL and NFLPA have initiated a standard review of concussion protocols after New York Giants receiver Sterling Shepard suffered one last Sunday and was allowed to finish the game, league sources told ESPN on Saturday.
There was a breach in the protocol and now both sides are trying to figure out how and why, sources told ESPN.
The controversial play occurred in the third quarter of Sunday's game against the Dallas Cowboys, when Shepard ran into cornerback Anthony Brown and fell backward to the ground, clearly staggered.
Shepard struggled to get up and waved off the Giants' calls to come out of the game.
The NFL deploys neurological spotters on both sidelines — as well as another set of eyes in the press box — to prevent players from remaining in the game after they are knocked woozy. However, Shepard somehow evaded all NFL officials — and the Giants staff — to not miss a play and finish the game.
Over the last two seasons, just three plays out of 1,200 concussion evaluations were reviewed. All three plays happened during the 2017 season, and they involved Russell Wilson, Tom Savage and Cam Newton.
This incident involving Shepard is reminiscent of the last time there was this much attention brought to a hit — in December 2017, when Savage, then with the Houston Texans, took a hit on third down that left him on the ground with his hands twitching. After being checked in the sideline medical tent, Savage was allowed to re-enter the game, and controversy ensued.