Yanks' Severino open to pitching out of bullpen
NEW YORK — Injured New York Yankees starter Luis Severino is so ready to get back on a big league pitcher's mound that he indicated Monday he would be comfortable changing his role, and pitching out of the bullpen, if necessary.
"I just want to pitch," Severino said, addressing reporters before the Yankees opened a four-game series against the Tampa Bay Rays. "It doesn't matter where or when, in the bullpen or as a starter, I just want to pitch."
Severino's comments came as speculation started picking up steam in recent days that the Yankees could consider moving him out of the starting rotation once he returns from the right lat strain and shoulder issues that have derailed his season to this point.
The comments also came on the same day Severino resumed a throwing program, playing catch with fellow injured pitcher Dellin Betances, who was also throwing for the first time in this post-setback stage of his own recovery from a right lat strain. When manager Aaron Boone saw both pitchers early in the day, he wished them a "Happy Throwing Day."
In terms of Severino, just three weeks ago the right-hander was shut down for a second time this season after an MRI revealed the injury in the back of his throwing arm wasn't quite 100 percent healed. Just prior to the MRI, however, he had been previously cleared — without an MRI — and as a result, was in the middle of a throwing program. At the time, he and the Yankees believed he was finally moving past the arm/back troubles that have nagged him since he was scratched from a March spring training start.
"I'm real confident," Severino said Monday, indicating his belief in the current health of his right latissimus dorsi muscle. "Even the last time when they sent me back, I didn't feel nothing. Maybe they were afraid of something bigger happening. I just know that I feel good."
Yankees general manager Brian Cashman first hinted at the possibility of pitching Severino out of the bullpen on Friday during an interview with "MLB Network Radio" on Sirius XM. The belief is that because he wouldn't be asked to throw upward of 80 pitches on an every-five-day cycle late in his remaining rehab, Severino would have less time to get back to pitching if he was tasked instead with the considerably lighter reliever's workload.
The six weeks Cashman has been anticipating Severino would need in his rehab as a starting pitcher might be reduced by a few days if he's coming out of the bullpen.
"I want to be a starter," Severino said. "[But] if they talk to me and they need me quicker, I would say yes [to being a reliever]."
Boone hesitated to say whether or not the bullpen option was a real one for his ace, who went 19-8 with a 3.39 ERA and 220 strikeouts as a starter last season.
"We want to build him up, and hopefully the process goes smoothly and he gets built up that way," Boone said. "That being said, we'll probably continue to reevaluate him every couple of weeks to see where we're at, and to see what's going to make the most sense."
Earlier in his career, Severino did pitch out of the bullpen. He relieved 11 times in 2016, going 3-0 with a 0.39 ERA. In 23⅓ innings, he had 25 strikeouts. His past two seasons, however, he has been used exclusively a starter.
In addition to Severino's work in the outfield Monday, Betances made 25 throws from about 60 feet as his own throwing program resumed. Since he had previously built himself up to pitching off a mound and throwing to batters, he isn't expected to rehab quite as long as Severino.
Still, the righty reliever isn't trying to place a timeline on his own return. He, too, has had his share of false starts and setbacks after being originally shut down following a string of spring-training appearances. Betances, similarly, has yet to pitch in a big league game this season.
"For me, it's about bouncing back once I start facing hitters," Betances said of the next milestone he wants to reach. "That's what got me last time."
Hall of Fame — dead players on MLB's ineligible list won't be on ballots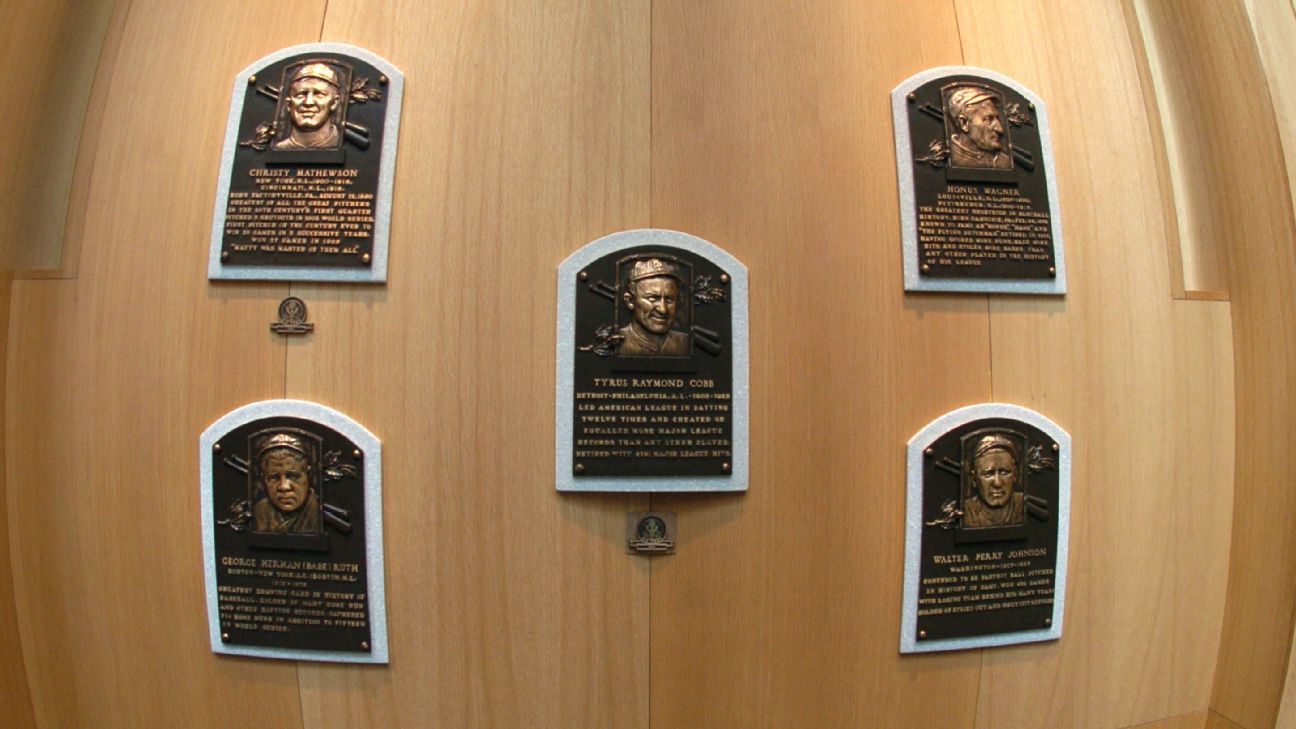 Any player on Major League Baseball's ineligible list will not be considered for induction into the Baseball Hall of Fame, even after the banned individual's death, a hall spokesman told ESPN on Saturday.
"This designation remains in place after an individual's passing," said Jon Shestakofsky, a Baseball Hall of Fame and Museum spokesman.
The Hall of Fame's statement comes one day after ESPN reported that a senior MLB source said that the league has no hold on banned players after they die because the ineligible list bars players from privileges that include a job with a major league club. This would have meant MLB no longer views banned players who die as being on its permanently ineligible list.
The previously unreported change gave fresh hope to supporters of "Shoeless" Joe Jackson that he would be considered later this year for Cooperstown by the Hall of Fame's Early Era committee. Jackson is a .356 career hitter who was prohibited from playing professional baseball in 1921 by commissioner Kennesaw Mountain Landis for having a role in the fixing of the 1919 World Series won by the Cincinnati Reds.
But the Hall of Fame apparently shut the door on that possibility on Saturday, saying, in effect, that permanently banned players would remain banned forever. Shestakofsky declined to answer a follow-up question about whether MLB's shift in thinking about the ineligible list would impact, or could change, the hall's view.
In February 1991, the Hall of Fame's Board of Directors passed a rule declaring any player ruled ineligible by Major League Baseball would not appear on a Hall of Fame ballot. This quickly became known as "the Pete Rose rule," because it closely followed the indefinite banning of Rose, MLB's all-time hits leader, by MLB commissioner Bart Giamatti in 1989.
Unless the rule is changed by the Hall of Fame's Board of Directors, it apparently also ends any chance Rose would have to get inducted into the Hall of Fame, even after his death.
Rose has never appeared on a Hall of Fame ballot, and his application for reinstatement was rejected by commissioner Rob Manfred in December 2015. The change in baseball's thinking about deceased players on its ineligible list will be a part of the latest episode of the ESPN docuseries "Backstory," which debuts Sunday on ESPN (3 p.m. ET). In the episode, Rose is asked if he believes he'll be inducted into the Hall of Fame after his death, and if it matters to him. "How'm I going to know?" Rose said, laughing. "Can you help me with that?"
Two MLB sources said that there is deep opposition among baseball insiders to Rose getting into the Hall of Fame, even after his death. And that factors into the thinking of the Hall of Fame to not consider "Shoeless" Joe Jackson, nearly 70 years after he died at the age of 64 in Greenville, South Carolina, the sources say. Since the late 1980s, South Carolina legislators, baseball legends Ted Williams and Bob Feller and thousands of people have lobbied and signed petitions for Jackson to be removed from MLB's ineligible list and be considered for induction into the Hall of Fame.
As recently as 2015, Manfred declined a request to remove Jackson from MLB's ineligible list.
Earlier this week, after repeated questions on this issue, a senior MLB source told ESPN, "From our perspective, the purpose of the ineligible list is a practical matter. It's used to prevent someone from working in the game. When a person on the ineligible list passes away, he's unable to work in the game. And so for all practical purposes, we don't consider a review of the status of anyone who has passed away."
A subcommittee of the Early Era's committee will decide the 10 individuals who played or were involved in the game prior to 1950 that will appear on this year's ballot, to be voted on by the full Early Baseball committee in December 2020. In August, Major League Baseball will play a regular season game between the New York Yankees and Chicago White Sox at the Field of Dreams movie site in Dyersville, Iowa, where the 1989 movie that helped turn Joe Jackson into a sympathetic figure was filmed. Some baseball commentators and fans have speculated whether MLB and the Hall of Fame is planning to announce that Jackson would be considered for induction into the Hall of Fame.
Manfred, who is also a member of the Hall of Fame's Board of Directors, declined to comment through a league spokesman.
As for the perennial debate over Jackson and Rose's eligibility, an MLB source told ESPN, "We're agnostic about a players' eligibility for the Hall of Fame, whether they're dead or alive." On Saturday, another MLB source said, "There is now significant daylight on this issue between baseball and the Hall of Fame. It'll be interesting to see how it all plays out."
The shift in thinking by MLB has been pushed for years by some baseball historians, including John Thorn, the official historian of MLB who first argued that the ineligible list ends with an individual's death in an essay in February 2016. He made the case again in an op-ed in The New York Times last October upon the 100th anniversary of the fixed World Series between the White Sox and the Cincinnati Reds.
"Major League Baseball removes players from the ineligible list when they die, and because the Baseball Hall of Fame aligns its balloting procedures with Major League policy, theoretically there is no barrier to Jackson's induction," wrote Thorn, who declined to comment for this story.
Baseball insiders told ESPN that in years past, Manfred had not agreed with Thorn's view. But an MLB source told ESPN this week that Major League Baseball does now agree with Thorn's view that the ineligible list ends upon a player's death. In fact, a source said, MLB has seen it this way for some time but had chosen not to make it public until this week.
Backstory with Don Van Natta Jr. premieres at 3 p.m. ET on Sunday (re-air at 9 p.m. ET) on ESPN. The show is also available to watch anytime on the ESPN app.
J.D. Martinez confident Red Sox will be cleared in investigation, as 'there was nothing going on here'
SPRINGFIELD, Mass. — Boston Red Sox designated hitter J.D. Martinez said he believes Major League Baseball's investigation into the 2018 World Series champions will reveal no wrongdoing.
"I'm excited for the investigation to get over with just so they can see there was nothing going on here," Martinez said at the team's Winter Weekend fan festival.
When asked if he believed the investigation would reveal no wrongdoing, Martinez responded affirmatively.
"I believe that, yes," Martinez said.
Martinez played a critical role as an offensive catalyst in Boston's run to a title in 2018 and has been an anchor mainstay in the Red Sox lineup in his two seasons, while gaining a reputation with the Boston media as a straight-shooter. When pushed by reporters about why he was so strong in his belief, Martinez did not budge from his stance, saying that the team did nothing wrong. Major League Baseball opened an investigation Monday to probe claims the Red Sox used video to decode opponent sign sequences and passed the info to their players in 2018, as alleged in a report by The Athletic.
"I was in there, so I saw straight up," Martinez said. "Everyone seems to forget that in 2016 and 2017, this was a really good team. They won 93 games those two years and then we got better. Like I said, I'm excited for it. Really not allowed to comment on it, but we'll see what happens."
Martinez, who hit .304 with 36 home runs, 33 doubles and 105 RBIs in 2019, also commented on his relationship with pitcher Mike Fiers, who went on the record about Houston's sign-stealing scheme to The Athletic, kicking off the entire scandal. Martinez and Fiers played together at Nova Southeastern and have been friends for a long time.
"It sucks for Fiers," Martinez said. "I've talked to him about it. I understand his side of it. I understand his side of being in the division and going against those guys; it's one of those things where he's in an uncomfortable position for him, and I understand it."
With less than a month before spring training, Red Sox chief baseball officer Chaim Bloom has kicked off his search for Cora's replacement. Martinez added that he thinks bench coach Ron Roenicke is a strong candidate to be the next Red Sox skipper.
"I guess it's up to Chaim to pick that," Martinez said. "I could definitely see it coming from within. Ron is a great candidate and he knows our team, so I wouldn't be surprised if it's him or something. I don't know."
Even with the instability in the manager's office at Fenway Park, Martinez believes the 2020 Red Sox will be fine, given the continuity in the clubhouse among players over the past few seasons.
"This is a group of professionals and a very talented team," Martinez said. "You look at our team and there's a lot of talent, a lot of guys that know how to play the game, and I'm excited. Guys are only going to get better and continue to grow. Look at [Rafael] Devers last year. Who's to say he's not going to grow?
"Christian Vazquez is going to get better. Jackie Bradley Jr. will have a bounce-back. Andrew Benintendi will get better. These are all relatively young guys that are still forming and coming into their own. I'm definitely excited because the injuries that happened with Chris Sale last year, with David Price, those are two big guys for us. How Eduardo Rodriguez threw the ball last year, there's a lot of room for growth here. Not a lot of guys coming out of their prime. A lot of guys going into it."
Astros to interview Dusty Baker for managerial opening
The Houston Astros will interview former MLB manager Dusty Baker for their open manager position next week, a source told ESPN's Jeff Passan.
The story was first reported by MLB Network.
Houston is looking for a new manager following Monday's firing of AJ Hinch in the wake of the sign-stealing scandal.
Baker, 70, last managed the Washington Nationals in 2017.
In 22 seasons, Baker has a 1863-1636 record that included a National League pennant with the San Francisco Giants in 2002.
The Astros have already interviewed former managers Buck Showalter, John Gibbons and current Cubs third base coach Will Venable.
Astros owner Jim Crane expects to hire a new manager by Feb. 3.