Wagner will be at Seattle OTAs, but won't practice
RENTON, Wash. — Bobby Wagner is present for the Seattle Seahawks' voluntary offseason program, but he's not practicing as he awaits an extension that he hopes will make him the NFL's highest-paid inside linebacker.
"Just being the leader, you want to send the right message," Wagner said Tuesday. "You want to be here to support the guys. I do feel like the quarterback of defense is pretty important, so not having that piece would kind of put a damper on the defense. I just feel like it's important for our success and so I'm here."
Wagner, a four-time All-Pro and the Seahawks' defensive captain, said he'll continue to take part in offseason work without practicing. He's not injured; he just doesn't want to risk getting hurt while his contract situation is unsettled after seeing that happen last year to teammates Earl Thomas (who held out all offseason) and K.J. Wright (who did not) in their contract seasons. Wagner said he'll "be here helping the young guys, doing whatever I can," which was the case Tuesday as he watched the Seahawks hold their second Organized Team Activity.
He made it clear that his participation won't include any on-field work.
"No, I will be here," he said. "That's all I will be, is here."
Coach Pete Carroll seemed fine with the approach Wagner is taking. Other Seahawks in recent past in addition to Thomas — Kam Chancellor, Michael Bennett and Marshawn Lynch, to name a few — stayed away from the team for some or all of the offseason because of their contracts.
"He's doing what he has always done — he's been a leader," Carroll said of Wagner. "He's been an integral part of everything that we've ever been about and he's continuing to do that. The decision to do what he's doing at this tempo is a good decision for him right now."
Wagner, who is representing himself in negotiations as he enters the final year of his contract, said he would like to get a deal done before the season. He declined to specify where things stand to that end, only saying he's had conversations with the team.
"I'm not trying to turn this into some big drama thing," he said. "… It's a business. If it works out, it does. If it doesn't, it's been cool."
Wagner, who was previously represented by Athletes First, said he wanted to eventually represent himself even before he saw former Seahawks teammates Richard Sherman and Russell Okung ditch their agents and do the same. He refuted the notion that he would have had a new contract by now if he still had an agent, noting that his four-year, $43 million extension he signed in 2015 didn't get done until early August.
He knows that handling his own negotiations with general manager John Schneider and cap guru Matt Thomas will mean having direct and blunt conversations that an agent would otherwise filter. Asked in April what it's like working with players who are acting as their own agents — as the Seahawks did with Sherman and Okung — Schneider called those conversations "a necessary evil" and said that even when an agent is there to serve as a buffer, both sides almost never come out of a negotiation feeling great.
"At the end of the day, me representing myself shouldn't be a big deal," Wagner said. "They should look at it as any other deal. I think it's a lot of people worried about them saying things and me being able to take criticism. That's part of the game. You've got to be able to take criticism. At the end of the day, you want the person to say something straight to your face how they feel versus to somebody else. I don't need a third party."
Carroll also downplayed the difficulty in working with a player who's his own agent. He expressed confidence at the owners meetings in March that a deal with Wagner would get done and did so again Tuesday.
"We're right in stride with the process," he said. "Bobby's been great. Everything's going to come together in time. Everything's in order. We're in order with what we want to do. It feels very comfortable and very amicable and all that. So everything is going just right."
But Wagner's situation is further complicated by the five-year, $85 million deal that C.J. Mosley got from the New York Jets in March, which blew the market for inside linebackers out of the water at $17 million per season. The 26-year-old Mosley has made the Pro Bowl in four of his five NFL seasons but has yet to make the All-Pro team. Wagner, who will turn 29 in June, has a much more decorated resume with five consecutive Pro Bowls while being named a first-team All-Pro four times in that span. He has topped 100 tackles every season since Seattle drafted him in the second round in 2012, and according to ESPN charting, he leads the NFL in tackles over the past five seasons with 656.
"I mean, the number is the number," Wagner said when asked about Mosley's contract. "The market is the market. That's the top linebacker market. So that's the standard, so that is the plan, to break that."
Wagner added: "I know my value. Nobody has to tell me my value. I know my value. No team, no person, no agent can tell me my value. I believe in myself. I'll bet on myself. Either way, to me, it's a win. You get a contract, you win. You don't, it's a learning experience, so you win. A lot of people are not willing to take that chance. I am."
Wagner was asked about his recent comments to the NFL Network that he's preparing as though this season will be his last in Seattle.
"As of right now, my contract ends at this year, so that's where it stands," he said. "I'm honoring the contract. I'm here. I'm participating. I'm helping the young guys to be the best that they can be. So I'm here and that's what I want to do. It's my decision, so as of right now, there is no other years left for me here. So that was just a very honest opinion. That if I don't get a deal done, that's it. But I believe that something can happen."
Chiefs' Bieniemy — Not playcaller, but has input
ATLANTA — Kansas City Chiefs offensive coordinator Eric Bieniemy scoffed at the idea that not being a playcaller cost him an opportunity to become a head coach after he interviewed for four head-coaching vacancies.
At this week's NFL Quarterback Coaching Summit hosted by the NFL and Black College Football Hall of Fame, Bieniemy said he relished the opportunity to interview with the New York Jets, Tampa Bay Buccaneers, Cincinnati Bengals and Miami Dolphins. Only one of the eight teams with new head coaches hired a minority, as the Dolphins selected Brian Flores.
"Here's my response about the playcalling: coach (Andy) Reid has always done it his way, and that's how historically he's done it because he's Coach Reid," Bieniemy told ESPN. "He has a beautiful mind, and we all work hand-in-hand together. And he gives me the green light to do a number of things. I have input. I do scripts. I get the install. There are a number of things that I do."
As Jason Reid of The Undefeated reported in January, Reid said Bieniemy had been "unbelievable" as coordinator, while MVP Patrick Mahomes called Bieniemy a "special coach" and a guy who has helped him a ton.
"Do I talk to the quarterback? Yes," Bieniemy said. "(Reid) is reciting what he wants me to particularly tell Pat to call. So if people want to make a big deal about that, so be it. The experience that I've gotten, understanding how an offensive system works, the organization, how to prepare it, how to get guys going and moving in one direction for one cause, that's what this is about."
Although Bieniemy's focus remains on his current duties with the Chiefs, it seems likely that he'll receive a head-coaching opportunity based on his strong reputation. The Fritz Pollard Alliance, which oversees compliance with the Rooney Rule requiring teams to interview minority candidates, backed Bieniemy, 49, throughout the interview process.
"John Wooten and the Fritz Pollard Alliance, I thought they did a hell of a job; they gave me an opportunity," Bieniemy said. "Obviously, Coach Reid has given me an opportunity. And I think my interviewing process went about as good as it could go.
"Also, it gave me the experience moving forward knowing that, 'You know what, this is my first go-around. Second go-around, if I'm blessed and fortunate to be placed in that situation, I'll be that much better.' But as far as a head-coaching position is concerned, right now we're focused on the season. Obviously, we want to go out and do some things that's going to help us to continue to have success. Then if somebody wants to give me a chance, I'll be willing, ready, and waiting for that opportunity."
Marvin Lewis and Hue Jackson, two former black NFL head coaches, both expressed support for Bieniemy.
"In my mind, there's no question that Eric Bieniemy deserves an opportunity to be head coach in the National Football League," Lewis said. "I'm a very, very close friend of Andy Reid's and for the last three years, he's talked to me about Eric's ability and attributes and what he has added to their offense. That's why he elevated him to the coordinator role. Andy has recommended a number of coaches to me over the years, and he's never been wrong."
"Yes, Eric Bieniemy does deserve a head-coaching job," Jackson said. "There's no question about it. I think he's one of the brightest, young offensive minds in the NFL. Everyone says who is the next up-and-coming guy, and he's been that. He's worthy of that. I mean, watch how the quarterback played in Kansas City. I just know when they talk about offense, they talk about Eric."
Working on the offensive side of the ball should work in Bieniemy's favor, with most teams seemingly looking for the next bright offensive mind. Bieniemy is one of two black offensive coordinators, along with Byron Leftwich of the Tampa Bay Buccaneers.
"I've been an offensive coach my whole entire life," Bieniemy said. "People think just because you coach running backs you don't understand the pass game. Well, when you've played the position, and you're involved in coaching the position, you've got to make sure guys understand the entire game plan, meaning you're very much involved in the pass game. You have to understand protections. You have to understand route concepts. You have to understand how defenses are structured going against you.
"Do we need more [minority] coaches on the offensive side of the ball? Yes. How do we go about doing that? We have to make sure there's a plan for guys of helping guys get into that quarterback room and into quality-control positions so those guys can add that knowledge and learn how to deal with the quarterbacks, learn the language and speak it."
Ramsey now avoids dissing QBs — 'I'm growing'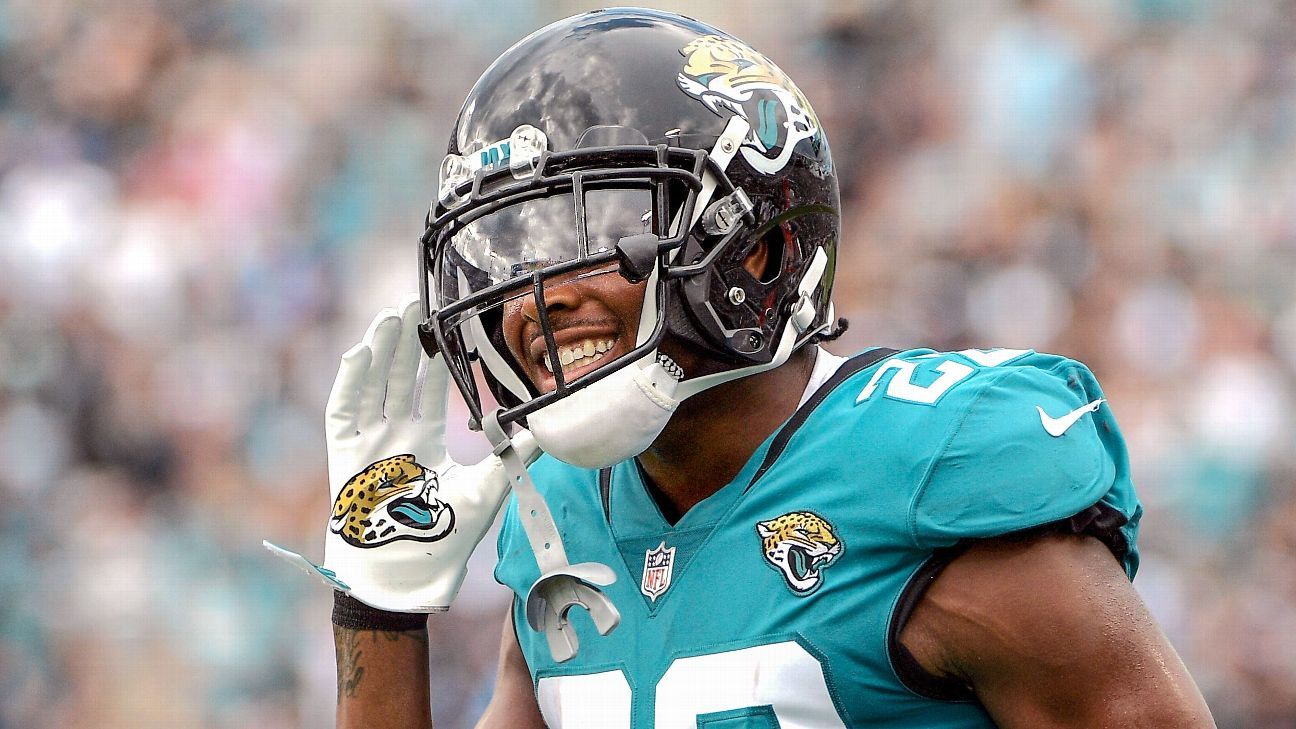 Jacksonville Jaguars cornerback Jalen Ramsey made headlines last year when he criticized several opposing quarterbacks in a published interview. He's not going down that road again this year though.
Asked by ESPN Adam Schefter on his podcast if he wanted to evaluate the quarterbacks he will face in the 2019 season, Ramsey passed and only wanted to talk about Nick Foles, who signed a four-year contract this offseason to become the Jaguars' new starting quarterback.
"You want to do this again, huh? I'm not going to do this again but, we do play some good quarterbacks this year, of course, but probably the quarterback I'm most excited for is Nick Foles," Ramsey told Schefter. "I don't have to play against him, of course. He is my teammate. He is a great teammate, the few interactions we've had has been great. Great man, great player as well. He has nothing to prove to anybody. He's a Super Bowl champion, Super Bowl MVP. So, I hope he comes out here and he plays free and knows he has the support of everybody."
In a 2018 interview with GQ magazine, Ramsey caused a stir by belittling several quarterbacks, including calling the Atlanta Falcons' Matt Ryan "overrated" and the Buffalo Bills' Josh Allen "trash."
But Ramsey said he's grown since last year.
"I'm growing man, it's Year 4 for me. It's a different me. A lot of people think they know me, they don't really know me. But hey, that's OK," he said.
Ramsey, the No. 5 overall pick in 2016, has made two Pro Bowls and was named a first-team All-Pro once in his first three seasons. He has nine interceptions and 44 pass breakups and hasn't missed a start.
Judge OKs $24M settlement over Rams' PSLs
ST. LOUIS — A federal judge has approved a settlement calling for the NFL's Rams to pay up to $24 million to personal seat license holders in St. Louis.
U.S. District Judge Stephen Limbaugh Jr. approved the settlement Monday.
Several St. Louis PSL holders filed a class-action lawsuit after the team moved to Los Angeles in January 2016. Thousands of fans in St. Louis had purchased PSLs that were good for 30 seasons, which was the length of the lease at the domed stadium where the Rams played in St. Louis. Rams owner Stan Kroenke took the team to California after 21 seasons.
The lawsuit calls for PSL holders to get 30 percent of the original purchase price, a refund for the nine unused years of the seat license fee, plus damages.