Carr annoyed at rumors Raiders would draft QB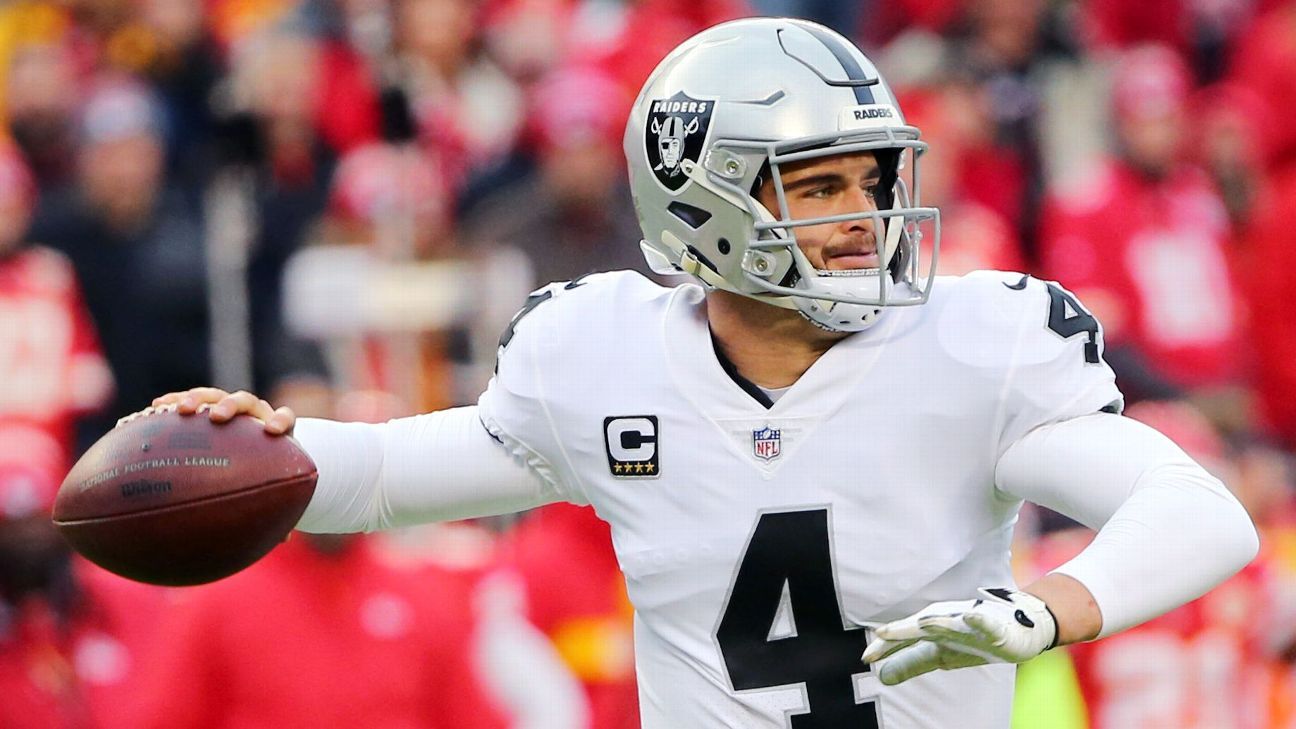 ALAMEDA, Calif. — Derek Carr said he was confident the Oakland Raiders would not draft a quarterback this offseason, but did admit the constant swirl of speculation got under his skin.
"Honestly, it got annoying after a while," Carr admitted Tuesday after the team's first OTA practice, in his first meeting with Bay Area media since the 2018 season finale. "I'm like, 'Really, they don't have nothing else to talk about?' And I didn't help the situation, trying to challenge people to fights."
Carr laughed, but he was not happy in January when he did, in fact, challenge ESPN First Take's Stephen A. Smith and Max Kellerman to an MMA-style match due to criticism they levied at Carr.
Raiders QB Derek Carr took issue with comments about him by Max Kellerman on Wednesday's First Take, and things escalated on both sides Thursday.
That the Raiders did not pick a QB with any of their nine selections in April's draft — instead sticking with Carr and backups Nathan Peterman, Mike Glennon and Landry Jones — only solidified Carr as the franchise quarterback. Particularly after conversations with owner Mark Davis, general manager Mike Mayock and coach Jon Gruden.
"We are always on the same page, because that's what our team needs," Carr said. "That's what the good organizations do."
Which is why Carr, 28, said there was a "minus-47 percent chance in my mind" that Oakland was going to draft a quarterback, despite being linked to Kyler Murray, Dwayne Haskins and Drew Lock.
"They pretty much said that, literally every time it came up," Carr said of getting votes of confidence from the front office. "If it came up. And we're not just playing for this year. I'm honestly going to be here for a long time."
Gruden said Carr did "a lot of good things" last season, and by adding weapons such as receivers Antonio Brown, who did not attend the first practice of the voluntary OTAs after being at most of the offseason training program's first phase, and Tyrell Williams and right tackle Trent Brown, "hopefully a lot of these thing will show up and he'll be a great quarterback, which I know he will be.
"I think he's pretty well respected as one of the best arm talents in football," Gruden added. "I think he's a lot more athletic than people think. I think if we can [maintain] continuity in this building with the system and with the supporting cast, improve the defense, I think he can be one of the best in football."
Still, as Carr enters Year 3 of his five-year, $125 million extension, his $19.9 million base salary for this year is already guaranteed. And if he and the Raiders struggle mightily this season, more speculation will mount, especially since the dead-money hit for the Raiders would be a relatively manageable $5 million if they cut or trade him next offseason. Then start up those Is-Derek Carr-the-Raiders'-QB-in-Las Vegas stories.
"No doubt, right?" Carr said, laughing. "Here we go again. Let's just, let's just get through this year first and we'll play that game again. And I'll have some more fun with it.
"But I'm not going anywhere. This is my team and it will be for as much, however long I want it to be."
Sources — Redskins TE Reed's career in jeopardy
Washington Redskins tight end Jordan Reed, who has suffered multiple concussions during his career and already has been ruled out of Monday night's game against the Chicago Bears because of his latest one, might not be able to return at all, league sources told ESPN.
There are those within the Redskins organization and around the league who are concerned Reed will not be able to play again, according to sources. Reed will continue to undergo testing, but the player, the team and doctors know what he is up against.
Any player who has suffered the number of concussions that Reed has — it is difficult to pinpoint the exact number — puts himself at grave risk by playing again.
The Redskins had been counting on having Reed, a former Pro Bowler and one of their best players, this season. But in Washington's third preseason game last month against the Falcons, Reed suffered his latest concussion, which already has knocked him out of the first three games of the season.
Reed, 29, still would like to resume playing, but it is hardly automatic that he will. The more time that goes on without him coming back, the less likely it is that he will return to a sport in which he has excelled.
Source — AB texts 'crossed the line' for Patriots
Had Antonio Brown not sent intimidating group text messages to a female artist who accused him of unwanted sexual advances last week, the star wide receiver would be playing in the New England Patriots' game Sunday against the New York Jets, league sources told ESPN.
But when Brown sent those text messages as a member of the Patriots — he was not with New England during the time period when he allegedly sexually assaulted another woman — the organization felt that it had to move on from him.
"That crossed the line," one source familiar with the organization's thinking told ESPN. "This was real evidence."
Now the question becomes how New England handles Brown's departure. The Patriots are expected to withhold the $9 million signing bonus they agreed to pay Brown when he signed; $5 million is due Monday and the other $4 million is due Jan. 15, 2020.
ESPN's Chris Mortensen reported that Brown will file a grievance Monday to try to recoup that money, setting up a legal battle between the player and the team.
Among other factors, New England will lean on the "representation and warranty" clause in Brown's contract that specifically states: "Player represent warrants and covenance to the club that he will 1) execute in good faith and to the best of his ability all of his obligations to and for the club; 2) he does not and will not participate and is not engaged or will not engage in any conduct or activity that is illegal, unlawful or immoral. And 3) No circumstances exist that would prevent player's continuing availability to the club for the duration of the contract."
However, other NFL sources strongly believe that the Patriots eventually will owe Brown the $9 million. Those sources insist that once a signing bonus is earned, it's earned, and there's no turning back.
"They are going to lose," one NFL executive predicted about the Patriots' plight, referring to the looming financial battle between Brown and New England.
Brown called out Patriots owner Robert Kraft as part of his Sunday morning Twitter tirade, referring to Kraft's ongoing case in Florida in which he was charged with solicitation for allegedly receiving a sex act at a massage parlor. After the tweets, a source told ESPN that "Kraft [is] never writing that check, no matter what the ruling is now."
Brown was officially released by the Patriots on Friday, one day after the lawyer for the female artist reached out to the NFL because Brown apparently sent what were described as threatening text messages to her client.
The sides spoke Friday morning, with the woman's attorneys saying in a statement that the league "pledged to conduct a thorough investigation under its Personal Conduct Policy." According to that statement, the league also contacted the Patriots, who then directed Brown to have no further contact with the woman.
As part of a Sports Illustrated report published this past Monday, the woman accused Brown of sexual misconduct when she was working at his Pennsylvania home in 2017.
Brown also has been accused of sexually assaulting his former trainer, Britney Taylor, according to a lawsuit she filed Sept. 10. Taylor met with the NFL this past Monday. A source had told ESPN that there are "more interviews and information-gathering being conducted now beyond Taylor."
It remains unclear when or if Brown will interview with the league. He is an unrestricted free agent eligible to sign with any team, and the NFL said Friday that Brown would not be placed on the commissioner's exempt list while he is a free agent.
But the league also warned, "If he is signed by a club, such placement may become appropriate at any time depending on the status of the investigation."
Sources — Brees consulted Trout before surgery
New Orleans Saints quarterback Drew Brees reached out to baseball star Mike Trout before undergoing thumb surgery this past week, sources told ESPN.
Brees had surgery Wednesday to repair a torn ligament in his right thumb. The operation was performed in Los Angeles by Dr. Steven Shin, the doctor who also operated on Trout's thumb in 2017.
Trout, a two-time MVP and eight-time All-Star for the Los Angeles Angels, missed just over six weeks during the 2017 season after tearing the ulnar collateral ligament in his left thumb.
Trout told Brees, however, that he could have returned from the surgery in five weeks, and once he did, he was pain-free and had full range of motion, sources told ESPN.
Brees, 40, who is expected to miss six weeks but has not been placed on injured reserve, wanted to know about the rehab process, and Trout spelled it out for him. So even before he began his rehab, Brees already was eyeing the quickest possible return.
Brees visited with Shin after suffering the injury in last Sunday's loss in Los Angeles to the Rams. He traveled to Houston for a consultation with Dr. Tom Hunt, another hand specialist, before returning to Los Angeles to have Shin perform an InternalBrace ligament-augmentation operation, virtually the identical surgery Shin performed on Trout.
"After speaking with both doctors and other professional athletes, there have been no other NFL quarterbacks to have this surgery with the internal bracing on their throwing hand — I take that as a challenge!" Brees wrote in a text message to ESPN.
The Saints also haven't given up hope that Brees could return sooner than the expected six-week timeline, according to sources. The Saints' schedule sets up for Brees to be back Nov. 10 against Atlanta, after the bye week, which means he would miss six games.
Returning after the bye would give Brees seven weeks to recover — with six games missed — but Brees "wants to play and knows the window [in New Orleans] is short," one source said.
Brees wanted to join the Saints in Seattle for their game Sunday against the Seahawks but was warned by Shin not to fly to Seattle because of the risk of a setback due to possible "swelling and inflammation."
"The first 7-to-10 days of post-surgery are really important," Brees said in a text message. "It crushes me not to be there with them, but I have to do everything I can to get back as fast and strong as possible."
Brees is aware he has an opportunity to be an injury pioneer for the second time in his NFL career, having made an unlikely comeback from major reconstructive shoulder surgery in 2007 when Dr. James Andrews repaired a radically torn labrum and rotator cuff with 13 anchors. Andrews did the repair without having to open Brees' shoulder with a scalpel.
Brees was under center nine months later for the Saints, who took a risk by signing him to a free-agent contract. The rest literally has been history, as Brees broke Peyton Manning's NFL record for career passing yards last season.
"Drew was a one-in-a-million comeback," Andrews said. "The surgery was one thing, but the rehab Drew did with [therapist] Kevin Wilk was everything. Drew had an insatiable appetite for every detail of surgery and rehab. He was relentless."