Gas station burritos and one stoplight: Seahawks rookie rises from tiny hometown – Seattle Seahawks Blog
L.J. Collier, the Seattle Seahawks' first-round draft pick, comes from a West Texas town that's so small he could guide a tour over the phone.
Start at Allsup's, the convenience store just off the intersection of Highway 222 and Route 277. Collier gave it a shout-out on draft night, calling it a good place to get a burrito, as if he was giving advice to prospective visitors.
Five blocks to the north is a Dairy Queen, the only eatery you'll find open on a fall Friday night when almost half of the residents are packed inside the 600-seat Scruggs Field for high school football.
To get there, you'll drive through the only stoplight, if you could call it one.
"Not even," Collier said. "It's just a light that flickers."
Five blocks west of the DQ is Munday High, where Collier graduated in 2014 among a senior class of 25 students.
Retrace your steps from there and head back south on South Birch Avenue. You'll see the giant water tower on your left bearing the town's name on one side and the high school's nickname, the Moguls, on the other. It might be the tallest structure in sight.
Kitty-corner from Allsup's is City Hall, where the secretary can give you the exact population of Munday off the top of her head: 1,388.
And now one of Munday's own is off to the NFL.
"He's representing his town," Seahawks general manager John Schneider said after selecting Collier, a defensive end, 29th overall. "It's a big deal to him. He pretty much knows everybody in the town. Friday night lights, think of that, you know? It's a pretty cool deal."
Made in Munday
Pull up Munday in Google Maps and you'll have to zoom way out before a recognizable city — like Abilene or Fort Worth — provides geographical context.
It's about 190 miles northwest of Dallas and roughly 150 miles in the same direction from Fort Worth, where Collier attended college at TCU. There's one public golf course that's located just outside city limits. The nearest movie theaters are more than hour away in either Abilene or Wichita Falls.
"What you do on the weekends is you just drive around in your truck and you drive around on dirt roads and hang out in somebody's field," TCU offensive coordinator Sonny Cumbie, who grew up in West Texas and recruited Collier, said in a phone interview with ESPN.com. "That's pretty much what you do for fun."
Collier excelled on the field when he got to TCU, finishing with 11.5 tackles for loss and six sacks during his senior season. But one major adjustment he had to make once he got to Fort Worth was timing his car trips to avoid traffic, something there isn't much of in Munday.
"It was a great place to grow up at for a kid, because in the city, you can't really ride around on your bike a lot or do things like that," Collier said. "I did a lot of that with my friends growing up. We'd just hunt rabbits and birds — me and my cousin did with my BB gun and stuff like that. I wasn't really much of a hunter, but as a kid we usually shot stuff around the house and things like that. We'd jump on the trampoline a lot. We played a lot of football.
"Couldn't really get into much, but it was a lot of fun. … I didn't really know anything else."
Catch up on the draft:
• Pick-by-pick analysis »
• Kiper's grades » | McShay's best picks »
• Team-by-team analysis » | Takeaways »
Catch up on free agency:
• Biggest impact moves for all 32 teams »
• Winners and losers of free agency »
• Barnwell: Grades » | Lessons from FA »
More on the draft » | More on FA »
In Munday, pretty much everyone knows each other — or at least knows of each other. There are few strangers, if any. Cumbie believes that helped shape Collier's outgoing nature.
"It's just because he doesn't know any different," Cumbie said. "Everywhere he's ever been, he's had a big personality. I think he doesn't have as many inhibitions probably as some kids who come from bigger towns where maybe some of that was suppressed at a certain age."
Collier's dad, Lawrence Sr., was born and raised in Munday. He still works in the oil fields and lives in nearby Stamford. L.J.'s late mother, Ruby, was from 6 miles away in Goree. She was diagnosed with pancreatic cancer when L.J. was a senior in high school and died during her son's second year at TCU.
"That's where a small town like that … people can take a vested interest in you and they pick you up and take you to school and they're just around you all the time," Cumbie said.
For Collier, that person was Christel Shahan. She taught him math and science at Munday High and eventually became a part of his family.
"Basically, I told her L.J. needed to get his test scores up to be able to qualify, and so she took it upon herself to tutor him and meet with him every day extra from an academic standpoint," Cumbie said.
Shahan would keep in contact with Collier once he left for Fort Worth, regularly talking on the phone or texting.
"I knew what the college part of it was going to be like because I had been to college, but his family, he was the first one to ever go to college," Shahan told ESPN.com. "So I just kept in touch with him on, 'How's it going? Are you going to class? How's your classes going? How's football?' That kind of stuff.
"When his mom got sick, I just kinda started checking in on him a little more and I got to checking in on his mom and dad and just kinda helping out, cooking supper or visiting, or going over and checking on her, just to be someone that kinda could keep L.J. in the loop because he was concerned, obviously, about his mom. We got closer at the end. And then, obviously, after she passed away, then there was kind of a void there. He just needed someone. His dad was going through the loss of his wife, his sisters were going through the loss of their mother. He didn't want to burden them, so I was just there for him."
Collier visited Shahan at the high school whenever he came back to Munday. She regularly made the three-hour drive to Fort Worth to watch Collier play and laughs while recalling how their party would usually be the last to leave TCU's Amon G. Carter Stadium because he had so many people to talk to.
"He knows everyone," she said.
Shahan was with Collier and his family in Frisco, Texas, when he got the call from the Seahawks on draft night. After all, she was instrumental in that accomplishment as well as another: Collier graduating with a degree in interdisciplinary studies.
"I think that a lot of his motivation and his drive and some of the passion that he plays with out on the field comes from the motivation of wanting to please [his mom]," Cumbie said. "I think one of the last things that she told him was he needed to get his degree and make sure that he graduated, and he did that."
'They were ecstatic'
Colton Summers, an attendant at Allsup's, can confirm that the deep-fried burritos Collier spoke of during his introduction are the real deal. They go for $1.99 before tax or two for $3 with the current special, he said after excusing himself to assist a customer.
"I love them, actually," Collier said. "They're really good. I took one of my friends from college home one time and he ate like nine of the things."
Across the street at City Hall, Munday secretary Bianca Harrimon can't recall a single famous person that the town has produced.
"I don't really think we have anyone, honestly," she said with a laugh.
But now they have Collier.
"When he got drafted, everybody was coming into the store talking about him," Summers said. "… They were more than proud; they were ecstatic. … I think it was the day of. As soon as everybody found out, they were going crazy."
Said Collier: "It's a great feeling, man. It's good to have the support of my hometown and things like that. I'm very proud they're supporting me and I'm just going to try my hardest to keep continuing to make them proud."
Chiefs' Bieniemy — Not playcaller, but has input
ATLANTA — Kansas City Chiefs offensive coordinator Eric Bieniemy scoffed at the idea that not being a playcaller cost him an opportunity to become a head coach after he interviewed for four head-coaching vacancies.
At this week's NFL Quarterback Coaching Summit hosted by the NFL and Black College Football Hall of Fame, Bieniemy said he relished the opportunity to interview with the New York Jets, Tampa Bay Buccaneers, Cincinnati Bengals and Miami Dolphins. Only one of the eight teams with new head coaches hired a minority, as the Dolphins selected Brian Flores.
"Here's my response about the playcalling: coach (Andy) Reid has always done it his way, and that's how historically he's done it because he's Coach Reid," Bieniemy told ESPN. "He has a beautiful mind, and we all work hand-in-hand together. And he gives me the green light to do a number of things. I have input. I do scripts. I get the install. There are a number of things that I do."
As Jason Reid of The Undefeated reported in January, Reid said Bieniemy had been "unbelievable" as coordinator, while MVP Patrick Mahomes called Bieniemy a "special coach" and a guy who has helped him a ton.
"Do I talk to the quarterback? Yes," Bieniemy said. "(Reid) is reciting what he wants me to particularly tell Pat to call. So if people want to make a big deal about that, so be it. The experience that I've gotten, understanding how an offensive system works, the organization, how to prepare it, how to get guys going and moving in one direction for one cause, that's what this is about."
Although Bieniemy's focus remains on his current duties with the Chiefs, it seems likely that he'll receive a head-coaching opportunity based on his strong reputation. The Fritz Pollard Alliance, which oversees compliance with the Rooney Rule requiring teams to interview minority candidates, backed Bieniemy, 49, throughout the interview process.
"John Wooten and the Fritz Pollard Alliance, I thought they did a hell of a job; they gave me an opportunity," Bieniemy said. "Obviously, Coach Reid has given me an opportunity. And I think my interviewing process went about as good as it could go.
"Also, it gave me the experience moving forward knowing that, 'You know what, this is my first go-around. Second go-around, if I'm blessed and fortunate to be placed in that situation, I'll be that much better.' But as far as a head-coaching position is concerned, right now we're focused on the season. Obviously, we want to go out and do some things that's going to help us to continue to have success. Then if somebody wants to give me a chance, I'll be willing, ready, and waiting for that opportunity."
Marvin Lewis and Hue Jackson, two former black NFL head coaches, both expressed support for Bieniemy.
"In my mind, there's no question that Eric Bieniemy deserves an opportunity to be head coach in the National Football League," Lewis said. "I'm a very, very close friend of Andy Reid's and for the last three years, he's talked to me about Eric's ability and attributes and what he has added to their offense. That's why he elevated him to the coordinator role. Andy has recommended a number of coaches to me over the years, and he's never been wrong."
"Yes, Eric Bieniemy does deserve a head-coaching job," Jackson said. "There's no question about it. I think he's one of the brightest, young offensive minds in the NFL. Everyone says who is the next up-and-coming guy, and he's been that. He's worthy of that. I mean, watch how the quarterback played in Kansas City. I just know when they talk about offense, they talk about Eric."
Working on the offensive side of the ball should work in Bieniemy's favor, with most teams seemingly looking for the next bright offensive mind. Bieniemy is one of two black offensive coordinators, along with Byron Leftwich of the Tampa Bay Buccaneers.
"I've been an offensive coach my whole entire life," Bieniemy said. "People think just because you coach running backs you don't understand the pass game. Well, when you've played the position, and you're involved in coaching the position, you've got to make sure guys understand the entire game plan, meaning you're very much involved in the pass game. You have to understand protections. You have to understand route concepts. You have to understand how defenses are structured going against you.
"Do we need more [minority] coaches on the offensive side of the ball? Yes. How do we go about doing that? We have to make sure there's a plan for guys of helping guys get into that quarterback room and into quality-control positions so those guys can add that knowledge and learn how to deal with the quarterbacks, learn the language and speak it."
Ramsey now avoids dissing QBs — 'I'm growing'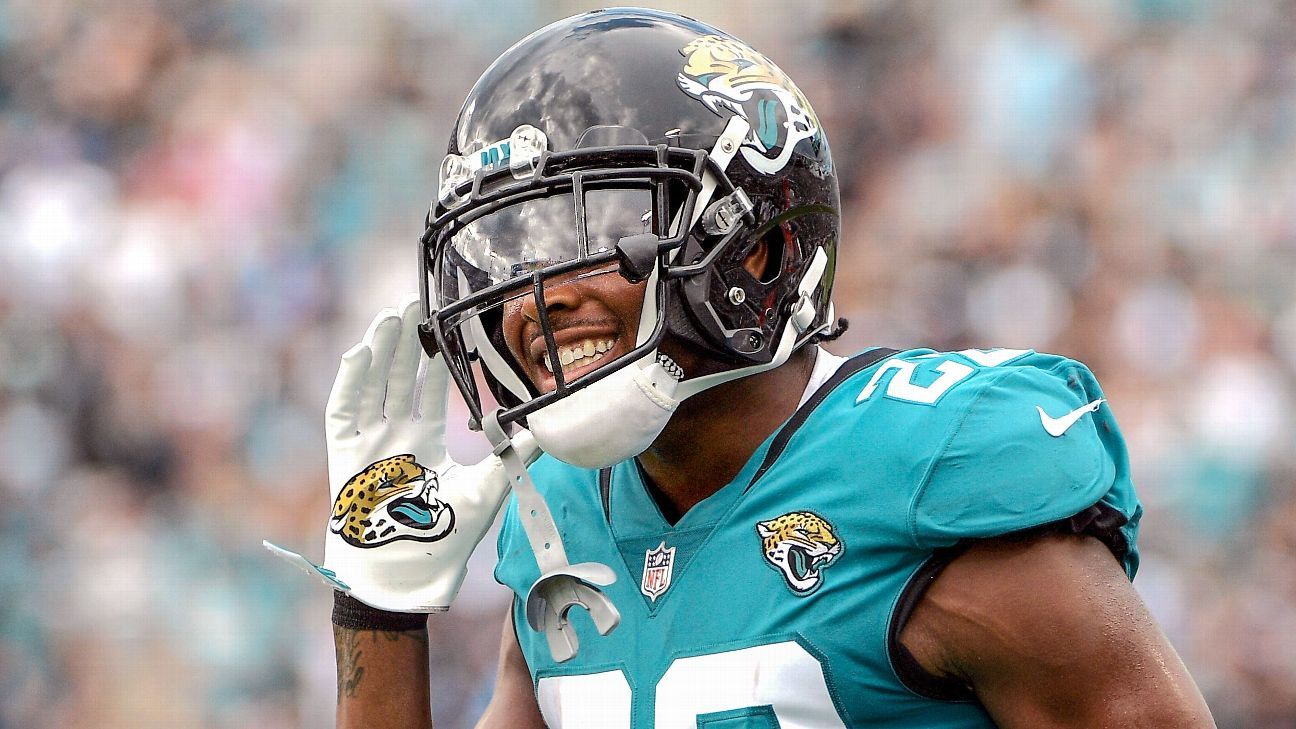 Jacksonville Jaguars cornerback Jalen Ramsey made headlines last year when he criticized several opposing quarterbacks in a published interview. He's not going down that road again this year though.
Asked by ESPN Adam Schefter on his podcast if he wanted to evaluate the quarterbacks he will face in the 2019 season, Ramsey passed and only wanted to talk about Nick Foles, who signed a four-year contract this offseason to become the Jaguars' new starting quarterback.
"You want to do this again, huh? I'm not going to do this again but, we do play some good quarterbacks this year, of course, but probably the quarterback I'm most excited for is Nick Foles," Ramsey told Schefter. "I don't have to play against him, of course. He is my teammate. He is a great teammate, the few interactions we've had has been great. Great man, great player as well. He has nothing to prove to anybody. He's a Super Bowl champion, Super Bowl MVP. So, I hope he comes out here and he plays free and knows he has the support of everybody."
In a 2018 interview with GQ magazine, Ramsey caused a stir by belittling several quarterbacks, including calling the Atlanta Falcons' Matt Ryan "overrated" and the Buffalo Bills' Josh Allen "trash."
But Ramsey said he's grown since last year.
"I'm growing man, it's Year 4 for me. It's a different me. A lot of people think they know me, they don't really know me. But hey, that's OK," he said.
Ramsey, the No. 5 overall pick in 2016, has made two Pro Bowls and was named a first-team All-Pro once in his first three seasons. He has nine interceptions and 44 pass breakups and hasn't missed a start.
Judge OKs $24M settlement over Rams' PSLs
ST. LOUIS — A federal judge has approved a settlement calling for the NFL's Rams to pay up to $24 million to personal seat license holders in St. Louis.
U.S. District Judge Stephen Limbaugh Jr. approved the settlement Monday.
Several St. Louis PSL holders filed a class-action lawsuit after the team moved to Los Angeles in January 2016. Thousands of fans in St. Louis had purchased PSLs that were good for 30 seasons, which was the length of the lease at the domed stadium where the Rams played in St. Louis. Rams owner Stan Kroenke took the team to California after 21 seasons.
The lawsuit calls for PSL holders to get 30 percent of the original purchase price, a refund for the nine unused years of the seat license fee, plus damages.