49ers scout, ex-NFL RB Reggie Cobb dies at 50
Former NFL running back and Tennessee Volunteers star Reggie Cobb has died at the age of 50, the San Francisco 49ers announced Saturday.
Cobb scouted for the 49ers for the past 10 years and for other clubs before them.
Details of his death were not disclosed.
Cobb played in the NFL for seven seasons. He was drafted in the second round by Tampa Bay in 1990 and also played for Green Bay, Jacksonville and the New York Jets.
We're saddened to hear of the passing of former running back Reggie Cobb. Our thoughts and prayers are with the Cobb family. pic.twitter.com/rSlRpg2mAd

— Tampa Bay Buccaneers (@Buccaneers) April 20, 2019
"We are devastated by the sudden loss of a tremendous teammate and loyal friend, Reggie Cobb," 49ers general manager John Lynch said in a statement Saturday. "Reggie was an enthusiastic and passionate person who had a special ability to brighten up a room with his personality and infectious smile.
"For 10 years, the 49ers were better because of Reggie and these unique qualities that he possessed. He was a top-notch scout and an exemplary man whose years of service to this organization and the National Football League will not be forgotten. Our thoughts and prayers are with his family and friends in this time of mourning."
In college, Cobb finished third on Tennessee's career rushing list. He was part of the Volunteers' 100th anniversary team.
The Associated Press contributed to this report.
49ers' Bosa and Ward to miss time with injuries
SANTA CLARA, Calif. — The San Francisco 49ers will be without two projected defensive starters for at least the next few weeks after free safety Jimmie Ward suffered a broken collarbone in Thursday's organized team activity and defensive end Nick Bosa was diagnosed with a Grade 1 right hamstring strain.
The 49ers confirmed both injuries on Thursday with the likelihood that both players will miss the rest of the offseason program. The team hopes Bosa and Ward will be at full strength by the time training camp begins in late July.
Of the two injuries, Ward's is the more serious as recovery from a fractured collarbone is expected to take between eight and 12 weeks. Bosa is expected to miss "the next few weeks."
NFL Network reported that Ward suffered his injury while diving for a ball during the team's third OTA on Thursday. The broken collarbone is the latest entry in a lengthy injury history for Ward, who finished last season on injured reserve with a fractured forearm.
Ward has ended four of his five NFL seasons on injured reserve, including a broken collarbone suffered in 2016. Despite Ward's missing 29 of a possible 80 regular-season games since he was a first-round pick in 2014, the 49ers re-signed him to a one-year, $4.5 million deal in March.
Bosa, whom the Niners drafted with the No. 2 overall pick in April, should be back to health sooner than Ward. His injury will keep him out of the rest of the team's OTAs, and it could also prevent him from participating in the mandatory full-squad minicamp that's scheduled for June 11-13. The start of that minicamp is exactly three weeks from when Bosa suffered the injury.
Although Grade 1 is considered the mildest of hamstring strains, the 49ers don't intend to rush Bosa back, which means the aim will be to have him at full strength when training camp opens in July.
Bosa suffered the injury about halfway through the 49ers' second OTA on Tuesday. Bosa participated in the first OTA on Monday and did individual drills and 2-on-2 pass-rush drills, but he shut it down for the day a couple of snaps into 11-on-11 work. He watched the rest of the practice from the sideline and was able to walk back to the locker room with a slight limp.
Immediately after Tuesday's practice, coach Kyle Shanahan acknowledged the hamstring injury but did not know its severity. Bosa's participation in the offseason program comes on the heels of a final collegiate season at Ohio State in which he played in three games before suffering a core muscle injury on Sept. 15 against TCU.
That proved to be Bosa's final college game, as he declared for the draft and began preparation for it soon after. Upon arrival in the Bay Area, Bosa was cleared to participate in the team's rookie minicamp on May 3, but he did not do team drills that weekend as the Niners eased him in.
Bosa and Ward join an extensive list of Niners who aren't taking part in OTAs because of injuries. That group includes starters or key contributors such as linebacker Fred Warner (knee), running back Matt Breida (pectoral), center Weston Richburg (knee, quadriceps), tight end Garrett Celek (concussion and back), running back Jerick McKinnon (ACL), linebacker Kwon Alexander (ACL) and cornerback Jason Verrett (Achilles). Quarterback Jimmy Garoppolo (ACL) is also working back from injury, though he's participating in everything except team drills during OTAs.
The 49ers are expecting most of their injured players to be ready for the start of training camp.
"This is the most time I've had of people missing OTAs, but we've been really healthy the last two OTAs and it's been the opposite at camp," Shanahan said Tuesday. "Maybe it'll be the opposite this year — we're not healthy in OTAs, which is maybe a good sign for training camp. I know which one I'd rather have. We knew this going into this year. I mean, we knew we had, I think it's 12 guys before this started that we knew wouldn't be participating in OTAs. Then you've got your six new guys, too. Some things have come up, which is pretty normal, but when you stack that up, it is different with reps and things like that. Hopefully that'll lead to a better training camp."
Browns to host ex-Bucs DT McCoy for a visit
CLEVELAND — The Cleveland Browns will get to show Gerald McCoy how far they've come.
The free-agent defensive tackle, released earlier this week by the Tampa Bay Buccaneers, will visit Cleveland on Friday. General manager John Dorsey said the meeting will be an opportunity for both sides to see if they want a future together.
"It's a chance for us to kind of get a chance to meet each other, one on one, and let's find out who Gerald is," Dorsey said Thursday during a downtown celebration for Cleveland's selection by the NFL to host the 2021 draft. "It also gives Gerald a chance to see who the Cleveland Browns are and what direction we're headed."
A six-time Pro Bowler, McCoy was let go after the Bucs couldn't find a trade partner willing to take on his $13 million salary. They agreed to terms with Ndamukong Suh to take his spot.
Several other teams have expressed interest in McCoy, the No. 3 overall pick in the 2010 draft. The 31-year-old had a down year — by his standards — in 2018, but Dorsey believes McCoy isn't close to being finished.
"With regards to his ability to play the game of football, he can still play the game of football," Dorsey said.
Dorsey downplayed the significance of McCoy agreeing to meet with the Browns, who have major expectations in 2019 following an offseason in which the team added star wide receiver Odell Beckham Jr., defensive tackle Sheldon Richardson and edge rusher Olivier Vernon.
"We're going to turn over every rock and let's just see what happens," Dorsey said. "I mean, it's just a visit."
But the idea of adding McCoy to a defensive line rotation that already includes Pro Bowler Myles Garrett, Richardson, Vernon and Larry Ogunjobi, has Browns fans even more excited.
McCoy had six sacks in 14 games last season and has 54+ in 123 career games.
During his visit, he'll get to meet new Cleveland coach Freddie Kitchens as well as defensive coordinator Steve Wilks. He's already familiar with Browns offensive coordinator Todd Monken, who spent three seasons in Tampa and speaks highly of McCoy.
"I think a lot of Gerald," Monken said following Wednesday's practice. "Gerald has had a tremendous career and was an outstanding football player for us. He's a great person."
Jerry not expecting NFL to discipline Elliott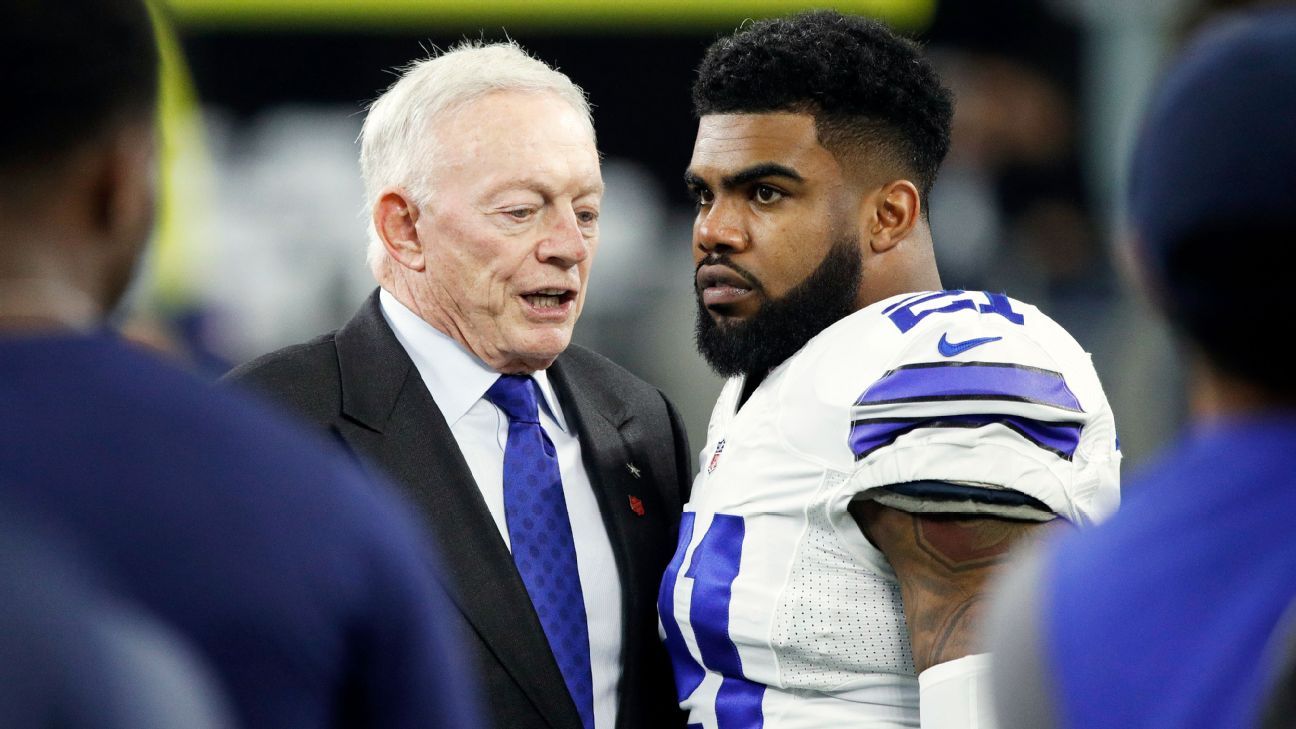 FRISCO, Texas — Dallas Cowboys owner and general manager Jerry Jones doesn't believe the NFL will take any action against Ezekiel Elliott, stemming from an incident involving security guards at Las Vegas music festival last weekend.
"I think that the main thing is that I don't see anything that needs supporting," Jones said Thursday. "In terms of his status with us, [it] has not been impacted in any way. And frankly, I know how conscientious he has been in the offseason, and that's good enough. No, I don't see that having any consequences for us."
Elliott was seen on cellphone video released by TMZ confronting and using his body to push a member of event security backward until he fell after hitting a gate. The running back was detained briefly early Sunday during the Electric Daisy Carnival at Las Vegas Motor Speedway. He was handcuffed by police when he was detained but not arrested.
Elliott's attorney, Frank Salzano, called it an overreaction by security after Elliott was shown arguing with his girlfriend.
Elliott did not speak to reporters after Wednesday's organized team activity.
In 2017, Jones was steadfast in his belief that Elliott would not face discipline from the NFL following an incident with a former girlfriend, who accused Elliott of domestic violence over multiple days in Columbus, Ohio, in July 2016. Legal authorities never arrested or charged Elliott, but the NFL eventually suspended him six games for violating the league's personal conduct policy.
Earlier in the week, Cowboys executive vice president Stephen Jones said the incident would not have any impact on negotiations regarding a contract extension. Elliott is under contract through 2020 after the Cowboys picked up his fifth-year option for just over $9 million.
The Joneses and coach Jason Garrett have lauded Elliott's growth and maturity since the suspension. Earlier this month, Elliott paid for the funeral expenses of a star teenage football player, Jaylon McKenzie, who was killed by a stray bullet as he left a party near St. Louis.
"I think that he's certainly has had a great offseason, had a great year last year, and I think that'll speak for itself," Jerry Jones said. "So I think that, yes, his overall career at this point is in a really positive place."