Steven Nelson: From food stamps to making $25M with Steelers – Pittsburgh Steelers Blog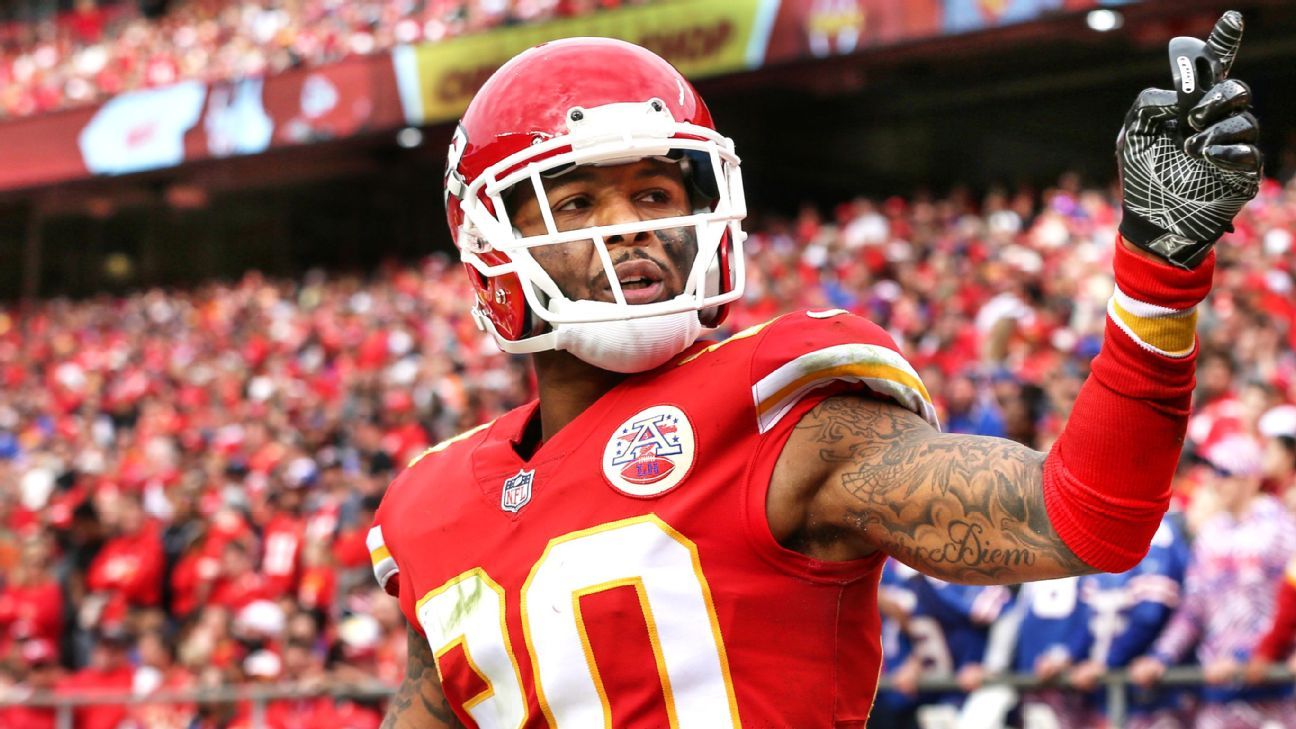 PITTSBURGH — The Pittsburgh Steelers are paying Steven Nelson to make plays on the ball on Sundays, but he's showing closing speed in five-star lobbies in late March.
Steelers coach Mike Tomlin was preparing for another round of NFL owners meetings when Nelson, who trains in Phoenix in the offseason, proposed breakfast with his new coach at the Arizona Biltmore. Over fruit and omelets, Nelson wanted Tomlin to understand exactly what he was getting with his latest investment.
"I wanted to introduce myself formally, look a man in the eyes and give him a sense of satisfaction of the type of player I am, the type of person I am, more so off the field," said Nelson, who is participating in the Steelers' offseason workouts this week after four years with the Kansas City Chiefs.
Nelson has seen too much in his football career not to be clear with his intentions.
Signing a three-year, $25.5 million deal with Pittsburgh — the richest in franchise history for the first week of unrestricted free agency — was the culmination of a career paved with challenges at nearly every stop.
---
A teenage Nelson proved himself in an ultra-competitive Georgia prep football scene, grabbing seven interceptions as a senior for Northside High in Warner Robins, just south of Macon.
Issues with grades dashed hopes of a scholarship with a Football Bowl Subdivision school. The football dream had to keep moving, and staying home didn't exactly symbolize a fresh start. He took a chance on College of the Sequoias, a junior college located in the farmland of California, outside of Fresno.
"I was never the guy who was in the box. I always thought my purpose was always greater," Nelson said.
The next few years tested his resolve. Nelson said he didn't have a scholarship and relied on financial aid and food stamps to pay bills. Equipment was minimal, so Nelson had to hit up the local sporting goods store for the basics.
He shared a two-bedroom apartment with six other teammates. He slept on a couch at night and ate off the Burger King value menu during the day.
Not knowing what to expect each week proved stressful, and that stress overcame a few teammates who packed up and left. But Nelson played his way into a scholarship with Oregon State.
"It's my own journey. I don't regret it," Nelson said. "These are the steps of life you had to go through. I wasn't going to be denied."
---
In four years with Kansas City, which took Nelson in the third round of the 2015 draft, Nelson evolved from backup to three-year starter. In his contract year, Nelson grabbed four interceptions and was rated above average by Pro Football Focus, the 33rd overall corner.
But with Kansas City ranking 31st in total defense with 6,488 yards allowed last season, cornerbacks were an easy target for fans. Nelson felt supported inside his locker room but not always outside of it.
"I kind of felt like I was shaded," Nelson said about his time there. "I just felt like it was a slap in the face. A lot of people didn't really know what was going on there. A lot of players took the heat."
What was going on, Nelson said, was that corners were asked to play heavy man coverages, often in difficult spots. In 2018, the Chiefs ranked third in the NFL with 55.1 percent man coverage, behind the Denver Broncos (58.5 percent) and the New England Patriots (60.4 percent), according to NFL Next Gen Stats. The Steelers were fifth at 51.5 percent, but they traditionally have relied on zone coverages and often employ zone-man combinations, such as a "fire zone" defense. How an offense lines up can determine that coverage.
The Chiefs fired defensive coordinator Bob Sutton after a season in which they reached the AFC title game but watched the Patriots march down the field in overtime for a 37-31 win. The Chiefs are rebuilding their defense with several new pieces.
Nelson accepts the challenge of one-on-one play but adds that some Chiefs players had grown weary of a predictable scheme that can handicap defensive backs.
"You're a target to other teams, referees, fans. It's just not a good thing," Nelson said. "You have to switch it up. It's the National Football League. These offenses are smart. If you switch it up like these other offenses are doing, you can make plays."
Nelson basically knew a while back he wouldn't re-sign with the Chiefs. But he told himself long ago he would play his way into an eight-figure deal.
---
In a "great vibes" meeting with Tomlin, the head coach told Nelson the Steelers would work hard and want to win now.
• Will Belichick coach into his 70s?
• Luck enjoys first healthy offseason since '15
• Steven Nelson: From food stamps to making $25M with Steelers
• Inside Cam Jordan's offseason adventures
• NFL draft: Mock drafts, prospects and more
That's all Nelson wanted to hear. Signing with Pittsburgh, which he believes will maximize his potential in a versatile scheme, is "confirmation I am on the right path," he said.
"[My background] has given me the edge to go out there and perform," Nelson said. "I've already been in those situations, under pressure. I think it works out well."
The Steelers' cornerback issues have been well-documented. The team drafted five corners in the first five rounds from 2015 to 2017, and none of them is slated to start in 2019. The Steelers found a staple in Joe Haden, who signed a three-year, $27 million deal in August 2017 after Cleveland released him.
Nelson, slated as the starting outside corner opposite Haden, is eager to work with and learn from Haden.
As for that perpetual cornerback need come draft season, Nelson aims to change that.
"No longer a need when I'm on the field," Nelson said. "I don't say that out of arrogance but because I'm going to work for it."
DT McCoy targeting contender – 'I want to win'
Free-agent defensive tackle Gerald McCoy, who visited with the Cleveland Browns on Friday, told ESPN's Josina Anderson that no matter where he lands, the team "is going to be a contender."
"I want to win," the six-time Pro Bowler said. "I'm not worried about where I'm living. Wherever I got to go to win. … Everybody's open."
McCoy was released Monday by the Tampa Bay Buccaneers in a move that was financially motivated. The sides could not reach an agreement over his $13 million salary, none of which was guaranteed. McCoy had three years remaining on his deal, which would have kept him with the team through 2021.
Browns general manager John Dorsey said Thursday that the meeting with McCoy would be an opportunity for both sides to see if they fit together.
Several other teams are said to be interested in McCoy, who was the No. 3 overall pick in the 2010 draft. McCoy is scheduled to visit the Baltimore Ravens on Tuesday, a source confirmed to ESPN's Jamison Hensley. He has a strong relationship with Ravens defensive line coach Joe Cullen, who coached McCoy in Tampa in 2014-15.
Though McCoy's numbers were down in 2018, Dorsey said he doesn't believe the player is close to being finished.
"With regards to his ability to play the game of football, he can still play the game of football," Dorsey said.
McCoy, 31, had six sacks and a team-leading 21 quarterback pressures in 2018, when the Bucs went 5-11 and missed the playoffs for the 11th consecutive season. He has 54½ sacks in 123 career games, was an All-Pro in 2013 and was a Pro Bowl selection every year from 2012 to 2017.
The Browns' offensive coordinator, Todd Monken, spent three seasons in Tampa running the Bucs' offense.
"I think a lot of Gerald," Monken said earlier this week. "Gerald has had a tremendous career and was an outstanding football player for us. He's a great person."
McNabb still stumping — 'I am a Hall of Famer'
Former NFL quarterback Donovan McNabb continues to be of the belief that he deserves to be in the Pro Football Hall of Fame.
"Absolutely," McNabb told TMZ Sports. "I'm not hesitating on that. I am a Hall of Famer. My numbers speak for itself. … My numbers are better than Troy Aikman, but he has Super Bowl rings and he's played with Hall of Famers as well."
It is not the first time that McNabb has said he deserves to be in the Hall of Fame and has compared his numbers to those of Aikman, the former Dallas Cowboys quarterback who won three Super Bowls.
McNabb spent 11 of his 13 NFL seasons with the Philadelphia Eagles. In 167 career games, he completed 59 percent of his 5,374 pass attempts for 37,276 yards and 234 touchdowns.
By comparison, Aikman threw for 32,942 yards and 165 touchdowns.
McNabb was asked again if his statistics were good enough to warrant Hall of Fame induction and why he thought it hasn't happened.
"When they look at my numbers, yeah," McNabb told TMZ Sports, "but then they always want to add other stuff into it. 'Was he an All-Pro? Was he this? How many Super Bowl opportunities?' But people don't realize how hard it is to get to the NFC Championship. And to get there five times, then make it to a Super Bowl? It's tough."
Broncos need Courtland Sutton, DaeSean Hamilton to flourish quickly – Denver Broncos Blog
ENGLEWOOD, Colo. — It is as well worn in the NFL as the path into the training room, but most involved in the business say a player's biggest opportunity to show improvement is between his rookie and second seasons.
The Denver Broncos need that to be true this season for wide receivers Courtland Sutton and DaeSean Hamilton or face significant speed bumps in the team's plan on offense.
"I'm excited about the guys that we have, it doesn't matter how young they are," said Broncos quarterback Joe Flacco. "I think that's a good thing in a lot of ways. When they are as talented as I believe they are, it's an even better thing."
The Broncos selected Sutton in the second round and Hamilton in the fourth round a year ago. Each carried the requisite amount of expectations as last season got underway, but dove into the deep end of the pool when the Broncos traded Demaryius Thomas in October and Emmanuel Sanders suffered a season-ending torn Achilles in December.
"Last year, I really didn't know what to expect coming into OTAs [organized team activities], coming into minicamp and training camp. All I knew was just go out there and play," Sutton said. "But I didn't really know how to really work on my technique."
• Haskins taking 'baby steps' to win No. 1 job
• Ravens' Jackson critical of self early
• Cowboys' Cobb feels lost, doesn't look it
• Steelers' Washington primed for Year 2
• Ngakoue won't hold out, but knows value
As Sutton's playing time increased with Thomas' departure and Sanders' injury, he suddenly found himself across from No. 2 and then No. 1 cornerbacks more and more. His size (6-foot-3, 218 pounds) and athleticism were muted at times by those defensive backs, who knew how to keep him away from the ball given Sutton was still learning on the job.
As a result, Sutton turned only half of his targets (84) into receptions (42). And while the Broncos continue to envision Sutton as a matchup advantage in the red zone, he had just four touchdown receptions.
Hamilton played few snaps in the team's first seven games and had just one reception before a knee injury slowed him for much of the remainder of the year. He finished with 30 receptions, 25 of those over the last four games of the season, with 2 touchdowns.
"The knee was still bothering me," Hamilton said. "I was probably playing at like 70, 80 percent in those last couple games. It wasn't too much longer after the [season finale] that the knee started to feel a lot better. Now I'm coming out here it feels great. The last four or five games, I probably felt it the most."
Sanders believes he will be ready to return by the start of the regular season, but he has to be considered at least a bit of a question mark until he can prove it. The Broncos didn't make a significant signing at the position in free agency and didn't use a draft pick on a wide receiver until they picked Juwann Winfree in the sixth round.
That puts Sutton and Hamilton at the front of the line as the Broncos sort out a new offense.
"All of that WR1, 2, 3, if [Sanders] comes back and all of that other stuff — I think of it as I want the ball as many times as I can possibly get it," Hamilton said. "I want to make as many plays as I possibly can. I come in and I have the same mentality as Courtland, ready to step up."
It's all a testament to the youth at the skill positions overall in the Broncos' offense. Sutton, Hamilton, and running backs Phillip Lindsay and Royce Freeman are entering their second seasons, while rookie tight end Noah Fant was the team's first-round pick in April.
"I just knew, coming off last season, that I just wanted to basically go after that and be 10 times better this season," Hamilton said. "Whatever position that puts me in, if I perform during training camp, Coach is going to see that I have a lot more reliability and he can put more reliability on guys like myself and Courtland going forward."
"I'm definitely looking forward to capitalizing on that more this season, being able to put more in the end zone, and take advantage of that," Sutton said. "Take advantage of what God gifted me with — this body, this size, this speed, the athleticism, being able to take advantage of that and use that against the 5-9 or 5-10 corner that we go against."