Russell Wilson and the Seahawks win with record extension – Seattle Seahawks Blog
Some time close to midnight Pacific time Tuesday, logic prevailed.
That's the first-blush reaction to what ultimately happened when the Seattle Seahawks and Russell Wilson agreed to record-breaking four-year, $140 million extension right before the quarterback's deadline for a new deal passed.
According to ESPN's Adam Schefter, Wilson would have tabled negotiations for at least the remainder of the year had there been no agreement by that point. It would have set the stage for Wilson to play out the final season of his current contract, then go year-to-year on the franchise tag. At the very least, it would have created a messy and awkward dynamic between the team and the face of the franchise if and until the two sides could come to an agreement, which would be anything but a slam dunk once the tags got involved (see: Cousins, Kirk).
At worst, it would have been the first step toward an eventual divorce — be it by a trade or by Wilson signing elsewhere in 2022 or '23.
Either way, no one would have really won, at least not in the short term.
As Seahawks general manager John Schneider and contract negotiator Matt Thomas met with Wilson's agent, Mark Rodgers, over the past four days, each side surely tried to project a willingness to go the franchise-tag route. To both parties, that represented the final alternative option to whatever offers that were extended or rejected.
For Wilson, that could have eventually gotten him unrestricted free agency. But he would have had to play for at least three and perhaps four seasons without any long-term certainty in a sport where career-altering injuries are an ever-present threat.
For the Seahawks, they could have had Wilson for manageable sums of cash over the next three seasons if he were to play out his final contract year and then get consecutive tags. But the price would have skyrocketed to upward of $54 million in 2022, and the inability to spread out the cap charges in any of the tag seasons would have made it harder than it already will be to extend All-Pro middle linebacker Bobby Wagner and/or Frank Clark, the team's best pass-rusher.
Had the deadline passed without a new deal, the Seahawks would have had plenty of time to continue negotiating with Wilson once he was ready to resume talks. But there's no guarantee they would have been able to get it done with hard feelings involved.
Can you imagine the Seahawks without Wilson? They've been there and it wasn't pleasant. Parting ways would have forced them back into the quarterback wilderness they once wandered through with guys such as Charlie Whitehurst, Tarvaris Jackson and Matt Flynn.
Last season's 10-6 record and playoff berth showed that a team with an elite quarterback can never be ruled out no matter how many key pieces it loses around him. The Seahawks won't have to revisit what life is like without one anytime soon now that Wilson is under contract through the 2023 season.
Wilson was present for the start of the team's voluntary offseason workout program Monday. That was confirmed in a picture on the Seahawks' website showing him next to teammate Jarran Reed. The wide smile on Wilson's face belied the uncertainty over what would happen as his contract deadline drew nearer.
Now all involved have a reason to smile.
49ers' Garoppolo progressing; Sherman pain-free
SANTA CLARA, Calif. — As San Francisco 49ers quarterback Jimmy Garoppolo took another step toward returning from the torn left ACL that wiped out most of his 2018 season, cornerback Richard Sherman is feeling as good as he has in a long time now that he's another year removed from his own injury history.
Come the start of training camp in July, the 49ers expect to have their offensive and defensive leaders back at full speed and ready for the start of the 2019 season. They hope that the dozen or so other players dealing with injuries will also be healthy and prepared when that time comes.
That's a group that includes linebacker Fred Warner (knee), running back Matt Breida (pectoral), tight end Garrett Celek (concussion and back), running back Jerick McKinnon (ACL), linebacker Kwon Alexander (ACL) and cornerback Jason Verrett (Achilles), all of whom did not participate in Tuesday's organized team activity and likely won't be able to do anything until training camp.
Rookie defensive end Nick Bosa joined the injured list Tuesday when he tweaked his hamstring during team drills and watched the rest of the practice from the sideline.
Much like his teammates, for Garoppolo to be ready for the start of the season, there's still plenty of work that needs to be done.
On Tuesday, Garoppolo participated in individual and 7-on-7 drills. He did not, however, take part in team drills.
According to coach Kyle Shanahan, Garoppolo will not be cleared for full team work until training camp in part because the team doesn't want to risk having defenders around Garoppolo's legs during offseason work.
"I think he's handling it as well as he can," Shanahan said. "He's getting used to it. It's just a long process when you recover from an ACL and he gets as much work as he can get in. I know he'd love to be out there for every rep, but he knows that he can't, so he's trying to make the most of his 7-on-7 and do as much work in every other aspect as he can."
Wearing a titanium knee brace that he described as "really lightweight," Garoppolo has already impressed teammates and the coaching staff with how well he has moved in the first two OTAs.
After suffering the knee injury in a Sept. 23 loss to the Kansas City Chiefs, Garoppolo missed San Francisco's final 13 games.
Since then, Garoppolo has slowly checked all the boxes necessary for a return. Garoppolo said Tuesday he hasn't dealt with swelling in the knee in "a long time" and his post-practice routine no longer requires him to do as much work to keep the swelling to a minimum.
In the first pair of OTAs, Garoppolo has been particularly pleased with his ability to push the ball down the field like he used to. Garoppolo has also been making progress in the weight room, where he has been able to lift more weight with his left leg and even out the weights on various leg exercises.
The next step is to get reacclimated to some of the awkward things required of a quarterback evading pass-rushers.
"[It's] just the weird movements, reaction movements, things that are hard to simulate in practice where you don't want to think about it so much," Garoppolo said. "You want to react to the defense so it's little things like that. But they're coming together."
Sherman, meanwhile, is not coming back from any sort of serious procedure and, for the first time in some time, is feeling back to his old self.
"It's the first time in a few years that I've been able to move and groove like I wanted to," Sherman said. "I had the MCL a few years ago, had the Achilles. This offseason I don't have anything, thank goodness. And I'm able to just move and explode and just get to the spots I want to. I can stop when I want to stop, I can go when I want to go. It changes the whole dynamic for me."
Sherman is entering his second season with the Niners after signing as a free agent in March 2018. Last year at this time, Sherman was recovering from Achilles surgery and was not able to participate fully during the offseason program as he continued his rehabilitation.
This year, Sherman calls the difference "night and day" as he has been able to participate throughout the offseason program.
While Sherman still managed to play 14 games last season, he often found himself feeling the effects of the Achilles surgery, comparing it to having his Achilles tendon stapled back to the bone in his leg. When he had the final suture removed late in the season, Sherman said he finally began moving more freely.
The lingering effects of that Achilles procedure also resulted in Sherman dealing with a calf injury that he attributed to some overcompensation, something else he's no longer dealing with.
With the pain gone, Sherman said he has also moved on from any mental blocks that come with the injury.
"I think it goes away when you don't physically feel pain anymore," Sherman said. "Then you know you can move like you want to. When you feel pain in certain movements, you just don't want to hurt it any worse than it already is, so you kind of baby it a little bit. When you don't have it, you don't worry about it. You're just moving. You're just getting to your spots, you're moving full speed. You can never really move full speed when you have that kind of inhibition because you're always conscious of which foot you're putting in the ground on certain cuts and the game is too fast.
"Even a guy who thinks at my pace, it's still too fast to just be like, 'Hey, I'm going to put the right foot in the ground to break on this out route when the guy is already moving.' I've got to be able to react."
At one point during 7-on-7 drills Tuesday, Garoppolo drilled a completion to receiver Jordan Matthews over the middle on an intermediate dig route with Sherman in coverage.
As Sherman reached for the pass, it narrowly missed his outstretched fingers and landed in Matthews' hands for a would-be big gain.
"It was just a great ball and a confident throw from him and it was just exactly what you want to see from your quarterback moving on in his rehab and where he is in the process," Sherman said. "To be only in day two and be able to make those throws already is a great compliment."
And for as much as that throw signaled Garoppolo's impending return to his teammates, it was what followed with Sherman that meant even more to Garoppolo.
"Even if it was just a little trash talking between series or whatever it is, it's a nice feeling to be back out there and be in the huddle with the guys and looking them in the eyes," Garoppolo said.
Owners to consider tweak to interference reviews
KEY BISCAYNE, Fla. — NFL owners meeting Wednesday will consider a proposal to refine the new rule that allows challenges involving pass interference, and might also announce locations to host upcoming drafts.
Owners voted in March to allow interference calls or non-calls to be challenged by coaches and reviewed via replay as a one-year experiment.
The tweak proposed this week would take the decision to review pass interference in the final two minutes of each half out of the hands of the officials. Reviews in the final two minutes would require a coach's challenge.
"The concern is how many stoppages will we end up with in the last two minutes," Atlanta Falcons president and CEO Rich McKay said Tuesday. "One thing we do not want to do is be a game that has multiple stops in the last two minutes."
Under the rule adopted in March, in the final two minutes only officials in the booth can stop the game for reviews involving pass interference, as is the case with other reviewable plays.
Owners are expected to vote on whether to let the NFL competition committee decide on changing the rule after it discusses the subject with the league's coaches. McKay, a member of the committee, said the group has conference calls with coaches scheduled for early June.
Owners also will consider a proposal to exempt Hail Mary passes so they're not reviewable. That would require the league to come up with the definition of a Hail Mary.
"I actually don't think it's that hard," McKay said. "It's going to be from what yard line was it thrown, were there multiple receivers, how much time is left on the clock. But you want to get input from the coaches — what definition are you comfortable with?"
Future host sites for the draft also will be discussed. The 2020 draft will be in Las Vegas, the new home of the Raiders.
It's uncertain whether owners will act on a proposed rule change that would require each team to have one possession in overtime. The change is being pushed by the Kansas City Chiefs, who lost last season's AFC Championship Game without getting the ball in overtime because the New England Patriots won the toss, received the kickoff and scored a touchdown.
Carr annoyed at rumors Raiders would draft QB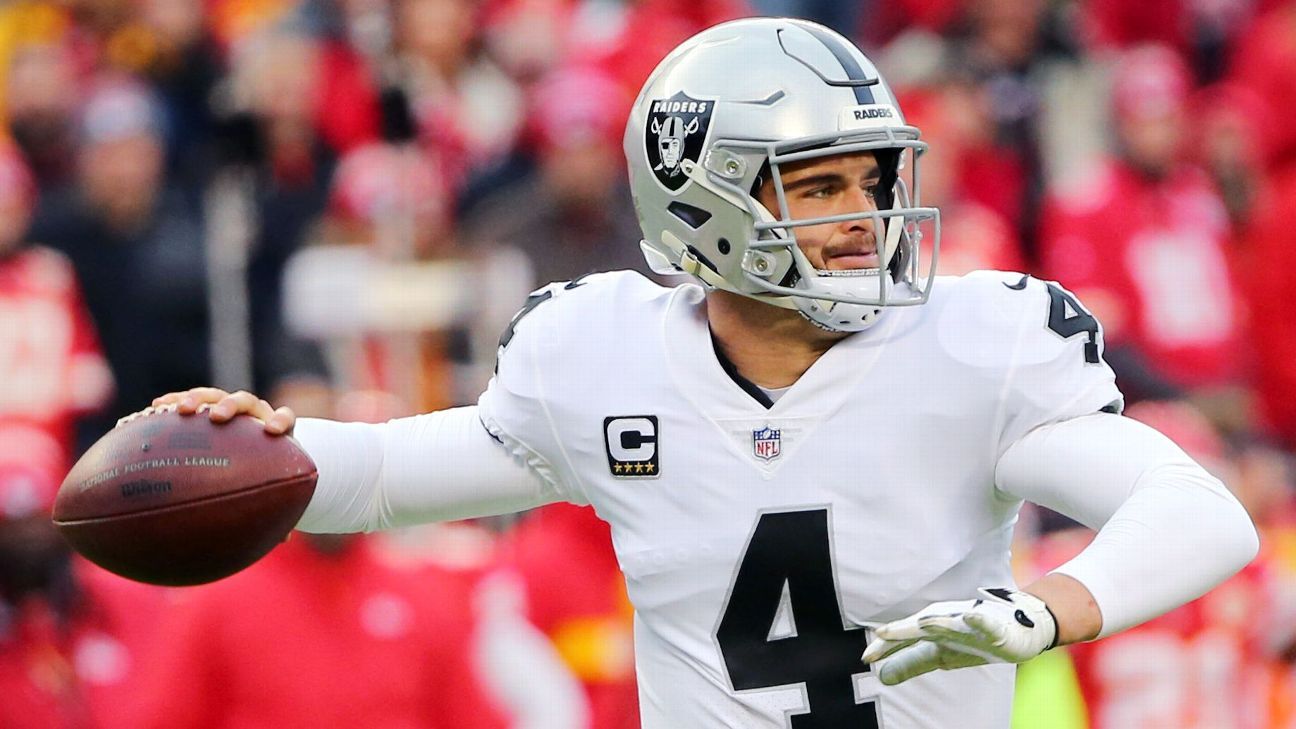 ALAMEDA, Calif. — Derek Carr said he was confident the Oakland Raiders would not draft a quarterback this offseason, but did admit the constant swirl of speculation got under his skin.
"Honestly, it got annoying after a while," Carr admitted Tuesday after the team's first OTA practice, in his first meeting with Bay Area media since the 2018 season finale. "I'm like, 'Really, they don't have nothing else to talk about?' And I didn't help the situation, trying to challenge people to fights."
Carr laughed, but he was not happy in January when he did, in fact, challenge ESPN First Take's Stephen A. Smith and Max Kellerman to an MMA-style match due to criticism they levied at Carr.
Raiders QB Derek Carr took issue with comments about him by Max Kellerman on Wednesday's First Take, and things escalated on both sides Thursday.
That the Raiders did not pick a QB with any of their nine selections in April's draft — instead sticking with Carr and backups Nathan Peterman, Mike Glennon and Landry Jones — only solidified Carr as the franchise quarterback. Particularly after conversations with owner Mark Davis, general manager Mike Mayock and coach Jon Gruden.
"We are always on the same page, because that's what our team needs," Carr said. "That's what the good organizations do."
Which is why Carr, 28, said there was a "minus-47 percent chance in my mind" that Oakland was going to draft a quarterback, despite being linked to Kyler Murray, Dwayne Haskins and Drew Lock.
"They pretty much said that, literally every time it came up," Carr said of getting votes of confidence from the front office. "If it came up. And we're not just playing for this year. I'm honestly going to be here for a long time."
Gruden said Carr did "a lot of good things" last season, and by adding weapons such as receivers Antonio Brown, who did not attend the first practice of the voluntary OTAs after being at most of the offseason training program's first phase, and Tyrell Williams and right tackle Trent Brown, "hopefully a lot of these thing will show up and he'll be a great quarterback, which I know he will be.
"I think he's pretty well respected as one of the best arm talents in football," Gruden added. "I think he's a lot more athletic than people think. I think if we can [maintain] continuity in this building with the system and with the supporting cast, improve the defense, I think he can be one of the best in football."
Still, as Carr enters Year 3 of his five-year, $125 million extension, his $19.9 million base salary for this year is already guaranteed. And if he and the Raiders struggle mightily this season, more speculation will mount, especially since the dead-money hit for the Raiders would be a relatively manageable $5 million if they cut or trade him next offseason. Then start up those Is-Derek Carr-the-Raiders'-QB-in-Las Vegas stories.
"No doubt, right?" Carr said, laughing. "Here we go again. Let's just, let's just get through this year first and we'll play that game again. And I'll have some more fun with it.
"But I'm not going anywhere. This is my team and it will be for as much, however long I want it to be."