Russell Wilson and the Seahawks win with record extension – Seattle Seahawks Blog
Some time close to midnight Pacific time Tuesday, logic prevailed.
That's the first-blush reaction to what ultimately happened when the Seattle Seahawks and Russell Wilson agreed to record-breaking four-year, $140 million extension right before the quarterback's deadline for a new deal passed.
According to ESPN's Adam Schefter, Wilson would have tabled negotiations for at least the remainder of the year had there been no agreement by that point. It would have set the stage for Wilson to play out the final season of his current contract, then go year-to-year on the franchise tag. At the very least, it would have created a messy and awkward dynamic between the team and the face of the franchise if and until the two sides could come to an agreement, which would be anything but a slam dunk once the tags got involved (see: Cousins, Kirk).
At worst, it would have been the first step toward an eventual divorce — be it by a trade or by Wilson signing elsewhere in 2022 or '23.
Either way, no one would have really won, at least not in the short term.
As Seahawks general manager John Schneider and contract negotiator Matt Thomas met with Wilson's agent, Mark Rodgers, over the past four days, each side surely tried to project a willingness to go the franchise-tag route. To both parties, that represented the final alternative option to whatever offers that were extended or rejected.
For Wilson, that could have eventually gotten him unrestricted free agency. But he would have had to play for at least three and perhaps four seasons without any long-term certainty in a sport where career-altering injuries are an ever-present threat.
For the Seahawks, they could have had Wilson for manageable sums of cash over the next three seasons if he were to play out his final contract year and then get consecutive tags. But the price would have skyrocketed to upward of $54 million in 2022, and the inability to spread out the cap charges in any of the tag seasons would have made it harder than it already will be to extend All-Pro middle linebacker Bobby Wagner and/or Frank Clark, the team's best pass-rusher.
Had the deadline passed without a new deal, the Seahawks would have had plenty of time to continue negotiating with Wilson once he was ready to resume talks. But there's no guarantee they would have been able to get it done with hard feelings involved.
Can you imagine the Seahawks without Wilson? They've been there and it wasn't pleasant. Parting ways would have forced them back into the quarterback wilderness they once wandered through with guys such as Charlie Whitehurst, Tarvaris Jackson and Matt Flynn.
Last season's 10-6 record and playoff berth showed that a team with an elite quarterback can never be ruled out no matter how many key pieces it loses around him. The Seahawks won't have to revisit what life is like without one anytime soon now that Wilson is under contract through the 2023 season.
Wilson was present for the start of the team's voluntary offseason workout program Monday. That was confirmed in a picture on the Seahawks' website showing him next to teammate Jarran Reed. The wide smile on Wilson's face belied the uncertainty over what would happen as his contract deadline drew nearer.
Now all involved have a reason to smile.
Chiefs vs. Steelers – Game Summary – August 17, 2019
Down:1st & 10
Ball on:KC 30
Drive:0 plays, 0 yds0 plays, 0 yards, 0:00
(9:09) (Punt formation) I.Berryman punts 37 yards to KC 30, Center-K.Canaday, out of bounds.
| NFL | 1 | 2 | 3 | 4 | T |
| --- | --- | --- | --- | --- | --- |
| Chiefs | 0 | | | | 0 |
| Steelers | 0 | | | | 0 |
No Scoring Plays
Data is currently unavailable.
Jags' Lee returns after missing '18, eyes opener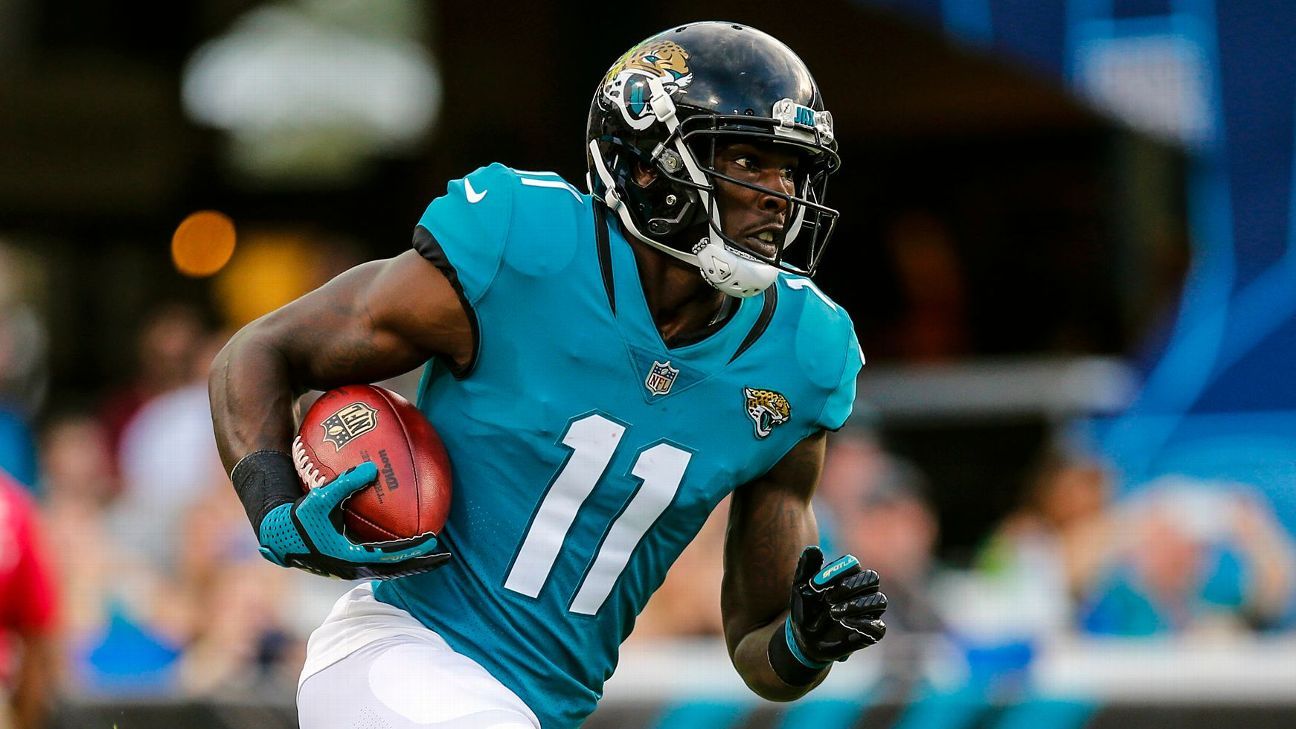 JACKSONVILLE, Fla. — Jaguars receiver Marqise Lee practiced for the first time in nearly a year on Saturday, and he plans on being in the lineup for the Sept. 8 season opener against the Kansas City Chiefs.
That would complete his comeback from a severe left knee injury that wiped out his entire 2018 season.
"My goal is honestly to be ready," Lee said. "As far as the doctors, I can't speak for the doctors and the coaches as far as what they plan for me to be. As far as me, I'm going to continue to take it day by day, try to improve, try to pick up my volume as far as the workload and hopefully be out there by the time it's time to go."
Lee, who had been doing rehab work off to the side during OTAs and training camp, stepped into a huddle Saturday for his first play since Aug. 25, 2018.
He was injured during the first quarter of the Jaguars' third preseason game last year when Atlanta Falcons safety Damontae Kazee drove his helmet into Lee's left knee, which resulted in torn anterior cruciate, posterior cruciate and medial collateral ligaments.
Lee, who has missed 27 games with various injuries since the Jaguars drafted him in the second round in 2014, said being back on the field was a special moment.
"I've been unable to be out there and work with them and sweat with them [and] it's been quite difficult for me," Lee said. "Now I've got the opportunity to be back and sweat with them and grind with them. I don't [have] no worries no more."
Lee does have a lot of work ahead of him if he is going to play in the opener against the Chiefs. While he has a good understanding of coordinator John DeFilippo's new offense on paper, it's another thing to run it on the field. Plus, he said he still has to build a rapport with quarterback Nick Foles.
Lee is unlikely to play in the two remaining preseason games against the Miami Dolphins (Thursday) and Falcons (Aug. 29), so it may take a while for him to make an impact even though he's the Jaguars' most experienced receiver (171 catches for 2,166 yards, 8 TDs).
"It's all mental at this point," Lee said. "I feel like, the physical aspect of it, I did all the rehab and things I need to do, so now I just got to make sure I stay calm and take it slow. It's no worries. I think I'm going to be fine as long as I just manage and take care of myself."
AB takes walkthrough reps, 'didn't miss a beat'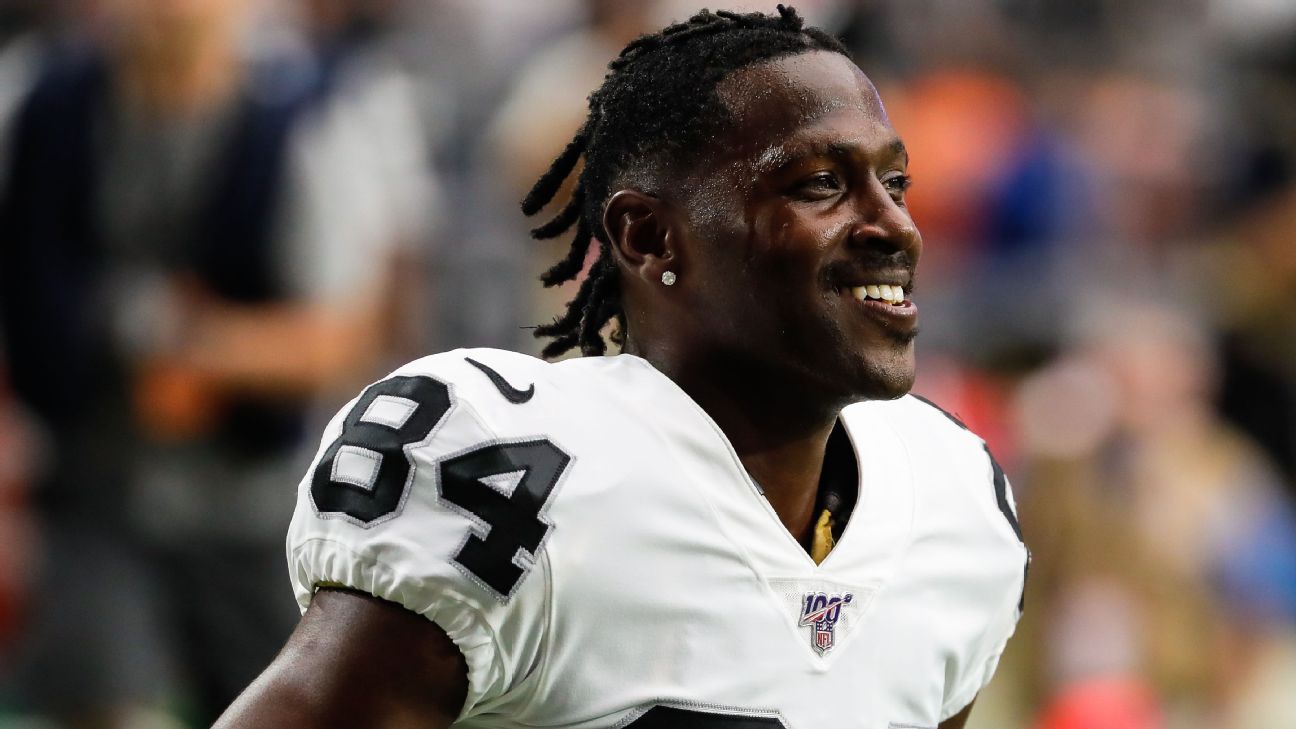 NAPA, Calif. — From running routes and catching passes on Thursday in Arizona to taking part in a Saturday morning walkthrough in wine country to being a full participant in practice as soon as Sunday?
Welcome to Antonio Brown's world as he concludes his first training camp with the Oakland Raiders, while continuing his development with quarterback Derek Carr.
When asked on Saturday if he saw Brown being a full participant in practice soon, Raiders coach Jon Gruden said, "I think so, yeah."
"He took all the reps today in our walkthrough. He showed great retention, and we'll see what happens here with this afternoon; we're going to have a walkthrough today as well. We have a lot of guys that can't practice so we'll pick it up tomorrow."
As far as quarterback Derek Carr is concerned, Brown doing "everything with us just now" bodes well for his own development and preparing for the regular season.
"The man's recall is unbelievable," Carr said of Brown. "He came in and no mental errors, and in this offense, that's not easy to do. Especially, whenever you have a day off … you come back and you're like, you've got to stay on Coach Gruden's offense all the time. You can tell Antonio's been studying because he came out and didn't miss a beat.
"He was a part of everything we did today."
Which is a far cry from what Brown did for the two weeks he was away from the team, not returning until last Tuesday as he sought treatment for his frostbitten feet, suffered in a cryotherapy mishap in France last month. Brown also lost a grievance to wear his old helmet, which is no longer certified, and has found a replacement.
And while the Raiders are expected to practice Sunday and Monday before breaking camp and playing a "home" preseason game in Winnipeg, Manitoba, Canada, on Thursday against the Green Bay Packers, few, if any, starters will play on the artificial turf.
Carr will continue connecting with Brown in walkthroughs and, when he returns, in practice.
"I can get to all my checks and do all that kind of stuff like I'll do during the season and then I have … Tyrell [Williams] and [Darren] Waller and our running backs and Antonio, they're all one-on-one, what do you do, who do you go to?" Carr said.
"That's the mental game we're going to have to play, me and Coach Gruden … but it's nice to have him and I can play it like a real game and where I'd go and what I'd do."