Redskins have changed free-spending ways but not the results – Washington Redskins Blog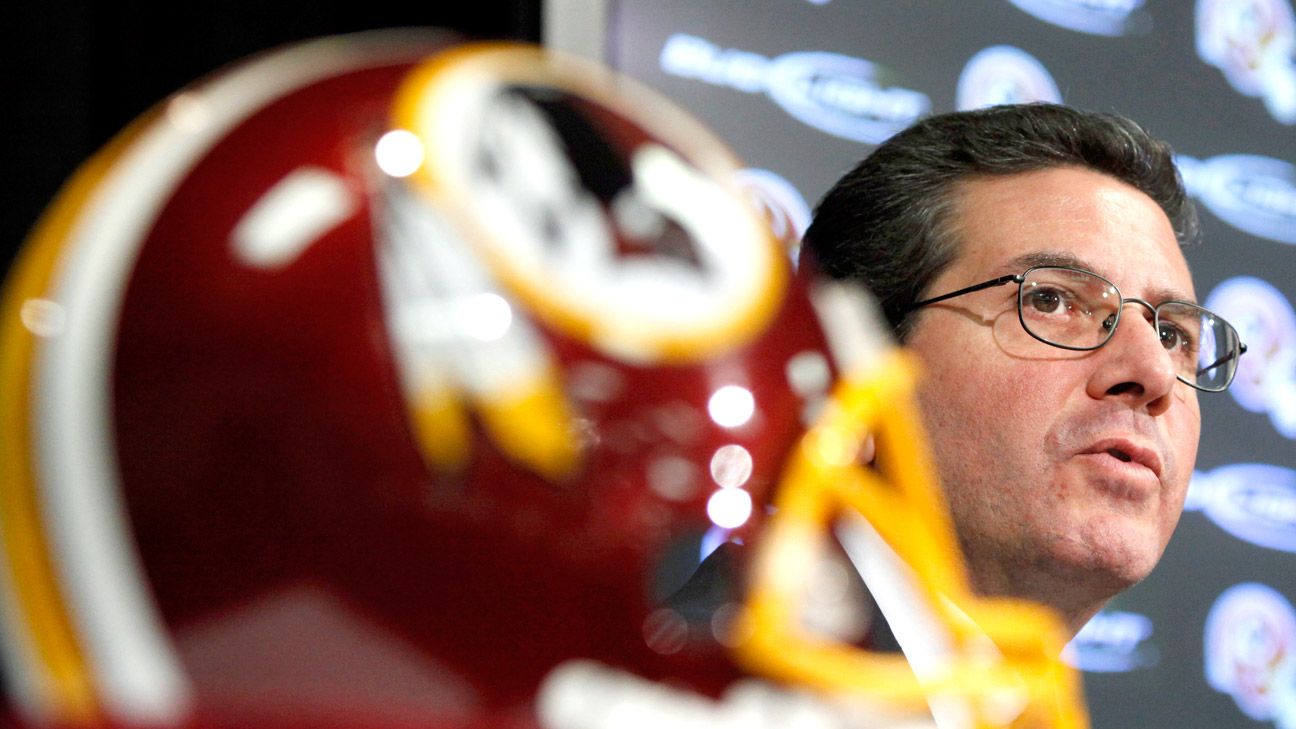 During the early days of Washington Redskins owner Dan Snyder's tenure, cornerback Deion Sanders stood at his locker, oozing the aura of "Prime Time" surrounded by cameras and microphones, and proclaimed the following:
"Every owner in the league tries to secure free agents. The difference is, Dan shops at Versace, other owners shop at Walmart."
But all Versace got the Redskins were splashy offseason headlines and in-season frustration. From 2000 to 2009, Snyder's Redskins were known for signing big-name free agents and changing coaches. Since then, he has had only two coaches, and the organization has tried to build more through the NFL draft.
"Dan shops at Versace, other owners shop at Wal-Mart."

Former Redskins free agent Deion Sanders on owner Dan Snyder
Neither strategy has yet worked. In Snyder's first 10 full years, the Redskins went 70-90, made the playoffs twice and won one postseason game. Since 2010, they are 59-84-1, have made the playoffs twice and lost both postseason games.
They're 31-32-1 over the past four years. They get enough right to be in contention and enough wrong to miss the playoffs. In 2016, they had a passing game ranked second in yards per game (and yards per attempt) with quarterback Kirk Cousins and receivers Pierre Garcon, DeSean Jackson and Jamison Crowder. Regardless of blame, all four are gone.
Once upon a time, the heavy lifting was done in free agency. Now it's the draft.
From 2000 to 2009, the Redskins averaged having 18.5 draft picks on the opening day roster (a figure boosted by a combined 50 in the final two years). Since then, they've averaged 23 draft picks.
The good(?) old days
Snyder, who took over the team in May 1999, wanted to build on a 10-6 season and NFC East championship. So, in 2000, the Redskins did it by signing older veterans to contracts totaling $112.25 million: Sanders, defensive end Bruce Smith, safety Mark Carrier and quarterback Jeff George (despite Brad Johnson having had a Pro Bowl season). They turned a 6-2 start into an 8-8 finish and fired coach Norv Turner after 13 games. Only Smith played more than one full season in Washington.
"The year we got Deion and all of them, if we had a kicker we probably would have won 11 or 12 games," said Vinny Cerrato, in charge of personnel for most of Snyder's first 10 years. "There were extenuating circumstances. Was it the right decision? It turned out not to be because we didn't win."
They lost three of four games before Turner's firing by three points or fewer. In each game, they missed a field goal attempt, though in one it was from 56 yards. But if the other two makeable ones had been converted, they would have been 9-4 after 13 games instead of 7-6.
Regardless, the season laid the blueprint for Snyder's early ownership: pursue big names and sign free agents. Executives around the league grumbled about the Redskins' aggressive spending. The team didn't care.
"Dan told his contract [guy], 'I'll pay whatever, just don't screw me,'" Cerrato said.
In the 2000-09 span, the Redskins often went hard after free agents. They signed Jeremiah Trotter in 2002 for seven years and $36 million; he was released at the end of the 2003 season. They signed Michael Barrow in 2004 after he led the New York Giants in tackles; he never played a down in Washington because of knee issues.
They had some good pickups, too, such as defensive linemen Cornelius Griffin and Phillip Daniels, linebacker Marcus Washington, cornerback Shawn Springs and linebacker London Fletcher. That group formed a defensive cornerstone under coach Joe Gibbs, helping the team make the playoffs twice in four years.
"Those guys were great leaders," Cerrato said.
In 2006, they made Adam Archuleta the highest paid safety in the game. It was a disaster; he was benched and released after the year. In 2009, they gave Albert Haynesworth the first $100 million contract, with a then-record $41 million guaranteed. He lasted two seasons.
"Archuleta is the one I wouldn't do again," Cerrato said. "You'll always have people say, 'Damn why did I do that?' You'll always have that; same with the draft."
There were wild swings with the draft: The Redskins had 10 picks in 2002 and 2008. They averaged 5.4 picks in the other eight drafts. That hasn't been the case lately.
Changing times
It's not as if Washington stopped handing out big contracts. Over the past six years, they signed receiver Jackson, cornerback Josh Norman and, last month, safety Landon Collins, among others. Norman and Collins were made the highest-paid players at their positions. The Redskins, though, backed out of the bidding for linebacker C.J. Mosley when it shot $2 million per year above their desired amount. That has happened more and more over the years.
In 2018 and '19, five of the Redskins' 10 highest cap hits were their own draft picks. In 2007 and '08, only two of the top 10 were drafted by Washington.
The Redskins have retained some of their picks — Ryan Kerrigan, Jordan Reed and Trent Williams all received big contracts — but let others leave. Inside Redskins Park, numerous people say there has been more focus on the draft in recent years — and a lot more talk about compensatory picks. They have three this year and probably will have at least one in 2020.
Over the past four years, the Redskins have drafted 35 players — their most in a four-year span since 1990-93. The draft lasted 12 rounds until 1992 and eight in '93 before settling on the current seven rounds.
"The draft gives you the best opportunity to build the core of your team," Redskins president Bruce Allen said. "Free agency, very few times will we be able to get a player like Landon who is 25 years old, in the peak of his career, with great leadership skills and character. When that opportunity is there we'll do it, whether in free agency or a trade. Last year we had just acquired [quarterback] Alex [Smith]. We saw him as a blue-chip player and someone who can help us. We'll still look into trades whenever possible."
They need to hit on more picks. Of their past five second-round picks, only two remain on the roster — linebacker Ryan Anderson, who might start at outside linebacker; and running back Derrius Guice, who is coming off a torn ACL.
But this focus has made them a younger team. At one point this season, they had 28 of their own draft picks on the roster and 33 homegrown players.
According to the Elias Sports Bureau, their average age at the start of the season since 2012 has been above 26 only once. From 2000 to 2011, it was always at least 27 years old — and they had the oldest roster, or second oldest, seven times.
Why hasn't it worked
The Redskins have been beset by injuries the past two years — a combined 47 players finished those seasons on injured reserve, which clearly impacted their on-field success. But other issues have impeded success: Coach Jay Gruden has said (as have others who have dealt with the franchise) that the front office and coaches need to be on the "same page." That leads to the front office and coaching staff not always being in accord on players.
They need their big-time money players to produce at a commensurate level; too many of them, for whatever reason, have not. They've had three defensive coordinators during Gruden's tenure.
What the fans want, though, is a strategy that leads to winning. At the NFL owners meetings in March, Allen was asked to evaluate his own job performance.
"I'm 7-9; so is everybody," he said. "I do understand the fans … they want the Redskins to win. The last two years we're 7-9 and it's not a great taste in your mouth. It's not 0-16, but 7-9 leaves a bitter taste."
That doesn't mean they'll revisit what they're doing.
"No," Allen said. "We've got to work harder. We've got to find the players who will give us the opportunity to win, and put them in the right position to win."
Chiefs' Bieniemy — Not playcaller, but has input
ATLANTA — Kansas City Chiefs offensive coordinator Eric Bieniemy scoffed at the idea that not being a playcaller cost him an opportunity to become a head coach after he interviewed for four head-coaching vacancies.
At this week's NFL Quarterback Coaching Summit hosted by the NFL and Black College Football Hall of Fame, Bieniemy said he relished the opportunity to interview with the New York Jets, Tampa Bay Buccaneers, Cincinnati Bengals and Miami Dolphins. Only one of the eight teams with new head coaches hired a minority, as the Dolphins selected Brian Flores.
"Here's my response about the playcalling: coach (Andy) Reid has always done it his way, and that's how historically he's done it because he's Coach Reid," Bieniemy told ESPN. "He has a beautiful mind, and we all work hand-in-hand together. And he gives me the green light to do a number of things. I have input. I do scripts. I get the install. There are a number of things that I do."
As Jason Reid of The Undefeated reported in January, Reid said Bieniemy had been "unbelievable" as coordinator, while MVP Patrick Mahomes called Bieniemy a "special coach" and a guy who has helped him a ton.
"Do I talk to the quarterback? Yes," Bieniemy said. "(Reid) is reciting what he wants me to particularly tell Pat to call. So if people want to make a big deal about that, so be it. The experience that I've gotten, understanding how an offensive system works, the organization, how to prepare it, how to get guys going and moving in one direction for one cause, that's what this is about."
Although Bieniemy's focus remains on his current duties with the Chiefs, it seems likely that he'll receive a head-coaching opportunity based on his strong reputation. The Fritz Pollard Alliance, which oversees compliance with the Rooney Rule requiring teams to interview minority candidates, backed Bieniemy, 49, throughout the interview process.
"John Wooten and the Fritz Pollard Alliance, I thought they did a hell of a job; they gave me an opportunity," Bieniemy said. "Obviously, Coach Reid has given me an opportunity. And I think my interviewing process went about as good as it could go.
"Also, it gave me the experience moving forward knowing that, 'You know what, this is my first go-around. Second go-around, if I'm blessed and fortunate to be placed in that situation, I'll be that much better.' But as far as a head-coaching position is concerned, right now we're focused on the season. Obviously, we want to go out and do some things that's going to help us to continue to have success. Then if somebody wants to give me a chance, I'll be willing, ready, and waiting for that opportunity."
Marvin Lewis and Hue Jackson, two former black NFL head coaches, both expressed support for Bieniemy.
"In my mind, there's no question that Eric Bieniemy deserves an opportunity to be head coach in the National Football League," Lewis said. "I'm a very, very close friend of Andy Reid's and for the last three years, he's talked to me about Eric's ability and attributes and what he has added to their offense. That's why he elevated him to the coordinator role. Andy has recommended a number of coaches to me over the years, and he's never been wrong."
"Yes, Eric Bieniemy does deserve a head-coaching job," Jackson said. "There's no question about it. I think he's one of the brightest, young offensive minds in the NFL. Everyone says who is the next up-and-coming guy, and he's been that. He's worthy of that. I mean, watch how the quarterback played in Kansas City. I just know when they talk about offense, they talk about Eric."
Working on the offensive side of the ball should work in Bieniemy's favor, with most teams seemingly looking for the next bright offensive mind. Bieniemy is one of two black offensive coordinators, along with Byron Leftwich of the Tampa Bay Buccaneers.
"I've been an offensive coach my whole entire life," Bieniemy said. "People think just because you coach running backs you don't understand the pass game. Well, when you've played the position, and you're involved in coaching the position, you've got to make sure guys understand the entire game plan, meaning you're very much involved in the pass game. You have to understand protections. You have to understand route concepts. You have to understand how defenses are structured going against you.
"Do we need more [minority] coaches on the offensive side of the ball? Yes. How do we go about doing that? We have to make sure there's a plan for guys of helping guys get into that quarterback room and into quality-control positions so those guys can add that knowledge and learn how to deal with the quarterbacks, learn the language and speak it."
Ramsey now avoids dissing QBs — 'I'm growing'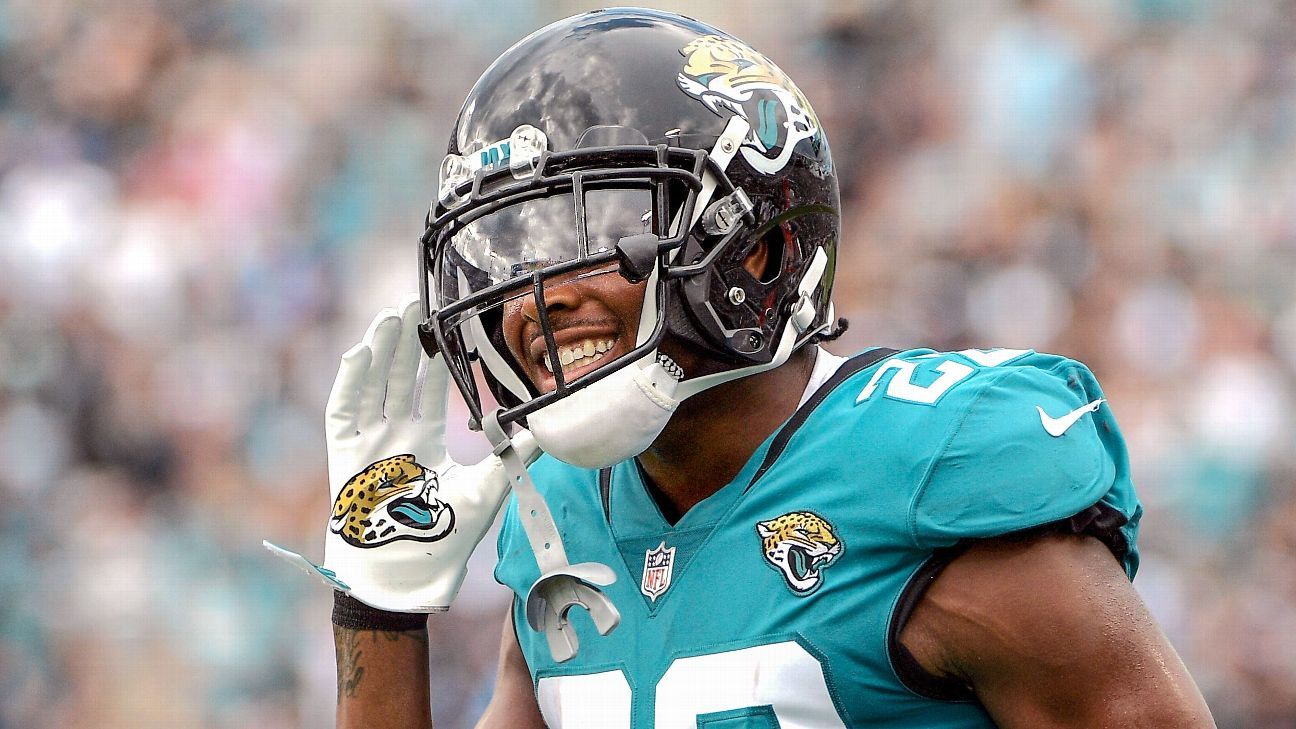 Jacksonville Jaguars cornerback Jalen Ramsey made headlines last year when he criticized several opposing quarterbacks in a published interview. He's not going down that road again this year though.
Asked by ESPN Adam Schefter on his podcast if he wanted to evaluate the quarterbacks he will face in the 2019 season, Ramsey passed and only wanted to talk about Nick Foles, who signed a four-year contract this offseason to become the Jaguars' new starting quarterback.
"You want to do this again, huh? I'm not going to do this again but, we do play some good quarterbacks this year, of course, but probably the quarterback I'm most excited for is Nick Foles," Ramsey told Schefter. "I don't have to play against him, of course. He is my teammate. He is a great teammate, the few interactions we've had has been great. Great man, great player as well. He has nothing to prove to anybody. He's a Super Bowl champion, Super Bowl MVP. So, I hope he comes out here and he plays free and knows he has the support of everybody."
In a 2018 interview with GQ magazine, Ramsey caused a stir by belittling several quarterbacks, including calling the Atlanta Falcons' Matt Ryan "overrated" and the Buffalo Bills' Josh Allen "trash."
But Ramsey said he's grown since last year.
"I'm growing man, it's Year 4 for me. It's a different me. A lot of people think they know me, they don't really know me. But hey, that's OK," he said.
Ramsey, the No. 5 overall pick in 2016, has made two Pro Bowls and was named a first-team All-Pro once in his first three seasons. He has nine interceptions and 44 pass breakups and hasn't missed a start.
Judge OKs $24M settlement over Rams' PSLs
ST. LOUIS — A federal judge has approved a settlement calling for the NFL's Rams to pay up to $24 million to personal seat license holders in St. Louis.
U.S. District Judge Stephen Limbaugh Jr. approved the settlement Monday.
Several St. Louis PSL holders filed a class-action lawsuit after the team moved to Los Angeles in January 2016. Thousands of fans in St. Louis had purchased PSLs that were good for 30 seasons, which was the length of the lease at the domed stadium where the Rams played in St. Louis. Rams owner Stan Kroenke took the team to California after 21 seasons.
The lawsuit calls for PSL holders to get 30 percent of the original purchase price, a refund for the nine unused years of the seat license fee, plus damages.