How mathematicians are trying to make NFL schedules fairer
Four years ago, a group of University at Buffalo researchers submitted a paper to the MIT Sloan Sports Analytics Conference, outlining a mathematical approach by which the NFL could potentially produce a materially fair and largely disparity-free schedule.
NFL executives weren't so sure at first. Creating the annual schedule is a difficult task, and a league spokesman offered a gentle, public rebuke, noting that the researchers focused "only on fairness" while failing to consider a series of unavoidable constraints, including accommodating television partners and working around stadium limitations. But as the NFL prepares to release its 2019 schedule this week, the league and the Buffalo researchers — led by Mark Karwan, Ph.D., a professor of operations research — are now working together.
The NFL agreed to a three-year research grant in November 2018 to provide year-round method development and schedule testing. The league confirmed the agreement but did not comment further.
"This is a field I've worked in for 46 years, including 43 as a professor," Karwan said by phone last week. "I've worked on very difficult problems that take more than 12 hours on the supercomputer to solve. And this is by far the hardest any of us have ever seen."
Indeed, Karwan calculates there are more possible NFL schedules (10 to the 300th) in a given year than there are atoms in the universe (10 to the 80th). And, intuitively, most of us realize and accept that the schedule always carries some weird elements, whether it be three consecutive road games or a long stretch without a division matchup. We assuage our concerns with the idea that those disparities even out over time, but Karwan's initial research showed that was not always the case.
The whole project was sparked, in fact, by his hometown Buffalo Bills complaining about how often they faced teams who were coming off either a bye or a Thursday night game, which gives their opponents a rest advantage. As it turned out, between 2002 and 2014, the Bills had twice as many of those games as some other teams. The Bills were at a seemingly permanent disadvantage.
The NFL has managed to create a national holiday out of the schedule release, in part because it makes the upcoming season feel imminent but also because of the anger and debate it sparks. And with the full list of constraints in hand, Karwan and his team — including one of his Ph.D. students, Zach Steever — determined it is impossible to eliminate every potential quirk or disparity. But working with a dedicated computer chained to a wall for security, on a secure internet connection in a room that requires a password to enter — "It's like working for the Department of Defense," Karwan said — the team is focused on lowering the number of those undesirable outcomes.
In developing the schedule, NFL assigns "penalty points" to outcomes such as three-game road trips, games between teams with disparate rest, and road trips following a Monday night road game. In their final proof of concept in 2017 before receiving the grant, Karwan and Steever took the 2016 schedule and lowered the penalty total by 20 percent.
What is the approach? It's, in a word, complicated. Karwan and Steever suggest viewing each NFL schedule possibility as a grain of sand. Even for a powerful computer, the beach is too big to look at every grain. So the challenge is to narrow down the possibilities in a way that prompts the NFL's computers to find better possibilities "in smarter areas of the beach," Steever said.
The first step is based in both math and reality. Before creating the schedule, the NFL identifies a small number of games — usually between 40 and 50 — to lock in. The league refers to this as "seeding." It helps accommodate expectations from television partners for key games in certain time slots, as well as about 200 annual requests from owners who prefer their stadiums not be used in a given week because of concerts, baseball games, marathons and other potential complications.
That step is also crucial for the math, however. Establishing one game — which also means assigning a week, a time slot, a network and a stadium — eliminates many multiples of schedule possibilities.
"Without it," Karwan said, "there are too many possibilities for any computer you would have. It would never solve."
At that point, the NFL asks its computers to run schedule simulations until it finds one that has an acceptable penalty total. Usually that means juggling the 40 to 50 pre-seeded games. Karwan and Steever believe the key to improving the schedule is to better choose those pre-seeded games, allowing the computer to see stronger schedules that would otherwise be blocked by the initial choices through a process known as integer programming.
Mathematically, they believe, there are ways to identify games that will minimize the elimination of good schedules. A smarter mix of obvious major matchups with others that are friendlier to the math would, in theory, reduce the penalty totals and thus minimize the disparities in the schedule.
Even if all goes well in the coming years, only the most ardent schedule analysis will reveal the hoped-for improvements. But there are plenty of ancillary advantages from a broader sense, Steever explained.
"The hope would be that you notice it in the quality of the games," he said. "Every team knows its opponents before the schedule comes out, but where you place them in the schedule matters. If you create a schedule that minimizes, say, long trips on short weeks or evens out the rest disparity, those kinds of things can factor into quality of the play."
If you're motivated enough, you will never fail to identify slights against your team — real or perceived — when the NFL schedule is released. But in the coming years, you might have to work a little harder to find them.
NFL, NCAA team up for safety improvements
INDIANAPOLIS — The NFL is teaming up with the NCAA to make football safer.
Two of the league's top medical experts, Jeff Miller and Dr. Allen Sills, spent Monday and Tuesday in Indianapolis meeting with NCAA officials, college team doctors and trainers. Both told The Associated Press they hope it's just the first of many meetings.
The focus until now has been primarily on concussions. But Miller and Sills are placing even more attention on the prevention and treatment of lower-body injuries such as sprained ankles, strained hamstrings and knee problems.
League officials have been collecting data about cleat traction and how cleats release from different playing surfaces in an effort to keep players healthy. They also believe college researchers can help expedite the process.
Police — Former RB 'He Hate Me' Smart missing
Police in South Carolina have put out a missing person advisory for former Philadelphia Eagles and Carolina Panthers running back Rod Smart.
The Lancaster County Sheriff's Office says that Smart — perhaps best known for his "He Hate Me" jersey in the XFL — was last seen Wednesday in Indian Land, South Carolina.
"It is unusual for him to be out of touch for this long," police wrote in the advisory. "Mr. Smart's family is worried about his safety and well-being."
Smart, 42, played in one season for the Eagles (2001) and four with the Panthers (2002-05). He came to fame for his "He Hate Me" nickname, which he was allowed to put on his jersey for the one season of the XFL in 2001.
Fantasy football — When to expect a breakout for WRs, and when to give up on them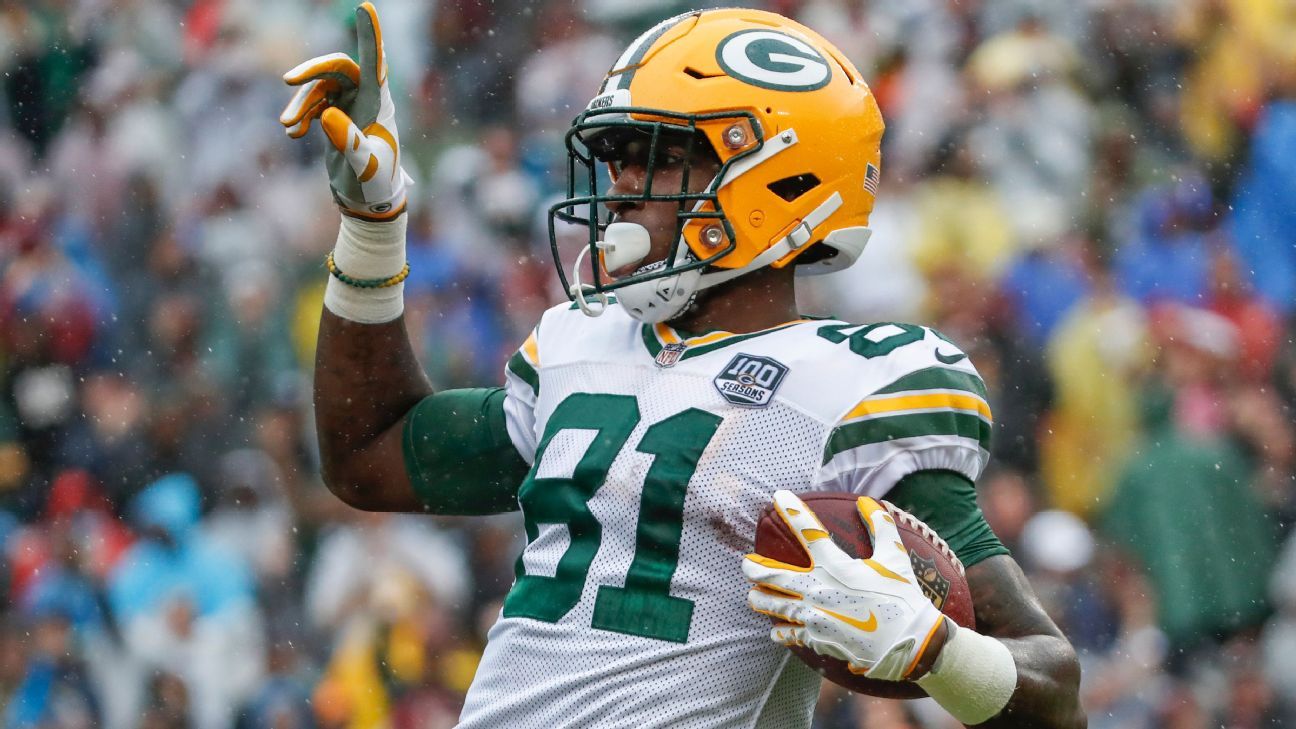 For a long time, the rule was the same: Year 3 is the breakout age for NFL wide receivers. It hardly mattered if the player struggled during his first two seasons. That third year is when you wanted him on your radar. That's when he would make or break his career.
Then 2014 happened.
Odell Beckham Jr., Mike Evans, Kelvin Benjamin, Jordan Matthews, Sammy Watkins and Jarvis Landry were all in the top 31 among fantasy wide receivers, and the likes of Allen Hurns, Taylor Gabriel, Brandin Cooks, Davante Adams, Allen Robinson, John Brown, Donte Moncrief and Martavis Bryant made noise as well.
That historic season has raised expectations for rookie wide receivers, but production has returned to earth in recent seasons. That begs the question: Is Year 3 still an important season for wide receivers?
The answer: Sort of.
How long should you wait for a breakout?
If we look at the current stable of star wide receivers (we'll use my latest 2019 top 25 for reference), 21 of them posted their first season with 150-plus fantasy points — roughly the threshold you'd need to reach to achieve a top-40 fantasy campaign — in their first two seasons. The exceptions are Davante Adams (third year), Adam Thielen (third), Julian Edelman (fifth) and Tyler Boyd (third).
A list of all wide receivers who have entered the league since 2007 shows that 125 have posted at least one season with 150-plus fantasy points. Interestingly, 123 of them first achieved the feat prior to their sixth season in the league. Here's a breakdown of when those receivers reached that threshold for the first time:
Rookie season: 36 (29 percent)
Second season: 44 (35 percent)
Third season: 23 (18 percent)
Fourth season: 12 (10 percent)
Fifth season: 8 (6 percent)
Sixth season: 2 (2 percent)
Some simple math tells us that a whopping 64 percent of wide receivers who will reach that 150-point mark at some point in their career have hit it by the end of their second season. An astounding 82 percent have by the end of their third season and 92 percent by the end of their fourth season.
What does it all mean? Two things come to mind:
1. Year 2 appears to be the more accurate "breakout" year for wide receivers.
2. If a wide receiver hasn't broken out by the end of his third season, he's a long shot to ever reach fantasy relevance. And if he doesn't by the end of his fourth season, you can all but cut bait.
This season's breakout candidates
Let's apply what we learned above to 2019 and beyond.
For starters, let's go back to my 2019 rankings. I noted that everyone in my top 25 has already managed at least one top-25 campaign. If we dig deeper, we find a few players who have yet to reach that goal.
The first is the 49ers' Dante Pettis, who is entering his second season after a promising rookie campaign (104 points). No worries here, as the 2018 second-round pick is right on track and positioned for a big role in his second season. The same can be said for the likes of Christian Kirk, Keke Coutee, Michael Gallup, Courtland Sutton, DaeSean Hamilton, Anthony Miller and James Washington. All failed to reach 150 points as rookies, but history suggests there's no need to worry just yet.
The second player in my current rankings who has yet to reach 150 points is more notable: Will Fuller V. He is entering his fourth NFL season but has yet to clear 134 points in a single season. Injuries have been the obvious culprit (17 missed games), so it's possible he could fall into the aforementioned 10 percent of receivers who reach the mark in their fourth season. If we extrapolate Fuller's per-game production over 16 games, his point totals would've been 146.5 as a rookie, 181.1 in 2017 and 243.0 last season. The latter would've ranked 14th at the position. Hope remains for the vertical threat.
Other notable players who have yet to clear 150 points despite at least two seasons in the league: Packers WR Geronimo Allison, Panthers WR Curtis Samuel, Dolphins WRs Albert Wilson and Jakeem Grant, Redskins WR Josh Doctson, Jaguars WR Chris Conley, Bengals WR John Ross, Ravens WR Chris Moore, Chiefs WR Demarcus Robinson, Patriots WR Phillip Dorsett and Broncos WR Tim Patrick.
History says most of these players will never emerge but that there will be a few exceptions. Let's take a look at a few players from the list who are well positioned for a 2019 leap and could be those exceptions:
Allison, who went undrafted in 2016, has yet to finish a season as a top-100 fantasy wide receiver, but he was well on his way to a breakout in 2018. Working as Green Bay's No. 3 receiver, Allison was averaging 7.25 targets per game and sat 28th in fantasy points through Week 4 prior to suffering a variety of injuries. He's the favorite for No. 2 duties in 2019, which could allow a late breakout.
Samuel is another player on the list who appears primed for a 2019 leap. After producing 179 yards on 19 touches during an injury-plagued rookie season, the 2018 second-round pick put up 578 yards and seven touchdowns on 47 touches (137 fantasy points) in 13 games last season. Injuries have been an obvious issue, but Samuel is still only 22 years old and no lower than second in line at wide receiver for targets in Carolina.
Miami is in the midst of a rebuild, but Wilson is a name who could emerge in an offense with more questions than answers. The 26-year-old sat 25th at the position in fantasy points in 2018 prior to a season-ending hip injury. His primary competition for snaps in 2019 will be DeVante Parker, Kenny Stills and Grant. It shouldn't surprise anyone if Wilson leads the team in targets.
Ross is worth a note, as the former first-round pick and 40-yard dash record holder enters his third season. It's possible Ross will be rejuvenated in Bengals coach Zac Taylor's offense, but it's hard to want to invest much in a player who has arguably been the least efficient receiver in the league over the past two seasons. Ross scored an unsustainable seven touchdowns (4.8 OTD) last season and has caught a horrific 35 percent of 60 career targets. It's possible the 23-year-old takes a huge step forward this season (as Nelson Agholor and Tyler Boyd have the past two years), but that makes Ross worth no more than a late-round flier.
The impact of NFL draft position on fantasy relevance
To wrap up this study, I took a look at draft pedigree to see how it translated to 150-plus-point seasons. This should be no surprise, but there is a large correlation.
Incredibly, 73 percent of wide receivers selected in the first round since 2007 have posted at least one season with 150 or more fantasy points. The average season of their career in which they achieved the feat was 1.7. In fact, 27 of the 32 got there in their first two seasons, with Nelson Agholor, Tavon Austin, Demaryius Thomas, Darrius Heyward-Bey and Robert Meachem managing it in Year 3. At least one first-round wide receiver from each draft class has hit the mark except for 2008 (none drafted) and 2016 (Corey Coleman, Will Fuller V, Josh Doctson, Laquon Treadwell).
Of course, the hit rate declines relatively consistently as the draft progresses, with wide receivers selected in the sixth and seventh rounds extreme long shots for fantasy success. The likes of sixth-rounders Antonio Brown and Pierre Garcon and seventh-rounders Julian Edelman and Stevie Johnson don't come along often. This should give you pause about investing in 2019 sixth- and seventh-round picks, including Kelvin Harmon, KeeSean Johnson and Travis Fulgham. Even if you feel one of the late-round picks could succeed, you should exercise patience. Of the seven sixth- or seventh-round wideouts who have reached the 150-point plateau, only Brown did it prior to his third season.
By the way, note that 19 undrafted wide receivers have reached the 150-plus-point mark during this window, though they aren't included in the chart since it's nearly impossible to track all undrafted wide receivers who have made a stop on an NFL roster. The hit rate would figure to be between 4 percent and 7 percent — a range we see for sixth- and seventh-rounders.