Patriots' Stephen Gostkowski: I was 100 percent wanting to be here – New England Patriots Blog
FOXBOROUGH, Mass. — Quick-hit thoughts and notes around the New England Patriots and NFL:
1. He's back and "excited it worked out." Kicker Stephen Gostkowski returned last Sunday from a NFL-USO tour to South Korea, in which he visited U.S. troops and their families at military bases, and he called it an unforgettable and humbling experience.
I have a longer piece on Gostkowski's trip coming soon. As part of our interview on the NFL-USO tour, I asked him about returning to the Patriots after an extended time as an unrestricted free agent, with a two-year deal finalized over the past couple of days.
"I'm extremely grateful and excited for the opportunity to keep playing, especially for this team. Having had to wait 13 years to be a free agent kind of put a different spin on things for me, because I'm in a whole different place in my life and career than a lot of people when they first have a shot at free agency. The things I had to think about and go through, and decisions I had to make of whether I would stay or leave, are completely different from what I would have had 10 years ago when I could have had a chance at free agency," said the 35-year-old Gostkowski, who with his wife, Hallie, has three children.
"But having the extra time, and waiting and taking my time, really made me know that I was 100 percent wanting to be here. I'm so blessed to have a chance to play 15 years in one spot. I know my position is different than most. But even in my position, guys that have played it this long, have probably already been with two or three different teams. We love it here. My family loves it here. It would have been a lot to leave.
"You have to make decisions based on a multitude of factors, and every time I thought of what it would be like somewhere else, I always came back to how much I love it here. It's a weird business, and you have to explore every option, but it was really tough for me to think I was ever going to leave. I'm excited it worked out and just thankful for another opportunity to have a crack at playing for the Patriots."
2. The bond that ties Solder and McDaniels. There can be incredibly strong bonds formed between players and coaches in football, and I learned of one between former Patriots left tackle Nate Solder and offensive coordinator Josh McDaniels this past week. Solder was back in Boston with his wife, Lexi, as they were the headline guests for a Boston Children's Hospital function in which they shared the story of their son, Hudson, who was diagnosed with cancer. Solder was discussing how McDaniels' emotional support was so meaningful to him at the time of Hudson's diagnosis, and part of what made the remarks especially poignant was that McDaniels was in the room to hear them. Even though they are now on different teams, the bond remains as strong as ever.
3. TB12's challenge for 2019. The Patriots begin their voluntary offseason program on Monday, which sparked a recollection of something quarterback Tom Brady said at opening-night festivities for Super Bowl LIII. Brady didn't attend the voluntary offseason program last year, and he was asked how much he felt that approach contributed to the team's success.
"I don't think there's a strong correlation," Brady said at the time. "Had I been a part of the offseason, this team would have fought just as hard. We have great leaders. Even when I wasn't there, I was totally confident the team was doing everything that they needed to do."
Not long before Brady had shared those thoughts, he had relayed how this offseason was already on his mind before Super Bowl LIII.
"My greatest challenge in 2019 is going to be continuing to prepare the way I want with my body, my mind. It always has its unique challenges. I've already got my offseason mapped out," he said on opening night. "It's nice when you figure out the Super Bowl is your last game, and you can start penciling in all the dates for your family and so forth. It will be a lot of time with my family and try to get ready for another year."
4. Did You Know? Receiver Julian Edelman has the richest financial bonus for taking part in the Patriots' offseason program, at $500,000. That easily outdistances the second player on the list, defensive tackle Lawrence Guy, who gets a $200,000 workout bonus. The only other players with six-figure bonuses are outside linebacker John Simon ($150,000), safety Patrick Chung ($100,000), receiver Phillip Dorsett ($100,000) and defensive tackle Mike Pennel ($100,000).
5a. Addition of a new tight end. The Patriots' signing of Austin Seferian-Jenkins to a one-year, $895,000 minimum deal falls into the it-can't-hurt-to-give-it-a-look category. That's a low cost for a player who had landed a two-year, $10 million pact last offseason, and, of course, the Patriots have a notable void to fill after Rob Gronkowski's retirement. The 6-foot-5, 262-pound Seferian-Jenkins runs and catches the ball well, and though he has never been a mauling blocker, he had several snaps tight to the formation in the Jaguars' win against the Patriots in Week 2 last season against Keionta Davis, Kyle Van Noy and Deatrich Wise Jr. On one of them early in the second quarter, he helped spring T.J. Yeldon for a 15-yard run to the left edge. The Patriots are always looking for a combination tight end and Seferian-Jenkins' blocking, from my view, will be the key to see if he can become that in the Patriots' scheme.
5b. In 2017, when Seferian-Jenkins had his most productive pro season with the Jets (50 catches), current Patriots assistant coach Mick Lombardi was on the Jets offensive staff. It makes sense to think that link provided the Patriots some solid intelligence on what Seferian-Jenkins was like on a daily basis.
• Why Packers' run game excites Rodgers
• Should Jets play 'Let's Make A Deal' at 3?
• Rams hope '18 midround picks can produce
• 49ers targeting WRs after missing on OBJ
• Could Polite follow Suggs' path to Ravens?
• NFL draft: Mock drafts, prospects and more
6. Hogan's departure. Although not a carbon copy, I see some similarities between the free-agent departures of receivers Chris Hogan in 2019 and Wes Welker in 2013. In both cases, my belief is the Patriots had explored extensions well before each player became a free agent, but the initial financial gap was so wide in each case that it ultimately resulted in too much ground to make up. Specific to Hogan, by the time free agency began, I sensed that both player and team viewed a fresh start as the best approach. I haven't seen the specifics of Hogan's one-year deal in Carolina, but it was relayed to me that he received just a $300,000 signing bonus and has a chance to earn a maximum of $2 million, which stood out as extremely modest based on what his expectations were at this time last year.
7. Crystal ball into 2019 schedule. If the past holds true to form, the NFL should be releasing its 2019 schedule this week, which for many is one of the most anticipated days of the year because it means autumn and winter plans can be made for trips with friends and family. The NFL has already confirmed the Patriots will open at home on Sunday night, Sept. 8, and part of the fun is considering what opponent might fit best from a scheduling standpoint. My rankings:
Jets: While some might view it as too regional of a matchup, I think Le'Veon Bell's return and the growing star of quarterback Sam Darnold makes it a solid fit.

Steelers: Lots of intrigue around the Steelers without Antonio Brown and Bell, and this game hasn't been in prime time in recent years.

Cowboys: One would think this game would do big ratings later in the season, and is a big asset to Fox on one of its limited visits to Foxborough, so why waste it on opening night?

Browns: My former No. 1 choice, I bumped it down after the Odell Beckham Jr. trade, thinking the league wouldn't want to waste it in a spot that figures to draw big ratings regardless.

Chiefs: A rematch of the AFC Championship Game seems to be too good of a matchup to put on opening night.

Bills: A team that seems to be on the upswing, but my question would be if there is enough national appeal to give them the Sunday prime-time opener.

Giants: It wouldn't make much sense for the teams to meet in the fourth preseason game at Gillette Stadium, and then turn around a week or so later and play a game that counts in the same venue.

Dolphins: With Miami in transition, this falls into the rare category of not having enough appeal to be on the opening-week national television schedule.
8. Something else to put on the schedule this week. Finalists for the Patriots Hall of Fame are expected to be announced by the club. Defensive lineman Richard Seymour and linebacker Mike Vrabel were finalists last year, and it makes sense to think they'll be there again. So the intrigue comes with the third and final spot, with safety Rodney Harrison my hunch for filling that place on the ballot.
9. From the set-your-clock department. Last year's first round of the NFL draft lasted 3 hours, 25 minutes, which means if the pace stays true to form, the Patriots would be on the clock with the 32nd overall pick at about 11:15 p.m. ET on Thursday, April 25. That is, of course, if they don't trade up with their NFL-high 12 overall selections as chips in hand.
10. Add a seventh-rounder for Patriots in 2020. The Patriots and Falcons tied up one loose end from last September by confirming that conditions were met in their September trade of safety Jordan Richards, which means the club will receive Atlanta's 2020 seventh-round pick in the exchange. The conditions of the trade were tied to how many times Richards was on the 46-man game-day roster. Projected as a core special teams player, Richards ended up assuming a larger role than that, playing in 15 games overall, with 12 starts on defense. That heavier-than-expected workload was mostly a result of Keanu Neal suffering a season-ending knee injury in Week 1. From a Patriots perspective, Richards appeared to be in jeopardy of not making the 2018 roster, so the ability to recoup an asset — albeit a modest one — was sound business.
NFL, NCAA team up for safety improvements
INDIANAPOLIS — The NFL is teaming up with the NCAA to make football safer.
Two of the league's top medical experts, Jeff Miller and Dr. Allen Sills, spent Monday and Tuesday in Indianapolis meeting with NCAA officials, college team doctors and trainers. Both told The Associated Press they hope it's just the first of many meetings.
The focus until now has been primarily on concussions. But Miller and Sills are placing even more attention on the prevention and treatment of lower-body injuries such as sprained ankles, strained hamstrings and knee problems.
League officials have been collecting data about cleat traction and how cleats release from different playing surfaces in an effort to keep players healthy. They also believe college researchers can help expedite the process.
Police — Former RB 'He Hate Me' Smart missing
Police in South Carolina have put out a missing person advisory for former Philadelphia Eagles and Carolina Panthers running back Rod Smart.
The Lancaster County Sheriff's Office says that Smart — perhaps best known for his "He Hate Me" jersey in the XFL — was last seen Wednesday in Indian Land, South Carolina.
"It is unusual for him to be out of touch for this long," police wrote in the advisory. "Mr. Smart's family is worried about his safety and well-being."
Smart, 42, played in one season for the Eagles (2001) and four with the Panthers (2002-05). He came to fame for his "He Hate Me" nickname, which he was allowed to put on his jersey for the one season of the XFL in 2001.
Fantasy football — When to expect a breakout for WRs, and when to give up on them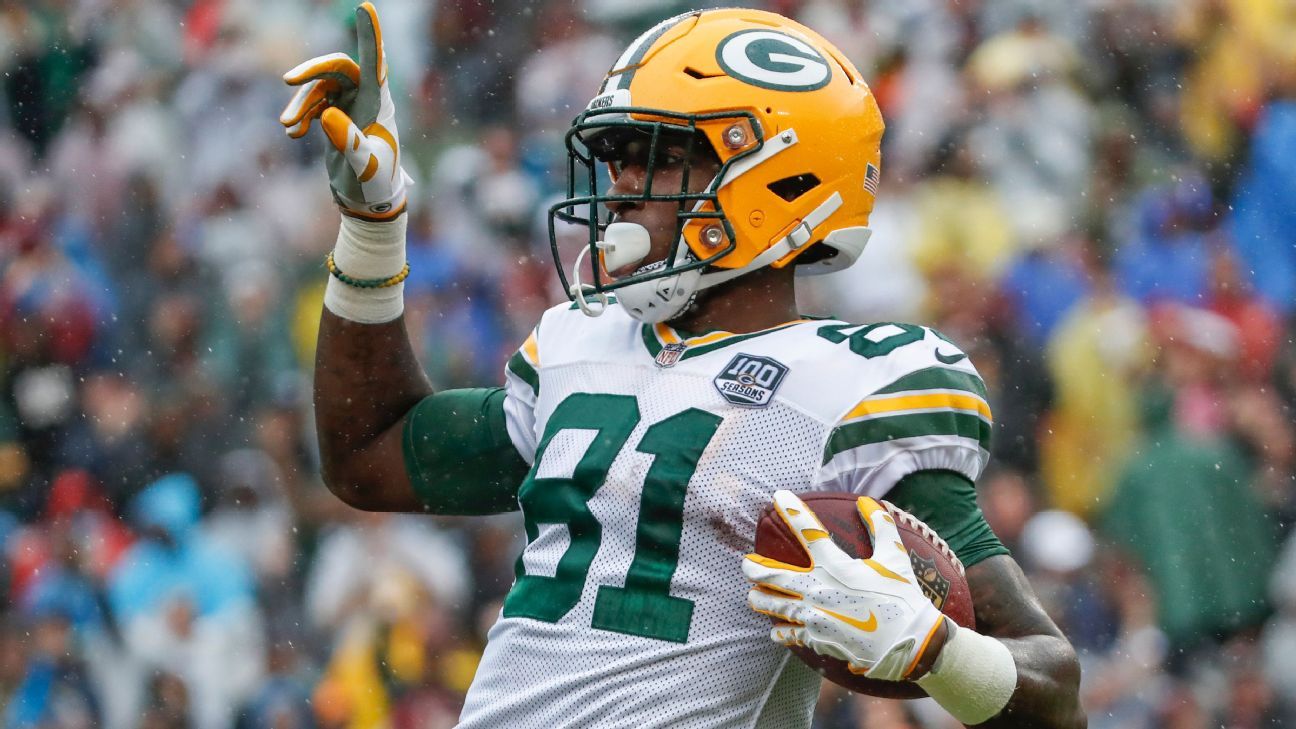 For a long time, the rule was the same: Year 3 is the breakout age for NFL wide receivers. It hardly mattered if the player struggled during his first two seasons. That third year is when you wanted him on your radar. That's when he would make or break his career.
Then 2014 happened.
Odell Beckham Jr., Mike Evans, Kelvin Benjamin, Jordan Matthews, Sammy Watkins and Jarvis Landry were all in the top 31 among fantasy wide receivers, and the likes of Allen Hurns, Taylor Gabriel, Brandin Cooks, Davante Adams, Allen Robinson, John Brown, Donte Moncrief and Martavis Bryant made noise as well.
That historic season has raised expectations for rookie wide receivers, but production has returned to earth in recent seasons. That begs the question: Is Year 3 still an important season for wide receivers?
The answer: Sort of.
How long should you wait for a breakout?
If we look at the current stable of star wide receivers (we'll use my latest 2019 top 25 for reference), 21 of them posted their first season with 150-plus fantasy points — roughly the threshold you'd need to reach to achieve a top-40 fantasy campaign — in their first two seasons. The exceptions are Davante Adams (third year), Adam Thielen (third), Julian Edelman (fifth) and Tyler Boyd (third).
A list of all wide receivers who have entered the league since 2007 shows that 125 have posted at least one season with 150-plus fantasy points. Interestingly, 123 of them first achieved the feat prior to their sixth season in the league. Here's a breakdown of when those receivers reached that threshold for the first time:
Rookie season: 36 (29 percent)
Second season: 44 (35 percent)
Third season: 23 (18 percent)
Fourth season: 12 (10 percent)
Fifth season: 8 (6 percent)
Sixth season: 2 (2 percent)
Some simple math tells us that a whopping 64 percent of wide receivers who will reach that 150-point mark at some point in their career have hit it by the end of their second season. An astounding 82 percent have by the end of their third season and 92 percent by the end of their fourth season.
What does it all mean? Two things come to mind:
1. Year 2 appears to be the more accurate "breakout" year for wide receivers.
2. If a wide receiver hasn't broken out by the end of his third season, he's a long shot to ever reach fantasy relevance. And if he doesn't by the end of his fourth season, you can all but cut bait.
This season's breakout candidates
Let's apply what we learned above to 2019 and beyond.
For starters, let's go back to my 2019 rankings. I noted that everyone in my top 25 has already managed at least one top-25 campaign. If we dig deeper, we find a few players who have yet to reach that goal.
The first is the 49ers' Dante Pettis, who is entering his second season after a promising rookie campaign (104 points). No worries here, as the 2018 second-round pick is right on track and positioned for a big role in his second season. The same can be said for the likes of Christian Kirk, Keke Coutee, Michael Gallup, Courtland Sutton, DaeSean Hamilton, Anthony Miller and James Washington. All failed to reach 150 points as rookies, but history suggests there's no need to worry just yet.
The second player in my current rankings who has yet to reach 150 points is more notable: Will Fuller V. He is entering his fourth NFL season but has yet to clear 134 points in a single season. Injuries have been the obvious culprit (17 missed games), so it's possible he could fall into the aforementioned 10 percent of receivers who reach the mark in their fourth season. If we extrapolate Fuller's per-game production over 16 games, his point totals would've been 146.5 as a rookie, 181.1 in 2017 and 243.0 last season. The latter would've ranked 14th at the position. Hope remains for the vertical threat.
Other notable players who have yet to clear 150 points despite at least two seasons in the league: Packers WR Geronimo Allison, Panthers WR Curtis Samuel, Dolphins WRs Albert Wilson and Jakeem Grant, Redskins WR Josh Doctson, Jaguars WR Chris Conley, Bengals WR John Ross, Ravens WR Chris Moore, Chiefs WR Demarcus Robinson, Patriots WR Phillip Dorsett and Broncos WR Tim Patrick.
History says most of these players will never emerge but that there will be a few exceptions. Let's take a look at a few players from the list who are well positioned for a 2019 leap and could be those exceptions:
Allison, who went undrafted in 2016, has yet to finish a season as a top-100 fantasy wide receiver, but he was well on his way to a breakout in 2018. Working as Green Bay's No. 3 receiver, Allison was averaging 7.25 targets per game and sat 28th in fantasy points through Week 4 prior to suffering a variety of injuries. He's the favorite for No. 2 duties in 2019, which could allow a late breakout.
Samuel is another player on the list who appears primed for a 2019 leap. After producing 179 yards on 19 touches during an injury-plagued rookie season, the 2018 second-round pick put up 578 yards and seven touchdowns on 47 touches (137 fantasy points) in 13 games last season. Injuries have been an obvious issue, but Samuel is still only 22 years old and no lower than second in line at wide receiver for targets in Carolina.
Miami is in the midst of a rebuild, but Wilson is a name who could emerge in an offense with more questions than answers. The 26-year-old sat 25th at the position in fantasy points in 2018 prior to a season-ending hip injury. His primary competition for snaps in 2019 will be DeVante Parker, Kenny Stills and Grant. It shouldn't surprise anyone if Wilson leads the team in targets.
Ross is worth a note, as the former first-round pick and 40-yard dash record holder enters his third season. It's possible Ross will be rejuvenated in Bengals coach Zac Taylor's offense, but it's hard to want to invest much in a player who has arguably been the least efficient receiver in the league over the past two seasons. Ross scored an unsustainable seven touchdowns (4.8 OTD) last season and has caught a horrific 35 percent of 60 career targets. It's possible the 23-year-old takes a huge step forward this season (as Nelson Agholor and Tyler Boyd have the past two years), but that makes Ross worth no more than a late-round flier.
The impact of NFL draft position on fantasy relevance
To wrap up this study, I took a look at draft pedigree to see how it translated to 150-plus-point seasons. This should be no surprise, but there is a large correlation.
Incredibly, 73 percent of wide receivers selected in the first round since 2007 have posted at least one season with 150 or more fantasy points. The average season of their career in which they achieved the feat was 1.7. In fact, 27 of the 32 got there in their first two seasons, with Nelson Agholor, Tavon Austin, Demaryius Thomas, Darrius Heyward-Bey and Robert Meachem managing it in Year 3. At least one first-round wide receiver from each draft class has hit the mark except for 2008 (none drafted) and 2016 (Corey Coleman, Will Fuller V, Josh Doctson, Laquon Treadwell).
Of course, the hit rate declines relatively consistently as the draft progresses, with wide receivers selected in the sixth and seventh rounds extreme long shots for fantasy success. The likes of sixth-rounders Antonio Brown and Pierre Garcon and seventh-rounders Julian Edelman and Stevie Johnson don't come along often. This should give you pause about investing in 2019 sixth- and seventh-round picks, including Kelvin Harmon, KeeSean Johnson and Travis Fulgham. Even if you feel one of the late-round picks could succeed, you should exercise patience. Of the seven sixth- or seventh-round wideouts who have reached the 150-point plateau, only Brown did it prior to his third season.
By the way, note that 19 undrafted wide receivers have reached the 150-plus-point mark during this window, though they aren't included in the chart since it's nearly impossible to track all undrafted wide receivers who have made a stop on an NFL roster. The hit rate would figure to be between 4 percent and 7 percent — a range we see for sixth- and seventh-rounders.