Vikes' Barr on spurning Jets: 'I followed my heart'
EAGAN, Minn. — Anthony Barr wrestled with the agony on his mind. As the late-night hours turned into early morning, the four-time Pro Bowl linebacker struggled with the magnitude of a decision he had made. It was a weight that he said bogged him down "instantly" with regret.
On Monday evening, news broke that Barr had given a verbal agreement to join the New York Jets as a free agent via his agent, Brian Murphy. Barr wanted to take the night to mull over his decision before making it official, but he spent most of the night staring at his ceiling on two hours' sleep while listening to the internal voice begging him to reconsider.
"I thought Monday was going to be a fun day, but Monday was one of the worst days of my life, really, trying to figure everything out," Barr said. "I was on the phone all day with my agent, my mom, just going back and forth calling friends, teammates, it was a crazy day, and I just followed my heart. I did what I wanted to do at the end of the day, and I'm happy with it. I feel so much better than I did 48 or 72 hours ago."
After reneging on his agreement to join the Jets, Barr's crazy start to free agency returned to the place where his career started.
Barr, 26, signed a five-year, $67.5 million contract with $33 million in guarantees after the Minnesota Vikings swooped in at the 11th hour to do some expedited negotiations to re-sign their star linebacker.
"I called my mom first," Barr said. "I'm like, 'I think I made a mistake.' And she was like, 'Well, you've got to fix it,' and I was like, 'All right,' so I called my agent and he has to fix it. He has to deal with all the messy stuff. I just sit behind the scenes, which is cool for me. But it was like instant. I was trying to convince myself of something I knew that in my heart didn't feel right, and I think if you follow the heart, I can live with the results."
Despite initially committing to play in the Jets 3-4 defense, Barr never took a free agent visit to New York. When he heard that it wasn't too late to turn around and begin laying the groundwork for the next phase of his career in Minnesota, the linebacker was elated.
"I was super excited, but I didn't know if it was still a possibility," he said. "So there was kind of some confusion on my part. I don't know. I was crying, laughing, sweating, the whole day was just crazy full of emotions, but in the end it just came down to where I wanted to be and who I wanted to be with, and these are my guys."
While players like Le'Veon Bell fought tooth and nail to get to free agency, putting themselves in a position to earn a big pay day, Barr ran in the opposite direction. Barr took far less than the estimated $15 million to $16 million he could have made with the Jets to stay in Minnesota, but a money grab wasn't everything for him.
"Money's cool, but it comes and goes, and it's not going to make me happy," he said. "I have money, and I'm happy with that. I was happy without money, so it's just the people you surround yourself with, the environment that you're in. It plays a big part. I'm a big family guy. I love my family, these are my extended family, so I want to keep going with these guys."
Barr was the first player Mike Zimmer drafted upon becoming the head coach of the Vikings in 2014. The No. 9 overall pick that year, Barr is a key cog in what the Vikings do defensively, playing a critical role as an off-ball linebacker who can rush the passer like a defensive end and hold his own covering the back end of the defense.
His new deal in Minnesota included $12 million in sack escalators that kick in from 2020 to 2023. Given his strengths off the edge, built like a defensive end at 6-foot-5, 255 pounds, Barr has often said that he felt he was better going forward (rushing the passer) than going backward (dropping back into coverage).
Though Zimmer didn't specify what Barr's role would be going forward, he noted the effect the strongside linebacker has against every team the Vikings face and how utilizing the full breadth of his skill set is a top priority.
"Anthony is a guy that every team we play game plans for," Zimmer said. "There's not one team — maybe one team last year didn't and we got 10 sacks — so, if they all game plan for him, a lot of that is him sacrificing himself to be able to let other guys be free on rushes and blitzes and things like that. That's why he's such an unselfish guy. We understand no team we ever play is going to say, 'Oh, we're not going to worry about Anthony Barr.' That's part of it. Sometimes we do it anyway and that's part of it. But we're always going to try to scheme the best way we can to win the game on Sunday."
Kentucky's Allen says he's the draft's best player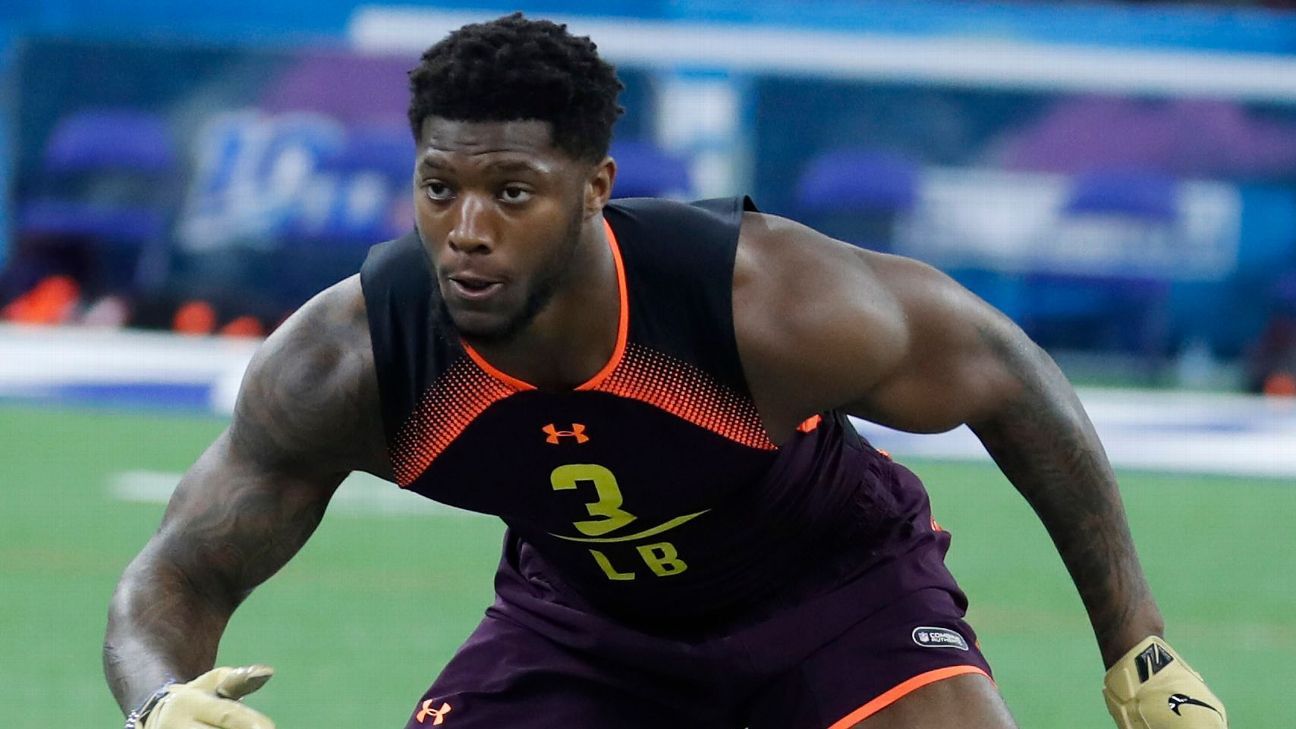 LEXINGTON, Ky. — Kentucky Wildcats pass rusher Josh Allen, who chased down a lot of quarterbacks in the fall, might not be able to close the gap on Oklahoma's Kyler Murray — widely projected as the top pick in next month's draft. But Allen still believes he's the "best overall player."
"You can just watch the film, watch the games," Allen told ESPN on Friday at the Kentucky pro day. "If you're talking about stats, I mean, I finished second in the nation in sacks, playing in the SEC, which doesn't throw the ball as much as other conferences.
"I'm physical. I played the whole season. I played every game. I'm healthy. I just think I'm the best edge rusher, the best pass rusher, the best overall player in this draft."
Allen decided not to work out at the school's pro day, opting to stand on his scouting-combine workout. Allen will visit several teams in the coming weeks, including the San Francisco 49ers, Oakland Raiders, Tampa Bay Buccaneers, New York Giants and Detroit Lions, according to the NFL Network. He told ESPN he expects the New York Jets to be on his list of pre-draft stops.
Allen, who recorded 17 sacks in his senior season, is considered a likely top-5 pick. The 49ers, Jets, Raiders, Bucs and Giants own the second to sixth picks, respectively.
The Kentucky pro day drew talent evaluators from every NFL team. One head coach was in attendance, Mike Zimmer of the Minnesota Vikings. Two general managers were present — Rick Spielman (Vikings) and Mike Mayock (Raiders). It's possible that some top decision-makers decided to skip it because they knew Allen wasn't planning to work out.
Allen, who grew up in Montclair, New Jersey, spent time chatting with Giants scouts. It would be a homecoming if he were drafted by the Giants or Jets. His family's home is about 15 miles from the two facilities.
"I'm from there and I know the areas, so I wouldn't have to get introduced as much," he said. "It would mean a lot, being back home in my old stomping grounds. I didn't grow up a Giants or Jets fan, but I wouldn't mind being a fan now."
Saints near deal with TE Cook, sources say
The New Orleans Saints are on the verge of filling their most glaring need with the top pass-catching tight end available in free agency this year, Jared Cook.
Sources have described a deal between the two sides as close but not finalized — which Cook himself amplified on Friday.
When asked whether he has agreed to a deal with New Orleans, Cook winked and told ESPN's Jamison Hensley, "Maybe," while at an event for the NFL's Ed Block Courage Award winners. Cook then said "it's going to be pretty awesome" catching passes from Drew Brees.
"I've been a big fan of Drew for a long time and the way he approaches the game," Cook said. "He's on point. He's on top of his game right now. He's just a baller. I look forward to seeing him do great things in the future. …
"It could be a big production year. Just as long as I take care of what I can take care of, we should be all right."
When asked whether he is surprised to be leaving the Oakland Raiders after having two of the best seasons of his 10-year career with them, Cook said, "Yeah, but it's a business. They're still my guys. You take it for what it is."
Cook will turn 32 on April 7, but he is coming off arguably the finest season of his career (a career-high 68 catches, career-high 896 receiving yards and career-high six touchdowns). He played in his first Pro Bowl in January as an alternate.
New Orleans, meanwhile, needs another reliable pass-catcher to pair with receiver Michael Thomas and running back Alvin Kamara. Last year, tight end Benjamin Watson ranked third on the Saints with 35 receptions — and Watson has since retired.
Cook spent two years with the Raiders and is the first tight end in NFL history to have a 100-yard-receiving game for four teams — the Titans, Rams, Packers and Raiders.
Last season, Cook had four games with more than 100 yards receiving. He set the franchise record for a tight end with 180 yards — on nine catches — in the season opener against the Los Angeles Rams.
Cook was fourth among all NFL tight ends last season in receiving yards, tied for fourth in touchdowns and was third with 15 receptions of at least 20 yards.
With 5,464 career receiving yards, Cook is the eighth active tight end in the NFL with at least 5,000 yards. He has 425 receptions for an average of 12.9 yards per catch, and he has 25 touchdowns.
He was also the Raiders' winner of the Ed Block award, which says it honors "those who exemplify commitments to the principles of sportsmanship and courage. The recipient symbolizes professionalism, great strength and dedication."
ESPN's Paul Gutierrez contributed to this report.
Top FCS prospect Adderley injured at pro day
Delaware safety Nasir Adderley's pro day ended early on Friday because of a pulled hamstring suffered while running the 40-yard dash.
Adderley competed in four events before getting hurt. The top FCS-level prospect didn't compete in the drills at the NFL Combine due to a previous ankle injury.
He was the featured attraction at Delaware's pro day, projected for the first or second round in the April 25-27 draft in Nashville, Tennessee.
Adderley measured in at 6 feet, 203 pounds. Delaware Athletics reported he timed 4.54 seconds in the 40 despite the injury, had a 39-inch vertical leap and a 16-9 broad jump with 19 reps on the 225-pound bench press.
Afterward, Adderley was upbeat and said he is ready to contribute anyway he's asked at the next level. He played both cornerback and safety in his Blue Hens career. He's also expected to contribute on special teams.
"I'm confident I can play anywhere," he said.
A rangy player who tackles hard, Adderley was a first-team STATS FCS All-American as a senior. He had 87 stops with four interceptions and seven pass breakups in 12 games.
He also was a standout at the Reese's Senior Bowl. Named a captain for the winning North team, he was in on five tackles and intercepted Buffalo quarterback Tyree Jackson in the fourth quarter.