Dodgers' Seager plays SS for 1st time since April
GLENDALE, Ariz. — Corey Seager played shortstop in a game for the first time since April 29, three innings for the Los Angeles Dodgers in a minor league exhibition.
The 2016 NL Rookie of the Year had surgery May 4 to repair a torn ulnar collateral ligament in his right elbow and arthroscopic surgery on Aug, 7 to repair his left hip.
He struck out twice and fielded one ball Thursday, an infield single. Although the runner was going to be safe, Seager completed the throw.
"It was good, didn't hesitate, didn't think about it, just kind of did it," he said. "I wanted to finish it, kind of check that off the list."
Seager had three plate appearances in a minor league game Monday but did not play the field.
"It was nice to move around," he said. "It has been a long time. It is weird. You try to find your timing. For the most part it was a lot smoother than I expected."
Los Angeles has not projected whether he will be available for the opener against Arizona on March 28.
"It's about building up innings at this point," Seager said.
The left-handed Seager's last at bat, against a right-hander, lasted eight pitches.
"At this point, I'm not really worried about the outcome," he said. "That was maybe my ninth AB. I'm still trying to get comfortable in the box."
Game notes
LHP Clayton Kershaw threw a 31-pitch bullpen session to Russell Martin as manager Dave Roberts looked on along with pitching coach Rick Honeycutt, president of baseball operations Andrew Friedman and other staff. Kershaw threw some offspeed pitches. He had been was limited to 20 pitches, all fastballs, on Monday in his first bullpen session since Feb. 20. The three-time Cy Young Award winner has been slowed by left shoulder discomfort. … OF Alex Verdugo is likely to make the opening-day roster. "Everyone has a different path and a different maturity growth and I think he's grown up, he's grown up," Roberts said of the 22-year-old. … INF Max Muncy was scratched from the game against Cincinnati because of pain and stiffness in his right forearm/wrist.
Wieters makes Cards roster as Molina backup
JUPITER, Fla. — Matt Wieters has been added to the St. Louis Cardinals' roster after earning the back-up job behind catcher Yadier Molina.
Wieters' contract was selected Friday from Triple-A Memphis. He gets a $1.5 million salary while in the major leagues and $200,000 while in the minors. He can earn $500,000 in performance bonuses based on games: $100,000 each for 40, 50, 60, 70 and 80.
To clear a roster spot, the Cardinals designated left-hander Chasen Shreve for assignment.
A four-time All-Star with Baltimore from 2009-16, Wieters was competing with Francisco Pena for the back-up job.
Wieters spent the past two seasons with Washington. He hit .238 with eight homers and 30 RBI last year, when he was sidelined between March 31 and April 12 with a strained left oblique muscle and between May 10 and July 9 with a strained left hamstring.
His contract with the Nationals paid $21 million over the two years.
Shreve, a 28-year-old left-hander, had a 5.00 ERA in eight spring training appearances with nine walks and five strikeouts in nine innings.
Padres prospect Patino shows off electric stuff
San Diego right-hander Luis Patino was No. 50 on my top 100 this past winter on the strength of his electric stuff, but his outing on Wednesday in Peoria, Arizona, against the Royals' high-A team was my first opportunity to see him live. His stuff truly is electric — I'm not sure there's a better adjective to describe it — although I can also see reasons to pump the brakes a little bit on his prospect hype, given his size and delivery.
Patino, born in Barranquilla, Colombia, was at 93-96 mph on Wednesday with absurd spin on the pitch and some natural cut. I could actually see the spin on the ball (sorry, I can't measure spin rate with my eyes … yet), which I can't remember happening with any prospect before, and his fastball moves enough that I had to ask if he was trying to cut it (he's not). His entire arsenal is strong, though — his 82-83 mph slider breaks like a whiffle ball, although he also showed he could shorten it up to keep it in the zone, and he throws an upper-80s changeup with hard tumble like a split-change even though it's a traditional grip. His only pitch that wasn't obviously above average was his upper-70s curveball, but it's average and he throws it for strikes, making it more useful in the context of his other weapons.
Patino's arm is incredibly quick, but there is some effort to the delivery, especially at release when he can't keep his head steady. He has great balance over the rubber, with a very old-fashioned full windup, and gets big extension out over his front side — so now imagine that 94 mph fastball moving like no fastball you've ever faced before, and it's coming out of his hand a little closer to your face than you're used to seeing. He cuts himself off a little bit, so there's some cross-body action to his delivery, but it likely also gives him deception against righties. Best of luck, hitters.
Sources — Sale, Red Sox agree to 5-year extension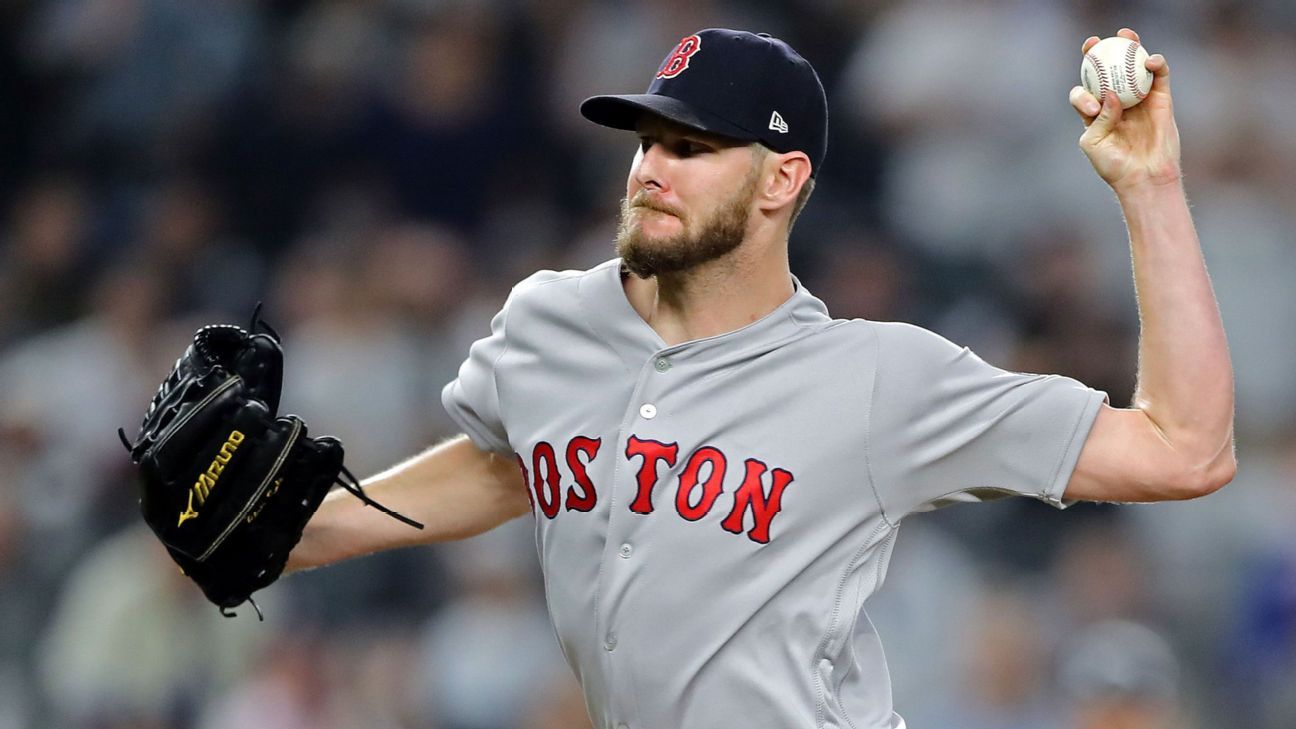 Left-hander Chris Sale and the Boston Red Sox have agreed to a contract extension, pending a physical next week, league sources confirmed to ESPN's Jeff Passan.
The five-year deal is worth $145 million, league sources told Passan. The deal adds to Sale's current contract (one year remaining) and will go through the 2024 season.
The Athletic first reported that an agreement was in place.
Sale, who will turn 30 on March 30, was in the final season of the five-year contract he signed with the Chicago White Sox before the 2013 season. The contract guaranteed $32.5 million, including a 2017 option buyout. That deal will end up paying him $59 million over seven seasons plus award bonuses.
The 2017 AL Cy Young Award runner-up and a seven-time All-Star, Sale struck out the side in the ninth inning of Game 5 of the 2018 World Series against the Los Angeles Dodgers to close out Boston's fourth championship in 15 seasons.
Sale, who started the All-Star Game for a third straight season in 2018, went 12-4 with a 2.11 ERA and 237 strikeouts in 158 innings. He finished fourth in the Cy Young vote.
Sale also dealt with shoulder inflammation that led to two stints on the injury list in the second half along with diminished velocity and dominance in the playoffs.